Why has snow hit the economy so badly this winter?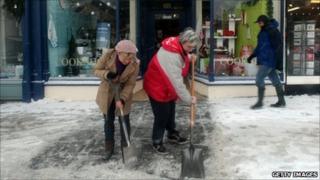 The chancellor has blamed bad weather for a shock contraction in the UK economy, but how can snow have such a dramatic effect?
Tuesday's official figures showed that the economy had taken quite a hit from the snow at the end of 2010.
Last year, it was discussed whether snow might actually be good for the economy. Why has it been so bad this time round?
That winter there was much talk of snow effects, but little sign of permanent impact on the official figures.
The figures on the construction sector, for example, showed it had a very difficult time in the first three months of 2010, which could be partly blamed on the weather, but then recovered extremely strongly in the following three months as builders caught up on delayed projects.
It is important to distinguish between a genuine dead loss for the economy and spending that is just being delayed.
The snow this winter appears to have had a greater effect than last winter.
Once again, the construction sector has taken a hit, which we can probably expect to be made up in 2011.
But other areas may not be made up. Last week's retail sales figures showed a fall of more than 10% in sales at petrol stations in December, which reflects people leaving their cars at home as a result of difficult driving conditions.
Lots of people could not get into work as a result of the snow, but not all of them cost the economy anything.
Some freelance or casual workers will not have been paid for the days they did not work, and cafes, restaurants, taxi drivers and train operators will not make back all of the money that they lost as a result of people staying at home.
Some people work in sectors where a missed day cannot be made up with a bit of overtime or slightly delayed deliveries, but if you are a hairdresser, for example, then the people who were going to come in for a trim but cancelled because of snow are pretty likely to make another appointment.
It is also important not to forget the gains to the economy from snow. Utility companies had a bumper December as people were forced to turn up their heating to cope with the coldest December on record.
Also, last week's retail sales figures showed significant growth in sales of winter clothing.
Halfords announced in a trading statement that its sales of car maintenance products had risen.
Bad timing
The big difference between this winter's snow and last winter's snow was the timing.
Several big shopping centres were forced to close in the weekend before Christmas, meaning that some people did not get their gifts until January, if at all.
This is the crucial point. If you were planning to go out in the first week in December to buy a drill and actually you had to go and buy it in the second week, the economy would barely bat an eyelid.
But if you were going to buy it on 23 December and instead had to buy it on 27 December, it is a big deal.
The difference to the economy of having buying sprees at full-price pre-Christmas and at cut-price in the sales is significant and will not be made up later in the year.
Also, many people will have been planning pre-Christmas drinks and meals with friends and colleagues, which will have been cancelled or delayed.
Even the part of the Office for National Statistics (ONS) that calculates the official growth figures for the economy had to postpone its Christmas party because of the weather, and will not be holding it until April.
Last winter, the snow was timed much more favourably, coming mainly in January.
This year's Christmas trading statements from big retailers were full of comments about the weather.
The boss of Tesco said that its performance had been "hindered" by the "disruptive effects of the severe winter weather conditions", while Dixons said: "The adverse weather conditions reduced footfall in the run up to Christmas day."
So while last year it could be argued that in the medium term the snow had not done the economy much harm, this year the effect has been much more damaging.
The ONS said that the snow had knocked 0.5% off the economic growth figures, which is a considerable amount of lost growth.
Some of that will be made back, perhaps by the construction sector as happened last time, and perhaps by bumper January sales shopping and delayed parties, but a significant proportion of it is probably lost to the economy for ever.