Who will replace Andy Coulson?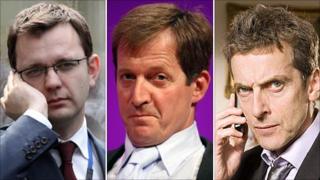 David Cameron is searching for a new director of communications, following Andy Coulson's resignation. But what sort of person could become Downing Street's newest "spin doctor"?
The former head of communications stepped down after mounting pressure over the News of the World phone hacking scandal.
To the more cynical, a Downing Street director of communications is head "spin doctor", the person who tries to remain in the shadows while generating positive coverage of the government's actions.
But the job's most notable recent occupant, Alastair Campbell, seemed often to find himself in the limelight. And Bernard Ingham, whose job was actually chief press secretary to Margaret Thatcher, and who was a career civil servant, is still well remembered by anybody with an interest in politics.
One of the most famous directors of communications is fictional. Malcolm Tucker's aggressive, profanity-laden verbal assassinations of weak-willed ministers were a regular occurrence in the BBC satire The Thick of It and the film In The Loop.
In the real word, the role contains many facets. As well as shaping media strategy, the advice of the communications director can subtly shape policy.
Mr Coulson's background as a state school-educated boy from an Essex council house has led some media commentators to suggest he was a vital sounding board in a government led by public school-educated David Cameron and Nick Clegg.
And his departure has created a flurry of media speculation over who will replace him.
So what qualities are required for Mr Coulson's successor?
Finding another equally qualified "man of the people" may not be easy, political commentators say.
"Andy Coulson understood a part of the British culture that the prime minister maybe didn't," says says political commentator and former Labour Party director of communications Lance Price.
Personal chemistry
But, while an ability to relate to the general population is a must, candidates may not be vetted for social standing, says ConservativeHome editor Tim Montgomerie.
"It [importance of class] is easy to exaggerate. You need someone who can craft a message for a tabloid newspaper and who knows what broadcasters want. It's about finding a person who can do that.
"They might be from council house or private school. It's more what they can do than where they came from."
But personal chemistry is a big part of the job. The new "spin doctor" may find himself in a very close working relationship with Mr Cameron. Certainly, Mr Campbell was very close to Tony Blair.
Thus the job has to combine media mastery and personal suitability, says Mr Price.
"A communications director has to be able to understand how any announcement by Downing Street would play politically as well as how the media would be likely to treat it.
"Also anybody in that job has to have the complete trust of the prime minister. The personal chemistry is almost as important as the professional qualifications."
Tabloid knowledge
It's a very difficult combination to find and very few people will fit the bill, Mr Price says.
Having edited the UK's biggest Sunday newspaper, the News of the World, Mr Coulson brought journalistic nous and a feel for how things would play in the tabloid press and the rest of the media. Matthew D'Ancona in the Daily Telegraph was just one of the commentators who noted the way Mr Coulson had turned the Conservatives' media operation around.
But is a journalistic background a prerequisite for a good director of communications?
"Possibly but probably not," Mr Montgomerie writes in his ConservativeHome blog.
Journalists tend to think about the short term rather than articulating a big message, he says.
"I don't think it should be assumed that a professional day-to-day journalist has the skills to deliver a communications strategy. They are completely different skills, articulating a big message to covering day-to-day stories."
As Mr Price says, a foundation in journalism may provide a basis for understanding how the media operates, but it's possible that someone whose professional background is in politics could also have the necessary skills to be a successful spin doctor.
And of course, the new communications director is probably going to have to accept hours that some people would regard as unacceptably long - never being able to totally disengage, even on holiday, from the potential row or scandal lurking around the corner.
The chosen will have to be especially self-sacrificing, says Mr Montgomerie.
"The hours required are enormous. They have to put aside family and be willing to work seven days a week, all hours of the day. It's 110% dedication."
The prime minister's communications chief must be dedicated, analytical and authoritative, says the Daily Mirror's Kevin Maguire.
"They need somebody who's cool under fire."
But how mindful of any prior scandal will Mr Cameron be in light of the circumstances behind Mr Coulson's resignation?
"They will obviously want to do their due diligence and will probably want someone who is clean as a whistle," says Mr Montgomerie.
"It will be interesting whether they recruit someone from [News International owner Rupert] Murdoch's table or they want someone completely unconnected."
Either way, any member of the media is likely to have, at some point, made a decision they regret, says Mr Price.
"You don't have to be a saint to be a communications director."