Roman urn fetches £370,000 after life as a lamp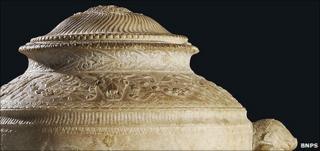 When John Barratt drilled a hole into an old vase and turned it into an electric lamp, he had no idea he had a 2,000-year-old relic worth more than a third of a million pounds.
He fitted a lamp socket and furnished the 19-inch urn with a red lamp shade.
Nearly 40 years later, despite his alterations, it sold for £370,000 at Christie's auction house on Friday.
Mr Barratt, a retired school teacher who died last year, had inherited the urn and kept it at his Bath home.
It is thought that his father, renowned scientist Sydney Barratt, acquired it in the 1950s and when he died in 1975, it was passed to his son.
As a lamp, it stood in the hall of Crowe Hall in Widcombe, a suburb of Bath, until Mr Barratt's death in January 2009.
The adaptations masked its true value to such an extent that even after experts at Christie's identified its worth, they only valued it at £10,000 - when it actually fetched 37 times that amount.
It is understood the buyer was a European dealer, who ended up paying £445,000 in total because of the auctioneers' fees.
Georgiana Aitken, Christie's head of antiquities, said: "The item came into us in the form of an electric lamp that had a 1970s-style red lampshade on top of it.
"We had a closer examination of it and unscrewed the lamp and took the lid off to look inside.
"Two very small holes had been drilled in the top of the lid and in the bottom so a cable could run up through the middle of it.
On top of the lid a metal fitting had been fixed in place that secured the lightbulb, and on top of that was the lampshade, she said.
"It was a bit of a monstrosity and it was a shame that such a historically important item had been turned into a domestic lamp. We removed the fittings and were able to date the urn to about the first century AD.
"The alterations and drill holes didn't seem to affect the price, which was quite enormous and surprised us.
"The antiquities market is incredibly strong at the moment."