My first day as a Blue Peter presenter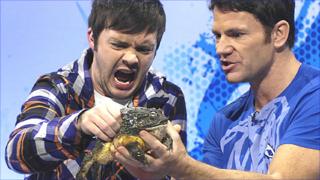 The presenters of children's magazine programme Blue Peter loom large in the memories of many people, so joining the show can be a daunting prospect, says new recruit Barney Harwood.
Walking into the studio as a presenter for the first time on Monday morning was pretty awe-inspiring. I couldn't really take it in.
I've been on Blue Peter a lot over the years as a guest, but it still felt like I was about to do my chat and leave. It will take a while to realise that this is now my on-screen home, along with fellow presenters Helen Skelton and Andy Akinwolere.
All around you, there are the Blue Peter logos, and the pets, and the whole studio team watching you intently. There are a lot of high expectations facing you. And of course, big shoes to fill.
Even in the production office where I sit, I'm surrounded by pictures of all the past presenters. There have been some great ones over the years. Matt Baker, Caron Keating, Anthea Turner, Liz Barker, Simon Thomas. And of course everybody likes John Noakes.
Frog fear
But, despite the pressure, I actually managed to enjoy myself on my first show. To make my "big entrance", I got to ride the ultimate motorbike into the studio, with fireworks and strobe lights all around. I love superbikes, so it was a bit of a dream come true for me.
But Blue Peter gives, and it also takes away. In the second half of the show, I had to do something which rarely escapes Blue Peter presenters nowadays: face my fears.
The production team had discovered that I can't bear frogs, so they arranged for CBBC wildlife expert Steve Backshall to bring in three of the most dangerous frogs in the world. I had to see if I could hold them, and I was sweating even before Steve got the first frog out of the box.
I really don't like them - it's something about the way they jump - but I forced myself to trust Steve, and hold them. Even the one that was the size of a small cat. But that's Blue Peter. You have to show the kids watching that you're prepared to take on things, to have a go.
The essence of this job is a sense of realism, of taking children on a journey. They write in and challenge us. And we definitely try to do those things for them. We try to live out their dreams for them, show them what's possible in their lives to come.
On other shows I've been playing a character. But this is a show where I can be myself, and I'm really looking forward to that.
I know they're going to push my comfort zone. I'm genuinely going to be scared of bungee jumping or skydiving. But it's all going to be on camera, and that's what matters.
Being a children's TV presenter is for anybody who enjoys entertainment. It's all about telling a story. I love telling stories; I even tell stories to myself in the car.
Now I'm on Blue Peter, I know that the level of media interest might go up. But it isn't something that concerns me. As I'm sure my predecessors would tell you, it's just another part of the territory.