What are Power Balance bands?
By Finlo Rohrer
BBC News Magazine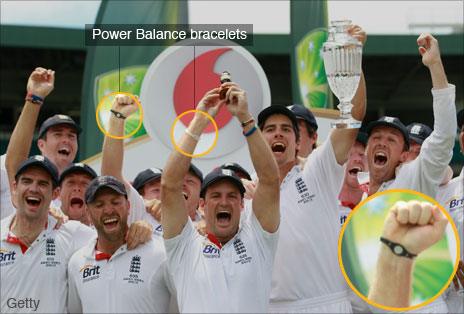 A growing number of celebrities are being spotted with a distinctive silicone band on their wrists. While users claim it can help with balance, critics dismiss it as unscientific hocus pocus. So why would anybody wear a Power Balance band?
Andrew Strauss is a victorious cricket captain, having starred in a dazzling Ashes series win.
The cricket fans might talk about diligent batting, calm captaincy and canny field placings. But what about the £30 rubber band visible on his wrist?
It's a Power Balance bracelet - a silicone band with a hologram. They are an increasingly common sight on the golf course, and away from sport both Robert De Niro and Kate Middleton have been spotted wearing them.
But this is a controversial gizmo.
The bracelet's distributors in Australia have just had to apologise and change their marketing and advertising text after the Australian Competition and Consumer Commission took action.
The commission said that the local distributors had claimed the bands would "improve balance, strength and flexibility". They also criticised the slogan "Performance Technology".
The distributors admitted no credible scientific basis for the claims, the commission said.
On the US website of Power Balance it explains the bands thus: "Power Balance is based on the idea of optimising the body's natural energy flow, similar to concepts behind many Eastern philosophies. The hologram in Power Balance is designed to resonate with and respond to the natural energy field of the body."
The idea that people have a "natural energy field" might cause a certain flutter of the eyebrow.
Simon Singh, co-author of Trick or Treatment?: Alternative Medicine on Trial, is not convinced, particularly by the slogan "Performance Technology".
"Technology implies science. You look at a Power Balance band and you say 'I don't see the technology, I don't think it's biologically plausible, I don't see research trials, I just see a bit of rubber.'"
Power Balance's UK website has endorsements from an array of sporting stars. They quote England batsman Ian Bell as saying: "The Power Balance bracelet supports my active lifestyle facilitating improvement across all areas of my fitness."
In this video, the firm shows athletes doing balance and strength tests without the bands and then performing better with.
Proof of effectiveness? Sadly, no.
John Porcari, a professor in the department of exercise and sport science at the University of Wisconsin-La Crosse, recently tested 42 student athletes in an experiment.
Balance, flexibility, strength and vertical jump were tested, while the athletes wore either a Power Balance band or a generic rubber band. Both the athletes and the testers did not know which was being worn while the experiment was conducted.
There was no difference between the bands, but there was a marked improvement in tests which were being done by an athlete for the second time.
This suggests that once people know what is coming, they prepare themselves and perform better in the test. And that's without even considering the possible placebo effect, the idea that the psychological boost of believing in the bands can improve performance.
David Fletcher, lecturer in sport and performance science at Loughborough University, says the bands could act in the same way as a lucky charm.
"Habits, routines and rituals are all part of a lot of elite athletes' preparations. There is a lot of evidence that pre-performance routines can help performance.
"It isn't something I would particularly advocate. I would look at more robust routines rather than wearing lucky underwear or wearing these bands. What happens if you forget your lucky underwear?"
Dylan Evans, a lecturer in behavioural science at Cork University's School of Medicine and author of Placebo: Mind Over Matter in Modern Medicine, hadn't heard of the Power Balance bands until he got one for Christmas from his mum.
"It took me about two seconds after I had unwrapped it to think this is a placebo.
"I was really impressed by the marketing. They have managed to get away without deceiving anyone in the sense of an overt lie. There are no claims on the packaging itself.
"They don't make any reference at all to any health outcomes. They leave that as an inference that most people will draw."
Even the £30 cost may help with the psychological effect of a band.
"There is some evidence to show that the more expensive a placebo is, the more of a placebo effect it has," Evans notes. This is why branded drugs can appear to "work" better than generic drugs.
"Expectations can enhance performance and become a self-fulfilling prophecy."
So if you take the sceptics' view, the bands are a placebo. But is there anything wrong with buying into a placebo?
In medicine, the use of placebos is an ethical minefield, and doctors are often fiercely critical of unproven alternative therapies that cause patients to dangerously eschew conventional treatment.
But what harm can a rubber band do that is only linked to sporting performance?
"They are selling at £30 a pop with the clothes of science when it's nothing more than pseudo science," says Singh. "Somebody is losing £30 and their golf swing is not going to be made better by magnetic forces or balancing your energy."
A spokeswoman for Power Balance in the UK emphasised that the company was not claiming there was any scientific evidence behind the product. The Australian ruling was purely about local marketing and did not affect the product globally.
In a statement the firm said: "From its inception, Power Balance has lived and thrived in the ultimate testing environment, the real world. We continue to see, hear and learn about how people believe our products have positively affected their lives."
And any golfers who think the bands are improving their putting may refuse to be put off by the scientists.