Faces of the year 2010 - the men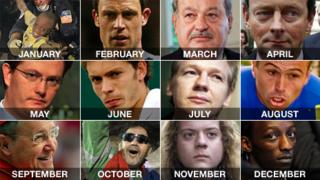 Some of the men who have made the headlines in 2010, left to right: Kiki, Wayne Bridge, Carlos Slim Helu, Tony Hayward (top), Danny Alexander, Nicholas Mahut, Julian Assange, Gareth Williams (middle), Walter Kasper, Luis Urzua, Edward Woollard, Eddie Afekafe (bottom). The women who were in the news were featured on Thursday.
JANUARY
An eight-year-old boy name Kiki provided one of those heart-rending moments that so often give relief from the misery of natural disasters.
He was pulled from the ruins of a two-storey building that had been flattened in the earthquake that struck Haiti.
In testimony to the strength of the human body and spirit, he emerged some seven-and-a-half days after being buried in the rubble with a broad grin and his arms outstretched towards his mother.
FEBRUARY
Manchester City footballer Wayne Bridge suffered a rift with former Chelsea colleague and friend John Terry with the revelation that the Chelsea captain had allegedly had an affair with Bridge's former partner, and mother of his son, Vanessa Perroncel.
Bridge announced his retirement from England duty, thereby ruling himself out of the World Cup. It was suggested in the media he couldn't face being holed up with Terry for the duration of the competition.
John Terry lost the England captaincy as a result of the episode. Perroncel has denied anything untoward happened.
MARCH
Mexican businessman Carlos Slim Helu, 67, was finally "crowned" the world's richest person.
According to the Forbes List, this son of a Lebanese immigrant has accumulated a fortune worth $50bn (£32.4bn), partly as a result of buying a majority stake in the Mexican state phone company prior to its privatisation.
His Telmex Company has a virtual monopoly of landlines and represents 7% of Mexico's entire economic output.
APRIL
When an explosion on an oil rig in the Gulf of Mexico threatened an environmental disaster, it was left to Tony Hayward, the much-criticised British chief executive of BP, to face the music.
His company faced scathing criticism from all quarters including the US Congress.
Hayward didn't help himself when he made a remark about wanting his "life" back. The explosion killed 11 men.
MAY
Following the sudden resignation of David Laws, Liberal Democrat MP Danny Alexander found himself appointed as chief secretary to the treasury, a key role in managing the budget cuts.
As Nick Clegg's chief of staff during the election campaign, he had branded the Conservatives untrustworthy and "economically illiterate".
He rose to prominence as part of the Lib Dem negotiating team that brokered the agreement to enter into a coalition with the Tories.
JUNE
Spare a thought for Nicholas Mahut, the 28-year-old Frenchman who was the loser in the world's longest ever tennis match.
After a titanic battle on Wimbledon's Court 18 that lasted more than 11 hours and which ended 70-68 in the final set, Mahut was a picture of total dejection.
An extraordinary 103 aces were not enough to defeat the US's John Isner.
However, both players were given special trophies to mark their extraordinary achievement.
JULY
When thousands of secret US military documents were first leaked to the Wikileaks website, its founder, Australian Julian Assange, was little known.
By the end of the year, after more and more revelations had appeared causing fury in governments, Assange had become a household name.
The issue of press freedom raised by the Wikileaks affair was complicated by Assange's subsequent legal battle against extradition to Sweden, over allegations of sex offences which he claims are part of a conspiracy to silence him.
AUGUST
Conspiracy theories abounded after the mysterious discovery of the naked body of a 30-year-old MI6 worker, Gareth Williams, inside a padlocked sports bag in his flat in London.
He was last seen alive eight days earlier. Williams was a GCHQ code-breaker believed to have helped thwart a terror campaign in Britain by intercepting phone calls involving British jihadists at a training camp.
Toxicologists found no evidence of drugs, alcohol or poisons in his body.
SEPTEMBER
Cardinal Walter Kasper caused something of a stir when he commented to a German magazine: "When you arrive at Heathrow you think at times that you've landed in a Third World country."
The comment came ahead of the Pope's visit to Britain. He felt no need to apologise for the seeming slight and his personal secretary explained that he was merely remarking on the prevalence of so many cultures, religions and races in the country.
It was just as well the cardinal hadn't landed during December's cold snap.
OCTOBER
The last of the 33 Chilean miners to be winched to safety after 69 days trapped underground was the shift foreman Luis Urzua who was credited with keeping them safe.
After the mine's collapse, Urzua instituted a set of rigid rules and regulations crucial for the men's survival such as rationing the mine's emergency food consignment into minimal portions and organising the miners' work, sleep and sanitary areas.
He kept each man on a 12-hour shift schedule.
NOVEMBER
A sixth-form classics student, Edward Woollard from Dibden Purlieu near Southampton admitted throwing a fire extinguisher from the roof of the Conservative party HQ in Millbank during student protests in London against the raising of tuition fees.
The extinguisher landed near a group of police officers, one of whom said he was "six inches from death".
Woollard, who was released on bail, could face up to five years in jail when he is sentenced next year.
DECEMBER
A community project manager from Moss Side in Manchester, Eddie Afekafe, gave an inspirational speech during England's presentation as part of its unsuccessful bid to host the 2018 World Cup.
Afekafe told how he escaped a world of gang crime when given the backing by the Prince's Trust for an FA coaching scheme.
"Football changed my life," he told delegates, as he explained how he qualified for his level two coaching badge and became a key member of Manchester City's community programme.
Compiled by Bob Chaundy