What the crying game says about us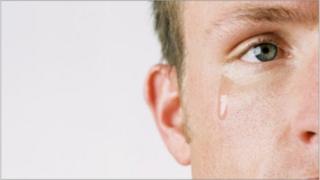 Our fascination with the tragedies of others reflects our culture of narcissism, says Joan Bakewell in A Point of View.
I've noticed recently a good many tears on display: people in public expressing human sorrow in the most physical way.
First, tears were all over the 50th anniversary episode of Coronation Street. I haven't seen the nation's oldest soap opera since its early days - days of stoic suffering and passion expressed in loud voices. And how that has changed.
Fifty years on and people are touchy-feely, all over the place and over each other. Men hug and embrace: people fall into each other's arms sobbing on each other's shoulders. There is a display of emotional incontinence that would have shocked older generations.
Of course, the writers and producers wound up the tension and made a bid for record-breaking viewing figures by engineering a major crash with enough casualties to freight subsequent episodes with loads more tears. It seems a strange way to celebrate.
What is it, I wonder, about watching other people cope with catastrophe that proves so attractive?
In a slightly different art form, London theatregoers are currently fighting for tickets to get to see Derek Jacobi as King Lear. This is a play that requires a degree of emotional stamina even to think of sitting through it.
It is renowned as a harrowing piece of theatre that takes you on a journey of such power and concentrated focus that you can scarcely blink for the mesmerising force of its impact.
Derek Jacobi is said to touch the heights: I have heard that strong men weep over the final unbearable scene of Lear's descent into despair and death, brought low by his own pride from the swagger of Kingship to the misery of a "foolish fond old man".
And yet audiences are battling to get a seat. All the Cinderellas and Swan Lakes can't pack such a punch.
Setting aside the sensational ramifications of the plot - either of King Lear or Coronation Street - I think such explicit displays of human suffering help people realise in themselves a capacity for deep feeling that they rarely acknowledge.
We all know about sympathy, and the way we live offers us many ways to express it: we send bereavement cards and flowers, we can text or e-mail the moment we hear of something going wrong in a friend's life. Hospital wards scarcely have space for the jug of water on the bedside cabinet, for the number of get-well cards cluttering the place up.
It is good to be on the receiving end and one can speculate that someone supported by such sympathy might well be perked up enough to recover more quickly. And if recovery isn't likely, then in my experience kind thoughts are what the dying appreciate.
Empathy seems to me to be something else; it is the capacity in each of us to understand what it is like to be totally another person, to have the imaginative capacity to suppress our own egos for a while and identify with the powerful feelings of others. It lies at the heart of art and finds its expressions on different levels.
Many of us were taken by surprise years ago by the response to the death of Princess Diana. The scale and intensity of the grief seemed to indicate something more than a tragic external event. Tears flowed on the faces of those for whom she was no more than a glamorous distant figure. Clearly the narrative of her life - so assiduously disclosed by the tabloid press - convinced people she was their friend and that her suffering, her beauty and her life cut short - were somehow theirs.
This public tearfulness is in marked contrast with what we read of the changing attitudes of people towards the daily world around them.
This week, the British Social Attitudes Survey tells us that we are far harsher today in our judgements of the poor than we were 20 years ago. Apparently, we have less concern for those on benefits than we once did, and are less keen on the idea of redistributing income more fairly throughout the population. Attitudes have hardened over the decades and we are more likely to blame someone for finding themselves poor and needy than we are to pity them.
How ironic this should be published at a time when we proclaim the virtues of Christian charity by giving each other ever more extravagant gifts.
For decades now we have celebrated the individual, the rights of each to pursue his or her own ends, the primacy of satisfying our personal needs. It's not helped by a celebrity culture that offers adulation of individuals of varying talents who break through into the almost perpetual coverage of Hello! magazine and OK, the gossip columns of newspapers and the world of Twitter.
The world of self-regard takes further strength from the sphere of spurious medical advice... our bodies are there to be improved, boobs enlarge or reduced, noses trimmed, muscles toned. The playfulness of tattoos and piercing has added to the mix, raising the bar ever further in how much we can each become obsessed with ourselves.
And of course, it's only ourselves who can appreciate the effect of all this effort. Pass a crowd of young people on the street, each with their personal taste and idiosyncrasies of dress, and to me they all look the same. No wonder it takes a Lady Gaga or the Jedward twins to stamp their mark on a sea of similarities.
Given the isolating nature of this culture of narcissism, how are we to recover the empathy for others that we now only feel at the soap opera or great Shakespearean drama? If the Social Attitudes Survey is any guide, it is going to be hard to mobilise people to help others.
The arts world knows how tough it is to recruit sponsors and donors, even for shows where you can offer free seats and encounters with stars. The British are less generous at corporate or individual giving than the Americans, who not only enjoy tax breaks but whose mega-rich compete with each other to be numbered among the Rockefellers and Carnegies.
The trend in Britain is taking us away from the Dickensian impulse to be nice to Tiny Tim: Scrooge might well be approved of today, caring only for himself and his own interests. He might even have awarded himself a bonus.
But let me take you away from all this - from the fight for attention, the measuring of success and status in terms of money.
Imagine a small cottage in an idyllic country village. It is a very small cottage - 15ft square - probably medieval and rebuilt about 1700. In 2001 it exchanged hands for £50,000 and restored for a further £25,000: what was once garden privy is now a washhouse.
It was bought at the instigation of a single person, who had in mind a single purpose - to make such a space available, rent and running costs free, to a woman over 40 who has need of seclusion and financial security to get on with her written work.
The charity - for such it is - takes its inspiration from Virginia Woolf's famous remark in her essay A Room of One's Own - "A woman must have money and a room of her own if she is to write fiction."
The woman who takes up residence in the cottage need not be writing novels but must offer some evidence that she can produce written work. She is given £750 a month for living expenses, and most of all, freedom from worry.
In that sense, this is a gift beyond price, understanding what it is to be a woman no longer young who could do with just such a break. And lest you might judge it to be sexist to favour only women, the charity declares: "The fellowship is reserved for women until equal parity with men is achieved in the national assessment of earned income."
This is a good deed done in a quiet corner of English life. It seeks no plaudits or fame, simply the reward of making something happen that wouldn't have happened otherwise.
The idea - the brain child of Sarah Hosking, herself a painter who has taught and published on arts self-employment - is now run by a trust, and gets modest sums from a whole raft of people many of whom are themselves women writers, just the people to understand how important the chance could be in someone's life.
The trust is a registered charity. Of the 160,000 or so main charities registered in this country, few can be as unobtrusive as this one: they don't even have a Christmas card.
I wonder just how many other small ventures there are that have identified a need and are quietly getting on with doing something about it. To them especially I wish a happy Christmas.