England World Cup bid: 10 ways fans can console themselves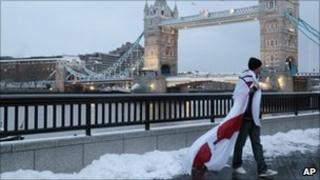 Russia will be hosting the 2018 World Cup. Not England. So how can fans console themselves about this sad episode?
England was all geared to host what promised to be the best World Cup yet, but instead there's only disappointment.
Here are 10 things the fans can think about while they dry their eyes.
1. The noise of the vuvuzelas will be so... much... further... away.
2. With the World Cup in Russia there will be no need to metaphorically deal with a poorly-performing England by "sending them to Siberia". They can instead be literally sent to Siberia.
3. David Baddiel and Frank Skinner will not be asked to re-record Three Lions. Unless it's with the lyric "football isn't coming home until at least 2026, but probably at least 2030".
4. If you're an English engineering student, Qatar's plans for its stadiums in 2022 could form the basis for some fascinating lessons. Tutors could ask students to brainstorm ways to cool an open-air stadium from a summer average-high temperature of 40C to a more bearable 20-25C. Anyone cracking the problem probably has a bright future ahead of them.
5. Tabloid newspapers will have a field day with a Russian World Cup. "Fools Russian", "From Russia with glove", "War and pass" and sundry others.
6. The FA won't be having to change the phone number for its supporters' group Englandfans, which ends 1966, or the Englandfans address which is PO Box 1966. Should save them a bob or two.
7. There may, and this is really just unjustifiable rank speculation, but there may be some football fans in Scotland who were not behind the England bid. There may be some, and it's really almost fantasy here, but there may be some Scotland, Wales and even Northern Ireland fans who feel that the hype, puffery and hubris generated by an England-hosted World Cup would be just too much to bear.
8. English football fans can at least commiserate with their hockey counterparts as England lost out to Holland in the race to host the 2014 Hockey World Cup.
9. It's been speculated many times that the England football team may respond badly to pressure. And a World Cup in England in 2018 would have been unbearable pressure. The "golden generation" of Hart, Gibbs, Jones, Smalling, Mattock, Clark, Wilshere, Henderson, Rodwell, Albrighton, and Carroll will thus be mentally freed up to win the final in Moscow. Probably.
10. You can continue watching THAT Geoff Hurst goal until your heart's content.