Why do schools shut when it snows?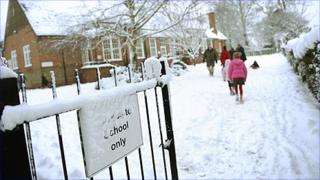 Hundreds of schools across the UK have been closed because of the snow. Why?
Snow day. Two of the most exciting words a child can hear and two of the worst for parents, particularly those who work.
Pretty as it may be, snow is an issue that often puts schools on a crash course with parents because of school closures.
In some cases the reason is obvious - snow fall is so heavy no one is going anywhere. But in other cases, particularly in towns and cities, shops don't shut, offices don't close. Nor do hospitals. So why schools?
The key issue is the safety of students and staff, say schools, local authorities and unions. This includes a multitude of considerations, but mainly can people get to and from school safely, is the site safe and are there enough staff to supervise youngsters.
It's a head teacher who decides whether to shut a school, in consultation with the local authority, says the Department for Education (DfE), which is responsible for schools in England. In exceptional circumstances a local authority can order a blanket closure of all community and voluntary-controlled schools, but not foundation or voluntary-aided schools or academies, which are more autonomous.
"Shutting a school is the very last option for any head teacher," says David Yates, who is in charge of Waterside Academy in Oldham and took the decision to shut his school on Tuesday. "Continuity of education is extremely important, but you have to balance that against risk."
While shops and other organisations manage to operate during bad weather, schools need enough staff to supervise pupils to be able to open. Many of us will remember sitting in the school hall during bad weather, doing quizzes or watching films all day. This was usually because of staff shortages. Again, head teachers have to decide if there is enough staff to safely oversee the children.
Broken toilets
Not surprisingly, the much-maligned health and safety rules are also a factor. While they may raise a collective groan from many, the National Association of Head Teachers (NAHT) says schools are legally obliged to follow them.
Such regulations range from icy playgrounds and if a school is warm enough, to whether water is available and the toilets are working properly. Schools also have to balance opening against the risk of legal action from parents and staff if accidents happen.
But some areas are not so clearly defined and the contentious issue of school attendance is one of them.
Currently pupils who do not turn up to school even in extreme weather have to be marked down as absent. This is not the case, however, if the school shuts. Some parents argue this encourages schools to close when it snows so they can maintain high attendance levels, which are inspected by Ofsted.
This is dismissed by the DfE, which says there is flexibility. It advises "schools that do remain open... should not be penalised because absence rates have risen due to pupils having difficulty in travelling to school". It also says Ofsted inspectors are given additional advice on inspecting attendance which covers periods of extreme weather.
But some local authorities still take a strict approach. In its advice on emergency school closures, including snow, Kent County Council says "not sending your child to school when the school is open will count as an unauthorised absence on your child's record".
Pressures
Another area where there is a clash is travel. Often during heavy snow only "essential travel" is advised. The DfE regards travelling to school as essential and says both staff and pupils should try to do so safely, but the National Union of Teachers (NUT) disagrees.
"In our view essential travel is that which is needed to protect people, for example medical or emergency services, gritting services, food supplies etc," says a spokesman.
But head teachers insist the only factor that is important is safety.
"This debate always comes up when the weather is bad, but safety is the only issue involved," says Mr Yates. "It's all about a safe balance of risk."
Margaret Morrissey, a former Ofsted inspector who runs campaign group Parents Outloud, says both schools and parents are put in a difficult position by bad weather.
"There does seem to be this strange anomaly when it comes to schools and other organisations during bad weather," she says. "Everyone else seems to manage to stay open and often schools don't. But they aren't like any other organisation, you need a certain ratio of staff to look after children.
"But it is also terribly difficult for parents who are expected to go to work, so what do they do with the children? What parents really need is more flexibility in the workplace so they don't feel so much pressure from all sides."
Read your comments:
I have two primary school aged children and one toddler at home. I myself also work in a secondary school. I have total faith in the headteacher of my children's school and confidence that when he says that the school is unable to open (as is the case today), that is for no other reason than the safety of the pupils and staff. I would hate to think that the school was opening without the right number of staff to supervise my children. He is ultimately responsible for everyone in that building, most of whom are very young children. I take my hat off to the work of headteachers and I think to criticise them for putting our children's safety and welfare first is wrong and irresponsible. Jo-Anna Barr, Leeds
I am a primary school teacher, at home due to snow. My school shut at lunch time yesterday, all staff remained to make sure parents were able to collect their children, before heading out home. Like everyone else, we have to take trains, cars or walk to work and if trains are delayed, roads gridlocked and conditions treacherous, we are unable to get to work. No teachers - no opening. We are not idle, irresponsible or short-sighted. When we are issued with jet-packs to enable us to beat the elements then we shall be able to open every day. Until then, we shall do the same as everybody else - our best. Annie, West Yorkshire
Having just had my son sent home from school, despite the fact that it was shown as open on the local authority website, and now being told it is closed tomorrow as well, my overwhelming reaction is "pathetic". There is 3cm of snow and the temperature is just below freezing. I am currently a single parent as my partner is on a business trip to Scandinavia. In Stockholm it is -22C today. Everything is working and schools are open, as is everything else. I think the problem we have in this country, and it permeates every part of society, is a "can't do attitude". I'm sure with a little more effort - teachers getting to school even if late, parents clearing snow from school paths (HSE regulations won't allow them to play outside anyway in the snow!) and we could all get on with work. Ministers say the cost of being prepared isn't worth it. What is the cost of millions of lost days at work and school?Garry Lockwood, Wimbledon
I am in my late 40s - I don't recall ever having missed a day at school when younger because of snow, and I am sure it snowed more then. I appreciate health and safety regulations, but I think schools close far too easily these days. Nigel Sharp, Letchworth
Our first day of snow was Tuesday. The schools remained open and I have to say it wasn't easy getting our daughters to their respective schools. Normally they both walk, my eldest unaccompanied, however my husband drove her on this occasion, obviously worried about her safety. It took him 45 minutes to go 3/4 of a mile. He said people in cars were just sliding through traffic lights when trying to stop. I walked with my youngest and though it took longer than usual, and we were very wet with the snow, it was pretty uneventful. Both of my daughters at the end of the school day said they had watched movies all day. Where's the continuity of learning in that? Fortunately the schools have closed since, and as I work in a school it makes life simpler. Personally I feel that you and your child's safety is paramount, schools should close in severe weather. Andie, Essex
Two days in a row the school is closed. My wife has taken holiday leave to stay home risking the ire of her employer. Although I can easily do my job from home, my employer would think I am being lazy or not working and since I am the main income earner, we cannot take the risk of upsetting my employer. Although I agree with health and safety measures I think they are sometimes taken to extreme, parents do need flexibility from their employers, especially when someone has the ability to perform their tasks from home. Yann, London
All I can say is, if, when we lived in Austria, the schools had closed because of snow, the children would have spent half the weekdays at home all the way from November to April. It's nothing short of pathetic the way people can't cope with the snow in this country. Buy the kids proper snow boots and get winter tyres. End of problem. Shan Parfitt, Aberdeen
I am self employed and have struggled to work the last two days but have managed to walk and get public transport and drive in hazardous conditions - today and tomorrow I can't work as the school is closed and I have no other childcare, meaning I don't get paid either. Teachers will still get paid for staying at home but why should they when people like myself are forced to stay at home without any pay? Up until yesterday our roads were cleared and gritted and I am sure the school could have opened. My husband has suggested he would volunteer to help clear the site. I am sure with volunteers and some teachers the schools could open. My children will have been off school all this week and with no let up who knows what will happen next week. NJB, Durham
Yet again the schools are closed and as a working parent this presents me with a major problem every time. Surely it's time that something is done about this - what are we supposed to do if the snow lasts indefinitely? Teaching seems to me to be the only profession to be able to just close down when we have inclement weather. I'm afraid I don't agree with the excuse that teachers cannot get to school - we all have a duty to get into work and indeed many of my colleagues have made it in to work today from further afield than the local town. I suspect the 'unathorised absence' issue is far closer to the truth - surely this ridiculous situation needs to be changed? I also wonder if unpaid days off would motivate the schools a little more? Not very happy. Sarah, Basingstoke