Ashes: 15 ideas to help you stay up all night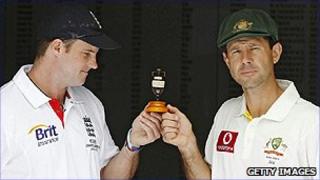 This year's hotly-anticipated Ashes series between England and Australia kicks off in the small hours of Thursday morning. But the 10-hour time difference presents a problem for fanatical cricket fans.
On Tuesday, the Magazine asked a sleep expert for tips on how to stay up all night without preparation. The article prompted a wealth of alternative suggestions. Here are 15 of the best.
1. An instant pick-me-up that works for me is brushing my teeth. The combination of the physicality of brushing and the minty toothpaste always brings me round again. Mick S, Steeton, UK
2. Might I suggest getting home as soon as possible from work and getting 6 hours sleep before play begins? I'll be making sure I get some sleep before play and probably an hour after play before work depending on how defensive the batting is. Chris, London
3. I've found eating fresh fruit, especially pineapple, really helps to keep me awake during a night shift. Daniel Barry, Cardiff, UK
4. Get a SAD lamp - usually for seasonal affective disorders - and have a blast for about 15 to 20 mins. I guarantee you won't sleep. Dave Coppice, Tunbridge, UK
5. I have teething twins available for rental if anyone is struggling to stay awake all night. In fact, forget the renting... John, Dorking, UK
6. I have the Aussie leg of The Ashes down to a fine art. I start stock-piling jobs which can be done with an ear tuned to the radio about a week before. I go to bed early, set my alarm to 4am, creep downstairs so as not to wake the not-quite-so-desperate cricket fans in our house, switch on 5Live and iron/file/wash up/mop floors/put the washing on... to my heart's content. I have to foresake the first few hours of the day's play but it's a great compromise. Jackie Buxton, Harrogate
7. I'm a junior doctor and the best way to stay up all night is to keep busy. Maybe combining watching the cricket with catheterising people is not possible for most though, so how about a bit of a spring clean or some baking? Alec Jones, Blandford Forum, UK
8. I find bowling a few overs around the living room with a rubber practice ball usually does the job for me during quiet spells. Sean, London, UK
9. Buy some Fisherman's Friends or something similar, they wake the head up. Ben, Isle of Man, UK
10. Many years ago in my first job an old former merchant navy sailor told me the trick to staying awake and alert during the long night watch was to go and have a shave when tiredness set in. Randal Harkin, Melbourne, Australia
11. I find the best way to keep going during "the slump" between three and five is to have a shower. It refreshes you mentally as well as physically. David Byrne, Leicester, UK
12. I am a shift worker and have been for the past four years. The best thing I have found to help me is talking with friends or family. Either face-to-face, on the phone, or with friends on the other side of the world. Sid, Reading, UK
13. How to stay awake? My wife gave birth to our daughter 10 days ago and I've not slept a night since. This technique does however take around nine months of planning, so perhaps one to remember for when we go back to defend the urn. Paul, Gloucester, UK
14. Good results drive wakefulness, so I expect most Poms will be tucked up in their beds getting a good night's sleep after the first day or so. Glen Tara, Sydney, Australia
15. I actually use cricket as an insomnia cure so will only be putting it on if I CAN'T get to sleep! David G, Oldbury, UK