Royal wedding: What makes a great one?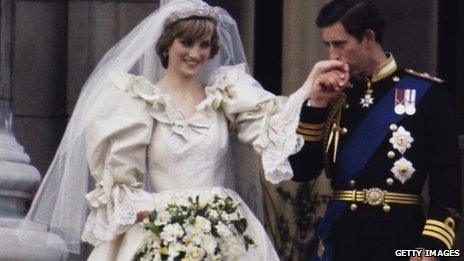 As Prince William and Kate Middleton prepare to tie the knot, what are the ingredients of the ideal Royal marriage ceremony?
Fairytale pageant, national communion or - for those so politically disposed - a Ruritanian waste of money, the Royal wedding occupies a unique position in the collective British imagination.
Prince William and his fiancee, Kate Middleton, may have to contend with all the stresses and strains that confront any young couple preparing to marry - but conforming to the expectations and aspirations of an entire nation is an additional item on their to-do list.
The UK may be a less deferential place than when Prince Charles and Princess Diana married in 1981 - a country where people prefer to vote out their public figures on prime-time TV rather than doff their caps to them.
Divorce, scandal and the steady murmurings of republican sentiment might also mean that that the monarchy does not quite carry all the fairytale sparkle it did a generation previously.
But, nonetheless, the British Royal wedding remains a unique occasion that encapsulates many of the oddities and indosyncracies of the national psyche.
And even a cursory study of Royal weddings throughout history reveal that certain expectations are woven into the event like the stitching in a shop-bought Union Jack.
So what key components of Willliam and Kate's ceremony can we anticipate in the spring or summer of 2011?
For all their glamour, British heirs to the throne have a habit of marrying during periods of economic hardship.
In 1947, the then-princess Elizabeth's wedding to Lt Philip Mountbatten took place against a backdrop of post-war austerity, rationing and devaluation.
When Prince Charles married Lady Diana Spencer in 1981, unemployment stood at 2.5 million and the inner cities were erupting in violence.
Yet both occasions proved hugely popular with the beleaguered British public - the glitz, romance and opulence of the ceremonies offering respite from eras of hardship and uncertainty.
Will the post-credit crunch UK of mid-2011, in which the coalition government's spending cuts will have begun to bite, take similar refuge from reality in Prince William and Kate Middleton's nuptials?
Peter York, social commentator and author of Peter York's Eighties and The Official Sloane Ranger Handbook, believes there is currently a public appetite for escapism mirroring that of the early 1980s.
"There's a lot of it around right now - Downton Abbey is about all that," he says of the hit ITV1 drama . "In 1981 you had something similar with Brideshead Revisited."
Nonetheless, York suspects the Palace will be keen not to overdo the ostentatious bling lest it prove too much for hard-up subjects.
"I think they'll be careful about how they do it," he says. "They'll be taking soundings about how far to go."
In the build-up to next year's wedding a great deal of the hype and speculation will surround the design and making of the bride's dress.
With so many people watching, much will be read into Kate Middleton's choice of attire.
Indeed, there is a long line of memorable Royal wedding dresses.
Perhaps the most influential of them came in 1840 when Queen Victoria married Prince Albert. It was a radical departure from the norm for two reasons.
Victoria was not the first Royal bride to wear a white dress, but she cemented what is now an established tradition across the Western world. Before Victoria, brides wore various colours, afterwards, they increasingly veered towards white or cream.
Queen Victoria also opted for a shift in style, notes Joanna Marschner, senior curator at Kensington Palace and co-author of Royal Wedding Dresses.
Previous Royal wedding dresses had frequently featured gold and silver cloth. They were not replicable by the general public. Now Victoria was wearing one that was.
"For the first time a member of the Royal Family was wearing a dress that any girl about town might wear," notes Ms Marschner.
As the Times noted: "Her majesty wore no diamonds on her head, nothing but a simple wreath of orange blossoms."
The style of dress smacked of a personal choice.
Later Royal dresses also established fashion trends. When the Queen Mother married in 1923, she helped set the trend for a nation.
"The Queen Mother's dress worn at her wedding was a flapper-style, lace veil pulled right down over her forehead," says Ms Marschner.
And then the Queen's wedding in 1947 saw a dress that reflected the times. Despite being designed by the prominent Norman Hartnell, the then Princess Elizabeth had to use ration coupons to obtain the material.
"It became every little girl in the country's dream... the inspiration for wedding fashions for a decade. These dresses do catch the imagination. They all made their bang in their own particular way."
Perhaps none since that of Queen Victoria had as great an impact as Princess Diana's in 1981. The 25-ft long train drew the eye.
"Romantic fashions were a thing of the moment," notes Ms Marschner. Dresses off the shoulder then became a wedding staple.
What unites all of them is that they reflect there is a wider audience in attendance than just the thousands of invited guests.
"There is a practicality that has to be recognised," says Ms Marschner. "They are going to be photographed, they are going to have to carry the day in these enormous locations."
Even the most cantankerous republican had cause to cheer on 29 July 1981 - a public holiday was declared and workers were given the day off.
"Sat and watched the royal wedding on TV," recorded Tony Benn, not normally an enthusiast for the trappings of monarchy, in his diary that day.
No announcement has yet been made about whether the official Windsor-Middleton knot-tying ceremony in spring or summer 2011 will be marked with a similar long lie-in for the nation's employees.
But an extra bank holiday was declared for the Queen's golden jubilee in 2002 and another is planned to mark the 60th anniversary of her ascending to the throne.
No doubt some business groups will protest about lost productivity during a period in which the economy is in recovery.
But Prime Minister David Cameron - who has revealed he slept outside the Mall to secure a good spot for the 1981 wedding - might be expected to give advocates of a day off a sympathetic hearing.
Royal weddings are supposed to cement affection for the Royal Family. There will also be much talk of the country uniting for the occasion.
When Victoria married in 1840, it was largely an occasion for people in London and the surrounding area, with so many well-wishers climbing trees in St James's Park that branches snapped off, dumping their occupants into the crowd below.
But by the time of the marriage of the future George V in 1893, railway travel was commonplace, allowing people from around the country to be close to the festivities. The Times noted that the Metropolitan Railway alone had carried a record 514,724 people on the wedding day.
By 1981, much of the country was watching on television.
For the forthcoming wedding, Union Flags will be abundant. Schools, even in parts of the UK that evince a certain degree of ambivalence towards the Royal Family, will show their enthusiasm on collages and banners.
Obviously, there are many republicans in the country for whom the occasion will provoke no such feelings. But the profusion of red, white and blue bunting will be hard to ignore.
Many of those whose business depends on weddings will be rubbing their hands together in the hope that William's nuptials will prompt more lavish spending from those already planning to marry next year.
But does a much-trumpeted royal wedding have any effect on marriage rates?
A quick look at the statistics suggests not. The Office for National Statistics has figures for marriages going back to 1837. Looking at the major royal wedding years of 1840, 1863, 1893, 1923, 1947 and 1981, and it's hard to see any spikes in marriage rates in the years after.
Of course, that's not to say that those already planning to get married won't feel a little energised by all the hoopla around William and Kate.
For many it will be hard to resist.