Is this really what Essex is about?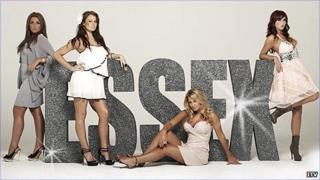 Essex is the subject of a new TV show, but it's all rather predictable with big hair, big cars and big wads of cash. Most Essex men and women wouldn't recognise the stereotype.
It's arguably the most-maligned 1,300 square miles in the UK. It also has one of the country's most distinct reputations - and probably the worst.
Cornwall has its beaches, Yorkshire has its dales and Cumbria its great lakes, but Essex has its tanning salons, nail bars and nightclubs.
That's the take of new ITV2 series The Only Way Is Essex. Described as a cross between a soap, a documentary and a reality show, it will follow the lives of a group of young people for 10 weeks.
If it's stereotypes you want, you've got them. The first episode - screened on Sunday - included several aspiring glamour models and flashy nightclub promoters. It's as if you can't walk down a street in Essex without bumping into one.
It also introduced a word to an unsuspecting wider world for the style of fake gems stuck around a woman's freshly-waxed bikini line. Believe me, I'd never heard of it - and I was born and raised in the county.
The show's launch is very timely. Twenty years ago almost to the day, Simon Heffer, himself an Essexonian, first wrote about "Essex Man" in an article in the Sunday Telegraph. His subject was the Londoner who had moved out of the capital and settled just down the road.
Described as a bit "brutish", "culturally barren" and "breathtakingly right-wing", Essex Man quickly became shorthand for the successes - and excesses - of Thatcher's Britain. He even entered the Oxford English Dictionary.
His partner "Essex Girl" became even more legendary. A social statement rather than a political one, she quickly became shorthand for everything that was shallow, vulgar and stupid about society.
But it's not how many locals see the place or the people. As England's 11th largest county in size, according to Essex County Council, it is a richly diverse place which has become defined by the relatively small area that abuts Greater London.
"The London part of the county has always been very visible, publicly and culturally," says Dr Pam Cox, a lecturer at Essex University who specialises in social order in 19th and 20th centuries.
"It's its proximity to the City of London. People would leave school in Essex and go and work in the City, often making a lot of money.
"It's made it a microcosm of what is going on in the wider society. It's like a weather vane for the whole of the UK. If the media or politicians want to sum up what is going on in the country they jump on a train and come here. That's how Essex man came about in the 1980s."
But Essex is more than just London overspill, the majority of it is rural. It vies with Cornwall for the title of the county with the longest coastline, thanks to its many estuaries. It's also second only to Devon when it comes to the most roads officially designated as country lanes.
It's a point not lost on some viewers of the ITV show, who have blitzed the programme's website with protests. "Wake up production team and sack your researchers, this is not Essex," wrote one.
Lazy stereotype
"Just take the accent," says Luke Wright, a 28-year-old poet from Essex. "Most people think an Essex accent is the typical estuary accent. The real Essex accent is actually a soft, warm country burr. It's lovely.
"The place is defined by a few lazy stereotypes. Sure people like Essex Man do live there, but people like that live all over the UK, you just have to change the accent."
But the stereotypes are not entirely harmless fun. Research for Essex County Council some years ago showed its reputation was bad for business, deterring tourists and investors. It also put skilled workers off relocating to the area.
As a result it became the only county to have a commitment written into its Public Service Agreement with the government, to improve its public image.
"The council has worked really hard to promote a greater understanding of Essex and what it is really all about," says Jeremy Lucas, Essex County Council cabinet member for heritage, culture and the arts. "It's disappointing people are still trying to suggest there is only one aspect to the county."
In fact, when Heffer introduced Essex Man, it wasn't all negative. He described him as "industrious" with "instinct and energy".
"To me Essex is vibrant, it is about movement, energy and enterprise," says Dr Cox. "It is about mobility, both social and physical. People came here to improve themselves, build a better life and that is still the same today."
Sally Carpenter, who promotes businesses in the region, says the county has "one of the highest start-up rates for new businesses of anywhere in the UK. People here are entrepreneurial and think big.
"I think it's because you can be the rural countryside here, but you are still often less than an hour away from London on a train. Essex has the best of both worlds and that allows it to have real diversity."
In case it seems as though Essex Man and Woman have suffered a sense of humour bypass, it's fair to say they can see a funny side to the jibes.
"A lot of it is just gentle teasing," says Dr Cox. "People have a soft spot for Essex too. The nastiness no longer exists."
Others agree the loathing has softened.
"Outsiders don't take the place too seriously," says Mr Wright, "but there is little malice anymore."
It would be wrong, though, to say Essex Man has embraced this label.
"Friends ask me if I'm an Essex man and I say no," says Mr Lucas. "I'm a man of Essex and I'm very proud to be one."