The 'hidden hunger' in British families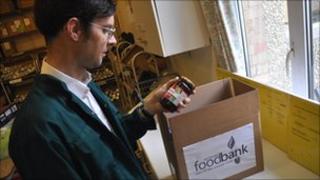 Food parcels are associated with famine-struck parts of the world. Yet there is a "hidden hunger" in Britain, according to one charity, which has seen a surge in demand for its emergency supply boxes.
Sara is a married mother of two school-aged children. She lives in a four-bedroom house, drives an expensive car... and has relied on food handouts to feed her family.
While the idea of food parcels has echoes of Dickensian London or a famine-struck corner of the developing world, they are becoming more common in 21st Century Britain.
The Trussell Trust charity, which operates dozens of foodbanks across the country, says it is serving Britain's "hidden hungry". It mainly helps people who are not receiving benefits they would normally be entitled to, but also sees many families who fall into financial difficulty after the main breadwinner loses work.
That was the case with Sara's family.
Sara, not her real name, is 50 and lives in the relatively prosperous Wiltshire city of Salisbury with her husband, a contractor who works in training. The couple have two children, aged 11 and eight. They seem to be a middle class family in classic Middle Britain.
She agreed to speak anonymously about how the trust helped her family.
To an outsider, Sara says, her family must appear to be "quite comfortable". But it was when her husband's work began to dry up earlier this year that they started to feel the squeeze.
"Suddenly we had no income and had used up all our savings. Any money we did have went quickly on paying the mortgage, and our credit cards were also maxed out."
Sara is keen to point out that neither she nor her husband smoke or drink, and that the family had been using vouchers from newspapers for their last few holidays.
"We cut back on as many things as we could. Our first plan was to sell the car, as it's worth a fair bit, but we couldn't. Nobody wanted to buy it."
Unable to claim benefits, and having previously donated to the Trussell Trust through her children's school harvest festival, Sara eventually resorted to using it herself at the end of August. The experience of visiting her local foodbank left her amazed and humbled".
"They didn't make a fuss and were very friendly. We were given boxes of good quality food that would see us through for a few days. When I saw some Kit Kats in the box, the sort of treat we'd been going without, I nearly cried."
Although she is hugely grateful to the Trust, she says asking for its help left her feeling "humiliated".
'Lazy people'
"I had to drive down to the foodbank in a luxury car and pick up a food parcel to feed my family," she says. "How do you think that made me feel?
"I didn't tell my husband I was going to do it, but did tell him afterwards. My children still don't know and neither does anybody else."
The family has have now sold their house and are moving into rented accommodation. Both are now working, although Sara has yet to be paid.
"I thought food parcels were only for lazy people," she says. "I just didn't think that I was going to be next. Nobody helps the people in the middle."
The Trussell Trust is a Christian charity which serves those on the brink of desperation.
Staff and volunteers arrange collections of food - asking supermarket shoppers in each foodbank area to donate an extra item from a pre-defined shopping list - then distribute the goods to the hungry by means of vouchers.
These vouchers are given to people classed as being unable to support themselves, and distributed by "statutory professionals" such as doctors, health workers, social workers, the Citizens' Advice Bureau and probation officers among others.
The voucher can then be redeemed in exchange for a box of nutrionally-balanced, donated food.
Chris Mould, executive director of the Trussell Trust, says one reason for people running out of food is because many have their benefits suspended while they are being re-assessed.
"The Department for Work and Pensions will say people's benefits are not stopped while a re-assessment is taking place. That is not true. Our foodbanks are increasingly helping people who are having their benefits stopped during reassessment.
"The DWP might say this only happens for three weeks or so, and what's the problem? But if you're living week to week then that's a long gap to cover when you're trying to feed yourself and a family."
Vouchers
Mr Mould says the Trust is lining up meetings with the DWP to discuss the possibility of allowing Job Centre staff to administer vouchers.
And of the 41,000 people fed by foodbanks last year, he says 35-40% had problems with benefits.
Last year's figures sees a sharp increase on the 26,000 people fed during the financial year 2008/09, and the charity has just opened its 71st UK foodbank, up from 44 last year. Some 378 tonnes of food were collected by the foodbank network in 2009/10.
Some 60,000 people are predicted to be fed nationwide in 2010/11, with the Trust aiming to have 86 foodbanks open by end of March 2011.
But why are food parcels a necessity in modern-day Britain at all?
The benefits agency says when families suddenly find themselves without money people can apply to the Social Fund for help, and that it does signpost people to Social Services and charities such as the Trussell Trust.
She added: "People who change their circumstances need to tell us as soon as possible, and then we work as fast as we can to update their records.
"All our processing times are well within our targets."
But Racheal Hughes, 25, also from Salisbury, says she has relied on foodbank boxes about 15 times, often as a result of her benefits stopping after her circumstances altered.
This mother of a six-month-old boy says her benefits were suspended due to her changing her address, and that it took about three months to sort her money out. She had already had three Crisis Loans and could not apply for more.
"I was pregnant when my money stopped and would have been in dire straits. When I was fed by the Trussell Trust I was relieved, overwhelmed, grateful. More people should know about them.
"Sometimes, when I get a foodbank box, I get really embarrassed that I can't feed my family. I very much feel that I have been let down by the welfare state."