Why travelators still trundle on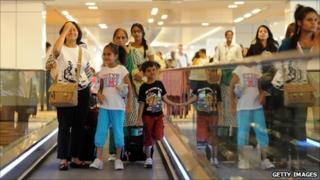 It's 50 years this week that the first travelator opened in the UK, prompting visions of a future where walking would be superseded by standing on a moving walkway.
They belong to an age of hovercraft and monorails, a Tomorrow's World imagining of the 21st Century rooted firmly in the past.
Even their name - travelator! - evokes the sci-fi innocence of a post-war world which had not yet learned to be cynical about the transformative power of technology.
Once, the idea of automated moving walkways may have been bound up with gleaming, modernist idealisations of the future.
But after 50 years in the UK, most of us must now surely associate them with a brief moment of respite as we trudge from one end of an airport to another.
It was a very different story when the UK's first travelator opened in September 1960 - a time when the confident consumerism of Harold Macmillan's "never had it so good" era was preparing to give way to Harold Wilson's faith in the white heat of scientific development.
According to an internal London Transport record, conditions on the subway leading passengers on foot to the Waterloo and City line had become "intolerable". Work began in 1957 on the Travelator, described as "an American device which was basically a step-less escalator on an easy incline".
A contemporary Pathe newsreel breezily hails the "moving platform replacing that dreadful old tunnel" as a "big success", its two 85 horsepower engines capable of carrying 13,000 passengers during peak hours.
The basic concept was not, even in 1960, a new one. Chicago's 1893 Columbian Exposition featured moving sidewalks designed by innovator Max Schmidt, who envisioned an ambitious programme of similar projects across Manhattan.
Maintenance concerns - not least the logistical difficulties of keeping such an infrastructure running, and indeed keeping it dry - scuppered the scheme before it could be realised.
The technology would make a comeback in the middle part of the 20th Century, branded not just as travelators (originally "Trav-O-Lators") but the equally space-age "Speedwalk".
They started to appear in major cities around the developed world - most usually in transport hubs, such as Bank Underground station, but also the "Yebisu Skywalk" in Tokyo, connecting Yebisu Garden Place with Ebisu station, and Disneyland's Space Mountain rollercoaster.
Indeed, it was around this time that the the travelator earned its place among retro-futurist iconography.
Moving walkways had featured in HG Wells's 1897 novel A Story of the Days To Come and Fritz Lang's dystopian 1927 film Metropolis. But their recurrence in post-war sci-fi ranging from Isaac Asimov's The Caves of Steel to Arthur C Clarke's Against the Fall of Night via The Jetsons rooted them firmly in the era between the beginning of the Cold War's space race and the first moon landings.
By the time the distant 21st Century had arrived, however, the travelator was rarely seen - in the UK, at least - outside airports and railway stations with distant interchanges.
A clue for this may lie in two separate studies published by researchers at Princeton and Ohio State universities in 2009 which suggested that travelator passengers tended to slow their pace once they stepped on the machines, rendering any time savings minimal.
Nonetheless, travelators retain a sizeable niche market which in turn provides skilled jobs for British manufacturers.
Ian Bowers, service director for the Stockton-on-Tees-based Pickerings Lifts, which produces about 100 travelators a year, says there will always be demand for them.
"It's a simple, fast way of moving people around, and it's very economical," he says.
"With the Disability Discrimination Act, there's been a big push to take accessibility into account, and this technology fits the bill."
Not all travelators have proved so successful. The trottoir roulant rapide (TRR) - which translates as "fast-rolling pavement" - opened in Monparnasse station in Paris in 2002 amid much fanfare.
Passengers entered it at customary travelator speed before being propelled at 9km/h (6mph) over a distance of 180m (590ft). Unfortunately, a spate of complaints and injuries resulted in the TRR reverting to a more conventional velocity in 2009.
Will they carry on into the future, as the sci-fi visionaries imagined? Peter White, professor of public transport at the University of Westminster, suspects they will always have a role but risk being superseded.
"Moving walkways can be very effective ways of getting people over about 200m or so," he says.
"But personal rapid transit systems - the little four or five-seater pods that you get at Heathrow Terminal 5 - might be more appropriate for longer journeys."
For now, anyway, Britain's existing travelators aren't going anywhere - at least, as long as the commuters using them are.