Why autumn fruit lovers are enjoying a bumper season
By Megan Lane
BBC News Magazine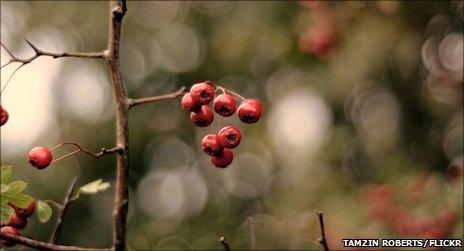 Remember how long and cold winter was? Now it's payback time, with unusually rich pickings of autumn fruit and berries. Why?
So far 2010 has been a year of extremes - the coldest winter in 30 years, the first late spring since 1976, a heatwave in late June and the coldest August in 17 years.
The upside is that now, in time for Thursday's autumnal equinox, the nation's trees and hedgerows are bursting with fruit, berries and nuts.
Not only is this good news for orchard owners, home gardeners and foragers alike, it means birds, insects and other animals can stock up before winter's chill descends.
"This relates back to the wonderful late spring and - incredibly by modern standards - the long period of settled weather we had until mid-July, when the wheels fell off somewhat," says Matthew Oates, the National Trust's conservation advisor, who has kept detailed wildlife diaries for many years.
Throughout August an area of low pressure sat over or near to the UK, making it a cloudy, cool and wet month.
"But we had nothing nasty all the way through May, June and early July - no gales, no late frosts, nothing. In this 10 to 12-week period free from foul and abusive weather, the trees had time to flower profusely, be amply pollinated and then set well with fruit."
While early blackberries suffered in August's rains, those ripening now are in plentiful supply.
Also abundant are apples, pears and the last of the plums - albeit perhaps a little weather damaged from the inclement turn last month - along with hazelnuts, rosehips and sloe berries.
"It's a terrific rosehip year. Rosehips have about 1,000 times more vitamin C than oranges and lemons but we don't tend to eat these now because of the preparation required. But they were a mainstay of World War II diets, with rosehip jellies and syrups."
The hedgerows are also well-berried, dripping with spindle berries and the fruits of hawthorn and holly.
Some may worry that plentiful holly berries signal vicious weather come Christmas, but this is a myth, says Mr Oates. "It reflects the good spring we had, it's not prophesying anything."
All of which is beneficial for biodiversity, as well as jam and crumble enthusiasts - unless hedgecutters and flails get there first, he adds.
Dormice, squirrels, foxes and badgers are very fond of autumn fruit and nuts, as are migratory birds fattening up for winter, and insects such as the hawthorn picture wing fly and micro-moths which feed on spindle berries.
Some plants suffered when summer took a turn for the worst, including sweet chestnuts. "And oak trees - acorn crops aren't as good as I'd thought."
Meanwhile, experts at the National Arboretum in Gloucestershire say Britain could be in line for a prolonged display of autumn colours. Its log books show the weather patterns this year most closely resemble those of 1929, which had vivid leaves on the trees until November.
"We tend to like autumn colours more than spring displays, so from an aesthetic point of view this autumn looks set to be a good one," says Mr Oates. "As well as good leaf colours, the myriad of fruit and berries will provide bright pinpoints of colour."
While he, like the professional forecasters at the Met Office, is reluctant to predict what the coming winter will be like, signs are that September's weather will continue to be relatively pleasant.
"We haven't had a wet September since 2000. At its worst, this one is going to be mixed."
Perfect, he says, for making the most of the pleasures of autumn before winter's chill sets in.
Related Internet Links
The BBC is not responsible for the content of external sites.