How has Subbuteo survived?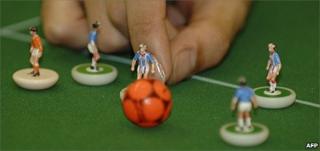 If you thought that Subbuteo went the same way as flares, space hoppers and sherbet spaceships - that is, to the dustbin of history - think again, says Brendan O'Neill.
Like an ageing, slightly bloated former star of the footballing firmament who decides to sign for a Second Division team, Subbuteo seems to be making something of a comeback.
Or at least some people hope that it is.
It may be a super lo-tech game that involves little more than flicking 11 men at an oversized ball on a rolled-out felt pitch, but some believe that Subbuteo can be called off the subs' bench to entertain a whole new generation of gameplayers.
This weekend, the Subbuteo World Masters Tournament will take place in Ashton in Bristol.
Champion finger-flickers from around the world - including Spain, Italy, Belgium, Portugal, Holland and Austria - will compete for a prize fund of £10,000 and for miniature cup glory.
England (represented by the Bedminster-based Subbuteo star Darren Clarke) will be hoping that the little plastic figures can do in Ashton what the real flesh-and-blood guys failed to do in South Africa: play well.
Cardboard players
The tournament is being organised by a 25-year-old Bristolian and former Subbuteo World Cup finalist, Kaspar Bennett, who says he wants to make Subbuteo as popular as it was in the 1970s and 80s.
"Hopefully [this tournament] will make people want to go back to playing the game themselves", he told the Bristol Evening Post.
But can Subbuteo ever really make it back into the Premier League of pastimes?
In an era of snazzy, computerised gaming - when young people can play increasingly life-like footie games on their Xboxes and PlayStations - is there really space for a game that involves fingers, a green felt pitch, little plastic men, and tiny goals?
Subbuteo was invented by Peter Adolph (1916-1994) in the mid-1940s. Its arrival was announced in the August 1946 edition of Boys' Own magazine and it finally went on sale in 1947.
The contents of the game have changed over time. When it first came out, the little men were made from cardboard and were weighted down with buttons and lead washers, and they only came in two strips: red shirts or blue shirts.
The original version of the game didn't even have the famous green-felt pitch - instead you got a piece of chalk and instructions on how to mark out a pitch on an old blanket.
Through the 1960s and 70s, various design modifications were made, the pitch was introduced, and along came the now famous weighted plastic men - who you could even get in your favourite teams' colours, giving rise to the cult of Subbuteo team collecting.
There have been more than 700 different strips.
Royal fan
At its peak, more than 300,000 miniature teams were sold each year. The first Subbuteo World Cup was held in 1987, the same year in which Justin Finch, a 16-year-old Brit who was then ranked fifth in the world at Subbuteo, made the front pages of the papers after insuring his right hand for £160,000. Subbuteo was a bona fide national pastime, if not obsession.
Yet its popularity waned. And in 2000, Hasbro, owners of the Subbuteo brand, announced that production of the game in Britain would cease. A spokesman blamed "the huge number of football-related products" - including computer games - that had "flooded the market".
Today Hasbro, which still licences out the Subbuteo brand to other manufacturers, no longer distributes the toy in the UK, forcing fans to buy products online. Subbuteo recently made a move into the video game market - a virtual version of this old classic table game has been produced for the Nintendo DS.
So has this finger-flicking institution of British childhood had its day?
"Playing table football for real can't be reproduced on the Xbox or PlayStation, and for that reason I think there will always be an interest in Subbuteo", says Pete Whitehead, who runs Subbuteoworld, a website he created in June 2000 to sell Subbuteo stuff to fans across the globe.
It has customers in Korea, China, Russia, Hawaii, Australia, South Africa and "even to someone at Buckingham Palace".
Mr Whitehead first played Subbuteo as a child in the late 1970s and got interested in it again as an adult in the mid-90s. He says the attractive thing about Subbuteo - and what distinguishes it from computer-based football games - is both that it involves thrilling gameplay and it can be an old-style, collector-based hobby.
"The beauty about the game is that it requires skill, dedication and lots of practice. And it's also a great game to collect, with a huge amount of stuff out there spanning over 60 years."
Yet playing football-based videogames, you can choose to be any one of 510 football teams from 27 leagues across 20 countries and you can control, pass, shoot or curl the ball with remarkable lifelikeness. Can Subbuteo really compete with all that?
"I don't think there is a substitute for a real hands-on game", insists Mr Whitehead. "There will always be a place for table football."
James Gordon, who runs the Subbuteo Rugby website, admits video gaming has contributed to the decline of Subbuteo but thinks there is still a place for it. The 22-year-old thinks the decline of Subbuteo over the past 10 to 15 years springs a lack of spare time.
"Lifestyles now are a lot more hectic, hence the popularity of the pick-up-and-play video games. For Subbuteo, you need an opponent, then you need to get it all set up, and then play; it takes time."
For many people it's all about nostalgia, says Pete Whitehead. "I have lost count of the number of people who have visited our website and then called us up to say what great memories it bought back.
"Then we get loads of customers who say they have a son who is always on the PlayStation and they want to get him away from that…"
But not everyone wants to get stuck back into Subbuteo. Faizaan Sackett, a recruitment consultant in London, was an avid player in his teens - but he wouldn't want his three young sons to play it today.
"Time moves on. Technology advances. Why would anyone want to sit around and play Subbuteo on a mat now, especially when you can buy an electronic version for your Nintendo DS?
"Would I want my three sons to play it? No. Kids today do not have the patience. The world moves too fast, and so do they. My boys would reduce a Subbuteo set into a green confetti killing ground in minutes."