What happened to children's Saturday morning TV?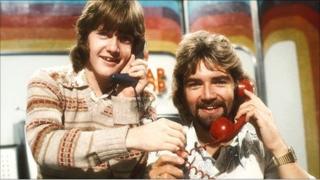 A new children's show launches before a live audience on BBC2 on Saturday. But what happened to the shows that used to fill entire Saturday mornings?
Throughout the 1950s and 60s, Saturday mornings for many children meant a trip to the cinema - Tom & Jerry, old westerns and tailor-made specials from the Children's Film Foundation.
But the 1970s saw TV replace the silver screen in the affections of the nation's youngsters.
Firstly, ITV's regions launched shows - the best-known being the chaotic blend of jokes, custard pies and buckets of water on Chris Tarrant's Tiswas which was eventually shown across the network.
Then, in 1976, the BBC introduced the Multi-Coloured Swap Shop with Noel Edmonds, Keith Chegwin and John Craven.
Between them both, a Saturday morning institution was created. A three-hour marathon of pop videos, phone-ins, games, puppets and celebrities was interspersed with popular kids' shows, all propelled by the spontaneity of its presenters, working much of the time without scripts.
The BBC hopes to rekindle some of that sparkle with a new children's show called Live 'n' Deadly, which promises an hour of "amazing adventures and animal encounters" with a live audience.
So what happened to the old magazine-style shows that dominated Saturday morning television in the late 70s and 80s?
From Swap Shop, through Saturday Superstore, Going Live and then Live & Kicking, the BBC's format remained basically the same. On ITV, Tiswas was followed by The Saturday Show in 1982.
But by 2006, when the BBC shifted flagship Dick and Dom in Da Bungalow to BBC Two and moved Saturday Kitchen in the opposite direction, the era of the live magazine show was over.
"It was big family entertainment and attracted teenagers as well as kids," recalls Paul Smith, the man who entertained six million viewers as Going Live's Gordon the Gopher.
"There was a massive available audience so we could get all sorts of guests to appear. Pop acts wanted to get on because record sales were at their highest on a Saturday afternoon and it could help a song rocket up the charts the next day."
The growth of multi-channel broadcasting left terrestrial channels battling for young viewers with 30-plus rivals, including Nickelodeon and The Disney Channel.
And while magazine shows had endeavoured to introduce an educational element, with guests such as Margaret Thatcher or author Roald Dahl, these interviews "weren't going to cut it" against the likes of SpongeBob SquarePants, says Mr Smith. "It's a hard thing to say but that's why they withered, unfortunately."
Children's habits had also changed. Mumsnet founder Carrie Longton says today's youngsters have much more choice than previously, with many more weekend activity clubs.
"In our day you watched Swap Shop, listened to Ed Stewart on the radio, rode a bike or played out," she says.
"Now there's always other things to do, like computer games. The majority of families have more than one TV, so one child can be watching CBeebies while another has recorded Britain's Top Model and is watching that in the next room.
"It's a shame in some ways. The magazine programmes brought people together and were quite safe TV."
Another key contributor to the shows' demise was the fragmentation of the music industry, when Britpop bands, like Oasis, and dance acts replaced teen-friendly stars of the Stock, Aitken and Waterman era, says Mr Smith.
"A lot of that stuff wasn't right for Saturday morning, so we started to have less influence," he says.
ITV successfully skirted modern rock stars' reluctance to interact with fans by separating their musical content on CD:UK from Ant and Dec's SM:tv Live show.
Despite outperforming the BBC's Live & Kicking and successor the Saturday Show, its audience of 2.5million still lagged behind earlier favourites. These figures could no longer justify production costs and it ended in 2006.
In the same year, BBC One's children's coverage was shunted to BBC Two to accommodate Saturday Kitchen, a move the corporation explained was to avoid interrupting the schedule with breaking news or sporting events. Greg Childs, from the Save Kids' TV campaign group, says this move made it easier for ITV to abandon its coverage.
While he accepts Saturday shows had become less tenable, he says they were important in helping children understand the world around them on a level that appealed to them.
"We lament the loss of that variety and mix in the one programme."
With Dick and Dom, the BBC had deliberately stopped trying to appeal to all ages, focusing squarely at pre-teens in an unpredictable melee of slapstick, gunge and gameplay, without guest stars.
In 2006, it revived many of the traditional Saturday show features with TMi - albeit without a live studio audience. But its run-time was gradually reduced from two hours 45 minutes to 90 and it has now moved to Friday nights on CBBC.
The corporation's latest launch, Live 'n' Deadly, presented by wildlife adventurer Steve Backshall and Naomi Wilkinson, runs for just an hour. Executive producer Wendy Darke says it will take the live audience participation first seen on Swap Shop to a new level.
"I remember thinking 'My goodness, Noel Edmonds is on the phone to some boy and we're watching it on telly'.
"That's so powerful - the excitement of connecting kids - and we'll have live website links through the show, inviting people to set questions and challenges for Steve and send in photos to be shown on air."
Segments will show youngsters taking part in outdoor activities, such as scuba diving for "sea monsters", while each week the "Deadly Convoy" will transport the set - and a host of creatures - to different UK cities for the live show.
Rather than encouraging viewers to watch for hours, Wendy explains: "We want to catch them at breakfast and inspire them to do something exciting with their weekend."
So, could the traditional Saturday show ever make a comeback?
Joe Godwin, director of BBC Children's, argues it has never really been away - just that shows like TMi go unnoticed because they are not on BBC One or ITV1.
"Saturday mornings never died, it's just grown-ups stopped watching them. There'll still be live shows in another 35 years."
However, he says three-hour magazines are unlikely to return and we should not mourn their demise.
"The chances of someone plonking themselves in front of the telly at 9am and staying until Football Focus are slim. Even if they wanted to they probably wouldn't be allowed.
"I used to be sad about that but we make shows for children, not for nostalgic old farts."
Live 'n' Deadly is on BBC2 from 0900 BST on Saturdays.