The most famous comedian you've never heard of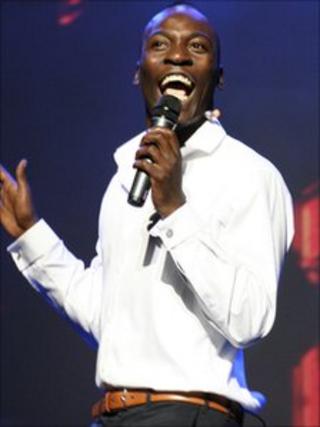 Comic Eddie Kadi can command vast crowds at his live shows. Why has he attracted so little mainstream attention?
On Saturday evening, The O2 Arena - one of London's largest venues - plays host to a comedian who can draw in audiences by the thousands.
Taking the step up onto the big stage is a performer who has already played to packed-out crowds at the 1,200-capacity Hackney Empire, the 2,000-capacity O2 Indigo Arena and the 3,500-seater Hammersmith Apollo.
His name? Eddie Kadi.
If you haven't heard of him, you're in good company. A search on the Lexis Nexis newspaper database reveals that he has, so far, received just a handful of mentions in the national press.
So how can a performer be this popular but escape mainstream attention?
In the past, black comics like Gina Yashere - who relocated from east London to Los Angeles because of what she said was a lack of opportunity - have bemoaned the paucity of breaks available to those with non-white faces.
But 27-year-old Kadi insists that racism, subtle or overt, has never been an issue for him - and cites the popularity of Lenny Henry and Chris Rock among British audiences as proof that nothing is holding him back.
"To be honest with you, I don't think there are any barriers," he says. "I've played Jongleurs [a major comedy venue] to mostly white crowds and gone down really well. We need to stop thinking of ourselves as victims."
Nor is his brand of humour in any way edgy or difficult. He says his main influences are Michael McIntyre, Lee Evans and Jonathan Ross.
His sets are purposefully wholesome and family-friendly - the consequence, he says, of his mum coming along to all his shows. "I like a lot of alternative comedians," he says. "But if she heard any swearing from me, she'd be going, 'What's all this profanity, I want a refund!'"
Most of his audiences come from Britain's African-Caribbean community. Yet while his on-stage anecdotes rely on his experiences growing up amid west London's African community - Kadi emigrated from the Democratic Republic of Congo aged eight - little of his material is overtly culturally specific.
"People relate to having embarrassing parents, getting an education, giving it all that but being a softy inside - these are the things I joke about, and you don't have to be black or white to get any of it," he insists.
Kadi's O2 show will, to some extent, be something of a publicity stunt - he expects to only sell around 8,000 tickets in a venue which can hold up to 23,000. But his crowd will still be one for which most British comedians would kill.
Initially, he says, the owners of the O2 scoffed when he suggested playing there, and suggested he try out the smaller Indigo Arena first. He sold it out, twice.
Dr Oliver Double, a former comic who teaches stand-up at the University of Kent, says it is far from uncommon for comedians to do extremely well within Britain's thriving black comedy circuit yet fail to attract the attention of promoters and the press.
"There have been black comedians who have had a big following within the black community but were unknown outside of that," Dr Double says.
"But what's also the case is that audiences in one part of the country don't know what's going on in another if journalists and the media don't tell them, and unfortunately coverage of comedy is quite fashion-led."
Veteran comedian Felix Dexter - whose CV takes in Absolutely Fabulous, the Real McCoy, the Fast Show and Grumpy Old Men - agrees that the fickleness of critics and promoters rather than racism is to blame for performers like Kadi having to flourish under the radar.
But he is confident that the power of the web will overcome this.
"I love comedy and I don't want to sound embittered," he says. "But comedy is all about cliques and it's clear that there are certain power groups within it, like Oxbridge for instance.
"However, with the internet people can reach out beyond the traditional channels, with Facebook and Twitter they can create something which goes viral.
"And if you can fill up major venues, you're a viable proposition - people are going to take notice. I think there are going to be a lot more Eddie Kadis."
When he takes the stage on Saturday, Eddie Kadi will hope to show the world that there is only one.