Propping up a prime minister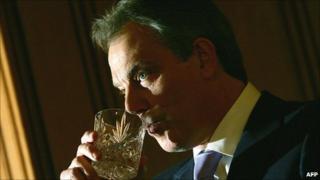 Of all the revelations in former Prime Minister Tony Blair's autobiography, his admission to habitually drinking wine and spirits each night was perhaps the most surprising. But did it matter?
It's been a hard day.
The boss was harping on about that unfinished project, there was a string of chores to do on the way home and the kids refused to go to bed on time.
What better way to relax than to crack open a bottle of wine and collapse in front of the TV?
It is a situation many of us are familiar with. So it is perhaps understandable that after a long day dealing with the pressures of being prime minister, Tony Blair chose to unwind with a drink or two.
However, his admission he used alcohol as a "prop" caught most by surprise.
In terms of units drunk, he confessed, he was definitely at "the outer limit" of what would be regarded as healthy to drink in a week.
"Stiff whisky or G&T before dinner, couple of glasses of wine or even half a bottle with it. So not excessively excessive. I had a limit. But I was aware that it had become a prop."
He reasoned that the benefits of relaxation outweighed the loss of time he could dedicate to work but believed he was in control of his drinking.
So was the prime minister overdoing it with drink?
His circumstances may have been unique, but Dr John Foster, of the University of Greenwich' School of Health & Social Care, says Mr Blair's drinking habit was a "fairly typical" response - particularly among the middle classes - to the pressures of daily life.
"As you go up in social class, issues such as stress and coming down from work are things that were particularly mentioned as a reason," says Dr Foster.
Latest NHS research suggests about 9% of people drink almost every day, with those aged 45 or over the most likely to do so.
Dr Foster, who has researched drinking at home, says the habit is growing faster than in pubs, restaurants and cafes.
An indication of how it has become acceptable to drink behind closed doors, rather than socially at the pub, is given by the Institute of Alcohol Studies which notes that more alcohol is consumed at home than in licensed premises.
Still, former press chief Alastair Campbell was "genuinely surprised" by Mr Blair's revelations - saying he'd never seen him worse for wear through drink.
Given that political correspondents reacted in the same way, the alcohol did not appear to affect his work.
Besides, historians may point out that Winston Churchill managed well enough in the top job, winning a war along the way, despite a deep love for spirits.
But while this sort of drinking falls short of addiction - and many of us might feel able to perform similarly effectively - Dr Foster says it can become problematic if the habit escalates, exacerbating stress and leading to higher consumption levels.
"The problems are invisible. Tony Blair's not going to go out smashing windows and that is why it's often rationalised. But you don't see the health effects for years and years," he adds.
Mr Blair may never have shared the reputation for drinking of some of his predecessors, notably Herbert "Squiffy" Asquith who was known to sway when on his feet in the Commons.
But his daily intake, amounting to somewhere around six units, would class him as an "increasing risk" drinker with higher chances of developing cancer, liver problems and high blood pressure.
And some 11% of British men would get through a similar weekly intake, according to government estimates.
But Dr Rachel Seabrook, from the Alcohol Education and Research Council, says those levels may not necessarily be problematic.
"There's a lot of individual variation in how people respond to alcohol. At that level it may not be causing damage," she says.
Liver damage
However, she warns that persistent daily drinking is likely to harm the liver because it gets no time to recover from the toxin.
Dr Seabrook accepts alcohol can help people relax but sounds another cautionary note:
"That's the first half-glass - as soon as you get onto the second glass, the negative effects start outweighing the benefits.
"A lot of people find themselves drinking too much and starting to rely on alcohol without even realising it.
"You gradually need more alcohol to get the effect you're after."
Mr Blair, she says, deserves credit for recognising how important drinking had become to him because often people think of alcohol problems as something "quite extreme".
However, Dr Seabrook adds that those who fail to accept their drinking has gone beyond normal could find themselves with problems in future.