What do new passport images say about modern Britain?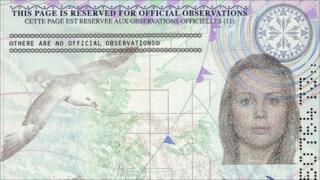 The Home Office has revealed the template for the new British passport, featuring images representing the four nations along with symbols of the UK's maritime heritage. So what does it say about the UK?
If the average Brit abroad were to lie back and picture home, what would spring to mind?
Oak leaves drifting past a row of cottages in an idyllic country village, perhaps? Maybe yachts sailing past rugged cliffs, where seabirds circle a lighthouse.
These are the sort of images that foreign immigration officers will be presented with when Britons enter their shores.
Leafing through the revamped UK passport will also give them an insight into the British obsession with weather, as meteorological symbols appear on many pages.
Meanwhile, the four nations are represented by landscape scenes of the Giant's Causeway, Ben Nevis, the Gower peninsula and the white cliffs of Dover - the result of a Home Office staff competition to select national symbols.
Identity and Passport Service chief executive Sarah Rapson insisted there was no attempt to "represent every single aspect of Britain" but that they had deliberately chosen scenic images.
However, for design guru Stephen Bayley, the passport's references to our maritime history, dry stone walls and Blenheim Palace are nothing more than cliches, symbolising the "British disease of a soft-focus nostalgia for a past that never was".
"National iconography shouldn't be a tired old museum piece. The image bank needs topping up," he argues.
"If you take the passport as being a national advertisement, the official view of Britain is that it's an island with bad weather populated by seagulls.
"I'm not advocating the inclusion of material from hit book Crap Towns in our travel documents, but at least that would advertise our acute sense of irony - surely one of our proudest national possessions."
Mr Bayley says a truer reflection of Britain would be to focus on its arts - music, poetry and fashion - technology such as Formula 1 cars and innovative architecture.
However, Nick Wadham-Smith from Counterpoint - the think-tank of international cultural relations body the British Council, says using modern symbols can be problematic.
"If you had an iconic rock band, who would you choose as representative? They can become dangerously dated in a passport that lasts 10 years."
Mr Wadham-Smith suggests the new passport design reveals a UK that is comfortable with promoting its national heritage after spending a decade portraying itself as a post-colonial, multicultural society concerned with global issues.
"Britain has established itself as a modern nation, so these images can come out of the shadows," he says.
As to why the government has chosen to include these images, Mr Wadham-Smith says it has taken a chance to use national symbolism at a time when it is becoming less easy to find elsewhere.
"Stamps were a good way of circulating national identity but fewer people are using them. Flags are also less common, so it's not surprising to find iconography of national identity coming into the passport."
The new images, he says, will provoke nostalgia for those overseas for long periods of the Britain they have left behind. While those at home will be reminded of a certain kind of "Britishness".
However, Mr Wadham-Smith adds it is inevitable their use will have unforeseen consequences.
"The immediate, rather ironic, effect is that at a time when the government might wish people to holiday in the UK, they are giving us images of the most delicious places in the UK in a passport."