Who, what, why: How do you un-glue a protester?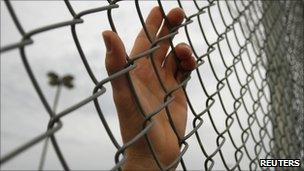 Climate campaigners superglued themselves to a car park gate during a demonstration on Monday. How are they released?
It is the latest tactic used by direct action activists to make sure they stick in the public consciousness - but you definitely should not try it at home.
Climate campaigners in Edinburgh are the latest to superglue themselves to premises in order to make a point - a technique designed to cause maximum disruption to police.
A Scotland Yard spokesman says its officers use a "fluid de-bonding agent" to detach them, but declined to specify exactly which one for operational reasons.
Dr Mark Elliott, senior lecturer in organic chemistry at Cardiff University, says warm, soapy water or the compound acetone would be the most suitable method - but warns there are many risks to this rather extreme form of making one's point.
"Superglue is a very strong glue and will bond most surfaces more or less instantly and permanently," he says. "Anyone who has inadvertently stuck their fingers together with superglue will know how difficult and painful it can be to separate then, and the fingertips are relatively tough. It is even more painful when other, softer, areas of skin become bonded."
According to Dr Elliott, the general advice is to use warm, soapy water, then to apply gentle pressure - for example by inserting a spatula. "This will inevitably take time and be rather painful," he warns.
Alternatively, acetone, normally found in nail-varnish remover, can make it easier to remove the glue - but "'easier' is very much a relative term".
For its part, Scotland Yard says that officers will explain what is going on to protesters as they apply their liquid. The demonstrator will be offered safety goggles and an ambulance crew will always be on hand, it adds.
"It's not a rush job," a spokesman insists. "It's something that's done methodically."
Forcibly attaching oneself to a structure is a technique that goes back to the Suffragettes, who chained themselves to the railings outside 10 Downing Street and a statue inside the Houses of Parliament - and the tactic has been imitated by militant activists ever since.
But while chains may be more cumbersome to deal with, many protesters - including the seven from Climate Camp who glued themselves to a car park gate at Royal Bank of Scotland's industrial estate at the Gyle Shopping Centre on Edinburgh's outskirts on Monday - have realised a tube of Bostik is easier to carry and conceal.
Superglue was used by campaigners against a new Tesco development in Bristol in March, as well as by another climate group who stuck themselves to a statue in the lobby of the House of Commons in April 2009, supporters of the Vestas wind turbine plant outside the Department of Energy and Climate Change in August 2009 and pro-Palestinian activists at the BBC's Cardiff offices in December 2008.
One such incident which gained significant publicity came when Dan Glass of anti-aviation organisation Plane Stupid glued his hand to the sleeve of then-prime minister Gordon Brown at a reception in Downing Street in July 2008.
Mr Glass, who had been at No 10 to receive an award from Mr Brown, says direct action groups provide training in how to carry out such stunts safely and advises any would-be activists to take advice first.
But he says that the symbolism of glueing oneself to a building - or, indeed, a politician - is a very powerful one.
"Civil disobedience is a tool that I wouldn't use whimsically," he insists. " But it's a very effective technique for sticking to the issue.
"I was saying to Gordon Brown: you can run away from climate change but you can't run away from my arm."
Mr Glass certainly attracted much attention for his stunt. For his part, however, Mr Brown was able to evade his attentions by taking off his jacket.
Related Internet Links
The BBC is not responsible for the content of external sites.