What are Silly Bandz?
By Beth Cherryman
BBC News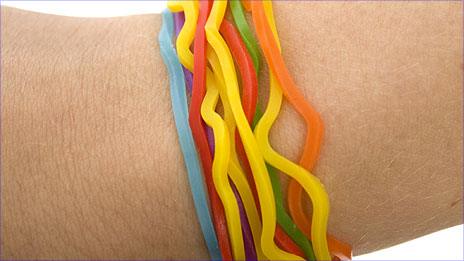 They're the latest youth craze in the US and they're making their first tentative steps into the British market. So what are Silly Bandz and why are they so popular?
They're small, rubber and hoping to conquer the world.
Silly Bandz are colourful, elasticised, silicone wristbands that come in a variety of shapes and are worn like a regular bracelet. They can be stretched to go on to the wrist but always revert back to their original shape.
They come in themed packs, like zoo animals or the alphabet and, most recently, even ones shaped like Canadian singer Justin Bieber. A pack of 12 costs about £1.99.
Elastic bands have long been worn by youngsters, and the Lance Armstrong-inspired Livestrong wristbands sparked a mania for elastic awareness bracelets a few years ago.
So Silly Bandz are merely a development of what's gone before. An American named Robert Croak invented them, named them and marketed them as toys. He began selling them online in 2008 and has reportedly made more than £66m to date. There has also been a rap song made about them, which has been a minor YouTube hit.
Their popularity has been boosted by some high-profile sightings, on the wrists of actress Sarah Jessica Parker, Agyness Deyn, and the food writer Anthony Bourdain have been spotted wearing the brightly-coloured bracelets between their Rolex watches and Tiffany bangles.
Some US schools have banned them from classrooms because they are too distracting for children eager to trade their collections, but some teachers have embraced them and offer them as rewards for good grades and behaviour.
But they're only bits of rubber, so what's the big deal?
Claire Wood, spokeswoman for British retailer firebox.com, says Silly Bandz were their bestselling product in July, sometimes selling almost 1,000 a day. She thinks the way they are swapped and exchanged will prolong their appeal.
"We don't think it's something people are going to get bored with because they're collectible," she says. "You can buy one, then more, and then trade them with your friends. There are constantly more different designs coming."
Her company markets them as a fashion accessory rather than as a toy, which is what they were originally.
"A lot of adults come and buy from our site," she says. "Our products have to be popular with adults too. I definitely wouldn't say it's just children, but that's where the craze started - with children in America."
UK companies are now hurriedly importing the products. Major toy shops, such as Toys R Us, predict they could be the "hottest toy of the year" and the fashion and jewellery store Claire's Accessories has launched its own range called Rubber Bands.
A spokesperson for Claire's Accessories says, "We have seen the craze start with 'Silly Bandz'. Celebrities such as Henry Holland have been tweeting about them. We expect Claire's Rubber Bands to have a similar success." A shop selling nothing but Silly Bandz has also opened in Brierley Hill, in the West Midlands.
They're not the only wristband that is popular at the moment. Robert De Niro, David Beckham, Gerard Butler, Demi Moore and Kate Middleton have been pictured wearing £20 Power Balance bands, which are meant to enhance the body's positive frequencies.
But when it comes to Silly Bandz, be prepared because they're going to be everywhere, says Jo Sawkins, fashion editor at teen magazine Sugar.
"They're bright, they're fun and they're cheap, which is the main thing. You can collect them, build up the colours and swap them with your friends. They are easy to wear and anyone can wear them, that's where the appeal is."
But with postal workers often dropping their red rubber bands on the streets, many parents may baulk at the idea of spending good money on something not dissimilar to what you can find on the pavement.