Who, What, Why: How do you count rough sleepers?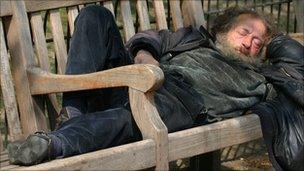 Government figures suggest the number of homeless people sleeping rough on the streets is falling, but a minister says the system for counting them is flawed. How are the numbers calculated?
They live on the fringes of society - and, by definition, their routines are usually chaotic and troubled, making the task of counting them a difficult one.
According to the most recent official government data - calculated differently by the various authorities - the number of rough sleepers in England stood at 440, in Scotland an average of 232 a month and in Northern Ireland at fewer than 10 on any given night. Wales stopped counting in 2009.
However, housing minister Grant Shapps believes the English figure is too low - arguing that, under the previous government's system, councils with fewer than 10 rough sleepers were not obliged to count them, and that vagrants sitting up in sleeping bags were not counted as homeless.
While rough sleeping is far from the only form of homelessness - many individuals and families may have a roof over their heads yet no home to call their own - it is its most visible manifestation.
After Mr Shapps insisted that councils provide estimates, the England-wide figure rose to 1,247.
But according to a database, the Combined Homeless and Information Network (Chain), which tallies those accessing outreach services in London, some 3,673 people slept rough at some point in 2009 in the capital - which is believed to take in half of the country's rough sleepers.
It is a confusing set of figures, and Mr Shapps himself has acknowledged that the picture is currently unclear.
"That's why I will shortly publish plans for a complete overhaul of the way the problem of rough sleeping is assessed, so councils and charities can be given a credible measure of the problem in their area," he said.
Under the existing system, in which councils are only compelled to count if they have more than 10 rough sleepers, just 70 councils regularly conducted street counts - one of those not counted being Manchester, England's third largest city.
When Mr Shapps asked a further 256 local authorities to provide estimates, another 807 were added to the tally.
Additionally, the current system tallied only the number of people homeless on the streets on one night a year - a figure that has been criticised by charities, which believe the Chain data paints a more disturbing picture.
As it stands, rough sleepers are defined for the purpose of the statistics as "people sleeping, or bedded down, in the open air (such as on the streets, or in doorways, parks or bus shelters); people in buildings or other places not designed for habitation (such as barns, sheds, car parks, cars, derelict boats, stations, or 'bashes')".
Mr Shapps argued that this meant people sitting up in a sleeping bag would not be counted.
The devolved authorities all have their own mechanisms for arriving at estimates.
In Scotland, those making homelessness applications to local authorities are asked if they slept rough the night before applying for assistance.
The Northern Ireland Housing Executive says its street outreach service deals with fewer than 10 rough sleepers a night.
Wales stopped attempting to calculate the figure in 2009 "due to concerns around the accuracy of the counts". Its final estimate in March 2008 put the number of rough sleepers across Wales is between 128 to 165 people.
Leslie Morphy, chief executive of the homeless charity Crisis, welcomes the new English method and the consultation, but warned that the problem could be made worse by housing benefit cuts in the budget.
"Now the government recognises how serious the situation is, we hope that no decision will be made to make the situation worse still," Ms Morphy adds.
Related Internet Links
The BBC is not responsible for the content of external sites.