Who, What, Why: How hot can a sauna safely get?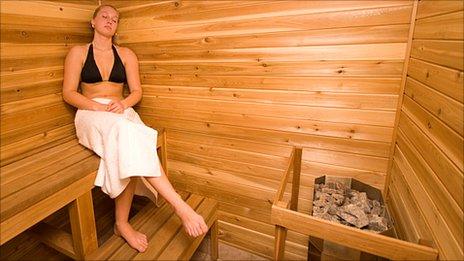 A competitor at the World Sauna Championships in Finland died after collapsing with severe burns in 110C heat. But how hot can a sauna safely get?
Sitting in a room with temperatures hot enough to make water boil may sound crazy but that is exactly what participants at Finland's World Sauna Championships have been doing for more than a decade.
Five-time champion Timo Kaukonen had become adept at enduring the tournament's 110C (230F) heat, lasting over 16 minutes in 2003.
However, this year, the Finn collapsed along with Russian rival Vladimir Ladyzhensky six minutes into the final round. Mr Ladyzhensky later died in hospital.
Organisers insisted afterwards that it was not unusual to have such high temperatures in Finnish saunas.
Most sauna users stick to temperatures of around 80C for periods of five to six minutes, according to Finnish Sauna Society chief executive Kristian Miettinen.
However, a self-confessed "sauna freak", he usually heats the room to 100C, while others regularly prefer short three to four-minute bursts at 130 to 140C.
"Heavy bathers in favour of the hottest temperatures always wear felt caps and slippers because the wooden surfaces tend to get very hot.
"How long you spend in there depends on your physical construction. Then you must shower, or jump into a lake or the sea."
However, Mr Miettinen says he cannot understand how a temperature of "only 110C" could lead to someone's death, when people have safely enjoyed heat at 160C.
Informal competitions often take place among young Finns but those involved know when to stop and cool down, he says.
However, his organisation has spoken out against the World Championships, which he complains has "nothing to do with sauna bathing".
"It's an extreme competition - a test of heat stress endurance," he says, adding that the entrants had repeatedly exposed themselves to high temperatures throughout the day.
If their body temperature rose to dangerous levels, this could have proven fatal, according to John Brewer, professor of sport at the University of Bedfordshire.
While the core body temperature is between 37 and 38C, a rise of just four degrees could cause hyperthermia (overheating), collapse and coma, he says.
"The main defence mechanism is sweating - the loss of that latent heat into the environment from evaporation of sweat that causes the body to stay cool," says Prof Brewer.
During exercise, for example, sweating helps to regulate the body temperature below dangerous levels at about 39C.
Problems arise when something interrupts this process - for example, dehydration.
Heat and humidity can also affect the efficiency of sweating because the difference in temperature between the body and outside environment is reduced, making it harder for the sweat to evaporate.
In this case, the body sends hot blood to the surface of the skin in a bid to cool it.
"Blood vessels in the surface of the skin dilate and that's why people go red," says Prof Brewer.
However, this means the heart is pumping more quickly to supply blood to both the skin and muscles. And if this continues too long because the body keeps getting hotter, the brain can be starved of blood and oxygen - causing collapse.
Prof Brewer believes this could have happened to the sauna contestants.
"You're not going to sweat properly in that environment and the extreme heat could have caused the body temperature to rise to that level," he adds.
"It's a salutary lesson for people not to do extreme activities like this."
Dr Keith Judkins, injury prevention officer at the British Burn Association, says he is not surprised competitors suffer burns.
"You get serious tissue damage within 10 seconds from contact with water at 60C (140F), so it must be the very dry heat that makes it tolerable," says Dr Judkins, of the burns unit at Pinderfields Hospital in Wakefield.
During the competition, water was poured on the stones in the stove every 30 seconds to intensify the heat, which would also have increased humidity.
Comparing 110C to a "cool oven", Dr Judkins says this "cooking temperature" would cause burns with heightened humidity.
But he adds that even if they did not suffer burns quickly, the competitors would have taken their bodies to the threshold of their tolerance levels and put themselves in danger of hyperthermia.
Related Internet Links
The BBC is not responsible for the content of external sites.