Would you rescue home movies from a burning house?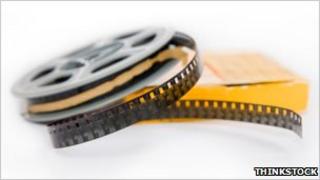 For many people, the family photo album is a treasured possession. Why don't we treat old home movies the same way?
Other than your loved ones, what's the one thing you would save if escaping from a burning building? In many cases, it's family photographs.
"But home movies we don't take so seriously - we don't look after them, they are left in attics or shoved in top drawers," says Robin Baker, head curator at the British Film Institute.
Today it's easy to shoot footage of holidays, parties and local events to share with friends, family and complete strangers, thanks to digital cameras and social media websites such as YouTube and Facebook.
But filming the minutiae of daily life is something the British have been doing for about 100 years, and amateurs record the kind of seemingly mundane details news reports don't dwell on, mundane details which are packed with clues about times past.
To unearth this social history archive lurking in the nation's attics and drawers, the BFI and BBC have asked the public to send in their family films for the Home Movie Roadshow series.
"It's easy to look at photographs," says Mr Baker. "With home movies, often people don't know what to do with them. The equipment changes, becomes obsolete or breaks down.
"Yet home movies can be a potent and evocative record of our past - the people you know and love are moving about, laughing, talking."
Jane Milligan, daughter of Spike, is among those who dug out long-forgotten family footage for the BBC series. Shot when The Goon Show comedian was a young man in the 1950s and 60s, Jane had never before watched the reels of film.
There are the obligatory shots of her toddling about in a nappy. But also captured are her parents larking about at home and on holiday. What makes this especially poignant is her mother Patricia, or Paddy, died when Jane was aged 11. The physical resemblance, now Jane is the age her mother reached, is striking.
"It's hard for me to not get upset [watching her on film]. She was so beautiful, and lovely and alive. Seeing her moving is such a treasure and a treat. She only moved until she was 43."
Her father, by contrast, moved until he was 83.
"He's so happy. He's a young man. I didn't know him then, but now I feel like I did know him. It's all gentle silliness. He seems to be quite famous for being depressed, which I get quite upset about because 90% of the time he was just himself - a working man, a father, a massive home-lover."
Film archivist Biddy Baker says home movies are invaluable for giving younger generations a glimpse of forebears they might never have met, or only have known in later years. "It's quite a gift to give your children back that, and the chance to see familial resemblances."
But until relatively recently, documenting home life on film or video was expensive. So amateurs kept shots short, cutting between key scenes or details, to capture as much as possible. And cine-clubs flourished, for keen hobbyists to collaborate on films, to share technical tips and to offer constructive criticism.
"It wasn't disposable," says the BFI's Robin Baker. "Now you can shoot all the time and the result can be rather long and boring. But with film they kept shots short because of the cost. The result is much more engaging and varied.
"People don't really value them, they think 'these are only interesting to me and my family'. If it's footage of a kid playing on a blanket, maybe so. But in other cases, there will be a story."
Among the contributions are 50 years of amateur newsreels from the Chingford cine-club. Devised to show off local happenings to local people - the day Jon Pertwee visited in his WhoMobile and met Miss Waltham Forest in the 70s, the transformation of a Victorian pub into a Slug and Lettuce at the dawn of the 90s - the footage also charts how British towns have changed over half a century.
"A street changes without you really realising it," says newsreel producer David Piggott, 70, who has been part of the Chingford club since 1956. "It's only when you look back at that you can see yes, it used to look like this."
While each of Mr Piggott's newsreels are in order and carefully labelled, the same cannot be said of all films brought into the Roadshow team. Many are damaged. Many have no label. Those into whose hands the films have passed have little idea who, when or what exactly is being shown. Dating and locating needs detective work - spotting landmarks, dating number plates and the makes and models of cars or phone boxes.
In many cases, the person playing detective is not even a relative - it's a collector, who may have bought old home movies at a house clearance sale. Some lovingly document village festivals in decades past, others record family holidays.
Living history
Among the treasures is what may be Britain's earliest wedding video, shot in 1905 to document the marriage of the Marquis of Bute.
Tucked away in a forgotten tea chest in the attic of the family's Hebridean mansion, the film wasn't in a viewable state when it was found in 2003, and had no label. After a three-year restoration at the Scottish Screen Archive, it shows the happy couple in all their Edwardian elegance.
The bride's dress and veil shift and float in the breeze. The groom strides manfully in his kilt. And locals wave and tip their hats as they line the streets from the church. It's living history, not a static photograph.
Mr Baker hopes the public will be inspired to look again at their own home movies, old and new.
"I'd like people to take them down, talk about them, document what is in them. All this information is lost once it passes out of the hands of the person who filmed it."