How thieves target rare books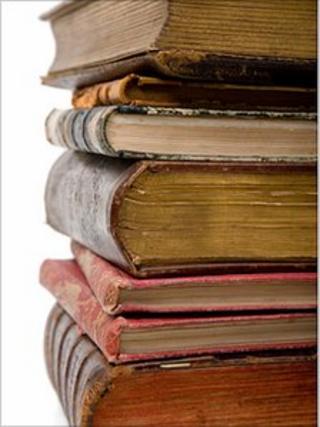 A book thief who served a four-year jail sentence should have turned over a new leaf. Instead, he has been sent back to prison after targeting one of Britain's most distinguished libraries. The case highlights a little known, but widespread crime.
When William Jacques pilfered books from a London literary collection his punishment was far worse than a library fine. But as prosecutor Gino Connor put it: "We are not dealing with Penguin books."
Nicknamed the Tome Raider, William Jacques had form in library crime - having already served a four-year sentence for stealing books worth £1m in the late 1990s.
Despite his prison term, it seems Jacques could not give up his habit of lifting notable works of literature.
The 41-year-old has been sentenced to another jail term, of three-and-a-half years, after targeting the Royal Horticultural Society's Lindley library. Signing in under the false name of Santoro, he simply stuffed books under his jacket before marching out.
He escaped with rare volumes of Nouvelle Iconographie des Camellias, by Ambroise Verschaffelt, before a suspicious staff member alerted police.
But while his methods may not have been very hi-tech, few doubt Jacques' cunning and intelligence.
Cambridge-educated with an understanding of antiquarian books, Jacques started stealing distinguished works of literature by plundering the collection at his old university library.
Between October 1996 and May 1999, he stole about 500 extremely rare books and pamphlets from Cambridge, the British Library and London Library.
Many were then sold on through auction houses in the UK and abroad, netting him hundreds of thousands of pounds.
Jacques' actions came to light when one of the books he had stolen came before antiquarian book dealer Jolyon Hudson.
Mr Hudson was suspicious of the volume, which had a shadow on the cover where a library label might have been, a ripped page - as though an embossing mark had been removed, and an altered spine.
It was traced back to the British Library and police were able to follow the trail to Jacques.
It's hardly the stuff of hardened criminals, but Mr Hudson, of Pickering & Chatto in London, says theft of valuable books remains a problem. This is despite many research libraries restricting viewing to members.
"There are people who get access to libraries and can cause a lot of damage. It's very difficult to stop," he says.
"[Jacques] is very adept at it. He seems to wheedle his way in and be very convincing."
Many thieves have profited by cutting maps or image plates from antiquarian books.
But for Mr Hudson, the act of damaging the books was as bad as the theft itself.
"It kills history... damaging books in such a way that you can't see the provenance," he says.
"If you tear Churchill's signature from a book, you have an old book and a piece of paper with a signature but no context to say that it belonged to Churchill and when."
Even if a bookseller becomes suspicious, without that context it is difficult to detect a stolen book, he says.
There is also a feeling among some book dealers that the crime is not treated seriously enough.
Mr Hudson compares it to chipping off a piece of a statue at Westminster Abbey.
"Imagine if somebody tore a signature off a Monet painting. Would people say that didn't matter?"
It's a mark of how widespread this sort of crime has become that last month, the International League of Antiquarian Booksellers set up a Stolen Book database.
The league encourages booksellers, libraries, museums, national governments and police to contribute details of stolen volumes, which can be checked by booksellers if they are suspicious about an offering.
In the UK, the Antiquarian Booksellers Association has evolved its "stolen book chain" - a system where dealers each phoned five contacts with a warning - into an e-mail theft bulletin.
Its president, Julian Rota, acknowledges that book theft - not just from libraries but also from booksellers - is widespread.
But he said people in the industry could do their bit.
Alarm bells
He recalls one seller who called to offer an 18th Century travel book but never turned up. When he phoned back a few weeks later, alarm bells rang.
Mr Rota called a few friends and discovered the book had been stolen from one of their shops. When the seller arrived, police were on hand to arrest him.
"We are very careful about due diligence," says Mr Rota.
"The stolen book trade does nobody any good. It damages our livelihoods and the great sadness for me is that this is a trade where everything is done on honesty, between customers, dealers, libraries and readers."
Many booksellers feel there has historically been a reluctance on the part of libraries to acknowledge there was a problem, with many fearing adverse publicity.
"There were cases where embarrassment played a part and fear of how donors would react," says Mr Rota.
However, he adds that many great research institutions are now much better prepared to tackle theft.
"You don't want to have so much security that people can't get to the books," he says. "But libraries are much more clued up about theft than certain ones were 20 years ago."
Prof Martin Gill, of Leicester-based Perpetuity Research, has addressed European research library representatives at a conference on security.
His session dealt with the use of CCTV and security guards, staff training and the awareness of "blind spots" in buildings.
Academic institutions stay tight-lipped about their security arrangements to avoid giving criminals the upper hand, he says.
Risk awareness
But he adds: "Libraries are a lot more aware of the risk of theft and a whole range of measures have been developed to combat theft and to be made aware of theft after the event.
"They are looking at what goods are being traded and second-hand book stores have been brought on board. It's all had an impact."
For as long as antiquarian books fetch a good price, they are likely to be targeted by thieves such as Jacques.
But it appears they are no longer having things entirely their own way.