Find out more about Local News
We're making the way we deliver local news more local and more personal. You can view the local news from the perspective of the places that matter to you.
1. What locations can I search for?
This service is available for all locations in the UK, Channel Islands or Isle of Man. You can define the area you are interested in.
2. What will I see?
You will see the stories relevant for your selected location in the Latest Stories section – they are ordered based on publication time, with the most recent ones appearing at the top.
You'll also see a selection at the top of the page of the stories that we think might interest you most, covering news from your location as well as slightly wider areas around.
3. How does the BBC use my location information?
You can provide location information by searching for a place or by sharing your current location (geolocation) with the BBC. It is not obligatory to do so – users can decline sharing their current location by clicking NO on the browser pop up. This choice is stored in the browser and unless clearing cookies, users will not be asked to share their location again.
Location data is only used to provide relevant content across the BBC and is not used for any other purposes nor to identify a unique user.
4. What is the advantage of setting a Location?
Every time you provide a new location you can save it so it's easier and quicker to access your local news next time. Your location will be saved in cookies and shared between other BBC websites. Clearing cookies will remove this setting.
5. What is the 'radius setting'?
We understand people can have different views of what is "local" so we have designed local news to allow everyone to define the level of locality they are interested in.
You can adjust your view by using the radius setting provided that allows a zoomed in or zoomed out view on your locality. If you are interested in what's happening in the surrounding area you can extend the radius to bring in stories from further afield.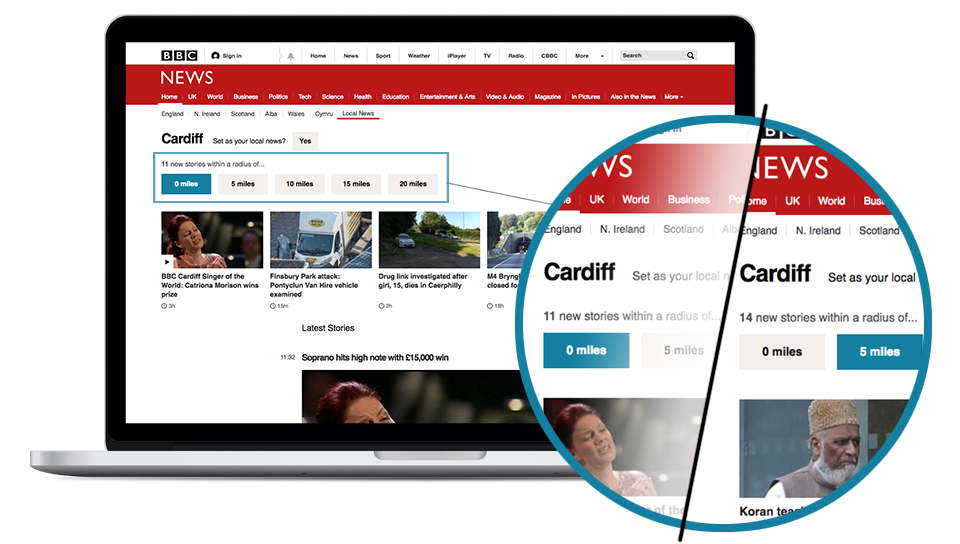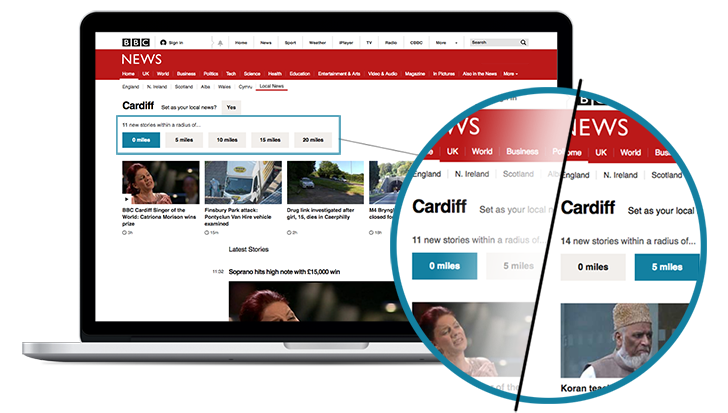 6. What news content is available for my location?
We make sure that we show the most relevant stories for each location. This might be that a story was written about the location or it might bear relevance to the place or wider area because of an association with a particular person, organisation or service. On occasions you will see stories that refer to more general topics affecting all locations within a certain area.
7. What's next for Local News
We are constantly working on improving the local news experience and will be adding more features in the following months.
8. How can I provide feedback?
We welcome users' feedback to ensure that this new proposition meets the needs and expectations of our audience.
Information on how to contact us can be found on
Contact BBC News site.