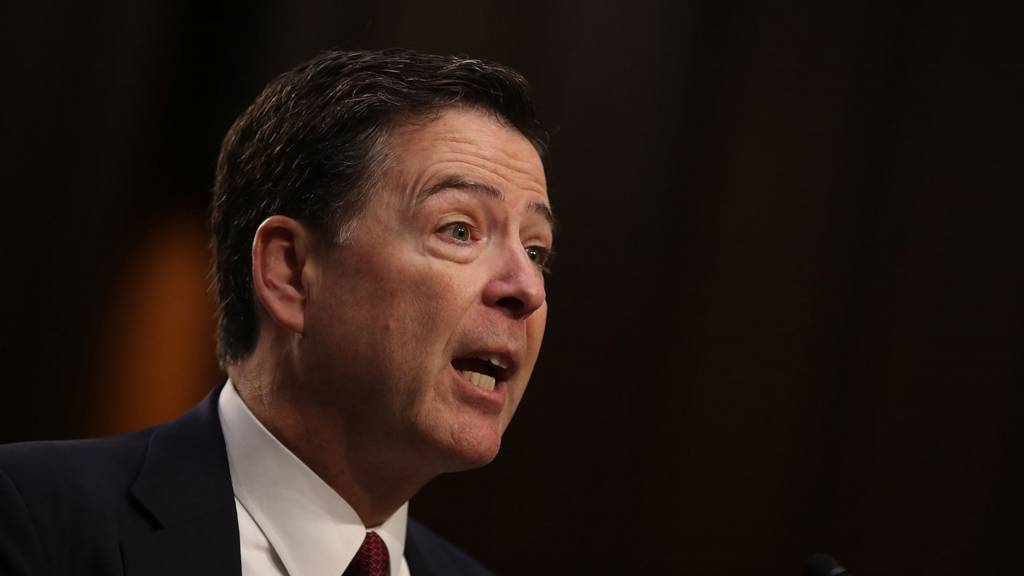 Comey: "I was fired because of Russia investigation"

This blockbuster political hearing drew a queue unlike anything we've seen since the line for tickets to the musical Hamilton.

Check out this sped-up video of the snaking procession of spectators.

Trump: 'We are going to fight and win'

Donald Trump is at the Faith & Freedom Coalition convention in Washington DC right now.

"We want our children to know God," Trump tells attendees, reading from a teleprompter.

He read a passage from the Bible, and then said his opponents will "lie, they will obstruct, they will spread their hatred and their prejudice, but we will not back down from doing what is right".

"I have one goal, to fight for the American people, and to fight for America and America first," he said.

Trump adds: "We are going to fight and win."

The president has managed to refrain from tweeting about the testimony. So far.

Here's the first 10 blistering minutes of Comey's testimony...

Here's another key moment when Comey ducks the question everyone wants an answer to.

The roller-coaster comes to a juddering halt.

Committee chairman Richard Burr, a Republican, declares the public part of the session over and thanks Comey for his service.

Burr also pays tribute to the FBI staff in general.

He points out the Senate committee has sat nine times since the beginning of the year, twice the yearly average.

Comey will now sit with the senators for a private afternoon session at which he can discuss sensitive material.

Confused McCain questions stump Comey

Republican John McCain grills Comey over the comparison between investigation into Secretary Clinton and Donald Trump last year.

"You said with Clinton there wasn't sufficient evidence against her, although they had been very careless...

"Yet at the same time in the case of Mr Trump, you said there was not enough information to make a conclusion."

Comey says the Clinton investigation was complete at that point, whereas the Trump investigation was ongoing at the point he was fired.

McCain is rambling somewhat. He twice refers to Trump as Comey, including one reference to "President Comey".

He says it is a "double standard" that the Clinton investigation was closed but the Trump investigation remains open.

Yet these are completely different investigations...

Comey says he is confused by McCain's remarks, and stresses that Clinton was never under investigation for ties with Russia.

McCain is out of time, he gets the gavel.

Image caption: US Senator John McCain questions Comey

'We had that thing, you know'

Republican Senator John McCain asks Comey about an intriguing remark the former FBI director says Trump made to him in a phone call on 11 April.

In his prepared testimony, Comey said the president concluded the conversation thus: "He said he would do that and added, 'Because I have been very loyal to you, very loyal; we had that thing you know.' I did not reply or ask him what he meant by "that thing."

Comey tells Senator McCain he took Trump's remark as "an effort to communicate to me, 'I've been good to you, you be good to me'".

Sen McCain says that he should have been more "curious" about Trump's meaning.

"I'd like to know what the hell 'that thing' is," he says.

Breaking

'Fired due to Russia investigation'

Comey says he has "no doubt" he was fired by Trump "in some way... to change the way the Russia investigation was being conducted".

On obstruction of justice

Here's another key clip from the hearing...

Breaking

Trump spokeswoman to 'look under couch' for tape recorder

Trump spokeswoman Sarah Huckabee Sanders is holding an off-camera briefing, known as a "gaggle".

In an apparently sarcastic mood, she denied the president was a "liar", calling the very suggestion "frankly insulting", and said she'd "look under the couch" for a hidden Oval Office recording system.

The White House also said it is not sure if the president has been watching any of the testimony.

Was firing FBI chief a clever move?

Comey is asked by Republican John Cornyn of Texas whether firing the director of the FBI is a good way of trying to squash an investigation.

Comey says it "doesn't make a lot of sense" to him, "but then I'm hopelessly biased, given that I was the one that was fired".

He confirms that as far as he was concerned, nothing happened that interfered with the investigation.

Cornyn asks about Comey's earlier stated concern that former AG Loretta Lynch had a conflict of interest over the Hillary Clinton emails affair.

"I think that's fair, I didn't think she could credibly decline that investigation without damaging the Department of Justice."

Comey endorsed by former colleague

"A very straightforward man. He keeps notes." General Michael Hayden, former director of the CIA and the National Security Agency, says what it was like to work with James Comey.

Senator Harris asks Comey if he is aware of any meetings between Trump campaign officials and Russians that have not been made public.

Comey he says he can't talk about it in open setting.

Harris goes quickfire with prepared bullet-point questions, most related to Attorney General Jeff Sessions and his decision to recuse himself from the affair.

Comey is replying to most that he can't answer in open setting or he can't remember.

She asks him about Sessions' body language when Trump instructed him to leave them alone in the Oval Office.

Comey says he might be projecting, but he got the impression that Sessions shrugged and gave a face that said: "What am I going to do?"

Comey previously stated he felt Sessions knew it was improper to leave the room.

Trump went on to speak to Comey about the Michael Flynn investigation.

Breaking

White House: 'President is not a liar'

360 degree view of the committee room

Comey: 'Real risk of a chilling effect'

Sen Lankford earlier asked what was the different between directly telling the FBI director that he opposes the Russia investigation and tweeting to the world that he disagrees with the inquiry.

Comey said there was a big difference.

"I think there's a big difference in kicking superior officers out of the Oval Office, looking the FBI director in the eye and saying I hope you let this go.

"I think if our agents, as good as they are, heard the president of the United States do that, there is a real risk of a chilling effect on their work."

'I'm between opportunities now'

Kamala Harris, Democrat from California, is up.

She thanks Comey for enduring a Senate hearing as a private citizen.

The fired FBI director quips that he is "between opportunities now" so he can oblige.

'Did you consider closing Flynn investigation?'

Comey answers that this, too, is something that he can't answer during a public hearing.

The senators will be holding a closed session with Comey later today after this session.