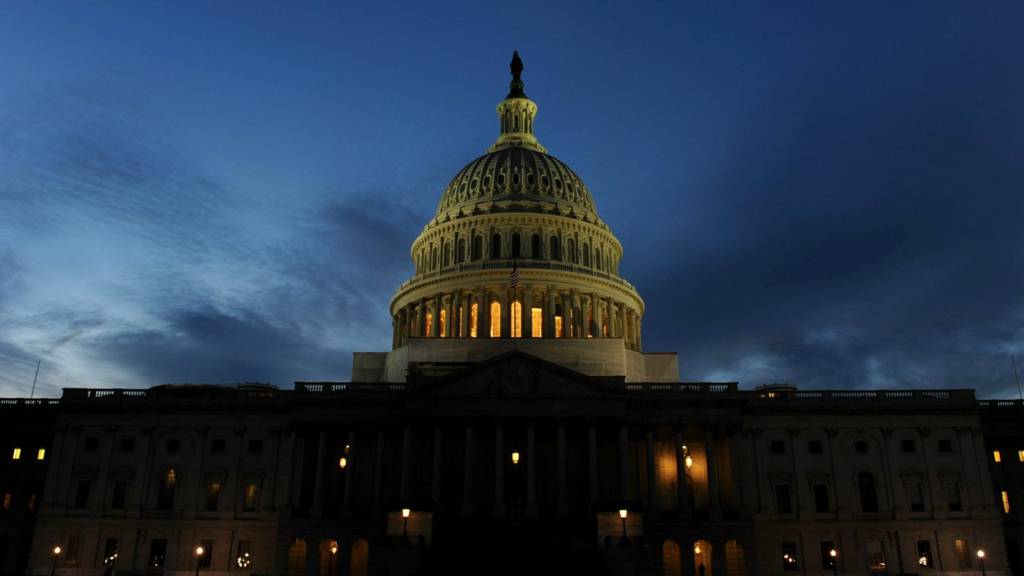 US election 2014 as it happened
We will continue to cover the story with analysis and more reaction on bbc.com/news

This concludes our coverage of the US mid-term elections on a night of major wins for Republicans in the Senate and some surprising upsets in state governor races.

Most polls in Alaska are now closed. The last Senate race of the night will be determined there.

Democrat John Barrow had held his Georgia Congressional seat since 2004, but his defeat tonight marks the end of an era for his party's Southern history.

But in an editorial on Foxnews.com, Douglas Schoen says Republicans "got everything they wanted Tuesday night - and more".

He added: "This election represents a complete rejection of the president, his agenda and his leadership".

The US media is digesting the news of a resounding night for the Republicans.

"Virtually every Republican candidate campaigned on only one thing: what they called the failure of President Obama," says a New York Times editorial, which condemns what it calls a negative Republican campaign.

Suzanne Kianpour

BBC News, Washington

tweets: "Only 3 of 10 Senate candidates that Hillary Clinton supported won tonight. (Mary Landrieu TBD)"

Just to recap, the Republicans have swept to power in the Senate and strengthened their grip on the House, meaning they control both chambers of Congress for the first time since 2006.

Capitalising on voter dissatisfaction with the direction of the country, and the unpopularity of President Obama, they picked up seats in West Virginia, Montana, South Dakota, Colorado, North Carolina, Iowa and Arkansas.

This years mid-term election resulted in some history being made at the national and state levels.

"We are humbled by the responsibility the American people have placed with us, but this is not a time for celebration," House Speaker John Boehner says in a statement.

"Americans can expect the new Congress to debate and vote soon on the many commonsense jobs and energy bills that passed the Republican-led House in recent years with bipartisan support but were never even brought to a vote by the outgoing Senate majority, as well as solutions offered by Senate Republicans that were denied consideration."

Former Democratic governor of New Mexico, Bill Richardson, says Democrats have been let down today by poor turnout in key Latino states such as Colorado, Florida and Arizona. He's been telling BBC World Service that Latinos are upset over President Obama's slow progress on immigration reform.

tweets "Obama relationship with new Senate Majority Leader Mitch McConnell is nonexistent. He once called him "Mike." They've met individually twice."

Supporters of Senator-elect Joni Ernst cheer as results come in

There was one spot of bad news for Republicans on an otherwise successful night - incumbent governor Tom Corbett has lost to Democrat Tom Wolf in Pennsylvania. But Maryland Lt Governor Anthony Brown is in trouble in his race for the governor's seat in normally Democrat-safe Maryland.

Oregon's ballot measure to legalise the sale and possession of marijuana has passed. The state joins the District of Columbia in approving pot-legalisation initiatives. Although a majority of Florida voters also voted in favour of legalisation today, it did not break the 60% support level necessary for passage there.

The Huffington Post's Hunter Stuart has an interesting look at what Oregon's move means for neighbouring Washington state, which passed its own legalisation two years ago, including what significantly lower taxes on the drug in Oregon means.

tweets: "Is tonight's takeaway that Republicans do great when voter turnout drops below 38%?"

The Vermont governor's race is close, but neither Governor Peter Shumlin nor challenger Scott Milne gained more than 50% of the vote. But there is no run-off - and the Vermont legislature will now pick the governor.

We've distilled the night so far into a picture gallery. Expect a few smiling Republicans.

Colorado GOP Governor Bill Owens told BBC World Service Republican gains in the midterms are "fairly sweeping" and a denunciation of President Obama's agenda. He predicted Republican control of both Houses of Congress would put American politics back on a more moderate path.

Democrat Tom Udall wins re-election to his Senate seat in New Mexico.

The Republican response has been swift, with national chairman Reince Priebus congratulating his candidates.

"The American people have put their trust in the Republican Party, sending a GOP majority to the US Senate... our party's principles and message resonated with voters across the country. This was a rejection of President Obama's failed polices and Harry Reid's dysfunctional Senate."

tweets: McConnell now has toughest job in Washington as he becomes Majority Leader. Senate requires supermajority to do most business (60).

And the night is fast getting better and better for the Republicans. ABC News projects Joni Ernst has beaten Bruce Braley in Iowa - which would bring the Republican majority to 52.

More Republican joy in Georgia where Nathan Deal has won the governor race, beating Democrat Jason Carter, grandson of former president Jimmy Carter.

Republicans have won control of the Senate with a win by Thom Tillis over Kay Hagan in North Carolina.

On CNN, Washington correspondent Jake Tapper notes - "It looks like for the first time in history, 100 women are in the House".

Former Texas Republican Senator Kay Bailey Hutchison tells the BBC World Service the party needs to have a better message on immigration if they want to capture the Hispanic vote in 2016.

James Richardson tweets: "It took a decade, but Republicans have finally toppled John Barrow, the last remaining white congressional Democrat from the deep south".

Another Senate result - Pat Roberts has fended off a challenge from independent Greg Orman in the very closely watched race in Kansas.

The Associated Press news agency confirms David Perdue wins the Georgia senate race, as Michelle Nunn concedes in front of a crowd of supporters.

The first results from the West Coast have begun - Democrat Jerry Brown is re-elected governor in California.

While they may not be representative of all Americans, exit polls do provide some useful insight into the minds of voters. Today's polls show voters are deeply pessimistic about the direction of America and its politics.

CNN and ABC are projecting Republican David Perdue to win against Democrat Michelle Nunn. It is not a pick-up seat for the Republicans but there were hopes among Democrats they could steal it and this will further weaken then chances of retaining their majority.

Meanwhile in Virginia, Democrat Mark Warner is neck-and-neck with Republican Ed Gillespie. Mr Warner leads by only 3,400 votes out of more than two million votes, with 99% precincts reporting. The result has confounded expectations as even the Republican party officials had not expected the race to be this close.

NPR social media editor Wright Bryan tweets: "Who's the youngest of them all? Saira Blair, 18, is ready to make a difference in West Virginia". She is now the youngest elected state house representative.

Mr Gardner attacked his opponent for voting with President Obama.

Given Colorado's recent Democratic momentum in presidential elections, Republicans had been watching the race closely as as a test case for whether traditional rural conservatives like Mr Gardner can still win state-wide elections in places, such as Colorado, that seem to be slipping out of their grasp, the BBC's Anthony Zurcher wrote after visiting Colorado in September.

Republican Rick Scott has emerged victorious in the rancorous race for the governorship of Florida, exit polls suggest.

Republican Cory Gardner has defeated Senator Mark Udall for the Colorado Senate seat, bringing the Republicans to five out of six needed.

Only 20% of current US Senators and Representatives are military veterans, which is far lower than a recent high of 77% during the 1977-1978 Congressional session.

But already tonight they can add one more to their ranks - Republican Tom Cotton of Arkansas, an Iraq veteran (below), has been elected to the Senate. Three other veterans are running for Senate tonight as well. For more, check out the Military Times' tracking of veterans running for office.

Tara McKelvey

BBC News, Kansas

At the Greg Orman party in Overland Park, Kansas, Steve Kraske, a political reporter for the Kansas City Star, says no-one knows how things will turn out - and probably won't till 23:00 Central time.

"It's all just nervous energy."

Charlie Mahtesian, NPR politics editor

tweets: Republican Terry Branstad of Iowa, the longest serving governor in American history, has been re-elected

While it looks like a good night for Republicans in Congress, Democrats can take cheer from their performance in gubernatorial races, says Ed Rendell, former governor of Pennsylvania.

If Democrats can also topple Republican governors in Florida, Wisconsin and Michigan, "it'll be a great night for the Democrats", Rendell says.

Republican Steve Daines has won the Senate race in Montana, another pick-up for Republicans - but an expected one. He faced Democrat Amanda Curtis after the current senator John Walsh dropped out due to a plagiarism scandal.

The Georgia Senate race is keenly awaited. Democrat Michelle Nunn is hoping to beat David Perdue to the post vacated by Republican Saxby Chambliss.

Tim Pawlenty, former governor of Minnesota, tells BBC World Service the results of today's mid-terms so far will give Republicans "momentum" and a "sense of the possible" and they'll be going into 2016 with optimism.

The home of the hanging chad is no stranger to close elections - or problems with voting. And tonight Florida is getting a taste of both.

With more than six million votes counted in Florida's governor's race, Republican Rick Scott holds a narrow lead over Democrat Charlie Crist.

The Crist campaign had sought to extend voting hours in one county after problems were reported. But as CNN reports, a judge has denied that request.

It would take until 2016 to watch every mid-term campaign advert back-to-back, if you started now, according to Bloomberg Politics.

The state of Louisiana will go into a Senate election run-off between Democratic Senator Mary Landrieu and candidate Bill Cassidy.

Republican Dave Brat made headlines earlier this year when he defeated then-House Majority Leader Eric Cantor in the Republican primary race for Virginia's 7th district. Tonight, as expected, he easily saw off his Democratic challenger, Jack Tramell.

The Democrats have received a rare pickup in the House of Representatives, with Gwen Graham defeating incumbent Steve Southerland in Florida's 2nd District.

Democratic candidate Wendy Davis has lost her bid for the governorship of Texas to Republican Greg Abbott, the Associated Press reports. Davis rose to prominence after staging a lengthy sit-in to protect abortion rights during a Texas statehouse filibuster.

In Virginia, Democratic Senator Mark Warner, who was expected to win re-election handily, is in trouble. With 90% of precincts reporting, Republican ex-lobbyist Ed Gillespie is ahead by 1.2 percentage points, according to the AP news agency. Libertarian candidate Robert Sarvis has 2.7%.

Republican Mitch McConnell could be the new Majority Leader of the Senate by the end of the night. In his victory speech in Kentucky, he said: "Just because we have a two-party system doesn't mean we have to be in perpetual conflict." Watch his speech in full here.

Tara McKelvey

BBC News, Kansas

Vice-president Joe Biden caused a mini-flurry in Kansas when he made it seem as though Greg Orman, an independent Senate candidate, would vote with Democrats if he were elected. His campaign manager says he remains an independent - and undecided about which party he'll vote with. At his balloon-and-oatmeal- cookie party at the Overland Park Convention Center, Orman's brother David Hanzal, 37, says: "Anytime Joe Biden opens his mouth, he says something stupid. Come on."

Kate Dailey

BBC News, Washington

When it comes to high-tech election displays, Mashable can't compete with some of the more traditional reporting services. However, when it comes to whimsy, they are close to the top - the online news service is depicting the changing balance of power in the Senate using Lego.

Democrats made a "critical mistake" by not making more of President Barack Obama's foreign policy successes during the campaign, former New Mexico Governor Bill Richardson tells the BBC.

To recap quickly, Republicans have picked up three seats in Arkansas, South Dakota, and West Virginia, but they still need to defend two of their own seats to win control of the Senate.

Texas senator and Tea Party favourite Ted Cruz would be a pivotal figure in a Republican Senate, and he's been telling the Washington Post he's in no mood to compromise.

President Barack Obama has only a 40% approval rating in the key state of Iowa, according to a preliminary ABC exit poll.

Republican Senate candidate Mike Rounds, projected winner in South Dakota, served as the state's governor for eight years, from 2001 until 2011.

Republicans pick up their third Senate gain of the night in South Dakota, according to ABC News, and need just three more to control Senate.

Democratic Senate candidate Alison Lundergan Grimes thanked her supporters following her defeat by Senate Minority Leader Mitch McConnell.

Here's a short video reminder of the Senate seats that matter tonight:

Republican Mitch McConnell spoke to a cheering crowd shortly after winning re-election to his Kentucky Senate seat.

Paul Danahar, BBC News Washington

tweets: If Democrats lose the Senate Obama loses the domestic agenda. Will that lead him to try shaping instead of just reacting to world events?

Democratic strategist Ben LaBolt tells the BBC he dismisses the suggestion that the election is a rejection of President Barack Obama's agenda.

"There's general disgust with what voters see as inaction in Washington."

Tara McKelvey

BBC News, Kansas

One of the biggest mysteries of this campaign season is Kansas independent Greg Orman, who might vote with Democrats if he's elected to the Senate - and might not.

In Overland Park, Kansas, Lynda Allen says; "I think he wants to go in and do his own thing."

Her daughter, Maddie Allen, interrupts, saying: "He'll figure out what's best for Kansas."

President Barack Obama has invited Congressional leaders from both parties and both houses of Congress to the White House on Friday to discuss a path forward following the mid-term election, ABC News reports.

To sum up where we are, Republicans have made two crucial Senate gains in Arkansas and West Virginia, but have failed to snatch New Hampshire. However, Mitch McConnell has held his seat in Kentucky, after looking like he was in trouble earlier in the year.

Supporters of Florida's Republican Governor Rick Scott wait at a venue in Bonita Springs for the results of the poll.

That means they now have two of the six Senate gains they need to take control of the upper chamber.

Republicans have made their second Senate gain of the night, this time in Arkansas with the victory of Tim Cotton over Democratic incumbent Mark Pryor, according to the Associated Press news agency.

Barbara Plett Usher

BBC state department correspondent

tweets: Former NH senator Judd Greg expects #GOP wave, says once congress controlled by 1 party shd be able to govern better

In her concession speech, defeated democratic Senate candidate Alison Lundergan Grimes says her "fight was worth it", and that it sent a message that Kentucky needs to address issues like fair pay and bringing good jobs back to the state.

Republicans have held on to several Senate seats across the US, according to ABC News.

They are Senator Jeff Sessions in Alabama, Senator Susan Collins in Maine, Senator Thad Cochran in Mississippi, Senator Jim Inhofe in Oklahoma, and Senator Lamar Alexander in Tennessee.

The former Republican governor of Mississippi, Haley Barbour, told the BBC that if his party wins big tonight it will be a repudiation of President Obama's policies. But he added this would not mean a full endorsement of Republicans by voters.

Robert Reich, who served as Secretary of Labor under former US President Bill Clinton, tells the BBC the present Congressional Republican leadership has "not been in the practice of coming up with legislation" and has focused instead on frustrating the president's agenda.

Jim Gilmore, the Republican former governor of Virginia, tells the BBC he is very confident his party will prevail in the Senate.

"The burden is on us now to offer a positive agenda."

Republicans have retained Senate seats in Tennessee, Mississippi, Maine and Oklahoma, exit polls find.

Barbara Plett Usher

BBC state department correspondent

tweets: Tough climate for #Democrats party official tells #BBCMidterms, but stresses all incumbents still in play #Midterms2014

In West Virginia - a state where coal is central to the economy - 53% of voters think climate change is not a serious problem, according to a preliminary ABC exit poll.

Franz Strasser

BBC News, Minnesota

Robert from St. Paul, Minnesota, says Republicans taking control of the Senate can make a difference.

"You will have the attempt to enact the agenda of skewing in the direction of wealthy people."

Judd Gregg, former Republican Senator and Governor for New Hampshire, told BBC World Service if Republicans win Congress tonight they can no longer be a "party in the negative", they must show the American people they are willing to govern.

Karen Tumulty, Washington Post correspondent

tweets: Shelley Moore Capito is the first Republican that WV [West Virginia] has elected to the Senate since 1956.

A supporter of US Senate Minority Leader Mitch McConnell raised this sign at his election rally in Louisville, Kentucky

Republican Shelley Moore Capito is the projected winner of a West Virginia Senate seat formerly held by a Democrat, the first GOP Senate gain of the evening.

If Democrat Mike Michaud wins the governor race in Maine, he will become the first openly gay governor in the US.

Russell Lewis, National Public Radio

tweets: North Carolina State Board of Elections is holding an emergency meeting now - to decide extending poll closures in 3 counties.

Most mid-term voters reported being pessimistic, and they were more than twice as likely to say that life will be worse for the next generation than to say things will get better, according to an Associated Press exit poll.

Barbara Plett Usher

BBC state department correspondent

tweets: Local official tells #BBCMidterms of long voter lines in #NorthCarolina, expects polls to stay open beyond closing time #Midterms2014

Colorado is often described as the bellwether state. It has swung Obama's way in recent years amid political and demographic change, but some experts believe it could hold the key to a Republican win if they can snatch it. The BBC's Anthony Zurcher paid the state a visit.

Newsday, BBC World Service

Sam Ibrahim, the Republican County Chair for New Hanover in North Carolina, tells us that polls will stay open after 8pm Eastern time due to high turnout.

Most of the attention on mid-term election day is focused on the voters, but far more Americans will not be going to the polls. Survey data has found that the demographics of non-voters are quite different than likely voters.

Reid Wilson, Washington Post

tweets: Tim Scott is the first elected African American senator from South Carolina.

The Republican party also held two seats in South Carolina as Senators Tim Scott and Lindsey Graham won their elections.

Paul Kane, Washington Post congressional reporter

tweets: Here at McConnell campaign HQ, the call was so quick that most people don't even seem to realize that their candidate has won.

Aleem Maqbool

BBC news, Iowa

tweets: Sudden rush at polling station in rural Brooklyn, Iowa. These voters could change power of the Senate #BBCMidterms

As results come in, control of the Senate could be decided by the end of the night - or it could be next year. Two states - Georgia and Louisiana - require run-off elections if no one candidate makes it to 50%. In Louisiana's three-way race, a run-off is almost assured. Georgia may also go to a run-off, putting an election on 6 January, just days after the new Congress is scheduled to begin.

Franz Strasser

BBC News, Wisconsin

Justin Kuto of Minneapolis, Minnesota, tells me that affordable education is important to him in the mid-term elections.

"For what I need, a Republican controlled Senate will make things worse."

The $3.7bn (£2.3b) spent on House and Senate mid-term elections is equivalent to the worldwide box office gross for all 13 Batman films, according to NPR.

Senate Minority Leader Mitch McConnell won the male vote in Kentucky by 19 points over Democratic candidate Alison Lundergan Grimes. She held the female vote by only 5 points, according to an ABC exit poll.

Senate Minority Leader Mitch McConnell is projected to have won his Senate race against Democrat Alison Lundergan Grimes, according to an ABC exit poll.

Jon Sopel

North America editor

tweets: Remember full coverage of #Midterms2014 starting shortly with @KattyKayBBC and myself #BBCMidterms

Franz Strasser

BBC News, Minnesota

Julie Chapman from South St Paul, Minnesota, says it does not matter to her who controls the Senate.

"Nobody will work together. They used to work together back in the day, but it's become so partisan now that I feel like you can't get anything done."

It would be a huge shock if independent candidate Greg Orman were to win in Kansas - since 1938 the state has sent only Republicans to the Senate. Polls close there in just over an hour.

Rick Klein, Political director at ABC

tweets: Dem turnout #COSEN hasn't been lower going back to '92, per prelim exit polls #ABCVote

Franz Strasser

BBC News, Wisconsin

Donna Huppert from Pierce County, Wisconsin, tells me that focusing on the economy can help families get on their feet.

"When you go to the gas pump and the gas is down, it does help. You're feeling a bit of an improvement in the economy."

Tonight's battle is all about who ends up with a majority in the House and Senate. Our graphic on the US front page will keep you up to date with the running totals for both parties.

Sixty four senators are not up for re-election today (32 Democrats, plus two independents who caucus with them; and 30 Republicans) so those seats are already assigned.

You may think it strange that the data has decided the winner of eight House races before the polls have even closed (five Democrats and three Republicans). Those candidates have had to face the voters today - but they have not had to face an opponent. In a one-horse race, victory is guaranteed.

Nada Tawfik, BBC News, New York

tweets: Becoming maj leader would be pinnacle of #McConnell's career. KY's longest serving Sen has never had pres ambitions.

Immigration and the Keystone Pipeline - a highly-contested oil pipeline stretching from Canada to the US - will be major issues in a Republican-led Senate, according to Fox News.

Republican control of the Senate sets the stage for a massive battle between the parties if a vacancy opens up on the Supreme Court, writes the New Republic's Jeffrey Rosen. It's easy to imagine a protracted standoff between Senate Republicans and President Barack Obama over a Court replacement, leaving an empty seat on the bench for an extended period of time.

Franz Strasser

BBC News, Wisconsin

Nate Sorwig from Hudson, Wisconsin, says it is fair for Republican politicians to compare Democratic candidates to President Barack Obama.

"A lot of people are unhappy with the direction the country is going in and the fact that somebody has a record of voting with the president, say 90+ percent of the time, they need to be held accountable."

Jeff Zeleny, ABC News Washington Correspondent

tweets: In Kentucky, nearly 7 in 10 voters say the country is seriously on the wrong track, based on preliminary exit poll data. #kysen

Kevin Breaux, an independent who voted in New Orleans, told the Associated Press news agency he was hoping for more gridlock in Washington.

"That's a good thing... It's far better than [President Barack] Obama advancing his liberal agenda."

Golf Channel v E! Network

Candidates and political groups have clearly felt they have sympathetic audiences on certain US cable channels, and are targeting their adverts accordingly.

tweets: I know it's last minute, but if you haven't voted, please vote today

Thomas Sparrow

BBC Mundo, Washington

At this polling station in Columbia Heights, a neighbourhood in Washington with a large number of Hispanics, many people I spoke to stressed the need for comprehensive immigration reform. Leticia Arias, who arrived to the US from Mexico nearly 30 years ago, said she was disappointed in President Obama because she voted for him twice and there is still no reform. "To this date there is no solution and we have waited a long time", she said.

Kyle Stephenson, an accountant, told Reuters he had recently switched political parties from Republican to Democrat, citing widening economic inequality.

"It seems like the gap between the really rich and the rest of us is just getting bigger and bigger... It's gotten harder and harder for regular Americans to make a living."

Jon Sopel

North America editor

tweets: Interesting exit poll data emerging. Seems to add up to this: voters don't much like #Obama nor the #GOP - #BBCMidterms #plagueonyouall

North Carolina set a record this year as the most expensive Senate race in US history; $113m has been spent on the race, shattering the previous record of $77.3m set in 2012. Outside group spending totalled $81m, dwarfing the $32m raised and spent by the two candidates.

This year will go down as the most expensive mid-term election in US history. Why? The short answer is because there's been a flood of money from outside groups - rich billionaires, corporations and special interests. Twenty-three percent of all spending this cycle has come from groups not connected candidates or political parties.

tweets: Conn. judge orders 2 voting locations in Hartford to remain open until 8:30 p.m. ET after claims that some polling stations opened late.

This sums up the mood of many Americans. Emily Conover, a saleswoman from Elizabethtown, Kentucky, told the Associated Press news agency she voted for Democratic challenger Alison Lundergan Grimes over Senate Minority Leader Mitch McConnell, but she "didn't really like either of them".

Here's a very nifty video explainer on how the Republicans can win the Senate - all in 100 seconds, from The Washington Post.

Polls close in some eastern states of the US in under 90 minutes. And once the voting stops the counting starts.

From 0000 GMT you can follow the vote count live via our interactive results map. The Associated Press will provide data for every House, Senate and Governor race as well as key ballot initiatives.

Just click to see the state of every race in real-time - right down to the number of votes each candidate has in a precinct.

What happens if Republicans only gain five seats in the US Senate, making it an even 50-50? By procedure, the tiebreaker goes to Vice-President Joe Biden, effectively retaining Democrat control.

And more voters - 54% versus 44% - disapprove than approve of President Barack Obama's job performance as president, according to that preliminary ABC exit poll.

According to a preliminary ABC exit poll, voters by 65%-31% say the country is heading seriously on the wrong track rather than in the right one.

Aleem Maqbool

BBC news, Iowa

In Iowa, farmyard animals have played a surprising but perhaps decisive role in what remains a knife-edge battle. The relatively unknown Republican nominee Joni Ernst grabbed attention across America with an advert focused on rural values.

"I'm Joni Ernst. I grew up castrating hogs on an Iowa farm, so when I get to Washington, I'll know how to cut pork," she said. The sentiment clearly struck a chord with many in this largely agriculture-dependent state, such that the latest opinion polls show a race that is now simply too close to call.

US turnout during mid-term years is comparative to turnout in Colombia and Pakistan, according to the International Institute for Democracy . And it is far below countries like Denmark and New Zealand - all without compulsory voting. Recent elections in Tunisia saw 65% of eligible voters cast ballots, the first election under a new constitution.

Turnout could be a factor. Low mid-term voter turnout generally favours Republicans, because mid-term voters are generally older and have a higher education level. Democrats have a lower voting registration rate.

Tara McKelvey

BBC News, Kansas

Harlan Brush, an ex-racing car driver in Topeka, Kansas, says Republican Senator Pat Roberts, who is in a tight race with independent Greg Orman, "doesn't have a clue".

The fact that Congress is currently split - with each party controlling a chamber - means voters don't know who to blame for the legislative gridlock, say analysts. Or maybe it's because they don't actually know who does control the House and Senate.

The vast majority of Americans may disapprove of the job Congress is doing, but in recent years 90% of incumbents have been re-elected. This odd fact has a name - the Fenno Paradox - named after political scientist Richard Fenno.

Rajini Vaidyanathan

BBC News, Washington

tweets: West Virginia predicted to elect first Republican Senator in more than 50yrs.

Job approval for Congress is at an all-time low, just 14%, and the last session of Congress was described as the least productive on record, in terms of bills passed.

The famous dome on the US Capitol building in Washington is currently covered in scaffolding. But throughout this campaign, most voters have been saying it will take more than a facelift to "fix" Congress.

But we shouldn't forget there's a battle for the lower chamber too, the House of Representatives, where the Republicans have a lead of 233 to 199. They are expected to maintain or increase that, tightening their grip on the House.

Jon Sopel

North America editor

tweets: Polling and stats genius @NateSilver538 latest blog says 76% chance Republicans will take Senate

Expectations are that turnout in 2014 will not be as high as in previous mid-term years - 2006 and 2010 - when the Iraq War and the president's healthcare overhaul were galvanising issues.

So with a dizzying number of contests happening tonight, we've whittled them all down to six Senate races that really matter:

Republicans haven't controlled the US Senate since 2006. If they win the big prize, the man in charge of the Senate will be current Minority Leader Mitch McConnell, looking happy here while voting in Louisville, Kentucky.

Copyright: European photo agency

The grand prize is the US Senate, where Republicans are vying for control and need six seats to wrestle it from the Democrats. Republicans already control the US House of Representatives and are unlikely to lose it.

For those just joining us, it's time for a recap of what's at stake tonight - 36 out of 50 state governors, 36 of 100 seats in the Senate and all 435 districts in the House of Representatives, plus countless state and local offices.

Nick Bryant

BBC News, Kentucky

tweets: "Team Mitch" paraphernalia ready to go for what's billed as the "victory party" in Louisville @BBCNewsUS

Republican National Committee

@GOP

tweets: Polls are still open. Do not put voting off. http://gop.cm/6011STxS The next generation is looking to you.

Forecasting site FiveThirtyEight

@FiveThirtyEight

tweets: Closest governors' races: Democrats favored to win in ME, CO, FL, CT, IL, RI, and KS. Republicans in MI and WI: http://53eig.ht/10hyJgd

US media say Tim Scott is tipped to be the first African-American elected as a senator from the South. Mr Scott is already a senator, but he was appointed after his predecessor Jim DeMint retired.

Want to know who is behind all the campaign adverts from groups with names like "Patriot Majority", "Women Vote!" and "Crossroads GPS"? Well, you can't. Groups like these are funded by "dark money", which can be raised without any requirement to identify the donors. The BBC's Anthony Zurcher looks at what this means for the US political process.

Bahman Kalbasi

BBC Persian, Kentucky

tweets: #Kentucky: Reporting from a voting stn in #Louisville. Sherif told me the turn out is V high for midterms. @BBCNewsUS

Tara McKelvey

BBC News, Kansas

Polls have shown the Kansas Senate race between Republican Senator Pat Roberts, and Greg Orman, an independent, is a dead heat.

Both have their supporters in Topeka, a town filled with boarded-up businesses like this gas station. Yet many people have told me they're voting on social issues, not economic ones. That usually means a vote for Roberts.

A billboard above the abandoned gas station says: "Homosexuality is sin". It was paid for by Westboro Baptist, a conservative church.

Nick Bryant

BBC News, Kentucky

Seniority is clearly a highly valued commodity in Kentucky, where 72-year-old Mitch McConnell is seeking a sixth term. He has already broken the record as the longest serving Senator in the state's history.

Seniority usually brings with it pork (federal money), and that's appetising for many of the voters we've been speaking to.

Youth seems to be his opponent's major handicap. Alison Lundergan Grimes is just 35 years old. Why have a junior senator, many people clearly think, when Kentucky could be represented by the most powerful man in the Senate?

Kim Ghattas

BBC News, Arlington, Virginia

tweets: Fun slow day covering mid term elex for @bbcworldservice @BBCNewsUS with @trowynt in Virginia. Trickle of voters.

Jane O'Brien

BBC News, Arlington, Virginia

tweets: . @carrolldoherty tells me only 43 percent of Americans know who controls Congress now. Will they care who takes the Senate tonight?

Aaron Blake, political reporter for @washingtonpost

@AaronBlakeWP

Beauprez? Recchia? Djou? With elections taking place all over the US, the list of candidates is a grab-bag of interesting and sometimes tongue-twisting surnames.

NPR has posted a cheat sheet on how to pronounce some of the more challenging names on today's ballot.

Tara McKelvey

BBC News, Kansas

Corry Bliss, working out of this office in Topeka, Kansas, is the campaign manager for Sen Pat Roberts, a Republican. Mr Bliss is wearing a black jumper and is chewing gum - and walks stiffly across the parking lot. He says he's optimistic - "we're very encouraged" - but looks tense.

Sarah Palin has written about an old Ronald Reagan speech in support of Barry Goldwater's presidential campaign 50 years ago. She says the speech contains warnings about the "dangers of big government" and "affirms our call to action for today's election".

Regan Morris, US West Coast producer for BBC

tweets: Turning out to vote is rather pleasant at polling station under the Hollywood sign. @BBCNewsUS #midterms2014 pic.twitter.com/Bbm1k5SSPW

Republican victory 'will be hollow'

Conservative American blogger Erick Erickson argues on the Politico website that even if the Republican Party ends up winning a majority in both the House of Representatives and the Senate, it will not initiate a programme of reform acceptable to grassroots conservatives.

"So we might well see a Republican Congress in name after Election Day," he says, "but its small-government rhetoric is certainly not going to fool or win over the party base."

For those planning on staying up late to watch the results unfold, the LA Times' man in Washington has a warning - David Lauter says it could be days, possibly even weeks, until a full tally of votes is complete. Read what he has to say here.

Jane O'Brien, BBC Washington correspondent

@trownyt

tweets: POLITICO's @DavidNather tells me Republicans likely to pick more fights with Obama if they take Senate. Gridlock here to stay.

In a world where it seems almost obligatory for an electioneering politician to be photographed smiling with a youngster, Republican Thom Tillis is no exception. Here he is campaigning for a Senate seat in Charlotte, North Carolina.

Nick Bryant, BBC correspondent

@NickBryantNY

tweets: Louisville, Kentucky - busiest congressional poll the local election official has ever seen @BBCNewsUS pic.twitter.com/CmVUu6RUTg

Our BBC correspondents have pulled together a few reasons why Democratic Party candidates might face problems due to their association with President Barack Obama.

• An ABC News/Washington Post poll suggested 44% of people see President Obama favourably, down from 49% in January and 60% as his second term began

• The survey also indicated that half of adults and 53% of likely voters view him unfavourably

• This is close to an all-time personal low, according to Real Clear Politics

• Bill Clinton, Ronald Reagan and Dwight Eisenhower all had higher approval ratings at this stage of their presidencies, according to Gallup, but George W Bush's figures were slightly lower.

Juliet Eilperin, reporter for @washingtonpost

@eilperin

tweets: "I don't anticipate you'll hear from him tonight" @PressSec says of POTUS, says he will watch results in the residence.

Republicans 'won't bring back slavery'

Former presidential candidate Mike Huckabee uses a blog post to tell American voters "what today is all about", reassuring them that Republicans do not want to "take away your birth control pills or bring back slavery".

The bass guitar-playing Fox News host adds: "So if you like the direction America's been heading, vote for Democrats, and keep speeding that way for two more years. If you think we desperately need to step on the brakes before we reach the cliff, then vote Republican.

Kim Gittleson, BBC correspondent

@kgittleson

tweets: In Osceola, voters are poised to oust Democrats due to dissatisfaction with the economy bbc.in/1up0XTV

Many American voters have said they are tired of the mid-term election campaigns. But there is a chance that there are more to come.

Both Louisiana and Georgia are tipped as states where it is likely that no candidate will win more than 50% of the vote outright.

In such a scenario, Louisiana would have to hold a run-off election in December, and Georgia would not hold its run-off until January 2015 - which could potentially mean a long wait to determine who holds power in the Senate.

A campaigner in San Francisco makes the most of the mid-term elections by canvassing to save a local park

A rally was held on Monday night at a church in St Louis, Missouri, urging people to vote in the mid-terms

John McCain, US senator

@SenJohnMcCain

'A plague on both your parties'

Jon Sopel

North America editor

It's always interesting at election time in politics to ask the question - are people voting for the person they want the most, or the candidate they mind the least?

If it is the former, it is normally a good guide that turnout will be high - think Narendra Modi earlier this year in India or Obama in 2008, or Tony Blair in Britain in 1997. Those were "time for change" elections.

In the United States at the moment the mood is sullen, which occasionally tips into anger. It is a plague-on-both-your-parties election.

Brendan Buck, VP of Communications at AHIP

@BrendanBuck tweets: Come on folks, need to step up our game on useless anecdotes about turnout levels in various precincts and what it means.

Inside the mind of a senator

What goes on inside the mind of a vote-hungry US senator? This BBC report looks at the strategies senators are likely to consider to try to stay in power.

You can check out more BBC videos in the "key video" section of this page.

Bill Clinton, former US president

@billclinton

tweets: The best way to grow together as a country is if everyone participates. Don't forget to vote today. #ivoted

Terry Davis, a retail manager in Ferguson, Missouri tells the BBC's Franz Strasser that the shooting of Michael Brown weighs on his mind as he heads to the polls. "In the wake of everything I just want change in general and fairness for the community. I've always voted but now it seems particularly important."

The shooting of black teenager Michael Brown, who was unarmed, sparked mass protests in Ferguson.

Associated Press, news agency

@AP_Politics

tweets: Cynicism, anger, optimism all in play on Election Day amid worries about Washington gridlock, reports @nbenac. apne.ws/1EfNMGz

'I told my kid it's important to vote'

Paul Blake

BBC News, New York City

The lines at this New York City polling station aren't very long, but I met one woman, Susan Harel, who was there with her son.

"My kids said 'mommy, the weather is really nice can't we play soccer?' But I told them it's important to vote," she said.

She said that no particular issue mattered to her this time around. She really liked the Statue of Liberty stickers that are given out after voting. She had picked up some for her other children.

For those who like to combine their politics with beer, Time magazine's website has provided instructions for a particularly punishing mid-term drinking game.

One sip for every Republican victor's mention of a "mandate", three for every superlative used by Newt Gingrich, and finish your drink completely if you hear a candidate thanking Barack Obama.

Time's editors clearly think the last one is rather unlikely.

A return to hawkish policies?

With the presidential in-tray overflowing with problems from the Middle East and Russia, Foreign Policy asks whether a Republican-controlled Congress would push the White House towards a more aggressive stance abroad.

Sam Farzaneh

BBC Persian Service, Georgia

African Americans are showing in large numbers in this voting station in Atlanta, Georgia. Do they care about how the Senate can effect the nuclear negotiations with Iran? Is the situation in Syria an issue for them? The answer is no.

I talked to some of the voters and their main issue was the minimum wage and the crime in this neighbourhood.

Nat Herz, @adndotcom

@Nat_Herz

tweets: Best part of today is gonna be when all the poor suckers on the east coast have to wait til 4:30 am for #AKsen results.

A toddler wears a sticker that reads "I voted" at a New York City polling site:

Criticism of Missouri prosecutor

Franz Strasser

BBC News, Ferguson

In Ferguson, Missouri the election for county executive has partly become a referendum on much-criticised county prosecutor Bob McCulloch and his handling of the investigation into the death of black teenager Michael Brown.

Darron Nelson, an insurance broker from Ferguson, said that residents needed to be educated about the importance of elections in the wake of Michael Brown's death.

"If you don't have anyone on a local level that's representing your ideas then it's too late. If you don't like Bob McCulloch [St. Louis County prosecuting attorney] then you should've voted. Those things we don't understand until it's too late."

Wolf Blitzer, @CNN anchor

@wolfblitzer

tweets: Historic footnote: When Dems lost House in 2010 mid-terms, President Obama called it was a "shellacking," but was re-elected 2 years later.

Reid Wilson, the Washington Post

@PostReid

When orchestrating Bill Clinton's first presidential campaign, one of his strategists reportedly coined a slight variation of the phrase "it's the economy, stupid" to emphasise what the team should be focusing on.

But a central anomaly in this campaign is the level of voter dissatisfaction with the Democratic Party despite an economy that is growing, albeit slowly. Reuters notes that the recovery has been "uneven", and quotes political expert Larry Sabato as saying "we've had a very difficult economy for years and anyone in office is going to be held partly accountable, especially governors".

Voters in Denver, Colorado, where the governor's seat is being hotly contested - though not everybody in the photo appears overly interested.

Chad Pergram, reporter for @FoxNews

@ChadPergram

tweets: If GOPer Elise Stefanik wins upstate NY seat today, she would become youngest Congresswoman ever at 30. Elizabeth Holtzman was 31 in '73.

If you can't keep track of all the elections happening today, the BBC's guide to the top five things to know about the mid-terms should help.

Jane O'Brien

BBC News, Arlington, Virginia

A lot of money has been invested in the tightly-fought races, with some estimates suggesting $200m (£125m) was spent alone in the month of October. It shows how much Republicans feel they have to gain by taking these elections seriously.

But it's worth remembering that Americans themselves are very unhappy not just with Obama and the Democrats but with Republicans as well. The president's approval rating is low, but Congress isn't doing much better either.

One of our correspondents took a trip along the old Blues Highway to ask what American music reveals about its politics. Aleem Maqbool took in five states in five days and looked at five styles of American music.

Ed O'Keefe, @washingtonpost congressional reporter

@edatpost

tweets: At a senior center in NW Atlanta, poll mgr reports 10% turnout so far. "It's been a steady stream all day." #gapol

Voters in Kentucky queue up at a school sports hall to cast their ballots.

Thomas Sparrow

BBC Mundo, Washington

There has been disappointment among many members of the Hispanic community about the lack of a comprehensive immigration reform, which was a promise by the administration and a key element that helped rally Hispanic voters in previous elections.

Faced by the fact that reform would not pass the Republican-controlled House of Representatives, President Obama promised that he would act unilaterally to change certain aspects of the country's "broken" immigration system, but decided in September to postpone any measures until after Tuesday's elections.

The Congressional Hispanic Caucus said this delay made engaging with Latino voters more difficult, so it will be interesting to analyse the Hispanic vote in this context and see what it will mean for President Obama's immigration plans.