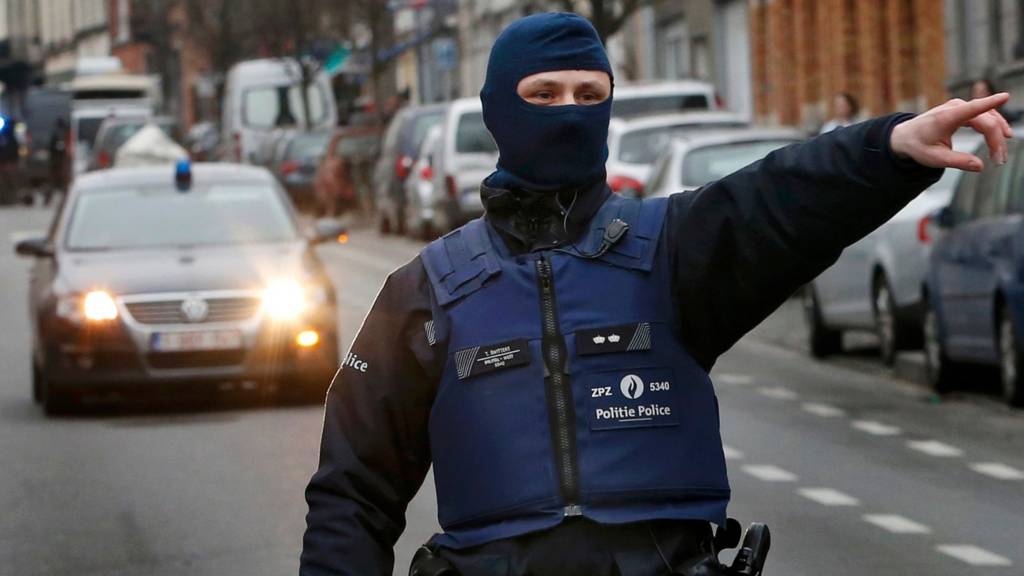 Brussels raid: Abdeslam arrested - as it happened
Summary
Paris attacks suspect Salah Abdeslam has been wounded in the leg and arrested in a raid in Brussels
French President Francois Hollande says he has "total confidence" Belgium will agree to extradite Abdeslam
Four other people are arrested alongside Abdeslam in the Brussels suburb of Molenbeek
Belgian PM Charles Michel says Europe faces "a new form of threat"
We are going to pause our live coverage here. You can follow ongoing developments via our latest news story here:
Forensic teams search Abdeslam flat
The BBC's Gavin Lee is outside the Molenbeek flat in which Abdeslam was holed up. 
You can follow Gavin here: @GavinLeeBBC
Second arrested suspect identified as Monir Ahmed Al Hadj
Along with Salah Abdeslam, another man suspected of involvement in the Paris attacks was arrested on Friday.
He has been identified him as Monir Ahmed Al Hadj.
Molenbeek security operation to continue into the night
Belgian officials say security operations will continue in Molenbeek into the night.
There is still heavy police presence on the streets, while some roads around the raided flat have been re-opened.
Breaking
Three family members held for sheltering Abdeslam
Belgium's federal prosecutor says that in total five people were arrested in Friday's raid, including three family members accused of sheltering Salah Abdeslam.
The prosecutor says Salah Abdeslam was arrested at about 16:40 local time (15:40 GMT); he was "slightly injured" during the arrest and taken to hospital.
Molenbeek streets around raided flat 're-opening'
Le Monde journalist Nicolas Chapuis tweets that Belgian police are beginning to re-open the area around the raided flat and allow residents to return home.
What do we know about Salah Abdeslam?
Described by Belgian media as "public enemy number 1", Abdeslam spent time in jail in 2010 for a robbery in which Paris attacker Abdelhamid Abaaoud was also implicated. Both men were from the Molenbeek district of Brussels.
The following year, Abdeslam was fired from his job as a technician for Brussels transport company STIB for repeatedly failing to turn up for work.
By early 2015, both he and his brother Brahim were known to have plans to join so-called Islamic State in Syria. Last July, Salah Abdeslam travelled to Greece in apparent preparation for the Paris attacks. 
On 9 September, he was stopped on the Hungarian border with two men. One is thought to have been Mohamed Belkaid, the Algerian gunman shot dead in Brussels on Tuesday. The other is said to be Soufiane Kayal, who was reportedly among the three men arrested on Friday.
More 
'You got him, boys! So proud of you'
A triumphant tweet from Belgian politician Jan Jambon, who is pictured alongside Prime Minister Charles Michel in front of armed police who presumably took part in the operation in Molenbeek.
Hollande: 'Until we have arrested all who took part, our fight is not over'
Concluding the news conference, President Hollande calls Abdeslam's arrest an "important stage" but "not the final conclusion of this story".
"There will have to be more because we know that the network was quite widespread in Belgium, in France, in other countries of Europe as well. 
"So until we have arrested all those who took part or contributed, financed that terrorist network that committed the abominable attacks, the war acts of the 13 November, our fight will not be over until then."
Michel: 'We're facing a new form of threat'
Mr Michel says security forces are facing a "new form of threat" and must "remain alert", mentioning a string of attacks across Europe in recent months.
Mr Hollande says countries must cooperate and share intelligence on terror networks. 
"We are facing very wide networks that cover several countries," he says.
Michel: Two of the suspects were armed and were wounded
Mr Michel says two of the three suspects arrested in Molenbeek were wounded. Both were armed, he says. 
He says the security operation in the Brussels suburb is ongoing.
Hollande: I have 'total confidence' Belgium will extradite Abdeslam
At a joint press conference with Belgian PM Charles Michel, Francois Hollande says Paris prosecutors will urgently request the extradition of Salah Abdeslam. Mr Hollande says he has "total confidence" that the Belgian authorities will agree.
Hollande says: "I know the Belgian authorities will respond quickly and favorably to our request for extradition."
Francois Hollande and Charles Michel pay tribute to security forces
French president Francois Hollande and Belgian PM Charles Michel are speaking now at a joint press conference now. 
MIchel has confirmed that three suspects were arrested in Friday's raids, including Salah Abdeslam, who has been formally identified. 
Both leaders paid tribute to the security forces involved in the operation.
Dramatic footage shows moment of capture
Here's the full version of the footage mentioned earlier, which shows one of the three suspects, possibly Salah Abdeslam, being arrested.
The man seen in the footage appears to be limping. We do know that Abdeslam was shot in the leg during an exchange of gunfire.
Barack Obama congratulates Belgian PM on arrest
Belgian PM Charles Michel has tweeted an image of himself on the phone with US President Barack Obama, who called to congratulate him on Abdeslam's arrest.
Brett McGurk, the US envoy to the anti-Islamic State coalition, also tweeted his congratulations. 
Salah Abdeslam 'seen as a coward by the terrorists'
Dyab Abou Jahjah, a Belgian newspaper columnist and outspoken commentator on Arab affairs, says Abdeslam is seen as a "coward" over suspicions that he decided to flee Paris instead of detonating a suicide vest.
Abdeslam arrest comes a day after brother's funeral
The arrest of Salah Abdeslam comes a day after his brother Brahim, who was killed while carrying out the attacks in Paris, was buried in a discreet ceremony at the interdenominational cemetery of Schaerbeek in Brussels.
The coffin was carried by relatives and friends of the gunman.
Gunfire rings out during raid
A passerby captured the sounds of automatic gunfire during the raid in Molenbeek.
Abdeslam 'formally identified', will appear before judge
Abdeslam has now been formally identified by his fingerprints, Le Monde reports. 
The Paris attacks suspect was wounded in the leg when he was arrested in the street early on Friday evening. 
Reports say he'll appear before a Belgian judge and will be defended by lawyer Sven Mary.
Breaking
Third suspect arrested in Molenbeek - reports
A third suspect has been arrested by police in Molenbeek, Belgian media are reporting. The identity of the third person is not known.
The second suspect, arrested alongside Abdeslam, is reportedly Soufiane Kayal. 
Kayal is said to be linked to Mohamed Belkaid, the Algerian shot dead in the police raid in Brussels on Tuesday.