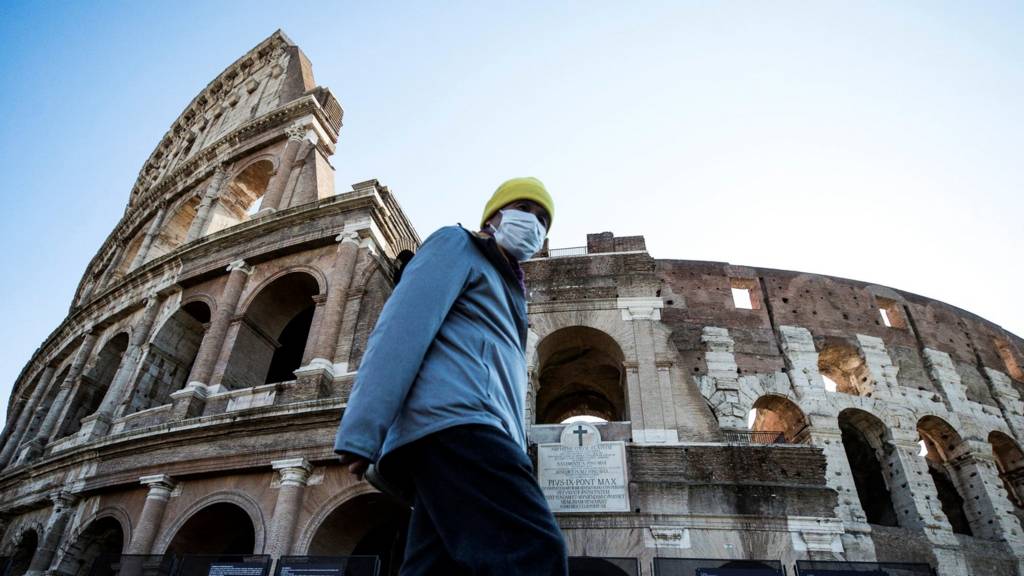 As it happened: Italy struggles with coronavirus lockdown
Live coverage ends for now

That concludes our live coverage for Tuesday. Do join us tomorrow for more news on the global public health emergency spurred by coronavirus.

EU leaders vow to protect economies against outbreak

European leaders have agreed they should allow member states the leeway they need to protect their economies against the coronavirus outbreak.

Among the measures is a coronavirus response investment fund backed by €7.5bn in EU funding - subject to approval by member states and the European Parliament, AFP news agency reports.

"We will use all the tools at our disposal to make sure the European economy weathers this storm," EU chief Ursula von der Leyen said.

The proposed investment fund would be aimed at healthcare systems and small businesses, she added.

"Europe is united and must take into consideration the fact that we are going through an exceptional crisis today, which requires exceptional responses," French President Emmanuel Macron said after holding a video conference with other EU leaders to co-ordinate a response to the outbreak.

The EU also said it would soon suspend rules forcing airlines to run empty planes on pain of forfeiting routes.

'Fight virus with happiness,' Italian teachers tell students

Teachers at a nursery school in Legnano in the province of Milan sent this video to their pupils before the lockdown.

They explain to the children what the disease it and how to deal with it.

"The school is closed because there is a spiteful little monster that's jumping from one tiny body to the other. It has even put a crown on as it wants to be a little prince; it's tiny, tiny and it jumps from here to there. And quietly, it enters our tiny bodies and gives us a cough and a temperature.

"But who can see it? Only the special doctors, but who have sent us a photo and we have drawn it.

"But do we want it in our school? No.

"So we are closing so when he arrives, he'll find the gate closed.

"But children, even he is afraid. We'll now tell you a secret. Shhh.

"He is scared of happiness. He doesn't want to see it.

"If we are happy, he'll go away. So children, now that you are home play, dance, laugh, cook biscuits and draw."

At the end, they ask the children to draw the virus and bring their drawing to school when it re-opens.

US Walmart employee tests positive

US retail giant Walmart has begun an emergency leave policy after an employee in Kentucky tested positive for coronavirus.

According to news outlets CNBC, CEO John Furner emailed all employees on 10 March assuring them that - until the end of April - they could use "regular paid time off options" and stay at home if they felt unable to work or "uncomfortable" at work.

Paid leave options are also available for employees if they catch the virus, or if their place of work falls under quarantine.

Walmart is the largest private employer in America and the biggest globally, with 2.2 million associates worldwide.

After interacting with self-quarantined lawmakers, Trump says he would get tested for coronavirus.

New French cases reported

Thirty three people with coronavirus have now died in France, public health chief Jérôme Salomon said.

At least 1,784 people have been infected in total, which represents an increase of 372 cases since Monday and the largest increase in 24 hours.

Of those ill, 86 are in serious condition, Mr Salomon said. Of the 33 deaths, all were adults and 23 were over the age of 75, he added. He also reminded people that 98% of those infected recovered from the disease.

The official number of cases in the Republic of Ireland has risen by 10 in the last 24 hours, and now stands at 34.

In a tweet, Ireland's health department said 1,784 people had been tested in the country as of 9 March.

Meanwhile, Northern Ireland recorded 16 cases.

WTO takes 'unprecedented step'

More on the WTO suspending meetings.

Roberto Azevêdo, the head of the organisation based in Geneva, Switzerland, said in a statement: "We take the health of secretariat staff and our members very seriously, which is why we have taken this unprecedented step.

"We are monitoring the situation very closely and will take whatever measures are necessary to protect health and safety."

All meetings will be suspended from Wednesday.

Live audiences cut from two major US game shows

Jessica Murphy, BBC News, Toronto

Two long-running US game shows will be taping episodes without live studio audiences due to concerns over coronavirus.

Jeopardy!, the iconic US trivia game show where contestants must answer clues "in the form of a question", and Wheel of Fortune, the word puzzle quiz show, are those affected by the extra precautions.

Sources close to the production teams, speaking on background, confirmed reports of the decision to the BBC, and said it was taken in abundance of caution.

Both shows are filmed at studios in California, which currently has approximately 140 confirmed cases of the virus.

There are also reportedly concerns about both hosts.

Jeopardy!'s Alex Trebek, 79, was diagnosed a year ago with stage 4 pancreatic cancer and is undergoing treatment, while Wheel of Fortune's Pat Sajak, 73, recently had a health scare.

Older adults and people with serious chronic medical conditions may be at higher risk of getting very sick from the virus, according to the US Centres for Disease Control and Prevention.

Breaking

WTO suspends all meetings

The Geneva-based World Trade Organization has said it is suspending all meetings until 20 March after a member of staff was confirmed to have coronavirus.

Trump says virus will 'go away'

US President Donald Trump has urged Americans to stay calm and said the virus would "go away".

He was speaking, Reuters news agency reports, after meeting Republican senators to discuss the coronavirus outbreak in Washington DC.

He said the meeting had focused on stimulus plans for the economy in the midst of the outbreak, without giving any further details.

He told journalists he had no symptoms of the virus and felt no reason to get tested, and that he felt good. It has emerged that he came into contact with Republican congressmen who placed themselves in isolation after being in contact with someone who had tested positive for the virus.

Romanian theatre to live-stream its productions

Eleven new cases of people infected with coronavirus have been confirmed in Romania, bringing the total number of infections to 28 since the outbreak began. So far there have been no fatalities.

Of the 28 infected persons so far, five have been declared "cured" and discharged from hospital, according to a statement by Romania's ministry of health. A further 107 people are reported to be in quarantine while 11,505 people are being home monitored.

In a hope to contain the virus from spreading, the Romanian government declared on Monday that all pre-university education facilities would be closed from 11 to 22 March. Public events with more than 1,000 people will also be banned and smaller events may need approval.

Authorities have also imposed a ban on flights, buses and trains to and from Italy, where Romania has a large diaspora and where most cases of infection in Romania are thought to have been transmitted.

Meanwhile, a popular independent theatre in Bucharest, Unteatru, will "continue to play, without endangering spectators" by live-streaming its performances online rather than suspending them.

Airline industry struggles

Tom Burridge

Transport Correspondent, BBC News

After the change in travel advice from the UK Foreign Office, airlines have cancelled thousands of flights to and from Italy.

Europe's biggest low-cost carrier, Ryanair, has scrapped all Italy flights from this Friday until 8 April. British Airways (BA) has cancelled all of its Italy routes until 4 April. Easyjet is expected to follow suit soon, but it's likely it will keep a handful of flights running to bring British nationals home.

Airlines are also being hit by a sharp fall in passenger demand globally. It hasn't helped that some airlines, such as Virgin Atlantic, have been forced by European rules to run empty flights because, if they don't, they risk losing precious slots at key airports. The President of the European Commission, Ursula von der Leyen, said urgent legislation would be passed so the rules change.

"We want to make it easier for airlines to keep their airport slot even if they do not operate flights in those slots because of the declining traffic," she said. "This is a temporary measure, and this temporary measure helps both our industry, but it also helps our environment."

The extent to which airlines are struggling is becoming clear. BA has emailed all its staff asking people to volunteer for unpaid leave. Norwegian Air has said it will cut 15% of its global schedule for a month, while some staff will be temporarily laid off. The German giant Lufthansa has already said it will cut up to half of its flights during the coming weeks. Anyone booked on a flight which is cancelled is eligible for a full refund.

US 'far behind' with virus tests

The top Democrat in the US Senate has warned the country is "far behind" in testing people for coronavirus.

Chuck Schumer said the outbreak was a "healthcare crisis".

There have been complaints about a lack of testing equipment but US Health Secretary Alex Azar insisted there was enough provision to meet demand.

Italian infections pass 10,000 mark

The total number of coronavirus cases in Italy has officially gone from 9,172 to 10,149.

Of that number, 1,004 have fully recovered.

Italy's death toll of 631 is the largest outside China, and the latest increase in deaths - 168 - is the biggest recorded in a single day.

Containment plan for New York 'cluster' town

Image caption: Governor Andrew Cuomo

New York Governor Andrew Cuomo has announced a targeted containment strategy for a town in the US state.

The plan will focus on a one-mile "containment area" around the town of New Rochelle, which he said was home to "the most significant cluster [of virus cases] in the nation".

Schools and other large meeting points within the area will be closed for two weeks from Thursday. The National Guard will also be deployed to clean schools and deliver food to quarantined residents. But Governor Cuomo said movement in and out of the area would not be restricted.

New York state has 173 active cases. Of these cases, 108 are in Westchester County, where New Rochelle is located.