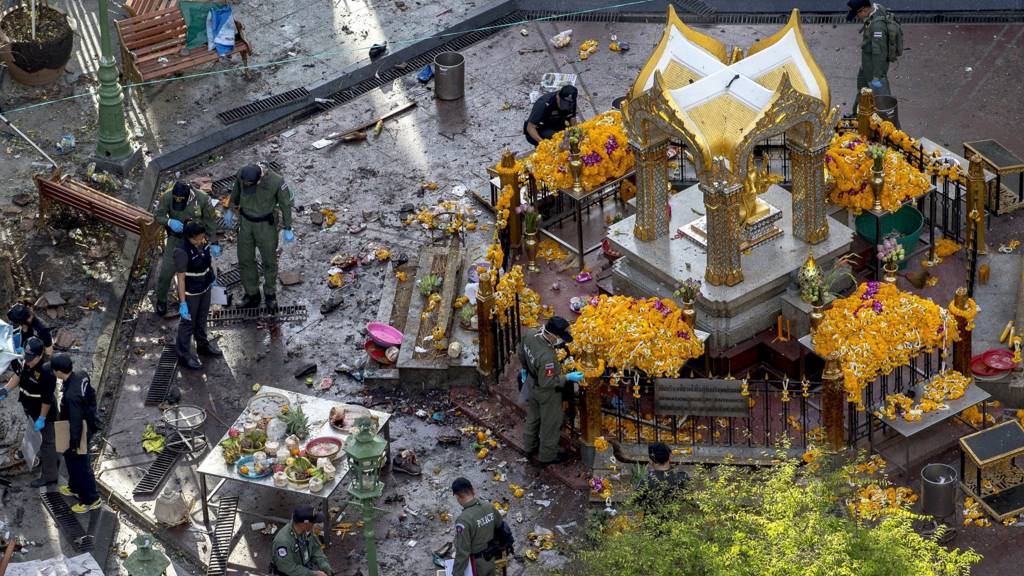 Bangkok bombing aftermath
With that, we're bringing today's Bangkok live page coverage to a close.

A stunned nation mourns the dead after an attack unprecedented even after years of political turmoil.

Four Chinese tourists were killed by the bomb, including two from Hong Kong.

China "expresses strong condemnation" of the bombing, Foreign Ministry spokeswoman Hua Chunying said.

Quote Message: We strongly condemn this heinous attack. As we have said several times, nothing can justify the killing of innocent civilians... Those responsible for this act must be brought to justice. from K Shanmugam Singapore's foreign minister

One Singaporean is known to have died.

People have been giving blood at the Thai Red Cross in Bangkok following the bomb blast.

The organisation made appeals yesterday when more than 120 people were injured.  

'Not ruling out anything'

There has been speculation the bomb is connected to Thailand forcibly returning 109 Uighurs to China last month.

The Thai police chief said: "Police are not ruling out anything including (Thai) politics and the conflict of ethnic Uighurs who, before this, Thailand sent back to China."

Suspect 'could be Thai or a foreigner'

National police chief Somyot Pumpanmuang told a news conference the suspect could be Thai or a foreigner. On the significance of the missing backpack, he said: "We need to look at the before and after CCTV footage to see if there is a link." 

Images of suspect released

Thai police have released two images of the bomb attack suspect - a man in a yellow t-shirt.

They say he was walking past the scene at the time of the incident with a backpack and then appears to walk away without it.

Troops deployed to checkpoints

Voice of America correspondent Steve Herman reports security is to be stepped up.

Prime Minister Prayuth Chan-ocha has addressed the country in a TV broadcast.   

'More than one person involved'

Quote Message: We believe that there was more than one person who came in the area and planted the bombs, but at least one person is very clear on the CCTV, and this is a very busy intersection, happening at rush hour, so we are having the benefits of a lot of witnesses in this regard. from Dr Panithan Wattanayakorn Advisor to the Thai Defence Minister

Singapore's state broadcaster Channel NewsAsia tweets: "Nothing can justify the killing of innocent victims."

The country's politicians have also condemned Monday night's deadly Bangkok bomb attack in parliament today, which claimed the life of one Singaporean.

Thai-born Aisha Kanchula, from Cardiff, Wales, has spoken to the BBC the day after the bombing.

Speaking on BBC Radio Wales, she said she had been at a family gathering at a restaurant a few hundred metres away from the blast when the bomb exploded

She said it was "such a shock for everyone".

'Suspected grenade' reported

Investigations are continuing in Bangkok - here is what we know about the incident so far.

Scene aftermath

BBC cameraman Joe Phua tweets:

The BBC Vietnamese service says a hotline has been set up to help Vietnamese tourists in Bangkok. Many netizens in Vietnam have taken to social media to send prayers to Thailand, using the hashtag #prayforThailand. Others, however, announced that they are cancelling their trip to the country.

@BBCNewsAsia has collated a list of Twitter users tweeting about the Bangkok bomb blast. You can subscribe to it here.

The BBC's James Sales arrived on the scene shortly after the blast, and administered first aid to some of the injured.

The blast has been described by Thailand's Prime Minister Prayuth Chan-ocha as the "worst ever attack" on the country. Read more from our main story here. 

Why do people visit the Erawan shrine?

The Erawan Hindu shrine is a major tourist landmark in the Thai capital, Bangkok, especially for visitors from East Asia.

The shrine sits at the Ratchaprasong intersection, a crossroads in the centre of the capital, surrounded by an iron fence.

Google Thailand pays tribute to the victims of Monday's deadly bomb blast with a candle on its page.

The Nation has reported that Thailand's Prime Minister Prayuth Chan-ocha will speak to reporters at 14:00 local time (08:00 GMT).

Quote Message: Ministers have said they believe the bomb targeted tourists; the shrine is very popular with foreign visitors. But most of the dead and injured are Thai nationals. The area next to the shrine has now been cleaned up, the roads around it opened for traffic. There is, however, a lingering sense of shock in this country, which until now had been spared the kinds of terrorist incidents which have been experienced by some of Thailand's neighbours. from Jonathan Head BBC News

Quote Message: The Thai authorities are now examining video footage taken from several CCTV cameras around the Erawan shrine for possible clues. They say they are looking for one young man, who appears to walk into the shrine wearing a black backpack, but is then seen walking without it. Beyond that, though, they are not pointing to any group as a likely perpetrator behind this, the worst ever bomb attack in the Thai capital. from Jonathan Head BBC News

Police have been searching the site of the blast for evidence. See more images from the scene here.

Quote Message: The atmosphere this morning here in the capital city is very, very different, in fact Bangkok seems like a shell of its former self. There's very little life about the place. As well as tourists being shocked and very, very shaken, local people are in a state of shock as it was the last thing that they were expecting. from Mairead Campbell BBC News

Flowers and signs have been left near the site of the explosion.

'As if lightning had struck'

There is a palpable sense of shock in Thailand, as news of Monday's bomb blast spreads.

BBC News has spoken to a number of people who saw and heard the blast. One eyewitness said: "It sounded as if lightning had struck."

Indonesian authorities have released a statement to local media, saying that an Indonesian woman, Lioe Lie Tjing, has died. They have also said her husband, Hermawan Indradjaja, is in critical condition.

Workers are cleaning up debris at the site of the explosion.

The prime minister of Malaysia

Singapore's foreign affairs ministry has said that one Singaporean woman died in the blast. They have not named her.

#StrongThailand begins to trend on Twitter in Thailand, with people using the hashtag to send out messages of support to the victims of Monday's bomb blasts.

'Clearer idea of perpetrators'

Thailand's defence minister has said that officials investigating Monday's bomb attack in Bangkok now have a clearer idea of who the perpetrators could be.

Prawit Wongsuwan spoke to reporters on his way into a cabinet meeting: "We have already collected evidence from all CCTV cameras. We have followed up some other things as well. It's clearer [who the bombers are], but I can't reveal that right now."

Donating blood

From The Nation newspaper

Countries in the region have begun confirming the number of their citizens who have been killed in the blast. They include:

•China: Four citizens dead. Two were from mainland China while the other two were from Hong Kong, said the Communist Party's newspaper People's Daily

•Malaysia: Two citizens - a woman named Lim Saw Gek and her son Neoh Jai Jun - were killed, said the Malaysian government in a statement released to local media

Mobile phone footage has captured the moment the bomb exploded. It was shot by a Chinese tourist and given to a Chinese-language news outlet in Bangkok MGTV. You can watch it here.

BBC cameraman Joe Phua sent this photo of the scene right now of where the blast happened.

'Attackers still in Bangkok'

Thailand's Defence Minister Panithan Wattanayakorn has told the BBC there are a few suspects.

"Yesterday, since the beginning of the incident, the authorities have been setting up checkpoints, trying to contain a few individuals in question. The police chief is quite confident that these persons are still in Bangkok and at the moment we are asking for the co-operation of the public."

Canadian ambassador to Thailand

says "This is the worst incident that has ever happened in Thailand. There have been minor bombs or just noise, but this time they aim for innocent lives. They want to destroy our economy, our tourism."

PM Prayuth Chan-ocha speaks

PM Prayuth Chan-ocha has spoken to reporters saying authorities are looking for a "suspect" seen on CCTV footage.

"I have ordered the cameras be checked because there is one suspect, but it is not clear who he is," he said according to Reuters.

On Twitter, several topics surrounding the bomb attack continue to trend among Thai users, including #PrayForBangkok and #ErawanShrine.

Thai police have said they are looking for a young man seen on CCTV footage carrying a black backpack into the Erawan shrine and coming out without it. They say he is a possible suspect.

The BBC's Pamela Koh is at King Chulalongkorn Memorial Hospital where some of the victims were taken.

Well-wishers, concerned members of the public and other patients are milling around, she says. One of the injured victims has just left the hospital.

Twitter users in Australia are sharing the story of a "lucky last-minute decision" by rock star Jimmy Barnes and his family, who made the decision to use an overhead pass instead of walking past the Erawan religious shrine last night.

Thai shares fell by almost 3% in early trade on Tuesday after the deadly bomb blast. The government has described the attack as an attempt to harm the economy and tourism.

Shares from tourism related companies were amongst the hardest hit with hotels like Erawan Group, Minor International and Central Plaza falling more than 10%.

Twitter users in Bangkok are praising taxi-booking app Uber for not charging those choosing to donate blood to victims recovering from last night's bomb attack.

The Bangkok Metro tweets that services on its subway and BTS Skytrain are operating as normal today.

A police spokesperson has said those killed in the blast included:

Five Thais
Two Chinese
Two Hong Kong residents
Two Malaysians
One Singaporean

Source: AFP news agency

Thai Tourism Minister sends condolences

Jonathan Head

South East Asia correspondent

There were truly awful, almost indescribable scenes of carnage. Bangkok is sitting back and wondering who could possibly have carried out this act and what their motives could have been.

The BBC's Jonathan Head in Bangkok says this level of violence is totally new for Bangkok, and came out of the blue. No-one has yet said they carried out the blast, and police have cautioned against speculation, he says.

Sky News Australia has shared a statement on Twitter from Australian Foreign Minister Julie Bishop, condemning Monday night's bomb attack.

Hong Kong has raised its travel warning for Thailand to red, saying residents should "adjust their travel plans and avoid non-essential travel, including leisure travel".

Staff at the King Chulalongkorn Memorial Hospital have put up a list of the victims.

This man took a moment to pray, close to the shrine, on Tuesday morning.

Thailand's Prime Minister Prayuth Chan-ocha has called the Bangkok bombing the "worst ever attack" on the country, AFP news agency reports.

In central Bangkok, people are waking up to remnants of last night's explosion. The glass covering this advertising billboard near the Erawan Shrine shattered from the blast.

Copyright: Associated Press

At least 21 people are confirmed to have died, among them a number of foreigners. The shrine - at a central junction in the Thai capital - is Hindu, but also frequented by Thai Buddhists, and popular with tourists.

Welcome to the BBC's coverage of Bangkok, a day after a bomb was detonated at the Erawan Shrine, causing mass casualties.