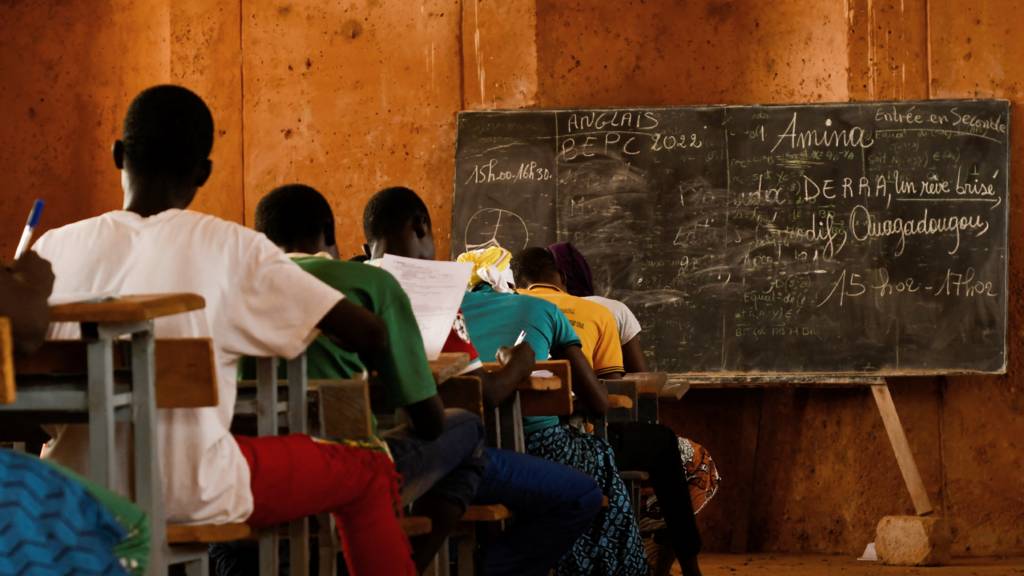 Live
Africa Live this week: 20-26 June 2022
Bringing you the latest news from around Africa at bbc.com/africalive. This is an automated feed overnight and at weekends.
A BBC undercover investigation has exposed a human trafficking network smuggling disabled children to from Tanzania to Kenya.

By Joice Etutu

BBC News, Malindi

By Lynne Wachira

BBC Sport Africa

Sharon Juhl is not your ordinary clown, he is a medical clown bringing smiles to hospitalised children.

By Dickens Olewe

BBC News, Nairobi

By James McCarthy and Paul Pigott

BBC News

Scroll down for this week's stories

We're back on Monday

That's all for this week from the BBC Africa Live team. We're back on Monday morning with a new page that you'll be able to find at bbc.com/africalive.

In the meantime there will be an automated news feed and you can also check the BBC News website or listen to our Africa Today podcast.

A reminder of our wise words of the day:

Quote Message: When you see your neighbour has shaved their hair, you wash your own hair. " from A Swahili proverb sent by Florence A. Odhiambo in Bagamoyo, Tanzania

Click here to send us your African proverbs.

And we leave you with this image from our choice of some of the best photographs of the week. It's from a mass yoga session on the beachfront in Durban, South Africa:

The Cape Verde rapper with a feminist message

DJ Edu

Presenter of This Is Africa on BBC World Service

Copyright: Cristiano Barbosa

Indira Rocha is one of the hottest new acts from Cape Verde.

A rapper and singer, she launched herself onto the music scene with her first single in 2020. Titled Gato Loja, this track was composed by her mentor, rapper Manolo.

She followed this with another single and then an EP entitled Mil Paus, and she continues to build her fan base.

Indira has been singing since childhood.

Quote Message: My Mum used to tell me that since I learnt to talk, I started to sing. I sang at school activities. Until now some of my colleagues from high school and university, if they are talking about me, they call me the girl who likes to sing."

She started to explore the music industry when she first met Manolo eight years ago, but took a break in order to focus on her studies.In 2020 her single Gato Loja made waves with its strong message about the empowerment of women.

Quote Message: In the song I try to encourage women to be strong, to be financially and emotionally independent, and not to be led by people, especially men!

Quote Message: It was very successful because here in Cape Verde we don't have many women on the rap scene. So when I came out with a strong message and attitude and everything, people were like, 'Oh my God who is that girl?' They received it very well."

Indira combines her music career with her other passion, education. She teaches English in school and admits that keeping both going is quite a challenge.

Quote Message: All of these professions demand energy, studies, a lot of things. Sometimes at the end of the day you just don't have the energy to do anything else. But you just go to bed fulfilled and happy, because you are doing the things you love and that is priceless."

Indira confirms that her music makes her more popular in school.

Quote Message: I always took music to the classroom as a treat, as a gift for my students at the end of the term, even before starting music professionally.

Quote Message: My students used to love me because I used to take this artistic side to the classroom. I say: 'OK, if you behave, if you get good grades, I'm going to give you a show. You don't have to pay.'"

She says the kids in school are doing challenges for her songs and posting them on social media, which in turn increases her popularity."When they meet me on the street they just go crazy, oh Indira I love you. They just melt my heart."So does Indira think she'll ever give up teaching for music?

Quote Message: People are always asking me this question which is very difficult to answer because tomorrow belongs to God. But who knows?

Quote Message: I'll try my best to keep doing both of them for as long as I can. Sometimes you have to play safe you know, especially after the pandemic. That showed us that we're not in control of anything."

Indira sings mostly in Cape Verdean Creole, but she can see a time when she might sing in English and Portuguese to expand her audience. Manolo is her songwriter and she admits she was a little afraid of trying to write her own material.

Quote Message: I didn't know I was capable. But I took the initiative to do it, and I did! My last song was a success here. It was called Nos K Nos. On this song I try to show how brave Cape Verde's people are despite the bad things from the past. Still we are very happy people. We work hard to achieve our dreams."

When asked what's next for her, Indira has a philosophical approach.

"I'm the kind of person that likes to live one day at a time, and try my best to enjoy the path and not the result or the end. I don't like to plan a lot. I just like to work hard and whatever is meant to come to me will come."

To hear the full interview with Indira Rocha, listen to This is Africa on BBC World Service radio and partner stations across Africa, and online here.

Chinese man wanted over racist videos fined in Zambia - report

Image caption: Lu Ke said he made his videos in order to spread Chinese culture

A Chinese filmmaker wanted by Malawi as part of an investigation into allegations of racism and child exploitation has been fined in neighbouring Zambia for unlawfully entering the country, Zambia's state-owned Daily Mail newspaper reports.

Lu Ke was a Malawi resident when he was exposed by BBC Africa Eye, which reported he had used local children to film personalised greetings videos, some of which included racist content.

These videos can be bought for up to $70 (£55) on Chinese social media and internet platforms.

Lu Ke denied making derogatory videos.

He said he made his videos in order to spread Chinese culture to the local community.

Lu Ke fled to Zambia after the BBC documentary was released.

The Daily Mail reports that he pleaded guilty to unlawfully entering and staying in Zambia. He reportedly appeared before the magistrate's court in Chipata, a city close to the border with Malawi.

He was fined $760 the newspaper says. It is not clear from the reporting whether he will now be expelled from the country.

Liberian ex-fighter charged in US over civil war

Image caption: An estimated 250,000 Liberians died in the fighting from 1989

A man from Liberia who had sought asylum in the US has been charged with, among other crimes, fraudulently attempting to obtain US citizenship.

Moses Wright was a former commanding general of the Armed Forces of Liberia (AFL) during the country's civil war, and according to the indictment he was involved in persecuting and killing non-combatants.

The 69-year-old lied about this when he applied for US citizenship, the indictment from the department of justice added.

Mr Wright has not commented on the allegations.

"The United States will not be a safe haven for human rights violators and war criminals," said United States Attorney Jacqueline C. Romero.

If convicted, Mr Wright faces a maximum possible sentence of 165 years in prison and a $7m (£5.7m) fine.

Two other former combatants in Liberia's civil war - Mohammed Jabbateh and Thomas Woewiyu – have been convicted in the US for similar offences. A third man, Sekou Kamara, was arrested earlier this year in New York.

Liberia's Truth and Reconciliation Commission described the AFL as a "significant violator group", and it was found to be behind some of the civil war's largest scale massacres, according to Civitas Maxima, a pressure group that has been working on these issues.

An estimated 250,000 Liberians died – amounting to around 8% of the population at the time – in the conflicts from 1989 to 1997 and 1999 to 2003.

Nigerian lawyer dresses up to make case

A barrister turned heads at Nigeria's highest court on Thursday when he appeared in the attire of his traditional religion.

Malcolm Omoirhobo's mixture of a wig, robe, a white patch around his right eye, a gourd around his neck, a feather and a red cloth around his waist was not your usual court-day appearance.

With a hint of sarcasm, he remarked that he wore the attire to show "gratitude" to the Supreme Court which last Friday, ruled in favour of female Muslim students using hijab in government-owned schools in Lagos.

The court had ruled that the ban on the use of hijab in public schools in the state was discriminatory against Muslim pupils.

Mr Omoirhobo said with the ruling the Supreme Court had reaffirmed the "freedom of thought, conscience, and religion.

"I am a traditionalist and this is the way I worship. Based on the decision of the Supreme Court, this is how I will be dressing henceforth in court because I am a strong adherent to 'Olokun', the god of rivers," he said.

Gabon and Togo poised to join Commonwealth

Joice Etutu

BBC News, Kigali

Former French colonies Gabon and Togo are set become the latest countries to join the Commonwealth, which is made up of 54 nations most of which were once part of the British Empire.

They will be the first new members in more than a decade - the last one being Rwanda, which joined in 2009.

Rwanda is currently hosting the biennial meeting of heads of Commonwealth states.

Mozambique, which also did not have links to the British Empire, joined in 1995.

Togo's Foreign Minister Robert Dussey said French-speaking Togo's inclusion into the Commonwealth would "help it develop closer ties with English-speaking countries, opening up new horizons outside of France's sphere of influence in West Africa."

Since joining in 2009, Rwanda has praised the Commonwealth for helping the country with election support, combatting corruption and creating a stronger judicial system.

Togo and Gabon are expected to be admitted later on Friday.

Suspects held over Nigeria church massacre

Chris Ewokor

BBC News, Abuja

Image caption: Ondo state Governor Rotimi Akeredolu (3rd L) called the killings a "vile and satanic attack"

Suspects linked to the killing of at least 40 people in a church in south-west Nigeria have been detained by a regional security force, the authorities there say.

Gunmen stormed the St Francis Catholic Church in Owo, Ondo state, during a service earlier this month and opened fire.

The suspects are being held by a force set up by the south-west state governors, known as Amotekun. It is a separate organisation from the police.

Amotekun commander Adetunji Adeleye told the BBC that the suspects were at different stages of interrogation.

He did not give any details about those being held but said a vehicle and some weapons were recovered.

Amotekun will need to hand the suspects over to the police if they are going to be prosecuted as it does not have the power to take people to court.

As well as the at least 40 people who died on 5 June, more than 100 others were injured during the attack.

The Nigerian government blamed the killings on the militant group, Islamic State of West African Province (Iswap). But the jihadists have not said that they carried out the attack.

Read more:

South Africa's power cuts widen amid strike

Image caption: Eskom has been struggling to meet power demands in South Africa

South Africa's state-run electricity provider Eskom has increased power cuts amid a protest by its workers over wages.

Eskom said in a statement on Friday that "due to the ongoing unprotected labour action" it was being "compelled to take precautionary actions to conserve emergency generation reserves".

The utility firm has been struggling to meet power demands in South Africa for years amid an energy crisis blamed on poor maintenance, rising costs, falling revenues, crumbling infrastructure, corruption and mismanagement.

The power company, which has implementing "Stage 2" rotational power cuts since the beginning of the week, said on Friday that it was expanding them to the more severe "Stage 4 from Friday 11:00 am until midnight".

It made an appeal to its striking workers saying it was exploring for possible solutions to unlock the deadlock with the unions.

"Eskom appeals to its labour partners and striking employees to embrace the higher purpose of putting the people of South Africa first," it said.