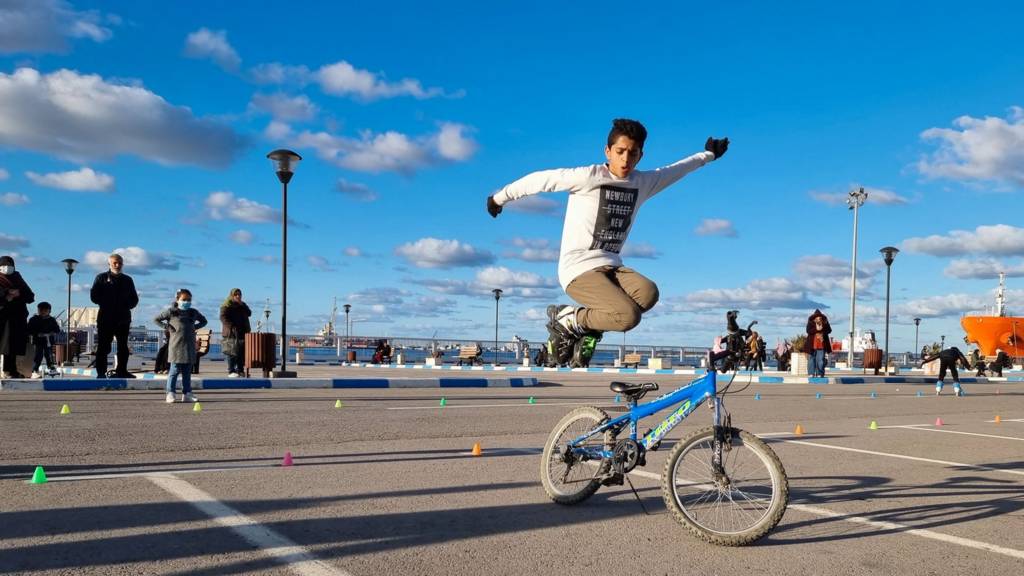 Live
Africa Live this week: 7-13 February 2022
Bringing you the latest news from around Africa at bbc.com/africalive. This is an automated feed overnight and at weekends.
By Nicolas Négoce

BBC News, Bissau

Five Chagos islanders set foot on their home, 50 years after the British removed them.

By Oluwashina Okeleji

Sports Writer, Nigeria

DR Congo army marches after reported failed coup plot

Will Ross

Africa editor, BBC World Service

Image caption: Protests were triggered after the president's security adviser was arrested last week

Thousands of soldiers are marching through the capital of the Democratic Republic of Congo in a show of force in support of President Felix Tshisekedi, just days after reports of a failed coup plot.

The authorities have described the march by armed soldiers from the elite Republican Guard as an endurance exercise.

However, the extremely rare sight on the streets of Kinshasa is intended to send out the message that the country is in safe hands, correspondents say.

Last Saturday President Tshisekedi's chief security adviser Francois Beya was arrested on suspicion of destabilising the country's democratic institutions.

Nigerian illustrator Chidibere Ibe's medical illustrations aim to improve black skin representation in medical literature.

The BBC gains rare access to the country, hearing from civilians caught in the crossfire.

By Sebastian Usher

BBC Arab affairs editor

Scroll down for this week's stories

That's all from the BBC Africa Live team for now, but we'll be back on Monday morning Kenyan time.

In the meantime, there is an automated feed and you can catch up with the news by listening to the BBC Africa Today podcast and checking the BBC News website.

A reminder of our wise words of the day:

Quote Message: If you eat alone, you will die alone." from A Kikuyu proverb sent by Peter Mureithi Kariuki in Nairobi, Kenya.

Click here to send us your African proverbs.

And we leave you with this photo of a moment's concentration in South Africa - one of our favourite photos of the past week:

All change for Adekunle Gold

DJ Edu

Presenter of This Is Africa on BBC World Service

Copyright: Courtesy of the artist

Nigerian singer-songwriter Adekunle Gold has undergone some big changes in the last couple of years. His public persona, his swag and his sound have all changed, and his new album - Catch Me If You Can - illustrates this.

Quote Message: The pandemic was a blessing for me. We were just at home. There was too much time to reflect, to re-strategise. Now I know what I want to talk about, I know how to approach a song, and that's something I've learnt from just making music every day in my closet. I've enjoyed growing."

He says he has a new-found confidence in himself, and whilst having humility is great, "it's time to start talking".

His more traditional Yoruba highlife sound with prominent talking drum has been replaced with slick digital production. AG Baby, as he's also known, is singing largely in English now and his look too has been given a modern-day makeover.

Changing the sound is a brave move, but he says he doesn't worry about losing fans who enjoyed his more traditional work.

Quote Message: My fans know I don't do anything without intention. I have a secret club. I send letters out to my fans explaining every milestone, so that before the music even goes public, they understand why I'm doing what I'm doing. They understand that I need to grow. I can't just keep painting in red. Sometimes I want to try blue or green. My music is an art piece, and creatives need to understand that you just have to do your thing."

Adekunle Gold married Nigerian singer-songwriter Simi in 2019 and they work closely together.

Quote Message: It's crazy but I'm learning more and more to prioritise family. But when we work, we work."

You can hear DJ Edu's conversation with Adekunle Gold and some acoustic tracks from his new album this weekend on This Is Africa on BBC World Service radio and partner stations across Africa, and online here: bbcworldservice.com/thisisafrica

Misleading video of urinating man used in anti-French tweet

A tweet that alleges that French people are taking revenge in a horrible way on Malians, after France's ambassador was kicked out of the country, has been gaining a lot of attention.

The post says that a Malian was caught in a remote French village and then people urinated on her.

It is accompanied by a video showing a woman curled on the ground, covered in black coal and holding her face in her palms as someone stands over her urinating.

But the video was not filmed in a remote French village as the post says.

The clip is actually from a performance art installation that took place at the University of Sao Paolo, Brazil, in January 2013.

The performer was the renowned Guatemalan body artist, Regina Jose Galindo.

Called Piedra, Galindo wanted to capture the suffering of Latin American women.

Galindo's work revolves around raising awareness about issues of social justice, environmental degradation and violence against women in all its forms.

In recent months relations between Mali and France have deteriorated over the security situation in Mali.

The French ambassador to Bamako was expelled for criticising the military for involving Russian mercenaries in the fight against militant Islamists to restore security in the restive country.

The fisherman catching rubbish to save his beach

Frank Mavura

BBC News, Dar es Salaam

Image caption: Emmanuel Basonde says in about half an hour he can rake up enough bottles to fill a minivan

A Tanzanian fisherman has won the admiration of many who visit a beautiful stretch of beach in the coastal city of Dar es Salaam.

Thanks to Emmanuel Basonde, for the last three years its golden sands have not been strewn with rubbish.

He was spurred into the action by the unsightly piles of detritus from plastic bags and old bottles to cigarette packets and human waste on Kunduchi beach.

He borrowed a rake - and hasn't looked back. During his spare time, when he is not out on his boat - Emmanuel is raking a 2km (1.2-mile) stretch.

The municipal authorities do collect rubbish from the beach occasionally - but it is not a daily service - more monthly. To give you some idea about the quantities involved, Emmanuel says in about half an hour he can rake up enough bottles to fill a minivan.

"During the day my biggest backers are my friends, but they are notorious litterers at night," he told the BBC. After sundown, people come down to the beach to relax and sometimes to party.

Emmanuel has mobilised some youths to join him in his campaign - and he then takes the rubbish to a waste tip.

Image caption: Emmanuel Basonde has big plans for the beach

Though their efforts have been set back by a lack of equipment as the ocean's salty water erodes metal rakes fast and the plastic ones wear out.

But Emmanuel is full of plans for the beach: "We need to have other streams of revenue here besides fishing.

"We should think of having beach soccer and water sports at Kunduchi beach. When tourists come it will create job opportunities for tour guides, cooks and drivers.

"It's my dream for this beach to be the best beach in the world."

South Sudan election plans vital to avoid violence - UN

Nichola Mandil

BBC News, Juba

Copyright: Image Supplied

Image caption: Barney Afako and Yasmin Sooka of the UN say South Sudan is at a tipping point

Proper preparations are essential to avoid "fuelling violence and polarisation" if South Sudan proceeds with elections next year, a UN expert has warned while visiting the country.

"South Sudan is at a tipping point [and] and political contention amongst political elites continues," said Barney Afako, a Ugandan human rights lawyer and a member of the UN's Human Rights Commission on South Sudan.

The country is poised to conduct its first elections since becoming independent in 2011. Polls had been scheduled for 2015, but were disrupted by the civil conflict that erupted in the capital, Juba, in 2013 and lasted six years.

Last year President Salva Kiir announced that general elections would be conducted at the end of the transitional period in 2023.

But First Vice-President Riek Machar, who is also the leader of the Sudan People's Liberation Movement in Opposition (SPLM-IO), warned that he will not back elections until a unified national army is formed, a permanent constitution is drafted, a census conducted and millions of refugees can return home from abroad to cast their ballots.

"There is a risk that South Sudan is going back to war if elections are conducted without the support from the African Union and the international community," warned Yasmin Sooka, a prominent South African Human Rights lawyer and chairwoman of the UN's Human Rights Commission on South Sudan.

Top Tanzanian scientist dies aged 58

Salim Kikeke & Alfred Lasteck

BBC News

One of Tanzania's most eminent scientists, Mwele Ntuli Malecela, has died at the age of 58 in Switzerland. She had been diagnosed with cancer in 2019.

Dr Mwele was born in 1963, the daughter of retired Tanzanian Prime Minister John Malecela. She studied zoology at the University of Dar es Salaam and completed a PhD at the London School of Hygiene and Tropical Medicine.

At the height her career she served as director of the World Health Organization's Department of Neglected Tropical Diseases.

Before that she had been the first woman to head Tanzania's National Institute for Medical Research (NIMR), running successful programmes for lymphatic filariasis patients - which are now functional in 53 districts covering about 13 million people in the country.

She was however sacked from the position in 2017 by Tanzania's then-President John Magufuli, for making public the research findings that the Zika virus existed in the country. He denied that it did.

Two years earlier, Mr Magufuli beat 40 presidential candidates to Tanzania's highest office - among them Dr Mwele, who had been active in the ruling CCM party since the 1980s.

Following the passing of Dr Mwele many people have been expressing their grief over her death.

Tanzanian President Samia Suluhu Hassan tweeted her condolences, calling Dr Mwele a child of Africa "who worked for Tanzania within and outside its borders".

Tributes to victims of DR Congo market electrocution

Emery Makumeno

BBC News, Kinshasa

Copyright: Mbelechi Msoshi/BBC

The 25 people who were fatally electrocuted by a falling power cable last week in a busy market in the Democratic Republic of Congo are being laid to rest.

Tributes were held on Friday at the Velodrome stadium in the capital, Kinshasa.

Their deaths at nearby Matadi Kibala market were caused by a high-voltage cable snapping and falling onto houses and people. Many of those who died were female market traders.

The market was closed to the public afterwards and the retailers relocated.

It is not yet clear what caused the power cable to break.

Several districts of the capital are prone to flooding due to poorly maintained colonial-era drainage systems.

One trader said the market often flooded when it rained, with workers and shoppers having to wade through water.

Copyright: Mbelechi Msoshi/BBC

Copyright: Mbelechi Msoshi/BBC

Power struggle brews as rival Libya PM flies to Tripoli

Image caption: Fathi Bashagha (pictured) has been appointed PM by the eastern-based parliament despite the fact Abdulhamid al-Dbeibah is already in post

Libya faces a new power struggle after the country's eastern-based parliament appointed a second interim prime minister.

Formerly serving as interior minister, Fathi Bashagha has been approved by the House of Representatives in his new post and it means he now rivals the existing head of the unity government, Abdulhamid al-Dbeibah.

Late on Thursday Mr Bashagha flew to the capital, Tripoli, promising to "open a new chapter" in Libyan politics.

The announcement came just hours after Mr Dbeibah's convoy was targeted in a drive-by shooting.

The appointment of Mr Bashagha is likely to deepen divisions between the eastern-based assembly and the Tripoli administration - raising the risks of more violence as Libya awaits postponed elections.

Death toll rises in suspected jihadist ambush in Benin

Will Ross

Africa editor, BBC World Service

The government in Benin says the number of people killed during three bomb blasts in a national park this week has risen to nine.

The W National Park straddles the borders of Benin, Burkina Faso and Niger – an area under threat from the spread of Islamist militants.

A South African wildlife charity that manages the park said on Wednesday that six people had been killed when patrol vehicles hit the explosive devices.

France has opened an investigation as a French national was among the dead. No group has said it was behind the violence.

The military in Benin has increased its presence in the area following two attacks late last year that were blamed on jihadists.

Rwandan blazing a trail for women in construction

Yvette Kabatesi

BBC Great Lakes Service, Kigali

Image caption: Enatha Cyuzuzo wants to inspire more girls to join engineering

Enatha Cyuzuzo is one of very few women site engineers in Rwanda's booming construction sector.

At only 26, you will find her on sites supervising the men and women she employs, some far older than herself.

As a civil engineer, she ventured into construction in 2019 after graduating, setting up a company that bids for housing projects in eastern Rwanda.

One of her employees, 39-year-old Martine Nyirahirwa, says Ms Cyuzuzo is humble and respectful to her employees, which "makes it smooth working with her".

Ms Nyiraharwa says her boss's work has even inspired one of her children, and "now he wants to be an engineer just like her".

Fidela Tuyishime, another employee, says she is "proud of working on a site supervised by a woman like me".

Image caption: Fidela Tuyishime is proud of being supervised by a woman like her

Ms Cyuzuzo draws house plans and leads their construction on sites.

She says this is a job that has been "very challenging" - because of a mindset that it is a male job and some men's behaviour towards women.

"Some think that you cannot deal with a girl on a job only… You need to act like a man to be able to work with men and show them that you are a smart girl," she says.

She wants to inspire more girls to join engineering and change the gender imbalance on construction sites.

Image caption: Ms Cyuzuzo is proud of what she has done in the construction sector

Teachers suspended for pay strike take legal action

Will Ross

Africa editor, BBC World Service

A teachers' union in Zimbabwe has gone to court to challenge the government's decision to suspend thousands of staff who have not been going to work, citing low pay.

On Thursday the education minister, Evelyn Ndlovu, said those teachers would be suspended without pay for three months.

Robson Chere, the secretary general of the Amalgamated Rural Teachers Union of Zimbabwe, said average salaries of around $100 (£74) a month meant teachers were not even able to feed their families.

Mr Chere said he was confident the union would win the case in the High Court, saying the minister did not have the authority to impose the suspension.