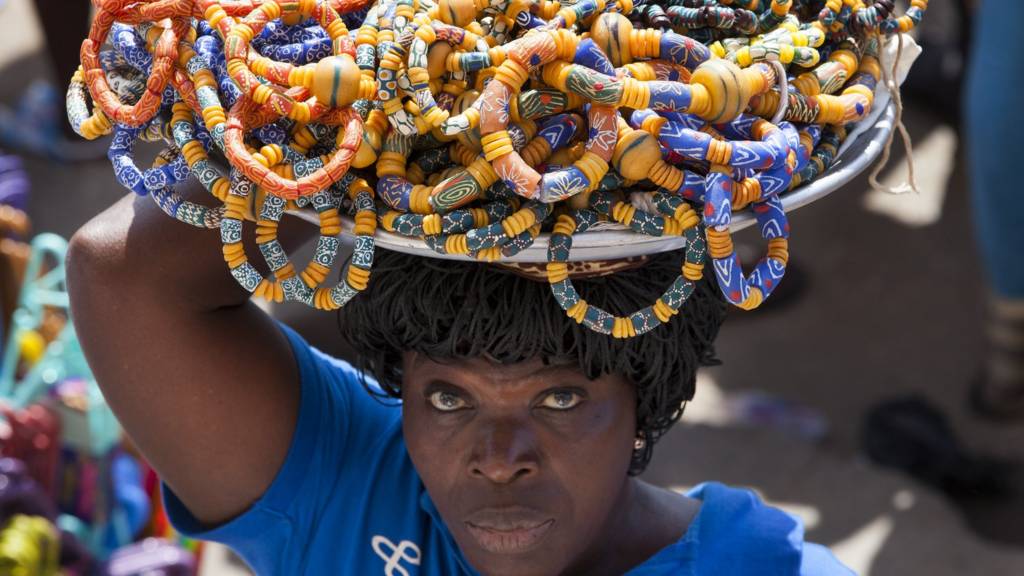 Live
Africa Live: India Covid variant spreads to seven African countries
By Mark Lowen

BBC News, Lampedusa

Scroll down for Wednesday's stories

We'll be back on Thursday

That's all from the BBC Africa Live team for now - there will be an automated news feed until we're back on Thursday morning.

Keep up-to-date with what's happening across the continent by listening to the Africa Today podcast, or checking the BBC News website.

A reminder of our wise words of the day:

Quote Message: To be tall you need not necessarily climb a hill." from A Beti proverb sent by Christian Messina Mvogo in Yaoundé, Cameroon

And we leave you with this picture of a neighbourhood in Nigeria city of Lagos:

India Covid variant spreads to more African nations

Image caption: The WHO has classified the coronavirus variant first found in India last year as a "variant of global concern"

Three more African countries - Algeria, the Democratic Republic of Congo and Nigeria - have now detected the Indian variant of coronavirus, Dr Ngoy Nsenga, from the World Health Organization (WHO), has told the BBC.

The confirmation brings to seven the number of African nations that have confirmed the B.1.617 mutation, which initial studies show spreads more easily than other variants

Dr Nsenga, who co-ordinates the WHO's Covid-19 response in Africa, said he had no further details on the number of cases or travel history of the people who tested positive in Algeria, Dr Congo and Nigeria, .

Four African countries have already confirmed the presence of the B.1.617 variant all linked with recent travel to India. They are:

Kenya: five cases
Morocco: two cases

South African: four cases

The WHO has recently classified the Indian mutation, which was detected in October 2020, as a "variant of global concern".

It is being studied to establish whether it is responsible for a deadly surge in India, which is currently overwhelming hospitals and crematoriums.

Mozambique seeks approvals for Covid vaccine trials

Jose Tembe

BBC News, Maputo

Image caption: The trial involves pregnant women from nine countries

Mozambique is in the process of obtaining approvals to take part in an international research for a Covid-19 vaccine for pregnant women.

The Manhiça Health Research Centre Director Francisco Saúde said an investigation protocol was being developed then it will be approved by various health committees, the pharmaceutical department, and the health ministry.

Mozambique is among nine other countries taking part in the study by American pharmaceutical company Pfizer and German partner BioNTech.

South Africa is also part of the research that includes the UK, US, Canada, Spain, Argentina, Brazil and Chile.

During the study, tests will be done to determine the safety of the vaccines and whether unborn babies receive anti-bodies from their mothers.

In February, Pfizer and BioNTech said that the first volunteers received vaccines in the study, which enrolled about 4,000 healthy pregnant women aged 18 and above.

Mandela's great-grandson accuses police of assault

A great-grandson of South Africa's first black president Nelson Mandela has said he is suing the police for "brutally" assaulting him, local media report.

Mayibuye Mandela said police kicked and restrained him and three others after they were pulled over at night on his way home after visiting the Mqhekezweni Great Place heritage site - where the late Mandela grew up.

The alleged incident happened on 8 May.

He said the officers subjected them to acts of "brutality" including being kicked in the head - which left him with cuts above his left eye.

He said police had asked to search the car they were travelling in before the alleged assault.

"When they started asking for us to lie on the ground, I refused and requested to rather be searched standing up against the car, mainly because it had been raining and we were on a gravel road," he told the IOL news website.

Mr Mandela shared pictures of himself after his ordeal on Facebook:

He has also lodged a complaint with the Madeira Police Department in Eastern Cape province.

The department reportedly said it was aware of the matter, without commenting any further.

Kenya's largest hospital to stop walk-in patients

Image caption: Kenyatta National Hospital is the largest referral in the country

Kenya's largest referral hospital will from July stop attending to walk-in patients, the official in charge of running services in the country's capital, Nairobi, has announced.

Nairobi Metropolitan Service Director Mohammed Badi said the move will help decongest the national referral hospital.

The news has received mixed reactions online with some people expressing concern that smaller hospitals will not be able to cope.

Others lauded the move saying it will improve service to patients who need specialised care at the national hospital.

Last month the health ministry said it was reviewing the sate of smaller hospitals in the capital to help decongest the bigger ones.

Ebola aid workers 'sexually abused' DR Congo women

More than 20 women say they were sexually abused by aid workers during last year's Ebola outbreak in the east of the Democratic Republic of Congo.

A report by the Thomson Reuters Foundation and The New Humanitarian news agency said the women had been offered jobs in exchange for sex with men who claimed they worked for international aid groups, including the United Nations.

One of the women is reported to have died after a botched abortion.

The World Health Organization said it had identified two women who had potentially had abusive relationships with individuals connected with the agency.

Ugandans divided over Museveni's stay in power

BBC Focus on Africa radio

Ugandans in the capital, Kampala, have expressed mixed views as President Yoweri Museveni begins a sixth term in office.

Some say his rule has ensured stability in the country for a nation that had been riven by conflict and coups, but his critics say that his stay in office has achieved little.

Listen to a sample of the comments below:

Museveni urges African armies to collaborate

Patience Atuhaire

BBC News, Kampala

Uganda's President Yoweri Museveni has urged closer cooperation between the armed forces of African countries to deal with crises on the continent.

In his inauguration speech, he said the growing insecurity in Libya, several countries in West and Central Africa, Somalia and Mozambique, had to be addressed.

He blamed the situation in Libya, and as a result several of its neighbours, on the "arrogant and irresponsible actions" of Western nations who attacked the North African country despite the African Union opposing the move.

He said Africa needed to defend itself from "aggressors".

"The huge concomitant suffering of the Africans in Libya and the surrounding countries has proven that, if any proof was needed, Africa can defend itself against any and all aggressors, if we coordinate," Mr Museveni said.

Can illegal fishing in West African seas be stopped?

Victoria Uwonkunda

BBC Africa Daily podcast

West Africa's seas are under threat: illegal fishing is destroying marine life and crushing people's livelihoods.

Local fishermen point their fingers at foreign vessels – mainly Chinese, but also European.

"I am from a fishing community, but you hardly see any people fishing now," says Mustapha Manneh, an environmental journalist in The Gambia.

"Most of these Gambians are now not into fishing because there is nothing [to fish]."

By some estimates, illegal fishing is costing the region at least $2bn (£1.4bn) a year – and many thousands of jobs along the way.

But a new surveillance centre in the Gulf of Guinea is trying to stop this from happening.

"We will be able to monitor all the vessels operating in this region," says Seraphin Dedi Nadje of the Fisheries Committee for the West Central Gulf of Guinea, which is behind the project.

"It [will] provide information to member countries and support them to take action."

Will it make a difference? Find out in Wednesday's edition of Africa Daily.

Subscribe to the show on BBC Sounds or wherever you get your podcasts.

Ethiopia anger over suspected public execution

Kalkidan Yibeltal

BBC News, Addis Ababa

Ethiopia's Human Rights Commission (EHRC) has said it is "alarmed" by the public parading and execution of a suspected criminal in Dembi Dollo city in the western Oromia region.

It added that it condemned the incident in the "strongest terms".

A short clip uploaded online showed a man, with clothes stained with blood and mud, chained to a fence. He later died.

The EHRC identified the man as Amanuel Wondimu.

The authorities said he was a member of the banned Oromo Liberation Army, which was recently designated as a terror group.

He was reportedly behind the killing of a journalist, who worked for the state media, two days ago.

An eyewitness told the BBC that Mr Wondimu was executed by security forces in the city's square. While the authorities confirmed the killing, they denied it was done in public.

The EHRC urged the authorities to immediately investigate the incident.

This is yet another sign of the deteriorating security situation in Ethiopia ahead of crucial national polls, set to take place in less than four weeks.

Caster Semenya punished for reckless driving

Pumza Fihlani

BBC News, Johannesburg

Double Olympic champion Caster Semenya has been ordered to complete 50 hours of community service after pleading guilty to reckless driving.

The world-beating 800m runner entered a guilty plea at Pretoria magistrate's court last week, and was granted bail of 500 rand ($35; £25).

The case was then postponed to allow for an assessment and report from the National Institute for Crime Prevention and the Reintegration of Offenders (Nicro).

Nicro is often used in cases involving first-time offenders and minors, and focuses largely on restorative justice over punishment.

It's a programme to avoid jail time.

If she does not complete her community service, she will have a criminal record which may affect her sporting career.

Ms Semenya, who is 30 years old, has not publicly commented on the matter. The case returns to court in August.

The Kenyan vlogger giving hope to HIV patients

Anne Ngugi

BBC News Swahili

Kenyan vlogger Susan Metta has been speaking to BBC Swahili about her passion for making content for people living with HIV/Aids.

Ms Metta, who tested positive for HIV in 2019, says she wants to "walk the journey" with many other patients and overcome challenges like stigma.

She has been using her YouTube channel to advocate safe sex to prevent the transmission of the virus.

"People should stop scanning for HIV or Aids with their eyes," she told BBC Swahili.

She pointed that people who were fat or had smooth skin could have the virus, just like those who were thin or had spots.

"Similarly when you are diagnosed with HIV don't give up," she said.

Ms Metta has been a victim of stigma as her boyfriend left her after she tested positive.

Being open about her status has exposed her to discrimination, but she says it helps encourage those living with the disease to accept themselves and to take anti-retroviral drugs.

Her YouTube channel has 15 videos on different HIV topics that have attracted thousands of views.

Thousands attend Museveni swearing-in ceremony

Patience Atuhaire

BBC News, Kampala

Copyright: Uganda State House/Twitter

Image caption: Museveni is one of Africa's longest-serving leaders.

More than 4,000 people, including leaders from across the continent, have attended President Yoweri Museveni's swearing-in ceremony in Uganda's capital, Kampala.

Mr Museveni won a highly contested election in January, which main challenger musician and politician Robert Kyagulanyi, known as Bobi Wine, has continued to claim was rigged.

The 76-year-old leader, who was taking the presidential oath for the seventh time, cut a confident and self-assured pose on the podium.

The new five-year term will see him leading Uganda for 40 years, making him one of Africa's longest-serving leaders.

Supporters of the ruling party, NRM, lined some parts of the stretch between Nakasero State House and Kololo Independence Grounds, where the event was taking place, to cheer on the presidential convoy.

In the last three decades under his leadership, Uganda has made considerable progress in social and economic development.

But the ageing leader has also been criticised for hanging on to power beyond his time, and clamping down heavily on any challengers.

The country has witnessed a wave of repression on the opposition in the past year, with hundreds of opposition supporters detained while many others remain missing.

The authorities deployed heavily armed security soldiers in the capital, Kampala, ahead of Wednesday's event.

Some were also stationed around the homes of top opposition figures.

Nigeria anti-graft chief 'recovers stolen funds'

Image caption: Ms Alison-Madueke was oil minister between 2010 and 2015.

Nigeria's new anti-corruption chief on Tuesday announced that $153m (£108m) had been recovered from the country's former oil minister Diezani Alison Madueke who fled to the UK in 2015, the Vanguard news site reports.

Abdulrasheed Bawa said at least 80 properties valued at $80m had also been seized.

"We are looking forward to the time we will, maybe, have her in the country, and, of course, review things and see what will happen going forward. The case has certainly not been abandoned," Mr Bawa said.

He told journalists that he was ready to leave his job as chairman of the Economic and Financial Crimes Commission if "anyone made him do anything illegal".

Ms Alison-Madueke was oil minister between 2010 and 2015.

She denied wrongdoing when it was alleged that $20bn of oil money had gone missing when she was in office.

That accusation was made by Nigeria's central bank governor Sanusi Lamido Sanusi in February 2014. Mr Sanusi was sacked soon after, accused of financial recklessness himself.

Kenyan MPs summoned over bribery claims

Emmanuel Igunza

BBC News, Nairobi

Image caption: Kenyan MPs have approved a bill that paves way for a referendum to change the constitution

Three Kenyan MPs have been summoned by the speaker of parliament after they made allegations that legislators had been bribed to pass a controversial bill that could significantly alter the country's constitution.

Lawmakers Moses Kuria, Ndindi Nyoro and Mohamed Ali will appear before the house speaker after they claimed their colleagues received 100,000 Kenyan shillings ($930: £650) each to vote yes for the constitutional amendment bill popularly known as the Building Bridges Initiative (BBI).

It's backed by President Uhuru Kenyatta and opposition leader Raila Odinga who say it will help Kenya deal with bitter ethnic divisions that erupted after the 2017-2018 disputed elections.

But critics led by Deputy President William Ruto claim BBI's aim is to create positions for leaders while neglecting urgent issues like poverty reduction and high levels of unemployment.

A referendum on the bill is now likely after it was overwhelmingly voted for in both chambers of parliament.

But many Kenyans have questioned the need for the constitutional changes which will increase the number of seats in parliament and expand the executive.

They say the changes will see funds allocated to paying politicians' salaries at a time the economy was struggling due to the effects of Covid-19 pandemic.

Museveni takes oath for sixth term

Uganda's President Yoweri Museveni has taken the oath to officially begin a sixth term in office.

A local newspaper has been sharing updates:

He won re-election in a disputed poll in January.

Security had been increased in the capital, Kampala, ahead of his inauguration. Several East African heads of states and from elsewhere in the continent attended the ceremony - including from Tanzania, Kenya, Burundi, South Sudan and Somalia.

On Monday, the police said more than 40 people had been arrested for planning to disrupt the ceremony.