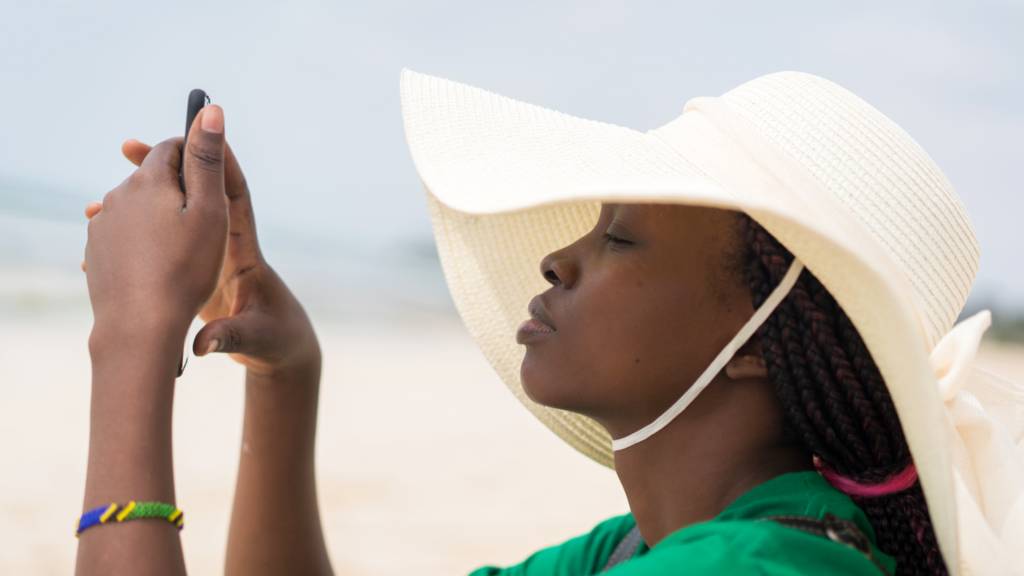 Live
Africa live: Ugandan police arrest lorry driver for child trafficking
By Nomsa Maseko

BBC News, Johannesburg

Scroll down for Monday's stories

We'll be back on Tuesday

That's all from BBC Africa Live for now. Keep up-to-date with what's happening across the continent by listening to the Africa Today podcast, or check the BBC News website.

A reminder of today's wise words:

Quote Message: Today's bush is tomorrow's forest." from A Bemba proverb sent by Robson Mutepuka in Kitwe, Zambia

Click here to send us your African proverbs.

And we leave you with this picture from Angola:

Rwanda 'reaches out to France' after genocide report

Image caption: June 1994: French soldiers on patrol pass ethnic Hutu militiamen in Rwanda

Rwanda's president has insisted that Rwanda and France have a "good basis" to create a relationship, reports AFP news agency.

"I think France and Rwanda have a chance now and a good basis on which to create a good relationship as the case should have been... We are in the process of normalisation," President Paul Kagame is quoted by AFP as saying.

The comment comes after a report acknowledged French responsibility over the 1994 Rwandan genocide.

The report, by French historians, blames the then French president, François Mitterrand, for a "failure" of policy towards Rwanda in 1994. The findings were made public in March after years of French official secrecy over links to the Hutus who ruled Rwanda.

France's President Emmanuel Macron appointed the 15-member commission two years ago, giving them access to presidential, diplomatic, military and intelligence archives.

Among the archives are those of Mitterrand, who had close ties to former Rwandan President Juvénal Habyarimana, a Hutu.

At least 800,000 people died when ethnic Hutu extremists massacred minority Tutsis and moderate Hutus.

A Hutu elite ruled Rwanda when the genocide took place, in April-June 1994, but they were later ousted by the Tutsi-led Rwandan Patriotic Front (RPF) under Paul Kagame, who is now president.

About 100 migrants were detained by Spanish police after swimming from Morocco to the Ceuta enclave.

Tanzanian president advised to start Covid-19 jabs

Aboubakar Famau

BBC News, Dodoma

Image caption: Samia Suluhu Hassan replaced John Magufuli as Tanzania's president after he died

A task force formed to review Covid-19 protocols in Tanzania has advised that the government should consider a mass vaccination programme against the pandemic. It stressed, however, that it should be optional to have the jab.

The committee proposed that authorities should get the vaccines and start with special groups such as medical practitioners, those working in the tourism sector and elderly people.

The health task force, formed by President Samia Suluhu Hassan to advise the government on the best way to handle the coronavirus pandemic, has also advised the government to start making coronavirus information public.

The last time Tanzania issued Covid-19 statistics was almost a year ago.

The 14-member task force has drafted 19 recommendations, one of these is making the vaccination optional.

The team also advised the government to be well prepared for a third wave of the virus.

The committee has submitted the report to President Samia on Monday afternoon at the State House in Dar es Salaam as it awaits her approval.

President Samia's new approach towards the pandemic is very different from her predecessor the late John Magufuli, who called on mass prayers to defeat the pandemic.

Tonnes of cannabis seized in Niger 'on its way to Libya'

Will Ross

Africa editor, BBC World Service

Image caption: The drugs had been shipped from Lebanon to Togo and after being trucked to Niger were destined for Libya, said Interpol

Interpol says it has seized a huge quantity of drugs in Africa and the Middle East, in operations involving more than 40 countries.

In the capital of Niger, Niamey, 17 tonnes of cannabis resin worth tens of millions of dollars were found in a warehouse.

Interpol said the drugs had been shipped from Lebanon to Togo and after being trucked to Niger were destined for Libya.

A spokesman said the organisation had seen a marked increase in the use of Libya as a transit point.

Operations which took place in March and April under the code name Lionfish also saw South African police seizing almost 1,000 bricks of cocaine in a fishing vessel off the country's western coast.

By Yasine Mohabuth

BBC Sport Africa, Mauritius

More than 100 swim from Morocco to Ceuta

Image caption: They made it to the border zone of Tarajal

The authorities in Spain say more than 100 migrants have swum or floated on beach rafts overnight from Morocco into the neighbouring Spanish enclave of Ceuta.

Most came around the coast at Benzu on the north side of the enclave, followed by some at Tarajal on the south side, where there was a similar influx last month.

Reports say at least two people were treated for hypothermia.

Spanish media say Moroccan border guards stood by and watched as entire families put themselves at risk.

Most of the people who made it to Tarajal last month were sent back, except for around 30 minors, whose ages were confirmed by medical tests.

By Michelle Katami

BBC Sport Africa, Kenya

'Motorists spend night stuck in mud' in Cameroon

Cameroon's Guardian Post says more than 300 vehicles got stuck in the mud on a stretch of road in the west of the country over the weekend.

A number of people were stranded in cars there overnight, the newspaper adds.

Residents complain that little progress has been made on the Bamenda-to-Babadjou road since construction began back in 2017.

Then in March this year, two embankments collapsed after heavy rain. A journalist for state broadcaster CRTV tweeted these photos of the damage at the time:

Zambia president dumps VP in re-election bid

Zambia's President Edgar Lungu has picked a microbiologist over his vice-president as running mate in his re-election bid.

Elections are scheduled for 12 August.

President Lungu said his choice of Nkandu Luo as running mate followed "reflection and prayerful thought".

"I have no doubt that we are going to make a great team that will not only give our party the electoral victory, but, ultimately, the progress we desire for our great nation," he said in a Facebook post.

Inonge Wina has been Zambia's vice-president since 2015 and is the first woman in the country to hold the position.

The president will face 18 other challengers including his main opponent Hakainde Hichilema who has unsuccessfully contested the presidential elections five times.

Correspondents say the economy will be the most pressing issue in the elections. The country became the first African state to default on its debt during the Covid-19 pandemic.

Ugandan police arrest lorry driver for child sacrifice

Patricia Oyella

BBC News, Kampala

Image caption: The BBC investigation found some children were cut to collect blood for rituals

Ugandan police say they have arrested an alleged child trafficker filmed in a 2011 BBC investigation into human sacrifice.

The suspect, a lorry driver, was picked up at the border town of Elegu in northern Uganda over the weekend.

Police spokesman Fred Enanga confirmed that he would be transferred to the police's Special Investigations Directorate in the capital Kampala on Monday.

He says the police only became aware of the alleged activities after a video of the suspect taken 10 years ago was recently shared on social media in which he claims to head a network of child traffickers in the country who kidnap children to provide them for use in witchcraft and other forms of exploitation.

In the report, the suspect boasted to the BBC team, posing as buyers planning to traffic children to the UK, about how he got hold of the children.

Mr Enanga says the police will review the allegations contained in the report and that no charges have been made against him yet.

Police are now appealing to the public to provide information that could help with investigations.

Until this month, Uganda's laws did not include human sacrifice as a crime, and such offences were prosecuted as murder or other crimes.

In early May parliament passed the Prevention and Prohibition of Human Sacrifice Bill which, if signed into law, would introduce the possibility of a death sentence for anyone convicted of practising or financing human sacrifice.

Read more:

Activists want probe over Ghana journalist's assault

Thomas Naadi

BBC News, Accra

Image caption: Journalists and civil society organisations are demanding for an independent inquiry

Civil society organisations are calling for an independent investigation into the alleged mistreatment of a journalist by national security operatives.

Caleb Kudah, working with an Accra-based radio station, City FM, had gone to the premises of the national security ministry to take pictures of abandoned state vehicles but was arrested and allegedly beaten.

The journalist was put in handcuffs and detained at the ministry for questioning.

The security operatives also entered the radio station and arrested a female colleague Zoe Abu-Baidoo who is believed to have received copies of the pictures via WhatsApp.

The two journalists were compelled to delete the pictures.

The actions of the security personnel have been widely condemned by many in Ghana describing it as brutality against journalists.

The national security ministry has issued a statement indicating they were investigating the incident.

But civil society organisations, including the Ghana Journalist Association, are demanding an independent inquiry and officers involved punished.

Investigations by Ghanaian authorities into previous attacks on journalists including the murder of an undercover reporter Ahmed Hussein Suale in 2019 by gunmen have not yielded fruitful outcomes.

A Week in a Toxic Waste Dump

Documentary in which Reggie Yates heads to Ghana to live on one of the largest electronic waste dumps in the world - Accra's Agbogbloshie.

France promises to lend Sudan $1.5bn

Will Ross

Africa editor, BBC World Service

Image caption: Sudan's inflation rate is at more than 300%

The French government has said it will lend Sudan $1.5bn (£1.06bn) to help the country pay off its arrears to the International Monetary Fund.

This could pave the way for much of the country's $50bn external debt to be forgiven under the IMF and World Bank's Highly Indebted Poor Countries scheme.

Sudan is emerging from decades of economic sanctions and isolation under former President Omar al-Bashir who was ousted following protests two years ago.

The transitional government, led by Prime Minister Abdalla Hamdok, is now trying to steer the country out of its deep economic crisis with inflation at more than 300%.

By Oluwashina Okeleji

Football Writer, France

Jacob Zuma's corruption trial over arms deal pushed back

Nomsa Maseko

BBC Southern Africa correspondent

The corruption trial of South Africa's former President Jacob Zuma has been pushed to 26 May where a formal plea will be entered.

He is expected to plead not guilty.

Mr Zuma's supporters gathered outside the Pietermaritzburg High Court ahead of his appearance.

The former president faces 16 counts of corruption relating to a multi-billion-dollar arms deal.

A total of 217 witnesses are expected to testify against him.

The case centres on an arms deal with French arms company Thales that was meant to modernise South Africa's defence in the late 1990s.

Both Mr Zuma and the company have denied the charges which include fraud, racketeering and money laundering.