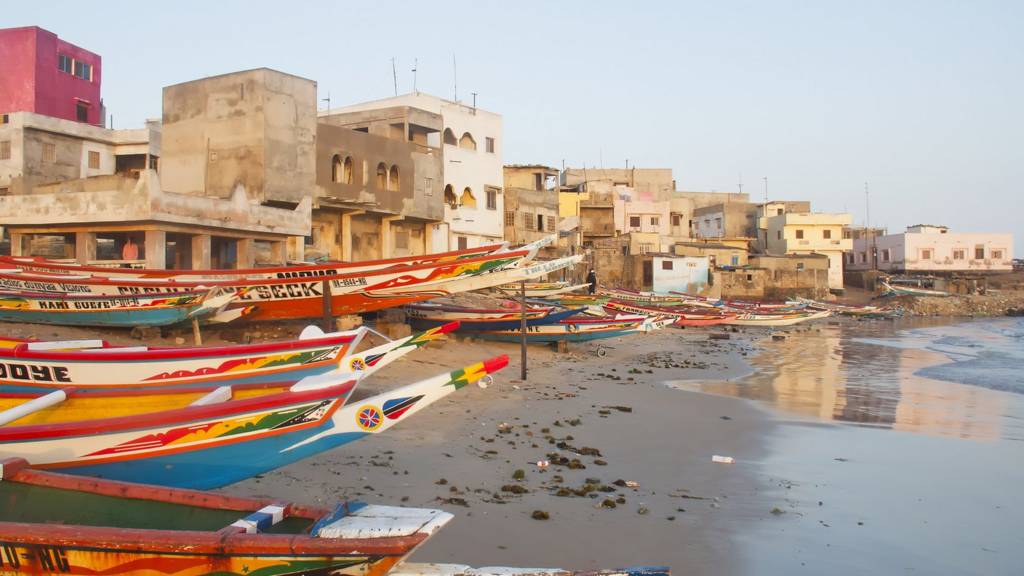 Live
African news updates from the BBC
Scroll down for Friday's stories

We'll be back on Monday

That's all from BBC Africa Live for now. Keep up-to-date with what's happening across the continent by listening to the Africa Today podcast, or check the BBC News website.

A reminder of our wise words of the day:

Quote Message: Hopes kill a hunter." from A Lhukonzo proverb sent by Geofrey Baluku in Kasese, Uganda

Click here to send us your African proverbs.

And we leave you this shot taken at a parade by Sahrawi people living in Algeria - it's one of our favourites taken this past week:

'Every artist should have their own record label' - Black Coffee

Black Coffee is an extraordinary individual. He started DJing aged 13 – his grandmother didn't mind too much as long so he was home to milk the cows at 0500 and 1600.

At 14 he had a terrible accident. He was celebrating the release of Nelson Mandela when a car veered into the crowd he was in.

His left arm was permanently damaged and he only has the use of one hand. It didn't stop him.

Through sheer determination he has become one of the most sought-after DJs in the world, regularly playing at iconic clubs in Berlin, Ibiza, Miami, and more.

He's also an award-winning producer of Afrohouse music and a luminary of the African music industry.

"I find significance in the fact that the name of such a great man is linked to my accident," Black Coffee tells me.

"It's a constant reminder of what I need to do as a young African guy who understands how much Africa needs guys who want to make Africa great. So every time I think of my injury, I think of this great man and I think of the responsibility that I have."

Black Coffee's latest passion is transforming the relationship between African artists and record labels:

Quote Message: I've just bought Gallo, the biggest record company on the continent. Signing artists to labels is the worst way to help artists because the contracts are never fair. We're starting a new way where we want every artist to have their own record label and own their music. Hopefully that's something that can grow to the entire continent."

He's just dropped his much anticipated new album Subconsciously -his first for several years. It includes collaborations with Celeste, Pharrell Williams, Usher, Diplo and many more.

"I've never had an album this successful. We've hit over 100 million streams on it."

But it hasn't been met with universal enthusiasm. South African fans are holding back:

"The locals are like: 'This album is not for us. This is not the Black Coffee we know.' But I'm like it's 15 years later now. I'm definitely not going to sound the same. I need to move on, I need to grow, I need to find other people to collaborate with. I need to do a song with Coldplay now, with Adele, with Beyonce."

So that's Black Coffee's ambition now? "Yes Sir!"

You can hear more from Black Coffee on This is Africa this weekend, on BBC World Service radio and partner stations across Africa, and online.

Schools to reopen in Mozambique on Monday

Jose Tembe

BBC News, Maputo

Mozambique has announced that schools will reopen from Monday after being closed in some cases for as long as a year.

President Felipe Nyusi said the risk of coronavirus transmission was low but schools "could interrupt their face-to-face teaching activities or begin them at a later date" as needed.

It applies to all levels of education, although pre-school nurseries were not mentioned in the president's speech.

Teachers told the BBC they backed the move.

"It was the right decision. With so many problems with access to technology that students often present, this is an opportunity for us to take some steps forward," said Julio Manjate.

University lecturer Gil Lauriciano saw it as a "necessary risk" considering "schools have been closed in some cases for a year.

Three rappers 'arrested at Senegal protests'

Local reports indicate that three rappers and activists have been arrested in Senegal's ongoing protests against the detention of opposition leader Ousmane Sonko.

The three arrested are Thiat, Kilifeu and Samba Loum.

Reports say they were taking part in demonstrations in Dakar.

Macron's Algeria torture admission 'not enough'

Image caption: Malika Boumendjel died last year, before hearing the apology she had long sought

France's admission about the abduction and murder of Algerians during the war of independence is a big step but it is not enough, according to French historian Fabrice Riceputi.

It is a huge moment for the grandchildren of lawyer Ali Boumendjel, who were received by French President Emmanuel Macron to hear the truth about the assassination of their grandfather.

His widow Malika Boumendjel, who fought for decades for the truth about her husband's disappearance rejecting the French official account of suicide, passed away last year aged 101 without hearing the acknowledgement she waited for all her life.

For Riceputi a rexamination of the French colonial rule in Algeria should not be restricted to "emblematic figures" such Maurice Audin and Ali Boumendjel.

The French army in Algeria adopted since 1957 the technique of "forced disappearance" as a systematic method to crush the nationalists, according to Mr Riceputi.

It consisted of abducting, murdering and disposing of the body of any Algerian they suspect of having links with the FLN which led the war for independence.

There were tens of thousands in the capital city, Algiers and many more throughout the country, he says.

It was a "system designed to terrify the population" and silence dissidents and supporters of independence, the historian says.

It has also left dozens of thousands of families and generations of their descendants suffering decades of emotional and psychological trauma.

Mr Riceputi believes that the French authorities are avoiding the essence of the truth through these "selected" and "high-profile" admissions.

What Mr Macron is currently doing, according to him, is "distributing acknowledgements" to the far right here and to the Algerians there, seeking to please all parties.

In 2017 while a presidential candidate, Mr Macron described colonialism as a "war crime" that would be prosecuted nowadays but later fell short of the apology Algerians have been demanding.

The routine torture and murder of Algerian civilians by the French army during the seven-year war that some say claimed 1.5 million Algerian lives has been hushed up for decades.

Indeed, France has never even recognized the existence of a "war" in Algeria. Until 1999 they have always called it the "events" or "troubles" of Algiers. The atrocities committed by their army were described as "operations to maintain order".

Campaigning kicks off in Congo-Brazzaville election

Emery Makumeno & Will Ross

BBC News

Election campaigns have begun in Congo-Brazzaville ahead of the presidential poll in just over two weeks' time.

The incumbent, Denis Sassou Nguesso, is seeking a fourth term. Apart from a five-year period he has been leading the country since 1979 and will face six opposition candidates.

These include two former ministers, Mathias Dzon and Guy-Brice Parfait Kolélas, who have become fierce critics of the president.

Last month Catholic bishops and civil society groups expressed concern about the transparency of the elections.

Congo-Brazzaville has been hit hard by the low price of oil, and last year the International Monetary Fund revealed that the country was spending five times more on debt repayments than on healthcare.

Who is left behind by Kenya's digital IDs?

Copyright: Naima Ibrahim Rajab

When Kenya's government began collecting fingerprints and scanning faces in 2019, Naima Ibrahim Rajab was concerned.

She is a member of the Nubian community, many of whom still don't have Kenyan citizenship despite being forcibly moved there from Sudan over a century ago by British colonial forces.

Rights groups have challenged Kenya's nationwide biometric data-gathering project, while Naima has also witnessed the exclusionary effect of not having official ID.

"One of the major implications is increased rate of crime among the youth," she says of her community in Nairobi's poor Kibera settlement.

"Because now they do not have an ID, they cannot access a good job. They cannot go to school. So they resort to other means of earning money.

But she is also aware that this ID system could be open to abuse.

"The government will have a 360-degree view of my actions and my personal information, and they could misuse this to target and profile communities like the Nubians."

Huduma Namba, as Kenya's biometric scheme is called, means "service number" in Swahili. Each citizen is to be assigned a unique ID code, to vote, access healthcare, education, and get a mobile phone.

It will become "the authentic single source of truth on personal identity in Kenya," President Uhuru Kenyatta says.

In this episode of The Comb, we hear from researchers and experts about how best to tackle this controversial topic.

By Peter Mwai

BBC Reality Check

Top UK cleric blasts Nigeria's for anti-gay words

Will Ross

Africa editor, BBC World Service

The head of the Anglican Church, the Archbishop of Canterbury, has condemned homophobic language used by the Archbishop of Nigeria.

Last week, Henry Ndukuba issued a statement referring to "the deadly virus of homosexuality" and said secular governments were adopting an aggressive campaign to promote homosexual culture.

In an unusual move, Justin Welby has criticised his fellow Anglican archbishop, saying the statement was unacceptable and dehumanising.

He has also written a private letter to Archbishop Henry, saying that his statement was incompatible with the church's teachings.

Senegal presidential rival in court amid protests

Image caption: Outraged supporters of Ousmane Sonko have torched cars

Senegalese opposition leader Ousmane Sonko had been held in custody following a court appearance, as protests against his earlier arrest rage for a third day.

Mr Sonko, who denies charges of rape, is once again being detained "over the matter of disturbing public order" according to his lawyer, who says his arrest on Wednesday was for the same offence.

Cars have been set alight on streets in the capital Dakar, where reinforcements have been sent to protect government buildings. One person has died in the demonstrations, and the government says an inquest is under way.

Senegal's government has also condemned the protests as a "flagrant violation" of its health state of emergency put in place to tackle coronavirus.

Mr Sonko, 46, heads the opposition Pastef party and says the charges are politically motivated to stop him running in elections in 2024.

Mr Sonko came third in the 2019 presidential election and has accused President Macky Sall of manoeuvring to run for an unconstitutional third term.

Congo-Brazzaville replace coach ahead of qualifiers

Image caption: Former Brazil international footballer Valdo Filho has been dropped

Congo-Brazzaville have decided not to renew the contract of Brazilian coach Valdo Filho just weeks ahead of crucial Africa Cup of Nations qualifiers.

The Congo Football Federation did not give any reasons behind its decision not to offer the 57-year-old former Brazil international an extension to his deal which ends on 18 March.

Congo-Brazzaville are second in Group I of the qualifiers for next year's Nations Cup finals in Cameroon with seven points from their first four matches, five less than already-qualified Senegal but four more than third-placed Guinea Bissau.

The top two teams in the group qualify.

Congo-Brazzaville host Senegal on 26 March in their penultimate qualifier and then finish the campaign away at Guinea-Bisaau four days later.

The federation said on Thursday it had appointed Barthelemy Ngatsono as coach for the two games.

Congo-Brazzaville were last at the Cup of Nations finals in 2015, when they reached the quarter-finals but failed to qualify for the last two editions.

'High risk' that Ebola will spread from Guinea - WHO

Image caption: Vaccines against Ebola arrived in the country last week

The World Health Organization has warned there is a "very high risk" that an Ebola virus outbreak in Guinea could spread to neighbouring countries.

"As of yesterday a total of 18 cases were reported:14 were confirmed, including 4 deaths. This gives a case fatality rate of 44.4%," says Dr Georges Alfred Ki-Zerbo, the WHO's representative in Guinea.

The global health body says some neighbouring countries are yet to prepare any vaccination campaigns.

So far more than 1,600 people have been vaccinated against Ebola in Guinea.

The outbreak which began almost three weeks ago is the first in the region since in 2014 when the disease killed more than 11,000 people in Guinea, Sierra Leone, and Liberia.

More on this topic:

DJ Cuppy wins place at Oxford University

Sought-after DJ and billionaire's daughter Florence Otedola says she has won a place at the University of Oxford in the UK.

DJ Cuppy, as she is better known, shared the news with her followers on Instagram:

In the video, the Nigerian DJ is seen telling her parents she will take up a place at Lady Margaret Hall college, part of the University of Oxford, for her Masters degree.

"Oh my! Are you sure? How are you going to do both," her mother replies.

SA top judge ordered to retract pro-Israel comments

Image caption: Justice Mogoeng made the comments last year

South Africa's Judicial Conduct Committee has ordered the chief justice to apologise and retract his comments that showed support for Israel.

Chief Justice Mogoeng Mogoeng made the remarks in June last year during a webinar - which was hosted by The Jerusalem Post newspaper, according to local media.

Africa 4 Palestine, a pro-Palestine organisation, was among three groups that filed a complaint with South Africa's Judicial Conduct Committee, saying the comments contravened the code of judicial conduct.

The committee ruled on Thursday that Justice Mogoeng must apologise within 10 days and even gave the wording to be used.

In a statement, Africa 4 Palestine said the decision "affirms that no one is above the law and we hope that it sets the standard for future judicial conduct".

Internet disruption amid Senegal clashes

Nigeria, Kenya, Rwanda start vaccine rollout

Nigeria, Kenya and Rwanda have begun coronavirus immunisation programmes under the Covax vaccine-sharing initiative, becoming the latest African countries to do so.

Health workers will be among the early beneficiaries of the AstraZeneca jab in all three.

In Nigeria, Cyprian Nyong - a doctor who has been taking care of Covid-19 patients since March last year - was the first to get the jab at a hospital in the capital, Abuja.

Some other 150 health workers were also injected.

Nigerian health officials say President Muhammadu Buhari and other senior figures will be immunised in public to help boost confidence in the programme.

In Kenya, ministry of health official Patrick Amoth was the first to get the jab.

Ghana and Ivory Coast started vaccination drives earlier this week.

Angola, DR Congo and Gambia have also received supplies under the international initiative.

Seychelles to welcome all tourists except South Africans

Yasine Mohabuth

Port Louis, Mauritius

Image caption: Visitors will still be required to present a negative Covid test

Seychelles is opening up to receive visitors from around the world from 25 March, irrespective of whether they are vaccinated or not.

South Africans will however not be allowed be enter the country until further notice.

In January, the Seychelles announced it had opened up to vaccinated travellers.

Visitors will now only be required to present a negative Covid test taken 72 hours prior to departure, foreign affairs and tourism minister Sylvestre Radegonde has said.

There will be no quarantine requirement nor restriction on movement upon entry into Seychelles.

Additionally, the minimum stay in establishments upon arrival will no longer be applicable.

However, visitors will still be required to adhere to other public health measures put in place, including wearing of face masks, social distancing, regular sanitisation or washing of hands.