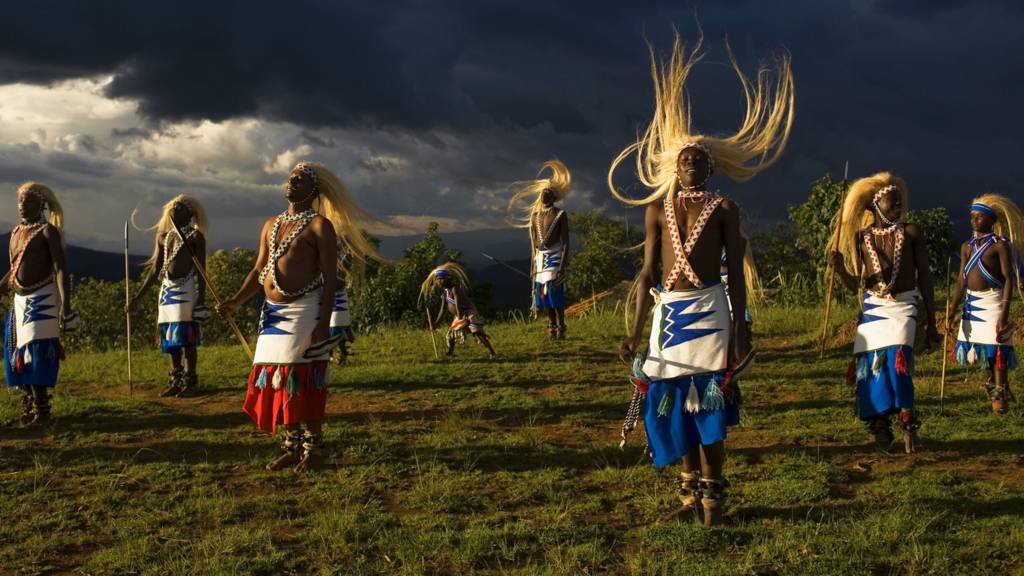 Live
Africa Live: Cameroon police 'shoot at opposition protesters'
Scroll down for Tuesday's stories

We'll be back on Wednesday

That's it from the BBC Africa Live team for now. We'll leave you with an automated service until Wednesday morning.

Keep up-to-date with what's happening across the continent by listening to the Africa Today podcast or visiting the BBC News website. You can also check out new podcast The Comb.

A reminder of our African proverb of the day:

Quote Message: Dissect an ant and you will see its intestines." from A proverb sent by George Asamoah in Ghana.

And we leave you with this photo from Pointe-Noire in Congo-Brazzaville, taken by Nzaou Robert:

Ramaphosa calls for help for 'shattered economies'

Image caption: President Cyril Ramaphosa addressed the meeting via video link

Africa needs support from the rest of the world in order to rebuild "our shattered economies" in the wake of the coronavirus pandemic, South African President Cyril Ramaphosa has told the meeting of the UN's General Assembly.

Mr Ramaphosa, who was also speaking in his role as the chair of the African Union, said the continent needs help with a "comprehensive stimulus package".

He also called for the suspension of interest payments on government debt and said sanctions against Sudan and Zimbabwe should be dropped, to help those two countries recover.

Addressing the meeting from South Africa he turned his attention to racism in light of the Black Lives matter protests.

"As a country that has known too well the anguish of institutionalised racism," he said.

"South Africa supports the demands for swift action against racism, whether committed by individuals, companies, officials or a state."

Ethiopian launches country's first Braille newspaper

Aklilu Tsegay

BBC Tigrinya

Copyright: Fiyori Tewolde

A young Ethiopian journalist has produced and distributed the country's first Braille newspaper.

Braille is a system allowing visually impaired people to read by using raised dots to represent letters that are felt by the fingertips.

Fiyori Tewolde had been working for the state-controlled Addis Zemen newspaper when she decided to switch her attention to providing a service for blind readers.

Copyright: Fiyori Tewolde

Image caption: Fiyori Tewolde hopes to get more financial backing to be able to lower the cover price

"There are around four million Ethiopians with a visual impairment and I noticed that they didn't have access to information - and they miss out on things like job vacancy announcements that are published in the print media," Ms Fiyori told BBC Amharic.

Her pioneering newspaper, which is called Fetil (meaning "Thread" in the Amharic language), will be published every Wednesday and will cover social, economic and political issues. The articles are written by journalists who are volunteering their time.

Ms Fiyori said that it will also include special investigative reports on the challenges that people with disabilities face in Ethiopia.

Copies of Fetil's first edition were given to the Ethiopian National Association of the Blind, government offices and other organisations.

"When visually-impaired people go to those places we want them to find Fetil on the reception tables among other newspapers and magazines to read," Ms Fiyori said.

She said the feedback so far has been very positive with people appreciating the service.

It will also be sold on the streets of the capital, Addis Ababa and cost 30 birr ($0.82, £0.64), which is expensive and more than twice what the average newspaper costs.

The high cost is because of the special paper that it needs to be printed on.

But Ms Fiyori hopes to get support from various charities to subsidise the cost and wants to distribute it free to blind people.

In Ethiopia, people with disabilities, including those with a visual impairment, are often discriminated against in the job market and as a result they face economic difficulties.

Leaders must respect rule of law - Malawi's Chakwera

Malawi's President Lazarus Chakwera is on a visit to Zambia and journalists there have been trying to pin him down on his views about politics in the region.

They asked him about the reported deterioration of human rights in Zimbabwe, and his response was a call for the respect of divergent views.

"At this particular stage, I may have nothing much to say. I do have an outstanding meeting with President [Emmerson] Mnangagwa of Zimbabwe," he said.

"We must respect the rule of law, we must respect human rights, we must respect respect contrary views everywhere," he added.

"This is what makes us advance as democracies. And so, in as much as I cannot address specific issues, these are principles that we want to live by everywhere, particularly here in Africa as one people."

President Chakwera was elected in May after the Constitutional Court nullified the results of an earlier election that had declared Peter Mutharika as winner.

From 'night out' to 'takeout'

BBC Focus on Africa radio

When Covid-19 struck, Ghanaian celebrity husband and wife team Reggie Rockstone and Dr Zilla Limann were forced to close their nightclub due to social distancing restrictions.

To plug the gap, they decided to try their hands at running a food delivery business instead.

"We meditated on it, prayed on it. It just dawned on us, people gotta eat!," Rockstone told BBC Focus on Africa's Mark Wilberforce.

They decided to specialise in one of Ghana's signature dishes, Waakye, made of rice, sorghum leaves and beans.

"You know when you're so hot, you're confused, you don't know what to do? That was us on the first day. But by the end of the week, it's like we had been doing it forever," Limann said.

In the process they started an online reality show too.

Listen to the full interview to find out more:

Four journalists arrested amid Cameroon protests

Four reporters have been arrested while covering anti-government protests in Cameroon's two biggest cities of Yaoundé and Douala.

The Cameroon Journalists Trade Union is now working to secure the release of Lindovi Ndjio, Rodrigue Ngassi, Tah Mai Jarvis, Tebong Christian, reports the Committee to Protect Journalists:

UN: Food crisis looms as Mozambique conflict rages

Image caption: Thousands of people have fled attacks in Cabo Delgado

The UN has warned that escalating conflict in northern Mozambique could mean "crisis" levels of food insecurity continue into next year.

The World Food Programme said it was deeply concerned about the humanitarian situation in Cabo Delgado province, with more than 300,000 people reliant on aid after abandoning their homes and crops.

The UN agency said population displacements could also accelerate the spread of coronavirus in the province, which currently has the second highest number of infections in Mozambique.

Government forces have been battling an Islamist insurgency in the north for three years.

More on this topic:

'Honest' South African employee divides Twitter

It appears South Africans online are divided in opinion after a fast food worker was lauded for returning a customer's wallet with all the money.

Julian Kaboekae lost his wallet at a Steers branch in Randfontein on Monday.

He went back and found that an employee, Busisiwe Rabohale, had kept it safely with all his cash inside.

Mr Kaboekae tweeted his appreciation to Ms Rabohale and tagged her employer:

It has prompted debate on social media, with some saying it was simply the employee's job.

"Noooo!! she was just doing the right thing, hence most employers conduct criminal checks on candidates to ensure they don't hire thieves," Pfunzoo tweeted.

Others, like Brian Sibiya, praised Ms Rabohale's honesty and suggested those who felt otherwise were just cynical:

Quote Message: I knew there was gonna be negative comments in here, cameras or not that lady did a good deed. Y'all broken people."

Mali junta asks Ecowas to lift economic sanctions

Image caption: Parades marking 60 years of independence are under way in Bamako

The head of Mali's military government, Colonel Assimi Goita, has called on West African leaders to lift economic sanctions imposed in the wake of last month's coup, following the nomination of a civilian interim president.

Mali's military rulers on Monday appointed a former defence minister, Bah Ndaw, as president of a transitional government due to return the country to civilian rule in 18 months. He will be sworn-in on Friday.

Speaking at a ceremony to mark Mali's 60th anniversary of its independence from France, Colonel Goita - who will serve as vice-president of the transitional government - also urged support for French and UN troops in the West African country.

Their presence in Mali - to help in the fight against jihadists - has often stoked controversy in the country.

Cameroon police 'shoot at opposition protesters'

Killian Ngala

BBC News, Yaoundé

A top official of Cameroon's opposition CRM party has said that a number of anti-government demonstrators have been targeted by security forces in the biggest city, Douala.

"Peaceful protesters have been shot at, arrested, brutalised and tear-gassed," said Barrister Christopher Ndong, the first vice-president of the party.

A journalist working for private-owned newspaper La Nouvelle Expression was among those arrested in the capital, Yaoundé. Unverified reports suggest that dozens of CRM activists were arrested there on Tuesday morning.

The police have not responded to the BBC's request for comment.

Anti-government demonstrators have taken to the streets in several towns and cities, including Douala, Yaounde, Bafang, and Baham - the hometown of CRM leader Maurice Kamto, in the west of the country.

They have been calling for an end to the Anglophone crisis and a reform of the electoral code.

Mr Kamto has suggested if the two issues are not addressed, the protests will continue until President Paul Biya is forced from power.

Mr Biya has been in power since 1982. He was re-elected in 2018 in an election that Mr Kamto claimed he won.

Government spokesman Rene Emmanuel Sadi has criticised the opposition leader, saying that the protests were the weapon of a politician who cannot win an election.

Niger postpones reopening of schools after floods

Image caption: The capital, Niamey, has been worst hit by the floods

The authorities in Niger have postponed the reopening of schools across the country following heavy floods that have killed more than 70 people and displaced hundreds of thousands.

Most of the flood victims are sheltered in schools and the authorities say they need time to relocate them to other shelters.

Schools were due to reopen on 1 October, but the government has said they will now reopen on 15 October for the new academic year.

Large swathes of Niger have been affected by the floods following torrential rains and rivers bursting their banks.

The capital, Niamey, and its surroundings has been the worst hit.

Earlier this year, students lost several months of learning when schools were closed due to the coronavirus pandemic.

Schools reopened briefly in early June and later closed for holidays but floods have now forced them to remain shut.

Burundi opposition condemns 'mass arrests'

Samba Cyuzuzo

BBC Great Lakes

Burundi's main opposition party, the National Freedom Council (CNL), has condemned what it calls the mass arrest of its members who are accused of being linked to rebel attacks in the west of the country.

"CNL members are being arrested while we have nothing to do with the rebels," party leader Agathon Rwasa told the BBC.

The party said nearly 100 of its members have been arrested in less than two weeks and most of them have not been taken to court.

The ministries of justice and security have not responded to the BBC's request for comment.

CNL was the main challenger in May's general election that saw the ruling party, CNDD-FDD, retain the presidency.

Mr Rwasa finished second with 24% of the vote.

He said his party's representatives in the south-western Bururi province have been arrested for holding an "illegal meeting".

Mr Rwasa added that there was "nothing illegal in a regular meeting of a political party".

The Tanzanian radio show trying to stop child marriage

A rural radio show is trying to make sure girls and boys are kept safe during the pandemic.

Papa Massata Diack hits back over corruption conviction

Image caption: He is refusing to leave Senegal for the trial in France

Papa Massata Diack has goaded French authorities by saying they will have to send special forces to Senegal if he is to serve a five-year jail term handed out to him in France for corruption and breach of trust.

Diack, the son of former athletics global chief Lamine Diack who himself was given four years in prison for corruption and money-launddering, refused to leave Senegal for the trial and was sentenced in his absence.

In 2016, the global police network Interpol issued an arrest want for Papa Massata, has been based in his West African nation ever since.

"They can send special forces to pick me up," he brazenly asserted on Monday as he continued to protest his innocence.

Last week, 87-year-old Lamine Diack was convicted of corruption in France in relation to a Russian doping scandal and sentenced to two years in prison, with another two years suspended.

Diack profited from a scheme that allowed Russian athletes who paid millions in bribes to keep competing when they should have been suspended for doping.

'Dozens of opposition activists arrested' in Cameroon

The privately owned Journal du Cameroun news site reports that 31 members of the opposition party which called today's nationwide protests were arrested in the morning.

Its report says that plainclothes policemen arrested the MRC/CRM activists outside the Yaoundé home of party leader Maurice Kamto at 02:00 local time (01:00 GMT), and an amateur video purportedly shows some of the activists being chased and assaulted.

A senior party official, Barrister Ndong Christopher, confirmed to the BBC that some of his colleagues were arrested, but did not know the total number.

Meanwhile, a researcher for Human Rights Watch has shared a photo of security forces deployed to a protest in the western town of Bafang:

Mauritius to reopen borders under strict measures

Yasine Mohabuth

Port Louis, Mauritius

Image caption: Pereybere beach is a popular draw for locals and tourists

Mauritius will reopen its borders from 1 October under strict Covid-19 safety measures.

Those arriving will be required to quarantine for 14 days at their cost - which is estimated to be about $1,300 (£1,000) per person.

Tourism experts have faulted the quarantine cost as too high.

Tourists can choose to spend the fortnight in either three-star or five -star hotels.

Quarantine costs for Mauritians returning from medical treatment abroad will be covered by the government, said Zouberr Joomaye, an adviser at the Prime Minister's office.

Airline bookings and hotel room reservations will only be made online.

The government said priority will be given to returning Mauritian nationals, licensed residents, those employed in Mauritius and tourists.

No local cases of Covid-19 have been detected for more than 150 days now, but a few imported cases have been registered.

Mauritius has so far recorded 10 deaths from the coronavirus pandemic.

The country relies heavily on revenues from tourism and its economy has been severely hit by the pandemic.

Tear gas fired at Cameroon protesters

Multiple reports indicate that tear gas has been fired at people taking part in opposition protests in Cameroon's biggest city, Douala.

Reporter Regina Sondo shared this footage minutes ago:

A nationwide call for anti-government protests was made by the MRC/CRM party.

But a heavy security presence has been reported in recent days and the government is accused by Human Rights Watch and other groups of cracking down on dissent.

How too few female MPs could dissolve Kenya's parliament.

Cecily Mbarire is an MP wanting to make sure the constitution's gender equality rule is met.

Rights group condemns Cameroon protest crackdown

Campaign group Human Rights Watch has accused the Cameroonian government of using the coronavirus pandemic as an excuse to "quell the right to assemble" ahead of protests planned for Tuesday.

The opposition MRC/CRM party, whose leader Maurice Kamto maintains he was the rightful winner of the 2018 presidential election, is calling for institutional reforms and the return of peace to the country's troubled Anglophone regions.

But on Friday, days ahead of the planned demonstrations, security officers forcibly searched vehicles at busy road junctions in the capital Yaoundé.

The health minister also called for a "ban" on "all protests" in favour of social distancing and other "live-saving measures".

The next day, HRW says, the headquarters of the opposition CPP party were surrounded by over 30 policemen and gendarmes who left after an hour's stand-off.

Despite the call to protest, residents of the two biggest cities, Douala and Yaoundé, say many people are staying at home.

A heavy security and police presence is reported.