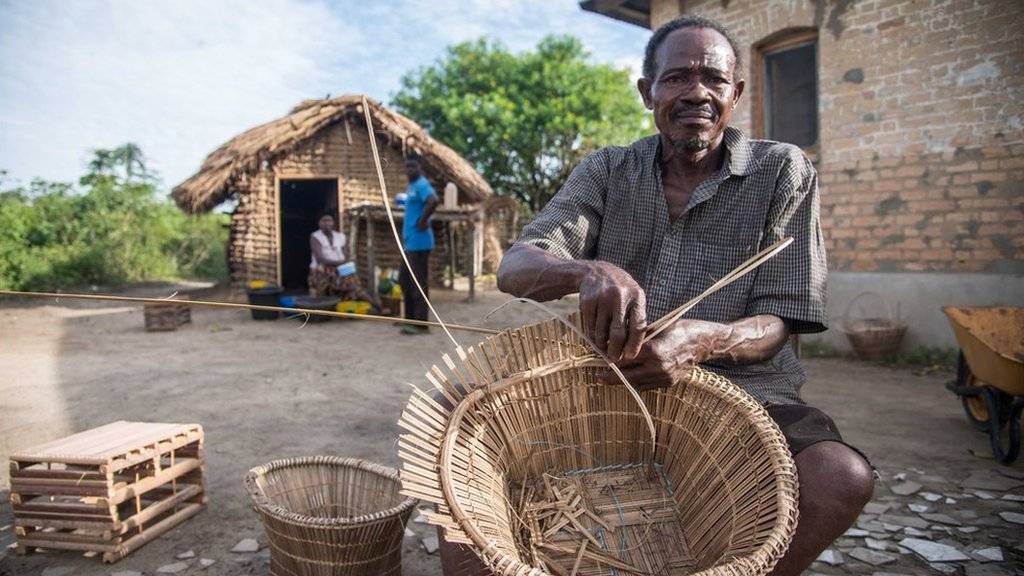 Live
Africa Live: 'Inspiring' South African queen dies of Covid-19
Scroll down for Thursday's stories

We'll be back on Friday

That's all from BBC Africa Live for now. We'll be back on Friday morning - until then there will be an automated service.

Keep up-to-date with what's happening across the continent by listening to the Africa Today podcast or checking the BBC News website.

A reminder of our wise words of the day:

Quote Message: Brave men and smoke always know the way out." from An Amharic proverb sent by Biniam Ewnte in Addis Ababa, Ethiopia

Click here and scroll to the bottom to send us your African proverbs.

And we leave you with this recent photo of young leaping ballerinas during rehearsals in the Nigerian city of Lagos:

Ethiopia's TPLF denies involvement in singer's death

BBC Focus on Africa radio

An Ethiopian opposition group has denied the governing party's accusation that it was involved in last week's murder of a popular protest singer - an event which prompted violent protests leaving around 200 people dead.

"It's a flat-out lie," Getachew Reda, a spokesman for the Tigray People's Liberation Front (TPLF) - which used to dominate the political scene - told BBC Focus on Africa presenter Bola Mosuro.

The governing party had earlier accused the TPLF and an armed Oromo rebel group of being behind the shooting of Hachalu Hundessa.

Correspondents say despite government statements that things are back to normal in Ethiopia, there is huge concern over the heightened ethnic tension and the potential for further instability.

Listen to the full interview with Mr Getachew:

Ilhan Omar: US must pay compensation for drone attacks

Image caption: Ilhan Omar moved to Minneapolis, where there is a huge Somali community, as a teenager

Somali-American congresswoman Ilhan Omar is working to get the US to pay compensation to people killed by US drone attacks in Somalia.

"Drone attacks in Somalia take place in night time. They don't kill only terrorists, but civilians as well, and families sleeping together," she told the BBC Somali Service.

"What we are working now is stop this and make sure its been directed accurately, and most importantly to pay compensation on those who lost their lives.

"We are subject to the international law, and therefore compensation should be paid if someone has been illegally killed by another state."

The 37-year-old Democratic lawmaker, who arrived in the US as a child refugee in 1995, has been at loggerheads with the US president since her election to Congress last year.

Donald Trump recently alleged at a campaign rally that she wanted to bring the "anarchy" of Somalia to the US.

But Ms Omar said the president often used such jibes as a distraction when he didn't "have nothing good to say".

Dogs 'unearthing children's graves' in Mozambique

Jose Tembe

BBC News, Maputo

Stray dogs in Mozambique have been digging up dozens of graves at a children's cemetery in the city of Chimoio, residents have told the Miramar TV station.

One mother said that a few days after recently burying her child, she had gone to clean the grave, only to find that the dogs had already unearthed and eaten the body.

The report showed scattered pieces of clothes, bones and human flesh littering the cemetery.

If a family cannot afford a coffin, bodies are often wrapped in a blanket or plastic sheeting.

The Miramar reporter told the BBC that over a period of a week 343 children's graves had been dug up by dogs.

Residents said the dogs had become a daily hazard, with the situation becoming worse in recent months as fewer people were visiting the cemetery because of coronavirus.

The pandemic also meant that people had lost their income, so might not be feeding their animals.

The fact that the graveyard was unkempt and not fenced off was another problem, the resident said.

The authorities in Chimoio, which is the capital of Manica province near the border with Zimbabwe, were available for comment about the situation.

Liberian MP and former supermodel dies aged 36

Jonathan Paye-Layleh

BBC News, Monrovia

Copyright: Munah Pelham-Youngblood

Image caption: Munah Pelham-Youngblood was one of only 10 women in parliament

Tributes have been paid to Liberian MP and former supermodel Munah Pelham-Youngblood, who has died at the age of 36.

She was one of only 10 women in the West African nation's 103-seat parliament.

A member of President George Weah's Congress for Democratic Change (CDC) party, she died in Ghana after a protracted illness.

President Weah described her as a pillar of the CDC and a great stateswoman.

Her active leadership had "contributed enormously to nurturing the country's democracy", his statement continued.

"She was also a strong advocate for women leadership and empowerment," he said.

When she was elected in 2011, she was Liberia's youngest MP.

South Africa plays down 1.5 million grave fears

Pumza Fihlani

BBC News, Johannesburg

Image caption: Coronavirus is now spreading fast in South Africa, which had a lengthy and strict lockdown

The man in charge of health in South Africa's economic hub of Gauteng, Bandile Masuku, caused consternation when he declared on national television that 1.5 million graves were being prepared for victims of Covid-19.

Gauteng's health department was quick to explain that this was the total capacity of the province's cemeteries - and that the actual number of graves being dug was far smaller.

However, its spokesperson, Kwara Kekana, told the BBC that while death was uncomfortable to talk about for parts of the population - for cultural reasons - it was sadly a subject that had to be discussed.

He said that identifying municipal land ahead of time that could be used, should it be needed, was a public responsibility alongside continuing to save lives.

Gauteng, which includes the city of Johannesburg, has now become the epicentre of the coronavirus outbreak in South Africa.

The disease is expected to spread quicker in the province than it has in other parts of the country because it is more heavily populated.

Other big municipalities in South Africa are already struggling, with reports of oxygen shortages, a lack of beds and personal protective equipment (PPE).

Sudan's PM fires ministers over slow reforms

Will Ross

Africa editor, BBC World Service

Image caption: At the end of June protesters in Khartoum called for reforms to be speeded up

Sudan's prime minister has replaced seven key ministers after protests over the slow pace of reform following the overthrow of Omar al-Bashir as president last year.

Abdalla Hamdok dismissed the health minister and accepted the resignations of the six others - including those in charge of finance, foreign affairs, and energy, the government said.

Correspondents say the Sudanese economy was already in a crisis before the impact of the coronavirus so the new finance minister faces a daunting task amid worsening food and fuel shortages.

On Sunday Mr Hamdok - who heads a power-sharing interim government with the military - replaced the police chief and his deputy.

Correction 9 July 2020: This story has been updated to reflect that seven ministers have been replaced in total, not four as originally reported.

Nigerian soldiers ambushed on reopened highway

Celestina Olulode

BBC News

Image caption: The Maiduguri to Damboa road was re-opened seven months ago

Islamist militants launched a deadly ambush on Nigerian soldiers who were travelling on Tuesday on a key highway that re-opened in January after being closed last year because of frequent attacks.

Thirty-five soldiers are reported to have been killed in the attack, which took place approximately 40km (25 miles) from Maiduguri, the main city in north-eastern Borno state.

The death toll is yet to be confirmed but the military has acknowledged it took place in the village of Bulabulin, on the road between Maiduguri and Damboa.

The army, which often downplays its losses, said in a statement that only two soldiers had been killed as well as 17 militants.

The Islamic State West Africa Province (Iswap), a Boko Haram faction, said it was behind the attack, saying 40 soldiers were killed.

The splinter group has carried out a number of devastating attacks this year, killing 81 people in the village of Gubio in June, as well as striking the garrison town of Monguno.

Militant Islamist group Boko Haram and its offshoots have waged a brutal insurgency in Nigeria since 2009.

Watch:

Ethiopians abroad rally against Hachalu's killing

Elias Mulugeta Hordofa

BBC Afaan Oromoo

Ethiopian Oromo communities around the world have participated in a series of protests to condemn the killing on 29 June of popular musician Hachalu Hundessa.

The Ethiopian communities from North America, Europe, Australia and the Middle East have also criticised the arrests of notable Oromo politicians, including media mogul Jawar Mohammed.

In the Australian city of Melbourne, a plane carrying the messages #OromoProtests and Justice4Hachalu in big red letters flew across the Cranbourne and Dandenong suburbs.

Oromo community member and organiser Toltu Tufa told BBC Afaan Oromo that they had taken the measure as they could not gather because of strict measures to limit the spread of coronavirus.

"We cannot simply sit and watch what is unfolding back home. Therefore we took to the skies to let others know about Hachalu and the Oromo people," she said.

Read more:

Liberia's ex-president to head WHO Covid-19 panel

Image caption: Ellen Johnson Sirleaf, the first elected female head of state in Africa, led Liberia during the West Africa Ebola outbreak

The World Health Organization (WHO) has announced that Ellen Johnson Sirleaf, Liberia's former president, and Helen Clark, New Zealand's former prime minister, are to head a panel to review the global response to the Covid-19 pandemic.

Mrs Sirleaf led Liberia during the Ebola epidemic that began in 2014, killing more than 11,000 people in West Africa. New Zealand has been lauded as a success story for its handling of the coronavirus pandemic.

WHO chief Tedros Adhanom Ghebreyesus said it was time to reflect and to strengthen collaboration in order to contain the pandemic.

"Through you, the world will understand the truth of what happened and also the solutions to build our future better as one humanity," the AFP news agency quoted Dr Tedros as saying.

The WHO has been under pressure for some time to review its handling of the pandemic, reports the BBC's Imogen Foulkes from Geneva, where the organisation is based.

It has faced criticism, most notably from the United States, that it was slow to respond to the initial outbreak in China, and that it was too close to the Chinese government, she says.

The evaluation announced by the WHO will look not just at the WHO's response, but at the response of individual countries as well, our correspondent says.

Dr Tedros said:

Quote Message: Together, we now have a once-in-a-generation opportunity to prove to each other that we can be greater than the sum of our parts."

He also warned that most countries did not yet have the virus under control, adding that the greatest threat was not in fact the virus itself, but lack of leadership in dealing with it.

Earlier this week, the US formally notified the UN of its intention to leave the WHO.

According to Johns Hopkins University, more than three million people in the US have now tested positive for Covid-19 - far more than in any other country.

More than 131,000 deaths have been reported in the country - and on Tuesday the US broke its record for most new cases reported in one day.

You may also be interested in:

South Sudan resumes flights after virus suspension

Image caption: People arriving in South Sudan will have to quarantine for 14 days

South Sudan has reopened its air space for regional and international flights, the country's civil aviation authority has said.

The government suspended them in March as a precautionary measure to help prevent the spread of Covid-19.

Kur Kuol, the director-general of Juba International Airport, told reporters on Wednesday that Ethiopian Airlines had been the first non-domestic carrier to land the airport in the capital. The airline is now operating daily flights from Addis Ababa, Ethiopia's capital.

Badr Airlines, a Sudanese cargo and passenger airline, has also resumed flights, as well as Egypt Air.

United Arab Emirates airline FlyDubai will resume regular flights to Juba on Friday.

All those arriving will have to isolate themselves for 14 days and observe health regulations as required.

"Our air space is now open, we have no restrictions on the airlines. But whoever is coming into the country from outside, whether he or she is a foreigner or a South Sudanese national, must provide a health certificate and must self-quarantine for 14 days before engaging with the public while in the country," Mr Kuol said.

Protests over DR Congo's electoral head tear-gassed

Will Ross

Africa editor, BBC World Service

Copyright: Mbelechi Msoshi/BBC

Image caption: The protests in Kinshasa became heated

At least one person has been killed and many arrested as police broke up protests using tear gas in several cities across the Democratic Republic of Congo - including the capital, Kinshasa.

Supporters of President Félix Tshisekedi defied a ban on demonstrations imposed to stop the spread of coronavirus.

For the second time they gathered to denounce the proposed appointment of a new head of the electoral commission.

Copyright: Mbelechi Msoshi/BBC

Image caption: Protesters do not want Ronsard Malonda to head the electoral commission

They allege ex-President Joseph Kabila is trying to ensure he has an ally in charge of the country's elections.

Since stepping down 18 months ago, Mr Kabila has remained hugely influential as his party has the vast majority of seats in parliament and most cabinet positions.

18:00 GMT: This story has been updated to reflect that one person died in the protests.

Named and shamed: The Kenyan MPs who didn't speak

Image caption: Kenyan MPs are among the most well-paid legislators in the world

Twenty-one Kenyan legislators did not utter a single word in parliament in the last session, which lasted almost a year, an organisation that monitors parliament in the East African nation says.

The list, compiled by Mzalendo, which means "Patriot" in Swahili", is dominated by men, with 16 male MPs and one male senator failing to speak.

Two of the MPs - Oscar Sudi and Samuel Arama - have made zero contributions since 2017.

On Twitter some said it mattered less if an MP failed to talk if they developed their constituency, but others said the views of those who elected a politician needed to be represented in parliament.

Caroline Gaita, who heads Mzalendo, told BBC's Newsday programme that the annual Scorecard report, which was released on Wednesday, looked at the quality of contributions to parliamentary debate in 2019.

She said it was a way of enforcing the social contract between the MPs and the electorate.

Kenyan MPs are among the most well-paid legislators in the world, earning more than $6,000 (£4,700) a month.

'Jihadists' landmine' kills soldiers in Chad

Will Ross

Africa editor, BBC World Service

At least eight soldiers have been killed in Chad when their vehicle struck a landmine laid by suspected jihadists.

The blast occurred on Wednesday at Kalam in the Lake Chad region.

Security sources told the AFP news agency that at least 10 other soldiers were wounded in the blast.

The International Crisis Group this week criticised the regional force that is supposed to be fighting Boko Haram and its splinter groups in the Lake Chad region.

The Brussels-based think-tank said disjointed military planning by Cameroon, Chad, Niger and Nigeria had hindered efforts to weaken the jihadists.

Image caption: Lake Chad, surrounded by Chad, Cameroon, Nigeria and Niger, is a vast area to police

You may also be interested in:

Nigeria's China virus compensation case 'frivolous'

Chris Ewokor

BBC News, Abuja

Image caption: The lawyers accuse China of failing to promptly inform the WHO about the virus

China has dismissed as "frivolous" an attempt by Nigerian lawyers to get compensation for the coronavirus pandemic, which began in the Chinese city of Wuhan.

The 11 lawyers accuse China of failing to promptly inform the World Health Organization (WHO) about the virus.

They are demanding $200bn (£158bn) in damages for the "loss of lives, economic strangulation, trauma, hardship, social disorientation, mental torture and disruption of normal daily existence of people in Nigeria".

But the Chinese embassy in Nigeria's capital, Abuja, said the case lacked basis in international law.

Image caption: Some Chinese medics are in Nigeria to help fight coronavirus

"Covid-19 has caught the whole world by surprise. China, like other countries, is a victim. Confronted by an unknown virus, we have acted responsibly to protect people's life and health and safeguard global public health,"it said in statement on Twitter.

"China was the first country to report cases to WHO and promptly share information with relevant countries and regions, the first to sequence the genome of the virus and share it with the world, the the first to publish guidelines for treatment and containment.

"In the fight against Covid-19, solidarity and co-operation is our most powerful weapon."

The embassy urged the lawyers, who are planning to persuade the government to institute a state action against China at the International Court of Justice in The Hague, to do more to enhance mutual trust rather than hyping up the situation.

The case has yet to be heard at Nigeria's High Court.

'Inspiring' South African queen dies of Covid-19

A royal family in South Africa has confirmed the death of Queen Noloyiso Sandile from Covid-19.

A sister to the current Zulu monarch, King Goodwill Zwelithini, she served as regent of the amaRharhabe royal family.

Queen Noloyiso was married to the amaRharhabe monarch, Maxhoba Sandile, for over two decades until his death in 2011.

She was then made the regent as her son, Prince Jonguxolo Sandile, was too young to become king.

The 56-year-old had been admitted at a hospital for Covid-19-related complications, the public broadcaster SABC reported.

President Cyril Ramaphosa described her as "a bastion of traditional values and an inspiring and principled leader of her people", saying she had played a significant role in the development of her kingdom in the Eastern Cape.

South Africa has seven officially recognised monarchs representing different ethnic groups and clans.

Mr Ramaphosa said:

Quote Message: Under her able leadership, the amaRharhabe firmly grasped the nettle of change and adapted to the demands of modern society, all the while holding proudly to their history, traditions and identity."

He also commended her as a champion of rural women who challenged patriarchy in her community:

Quote Message: At a time when we face a grave public health emergency in the form of coronavirus, Queen Noloyiso actively mobilised support for the national effort to combat the pandemic, including calling on communities to halt traditional initiations.

Quote Message: The united stand taken by the seven kingdoms in this regard was a critical intervention to save lives, and we owe a debt to the Queen for the role she played."

The government tweeted a link to his full statement:

Egypt law to hide identity of sexual abuse victims

BBC Monitoring

The world through its media

Egypt's cabinet has approved amendments to the country's criminal procedure law that will guarantee anonymity for victims of sexual abuse.

The identities of victims can only be revealed to the court and to defendants upon request, according to the draft law.

Egyptian victims of sexual crimes often face a lot of stigma.

The Arabic hashtag "The Beginning of a Feminist Revolution" was among the top trending on Twitter, with many celebrating the new amendments and calling on more women to speak up about their own experiences.

Meanwhile, a raft of allegations against various individuals has arisen on social media in the wake of mass allegations against a former student who was arrested after public outcry.

The Public Prosecution released a statement on Facebook on 6 July, saying he faced multiple accusations of rape and assault, including of a minor, as well as blackmail.

Kenya launches talks on free trade deal with US

Kenya has launched negotiations on a free-trade agreement with the United States.

The agreement is expected serve "as a model for additional agreements across Africa," a joint statement between the two countries said.

Kenya is seeking to expand its export market that "requires a trade arrangement that is predictable and guarantees preferential market access for Kenyan products", Trade Minister Betty Maina said.

Her ministry tweeted photos from the talks:

The launch of the negotiations comes before the expiry in 2025 of the preferential trade agreement now in place, the African Growth and Opportunity Act (Agoa).

"Kenya is a recognised leader across the continent, an important strategic partner of the United States, and there is enormous potential for us to deepen our economic and commercial ties," US Trade Representative Robert Lighthizer said in the statement.

Anger over Malawi family cabinet appointees

Image caption: President Lazarus Chakwera won historic elections last month

Malawi's new President Lazarus Chakwera has been criticised for including a husband and wife duo and siblings in his cabinet.

The president's former running mate in the 2019 elections, Sidik Mia, has been appointed minister for transport and his wife Abida Mia is the deputy minister for lands.

Kenny Kandodo is the new labour minister and his sister Khumbize Kandodo is the health minister.

Businessman Gospel Kazako has been appointed information minister and his sister-in-law Agnes Nkusa Nkhoma is the deputy agriculture minister.

Earlier, President Chakwera's first appointee to the justice ministry, lawyer Modercai Msiska, refused to take up the position saying it would look like a reward for representing him in court during the case that nullified ex-President Peter Mutharika's election win.

Some have also pointed out that Mr Chakwera had attacked Mr Mutharika about nepotism in the past and for filling his cabinet with people from his region.

They add that more than 70% of President Chakwera's new line-up is from the central region, his political stronghold.

Some Malawians online reacted with little enthusiasm to the new cabinet:

"I will not lie, I am greatly underwhelmed by the cabinet list. Perhaps our expectations were too high. Husband and wife and the wife's cousin all in one cabinet, really?" Alfie Saweta wrote.

Hugo Mlewa said: "He should have avoided family relations, simple... son of... husband of... brother of... Work hard work hard while he is lazy appointing families... Chilima said Malawi is not a family affair... two families. And here he is approving families in cabinet."