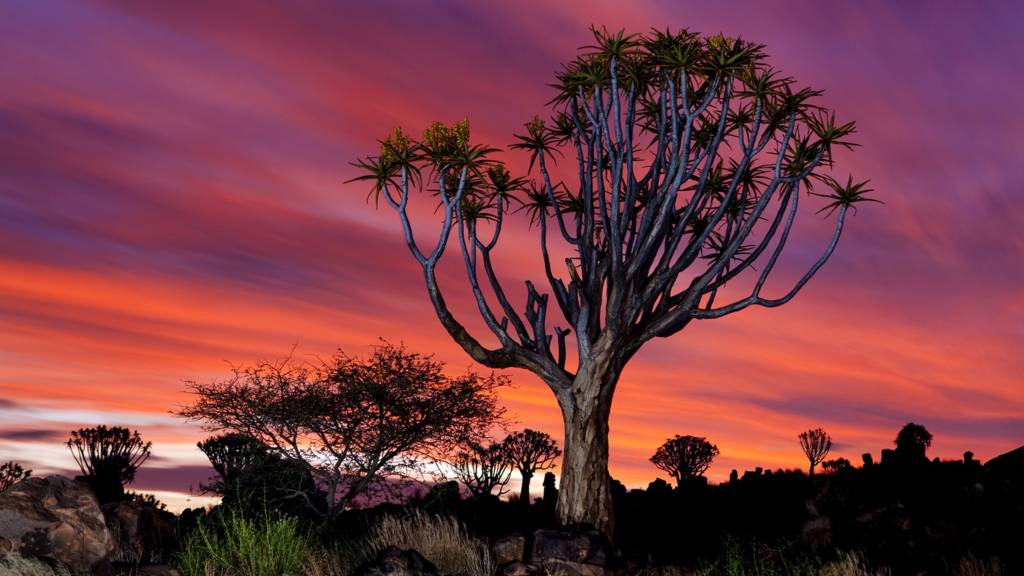 Live
Africa Live: Tear gas fired at Mali's two-day protests
Scroll down for Wednesday's stories

We'll be back on Thursday

That's all from BBC Africa Live for now. We will leave you with an automated service until Thursday morning.

Keep up-to-date with what's happening across the continent by listening to the Africa Today podcast or check the BBC News website.

A reminder of today's wise words:

Quote Message: Youthful exuberance is akin to madness." from A Hausa proverb sent by Anas Tukur Balarabe, London, UK.

Click here and scroll to the bottom to send us your African proverbs.

We leave you with this picture from Amboseli National Park in Kenya:

Scientists discover why locusts swarm

Image caption: Locusts swarmed East Africa earlier this year, including this swarm in Nanyuki, in Laikipia county, Kenya

Scientists say they've discovered a chemical pheromone which causes locusts to swarm.

The insects, which are able to eat their own weight in a day, can wreak havoc on crops when gathered in vast groups.

In recent months, swarms have devastated crops in dozens of countries including Ethiopia and Kenya.

Researchers say the locusts emit a perfume-like scent when close to others of their kind.

This fragrance draws in other locusts, who in turn also begin emitting the scent, causing a loop which results in enormous swarms.

Scientists hope that this discovery will allow the problem to be tackled by genetically engineering insects without scent receptors or using the pheromone to attract and trap the pests.

Harare's radiotherapy machines finally fixed

Zimbabwean breast cancer patient Tendayi Gwata, who campaigned for radiotherapy machines in the capital Harare to be fixed, has tweeted that they have finally been repaired them after a four-month wait:

In April, Ms Gwata's radiotherapy treatment was halted after the machine in a private clinic broke.

She started investigating the situation and found that the only three other radiotherapy machines in Harare, at the Parirenyatwa public hospital, were also broken.

Ms Gwata feared that she would be forced to have a mastectomy.

She told the BBC she was now hopeful that it would not be necessary:

Quote Message: "It means I can finish the treatment. I understand they will probably need to add a few more sessions as a result of the prolonged break. And I will most likely not need a mastectomy now that I can finish the treatment."

Death toll rises in South Sudan clashes

Clashes between civilians and soldiers during a disarmament exercise in South Sudan have killed 127 people, according to army spokesman Maj-Gen Lul Ruai Koang.

Among the dead were 46 security personnel and 82 civilians.

The fighting in the central town of Tonj in Warrap State erupted after soldiers tried to disarm civilians involved in cattle raiding and communal clashes.

Nigeria convicts first pirates under new law

Image caption: Tankers carrying oil and gas provide rich pickings for pirates

A court in Nigeria has made the first convictions under a new anti-piracy law which came into force last year.

Three men were fined about $50,000 (£38,000) each.

They are thought to be part of a syndicate accused of hijacking an oil tanker off the coast of Equatorial Guinea in March and securing a $20,000 ransom for the crew.

But the men won't serve jail time for those charges.

Analysts say the law isn't strong enough to act as a deterrent.

Last year Lagos alone recorded 11 kidnappings, the highest number of any port in the world.

Read more: Piracy in West Africa: The world's most dangerous seas?

Tear gas fired at Mali's two-day protest

Mary Harper

Africa editor, BBC World Service

Image caption: The march, to demand the Malian president's resignation, started on Tuesday

The security forces have fired tear gas to clear demonstrators in the Malian capital Bamako who are demanding the resignation of President Ibrahim Boubacar Keïta.

Hundreds of protesters spent the night on the streets after holding a march on Tuesday.

An alliance of opposition and religious leaders is spearheading the protests against economic decline, alleged government corruption and a long-running jihadist conflict.

Regional efforts to bring an end to the crisis have failed, with the opposition refusing to compromise on their demand that the president resigns.

Mozambique denies responsibility for Beirut blast

Jose Tembe

BBC News, Maputo

Image caption: The ammonium nitrate exploded in a warehouse in Beirut's port, killing more than 200 people

Mozambique's government has finally reacted to reports that the ammonium nitrate which caused a huge deadly explosion in Lebanon earlier this month was on its way to Mozambique.

The Deputy Justice Minister Filimao Suazi confirmed that the chemical was meant to come to Mozambique.

But he denied that anyone in Mozambique was responsible for the explosion, instead pointing the finger at Beirut's port authorities.

The ship, the MV Rhosus, had set out from Batumi, Georgia, in late September 2013, destined for Beira, in Mozambique.

The document acknowledging receipt of cargo lists the customer as the International Bank of Mozambique, acting on behalf of a small Mozambique firm specialising in the manufacture of commercial explosives.

But money troubles meant the ship stopped off at the port in Lebanon's capital Beirut to pick up more cargo to raise funds.

But when the cargo - heavy rollers for building roads - was loaded the ship's deck hatches started to buckle causing a delay.

During this delay, Lebanese authorities intervened.

According to the Lloyd's List intelligence database, the ship was eventually seized on 4 February 2014, due to unpaid bills totalling $100,000 (£130,000).

Some time later - it's not clear when - the ship's dangerous cargo was also removed.

On 4 August 2,750 tonnes of ammonium nitrate stored unsafely in a port warehouse detonated, killing more than 200 people.

Read more: The inferno and the mystery ship

African footballers share mental impact of Covid in Spain

Oluwashina Okeleji

BBC Sport

The top football league in Spain, La Liga, ended in July 338 days after it started thanks to a delay due to the coronavirus pandemic but the affect on the mental health of the league's African footballers country could last longer.

Spain is one of the countries hardest hit by coronavirus. Ice rinks have been turned into morgues, and drive-through funerals have caused heartbreak for many families unable to say goodbye properly.

Nigeria international Ramon Azeez has been in Spanish football since 2011, starting off at Andalusia outfit Almeria CF and taking in a short spell with CD Lugo before moving to Granada in January 2019.

He told the BBC how worried he is about the pandemic:

Quote Message: It hurts to know that families have lost loved ones and some health workers too have sacrificed their own lives to end this pandemic.

Quote Message: It's a big shame to say that money cannot do anything to stop the virus. Because if money could buy anything like they say, then it would put an end to this.

Quote Message: Football, money and fame are worthless where coronavirus is. It's even humbled and grounded those with loads of money."

Former army general launches Uganda presidential bid

Uganda's former army general Henry Tumukunde has launched his presidential bid as a independent candidate.

The general unveiled his promise for "a renewed Uganda" under the slogan "Kisoboka" meaning "it is possible", along with a song:

Mr Tumukunde during the launch said he knew what it would take to win the general election and was organised.

He had on Tuesday said he would launch his bid on international youth day so as to give hope to the future generation.

Mr Tumukunde joins legislator Robert Kyagulanyi popularly known as Bobi Wine in seeking to unseat President Yoweri Museveni.

The general launched his campaign song as seen in this video posted by NTV channel:

Mozambique rebels 'capture key port'

Andrew Harding

BBC News, Johannesburg

Image caption: A threat from Islamist militants has been growing for years in northern Mozambique

After days of heavy fighting in northern Mozimbique, there are reports that rebels, linked to the so-called Islamic State group, have captured a key port.

According to multiple sources, the city of Mocimboa da Praia was seized by Islamist fighters on Tuesday, forcing government troops to flee.

This is a heavy blow for Mozambique's security forces.

Low on ammunition, and facing a large, well-coordinated rebel attack, government troops are reported to have abandoned the port city of Mocimboa da Praia, with many soldiers fleeing by boat.

The question now is whether the rebels will - as they've hinted - try to hold onto this strategic city.

That would mark a new escalation in a shadowy conflict that represents a major threat to Mozambique and to international plans to develop vast off-shore gas fields.

The rebels have formal ties to IS, but are also feeding on local grievances in a long-neglected corner of the country.

Mozambique's neighbours are watching with growing anxiety.

A private security contractor based in South Africa is supplying helicopter support to the army.

But this latest attack appears to show the rebellion is still gaining in strength and sophistication.

Read more:

Nigeria foreign minister recovers from Covid-19

Image caption: Geoffrey Onyeama had tested positive for Covid-19 on 18 July

Nigeria's foreign affairs minister, Geofrey Onyeama, has recovered from Covid-19 after three weeks in isolation.

Mr Onyeama, a member of the presidential task force on Covid-19, contracted the virus last month.

In a tweet, he thanked Nigerians for their prayers and encouragement during his illness.

Mr Onyeama was the first and the only Nigerian minister so far to contract the virus. But a number of senior officials, including several state governors, have tested positive and recovered.

President Muhammadu Buhari's chief of Staff died in April following complications from the virus.

Nigeria has so far recorded 47,290 cases of Covid-19 with 33,609 recoveries and 956 deaths.

Kenyans in Beirut stage demos outside consular office

Kenyans living in Lebanon's capital Beirut have been demonstrating outside the consular office demanding to be flown back home.

Several videos of the demos and photos of the Kenyans sitting outside the office late in the night have been shared online.

The Kenyans, who are mostly women, are believed to be domestic workers who lost their jobs after the explosion,

They can be heard in the videos, like this one from NTV saying they want to go back home.

Kenya's Ambassador to Kuwait Halima Mohamud, who is also responsible for Kenyans in Lebanon, was quoted by Nairobi News website as saying that the stranded Kenyans would be repatriated.

"We have communicated to the Kenyans to register with the consulate and we are already trying to address their issue. Since resumption of flights 30 Kenyans were facilitated back to Kenya in terms of providing them with the relevant documentation by our honorary consul," the website quotes the ambassador as saying.

Army tells Tanzanians to leave forest before raid

Image caption: Once the army has searched in the forest for militants, they will move to Lindi, pictured

The army in Tanzania has asked people living in three forests near the border with Mozambique to leave the area in preparation for an offensive against Islamist militants.

The head of operations said the army would start hunting what he described as criminals in Ruvuma forest, then move on to Mtwara and Lindi.

In May, Tanzania deployed troops in border regions following an upsurge of Islamist attacks in northern Mozambique.

The militants have briefly seized major towns, killed hundreds of people and displaced tens of thousands.

South African coronavirus cases fall dramatically

Nomsa Maseko

BBC News, Johannesburg

Image caption: Handwashing is a key way to reduce the spread of coronavirus

South Africa's new coronavirus infections appear to be stabilising. The number of new infections in the country has fallen dramatically – the lowest since June.

The country's coronavirus recovery rate has increased to 75% - it's highest to date and well above the global average of 62%.

New Covid-19 cases have declined from a peak of around 15,000 daily infections to just over 2,500 in the past 24 hours. There's also been a decrease in coronavirus related fatalities.

The province of Kwa-Zulu Natal has become the latest hotspot, and now has the second highest number of cases in the country. Close to 200 students and staff have tested positive for Covid-19 in different universities in the province.

Lobbyists have called on the government to ease lockdown restrictions as businesses and jobs have come under pressure.

The ban on the sale of alcohol and tobacco products has also been the subject of numerous legal challenges - as both industries want the ban to be lifted.

Read more: Coronavirus and South Africa's toxic relationship with alcohol

Namibia turns down German genocide reparations offer

Namibia's President Hage Geingob has said the offer for reparations made by Germany for mass killings in its then colony was "not acceptable".

German troops killed tens of thousands of Herero and Nama people between 1904 to 1908 in response to an anti-colonial uprising.

It is thought that 75% of the Herero population and half of the Nama population died.

The two countries started negotiations over reparations in 2015 and have so far held eight rounds of talks.

President Geingob was on Tuesday briefed about the negotiations by the Namibian negotiating team led by special envoy Zed Ngavirue.

"The current offer for reparations made by the German Government remains an outstanding issue and is not acceptable to the Namibian Government," the president said in a statement.

No details of the offer were given in the statement, however, The Namibian reports that an offer of 10 million euros ($12m; £9m) was rejected earlier this year.

In June, Germany agreed to apologise in principle but is yet to formally do so.

The Namibian president's statement appears to indicate that wording has been a sticking point.

"While the Namibian Government agreed to negotiate the issue of redress (reparations), which the German Government consistently referred to as 'healing the wounds', Germany has declined to accept the term 'reparations'" it said.

Read more:

Liberian VP flown to Ghana with breathing difficulties

Jonathan Paye-Layleh

BBC News, Monrovia

Image caption: Jewel Howard-Taylor's office denied reports linking her condition to Covid-19

Liberia's Vice-President Jewel Howard-Taylor has been flown to Ghana for treatment after developing "respiratory complications", according to a press statement from her office.

Mrs Taylor left the country on Tuesday afternoon following a four-day stay at a private clinic in the capital, Monrovia.

Doctors at the clinic recommended her transfer after she had been stabilised, her office said.

It denied media reports linking her complications to Covid-19, the respiratory disease caused by coronavirus.

Liberia's weak healthcare system, following a civil war that ended 17 years ago, has seen government officials and the rich routinely travel abroad for medical attention.

The vice-president's transfer to Ghana prompted an avalanche of calls to radio talk shows in Monrovia on Wednesday, with many people expressing frustration over the poor healthcare system.

Mrs Taylor, 56, is an ex-wife of jailed former Liberian President Charles Taylor. She became the vice-president to ex-footballer George Weah in 2018 under a coalition arrangement.

She has often complained of not being treated like the second in command.

Somali-American Ilhan Omar wins Democratic primaries

Somali-American Minnesota Representative Ilhan Omar has won the Democratic primaries in the US.

The outspoken critic of US President Donald Trump fended off primary challenger Antone Melton-Meaux on Tuesday.

The lawyer had raised millions of dollars for his campaign to challenge her.

After her primary victory she tweeted that "organised people will always beat organised money".

Ms Omar is the first Somali-American, first African-born American, and one of the first two Muslim American women to serve in the US Congress.

Read more:

Kenya to 'engage Russia over vaccine'

Health officials in Kenya have said they will engage Russia over its Covid-19 vaccine, radio station Capital FM reports.

This is after Russia became the first country in the world to officially register its vaccine. But experts have raised concerns about the speed of Russia's work, suggesting that researchers might be cutting corners.

"We definitely will plug in and work with Russia to ensure that the vaccine is safe before we use it," health chief administrative secretary Mercy Mwangangi is quoted as telling a media briefing on Tuesday.

She said the Kenyan government will follow protocols through its foreign ministry.

Kenya has so far confirmed 27,425 coronavirus cases.

Cassandra is visually impaired and learning remotely during lockdown in Nigeria has presented several problems.