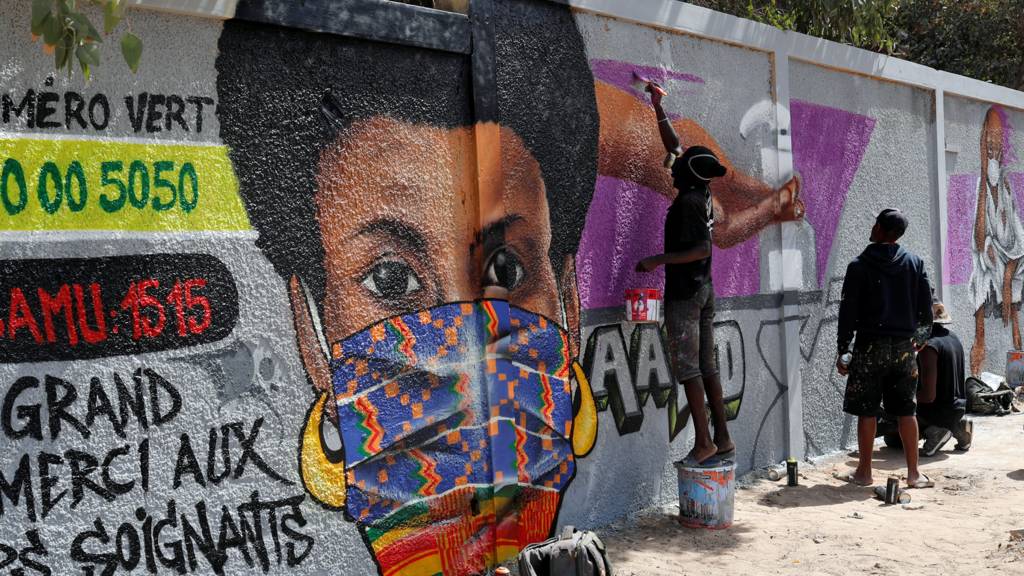 Live
Africa Live: African leaders back WHO head against Trump attacks
This is now an automated until Thursday morning.
Women who have overcome depression are running therapy sessions to help others

By Rachel Schraer

Health reporter

Scroll down for Wednesday's stories

We'll be back on Thursday

That's all from BBC Africa Live for now. There will be an automated service until Thursday morning.

Keep up-to-date with what's happening across the continent by listening to the Africa Today podcast or check the BBC News website.

A reminder of our wise words:

Quote Message: The warrior may be tripped by a maize cob." from A Kikuyu proverb sent by Martin in Nairobi, Kenya

Click here and scroll to the bottom to send us your African proverbs.

And we leave you with you with this photo posted on Instagram of a boxer in Tanzania:

Popular Zambian artist releases Covid-19 song

Kennedy Gondwe

BBC News, Lusaka

Leading Zambian dancehall artist Brian Bwembya, also known as "B'Flow", has joined the list of musicians who have composed songs about coronavirus.

The southern African country has confirmed 39 cases of Covid-19 but there has be no new case in the past six days.

However, 31 patients are still receiving treatment, seven have recovered, and one death has been reported.

In his song Tuleisakamana, meaning "Let's Take Care of Ourselves", B'Flow has featured British High Commissioner to Zambia Nicholas Woolley.

Other popular local musicians such as Maureen Lilanda, Pontiano Kaiche, Wezi Mhone have also released new songs educating people about coronavirus.

Rampahosa backs WHO and Dr Tedros

South Africa's President Cyril Ramaphosa has called the World Health Organization (WHO) and its head Tedros Adhanom Ghebreyesus "exceptional" after they were criticised by US President Donald Trump.

Mr Trump tweeted on Tuesday that the WHO was "very China-centric" yet it is "largely" funded by the US.

He warned that he could stop funding the global health organisation.

Mr Ramaphosa tweeted that the leadership of Dr Tedros, who is from Ethiopia, during the Covid-19 pandemic was "incalculable":

Earlier, AU Commission Chairperson Moussa Faki Mahamat had defended the WHO chief, a position that was backed by Rwandan President Paul Kagame and Namibia's President Hage Geingob.

Read more:

Cycling team to give bikes to SA health workers

Image caption: Qhubeka has been providing bicycles to children across South Africa

Africa's NTT Pro Cycling outfit has said it will provide bicycles to health workers who will be conducting mass testing as part of measures to halt the spread of the coronavirus.

The South-African based team is linked to the charity Qhubeka.

As the South African government plans to test 30,000 people every day, NTT Pro Cycling team leader Douglas Ryder told the BBC's Newsday programme that their donation, through Qhubeka, would help get more people tested.

He said:

Quote Message: We're embarking on a project now to mobilise those people on bicycles so that they can see more people... and do more during this time of the pandemic."

The team has a mission to promote cycling in Africa and has been providing bicycles to schoolchildren across South Africa under the slogan "bicycles change lives".

But it has suspended handing over bicycles to children and is focusing on increasing the mobility of health workers.

South Africa has to date confirmed more than 1,700 cases of coronavirus, the highest in the continent and is in the second week of a three-week-long nationwide lockdown.

Read:

How Chineme Martins was failed by Nigerian football

Image caption: 23-year-old Chineme Martins died after collapsing during a Nigerian league game

One month on from the death of Nigerian footballer Chineme Martins, BBC Sport Africa has analysed the circumstances surrounding the death of the Nasarawa United player.

Suspected of passing away due to a heart-related issue, Martins collapsed and died during a Nigerian league game on 8 March.

The treatment he received in the aftermath was far from what he would have hoped for: with the club's defibrillator out-of-date, no paramedics in attendance as per league rules, and an ambulance that failed to start.

Seychelles to begin 21-day lockdown

Yasine Mohabuth

Port Louis, Mauritius

Copyright: Seychelles State House

Seychelles will from midnight on Wednesday shut down non-essential services and restrict the movements of people for 21 days to prevent the spread of Covid-19.

The announcement comes after a 26-year-old Seychellois man, who works as a ground handling staff at the ' international airport, tested positive for coronavirus on Monday, bringing the nation's total cases to 11.

The airport will remain closed until the end of April while new maritime surveillance will be applied in the island nation, President Danny Faure said in an address on Monday.

The first Seychellois patient who tested positive for Covid-19 on 14 March, and a Dutch woman who tested positive the following day, have rboth ecovered from the disease, the president said.

Seychelles, a country of 96,000 people, is a popular tourist hot spot located off the east coast of Africa.

Weah declares state of emergency in Liberia

Jonathan Paye-Layleh

BBC News, Monrovia

Image caption: Volunteers have set up hand-washing facilities in the capital, Monrovia

Liberia's President, George Weah, has declared that a state of emergency should begin at 11:59pm local time on Friday because of the coronavirus pandemic.

Mr Weah has called for an emergency session of parliament so that MPs can endorse the order that will impose restrictions on movement across the country.

The emergency law will last for three weeks and is renewable "until the threat to Liberia from the Covid-19 virus no longer exists".

"Throughout this period, residents may leave home only for essential journeys like reasons of health and food which should be restricted to your local communities and be limited to a single person per household for a maximum of one hour," the president said.

Mr Weah said he was taking the measure because Covid-19 had "entered a new phase" and it needed to be contained.

Liberia has recorded 14 confirmed cases of Covid-19 with four people dying.

SA hospital shut over Covid-19 fears

Nomsa Maseko

BBC Africa, Johannesburg

Image caption: South Africa is in the second week of a nationwide lockdown

A private hospital in South Africa has been closed to the public after 66 people, 48 of them staff, tested positive for Covid-19, South Africa's Health Minister Dr Zweli Mkhize, has said.

The health ministry had been worried about St Augustine's private hospital in the coastal city of Durban for a number of days now.

It became clear last Friday that there was a cluster of cases associated with the hospital, the ministry said.

At that point, an appeal went out for anyone who had visited the facility since the beginning of March to get tested.

The provincial health minister has suggested that the hospital might not have properly reported the number of Covid-19 cases it was treating, and had failed to properly test for the virus.

All patients in the facility are now being checked for coronavirus.

Those who test negative will be transferred to other hospitals in the area, while those who test positive will be required to stay at the hospital for treatment.The hospital's operator – Netcare – said in a statement that "a deep clean" of the hospital was ongoing.

The statement said that the ideal situation would be for hospitals to test regularly every person coming into the hospital, but sadly that situation was not currently possible.

Risk of violence warning ahead of Burundi poll

Mary Harper

Africa editor, BBC World Service

A new report has warned of the risk of serious violence ahead of Burundi's elections scheduled for next month.

The International Crisis Group (ICG) said the government's collection by force of public contributions toward the poll is increasing tension in the volatile country.

The scheme was meant to end last year, but the ICG says the Imbonerakure youth militia continues to collect money and goods.

It says some of the funds are being embezzled and used to finance the militia.

There has been no word so far from the government.

Burundi has been in crisis since President Pierre Nkurunziza decided to run for a third term in office in 2015.

African poets share 'vulnerable' poem in time of Covid-19

Thirteen poets from across the continent have been recording themselves reading lines from The Passage, a 1962 poem from Nigerian writer Christopher Okigbo, to try and bring the work to a wider audience during coronavirus lockdowns.

The round-robin reading has now been edited together into one video:

The poem begins with the lines:

BEFORE YOU, my mother Idoto,

Naked I stand;

Before your weary presence,

A prodigal

Nigerian writer and poet Lola Shoneyin, who organised the project, is on a mission to "introduce young readers and writers to some of the amazing poets that this continent has produced".

She told the BBC that she chose the poem "because of the sense of vulnerability it evokes".

"A lot of people are feeling vulnerable because Covid-19 is so indiscriminate. People are feeling sober and humble.

"I think the supplication in Okigbo's work, captures the moment perfectly.

"I'd love to see more young people reading Okigbo. They will find hope there too."

The poets who took part in the projects were Wana Udobang, Logan February, Lebo Mashile, Titi Sonuga, Lemn Sisay, TJ Dema, Nii Ayikwei Parkes, Clifton Gachagua, Nick Makoha, Efe Paul Azino, Kayo Chigonyi, Kola Tubosun and Natalia Molebatsi.

African leaders back WHO head against Trump attacks

Rwanda's President Paul Kagame is the latest African leader to defend the World Health Organization (WHO) and its head Dr Tedros Adhanom Ghebreyesus against attacks by US President Donald Trump.

Mr Trump tweeted on Tuesday that the WHO was "very China-centric" yet it is "largely" funded by the US.

He warned that he could stop funding the global health organisation.

Earlier AU Commission Chairperson Moussa Faki Mahamat had defended the Ethiopian WHO chief and Mr Kagame backed this up.

"Totally agree, and asking this: Is it Dr Tedros, WHO, China... under attack or all of them together?":

Namibia's President Hage Geingob also supported Dr Tedros, the first African to head WHO, calling him a "true flag bearer of multi-lateralism when global solidarity has become critical".

WHO warns of 'new front' in Covid-19 battle

Coronavirus has spread exponentially in recent weeks across the continent and the World Health Organization (WHO) is warning of a "new front" in the battle.

Africa has now recorded more than 10,000 cases.

Matshidiso Moeti, the WHO's Africa director, said that "Covid-19 has the potential not only to cause thousands of deaths, but to also unleash economic and social devastation.

"Its spread beyond major cities means the opening of a new front in our fight against this virus."

Lagos lockdown hits homeless citizens

Helen Oyibo

BBC Pidgin, Lagos

Residents of Abule Ado, in Nigeria's commercial capital, Lagos, have been hit hard by the ongoing lockdown after their houses were destroyed in an explosion in March, caused by a lorry hitting some gas cylinders.

The homeless people have had to sleep outside or in crowded houses disregarding advice from the World Health Organization on social distancing to prevent the spread of coronavirus.

Lagos, which has reported the highest number of coronavirus cases in the country, is on a two-week lockdown imposed by President Muhammadu Buhari to reduce its spread.

Peace Dim, a young mother of two whose house was destroyed in the explosion, has been living in a crowded house with other families that were affected.

Social distancing is not an option for her as it is more important for her to have a roof over her children's heads.

"In this house now, we have three married men whose wives are squatting elsewhere, two bachelors, a spinster, including myself, my children and a friend's child. The son of the man who owns the house is also here," she told the BBC.

Joseph Ojukwu was a landlord with six apartments and six shops blocks but now he lives in a friend's house.

"I now sleep on a friend's couch," Mr Ojukwu said..

He was forced to send his wife and children back to the village to avoid overcrowding his friend's house.

There are 254 confirmed cases of Covid-19 in Nigeria and there have been six deaths caused by the virus.

By Ciaran Varley

BBC Sport

How coronavirus inspired a gangland truce

Andrew Harding

BBC Africa correspondent

An unprecedented truce has broken out in the notorious, crime-infested townships around Cape Town, as rival gang leaders stop their turf wars to bring food to households.

With South Africa in the middle of a lockdown, many people in poor communities are struggling to buy the goods that they need.

A virus and a nationwide emergency may have achieved what the police and the army have failed to do here.

Instead of selling drugs and robbing people, rival gangs are bagging up food supplies for hungry families. There is relief here for sure that a ceasefire has taken hold during the lockdown.

But it is hard to tell what people here really think about the men who have terrorised their neighbourhoods for decades - and the authorities are sceptical.

The temporary ceasefire offers the slither of a hope that the virus will bring lasting change to some of the most dangerous streets in the world.

Manslaughter charges for Tunisia Covid-19 spreaders

Image caption: Tunisia has deployed robots on the streets to enforce restrictions on people's movements

The Tunisian authorities have warned that those infected with coronavirus who contaminate others and disobey government measures to halt its spread could be charged with manslaughter.

Interior Minister Hichem Mechichi said the government would strictly apply the law in order to fulfil its responsibility to protect the people.

Tunisia has imposed a night-time curfew and restrictions on movement during the day.

But the authorities say that around 1,000 people have been arrested for breaking the curfew at night and hundreds more for breaching daytime regulations.

The pair discovered the faulty machines at a hospital in Nigeria and taught themselves to fix them.