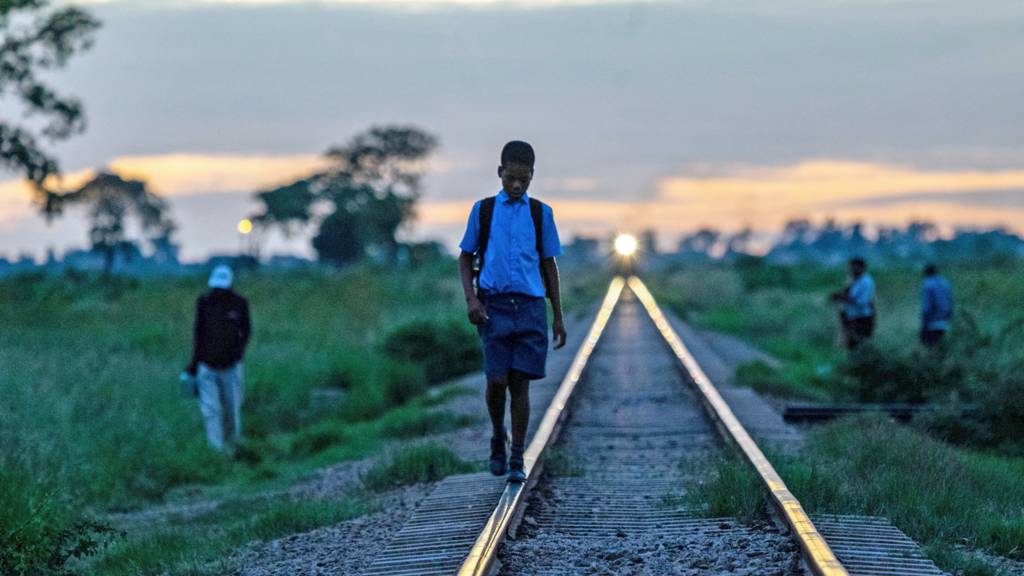 Live
Africa Live: Nigeria closes Chinese-owned shop over coronavirus fears
This page is automated.
Scroll down for Wednesday's stories

We'll be back on Thursday

That's it from the BBC Africa Live team for now. We'll leave you with an automated feed until Thursday morning.

You can keep up-to-date with what's happening across the continent by listening to the Africa Today podcast or checking the BBC News website.

A reminder of our wise words for day:

Quote Message: An old person is medicine." from A Kisii proverb sent by Brian Teri and Enock Masase, both from Kenya

Click here to send in your African proverbs.

And we leave you with a photo of food traders preparing dishes during the nightly food market at Forodhani Gardens in Stone Town in Zanzibar.

Macron accuses Turkey of meddling in Libya

The French President, Emmanuel Macron, has accused his Turkish counterpart, Recep Tayyip Erdogan of breaking a promise to stay out of the conflict in Libya.

Mr Macron said Turkish ships had recently taken Syrian mercenaries there.

He said this breached a commitment President Erdogan gave earlier this month, when Turkey, France, Russia, Egypt and other countries agreed not to meddle in Libya.

The Turks are allied with the country's UN-backed government.

France is among those states seen as supporting the government's rival, the rebel General, Khalifa Haftar.

Read more: Why is Libya so lawless?

Dos Santos linked jeweler goes bankrupt

Image caption: The husband of Isabel dos Santos, Sindika Dokolo (r) became a partner in de Grisogono without using any of his own money, leaked documents show

A Swiss luxury jeweler linked to Angolan businesswoman Isabel dos Santos has filed for bankruptcy.

The Geneva-based de Grisogono, whose main shareholders are Ms Dos Santo's husband, Sindika Dokolo and Sodiam,the trading arm of Angola's state-controlled diamond agency, said that it had failed to get a new owner after months of looking.

"Without the financial support of the current shareholders, and without a buyer, the company's solvency is now in question," the company said in a statement.

De Grisogono was known for hosting famous parties at the Cannes Film Festival.

In revelations made in leaked documents made public on 19 January, Mr Dokolo signed a one-sided agreement in 2012 with Sodiam.

They were supposed to be 50-50 partners in a deal to buy a stake in de Grisogono.

The documents show that 18 months after the deal, Sodiam had put $79m (£61m) into the partnership, while Mr Dokolo had only invested $4m.

Sodiam also awarded him a $5m success fee for brokering the deal, so he didn't have to use any of his own money.

The Angolan government says the diamonds were sold at a knockdown price and sources have told the BBC's Panorama programme that almost $1bn may have been lost.

Ms Dos Santos told the BBC she couldn't comment because she was not a shareholder of de Grisogono.

But the leaked documents show that she is described as a shareholder of de Grisogono by her own financial advisers.

Read more:

The other JLo - the man taking on Africa's richest woman

Fifteen killed in eastern DR Congo

Will Ross

Africa editor, BBC World Service

Officials in the east of the Democratic Republic of Congo say at least 15 people have been killed in an attack by suspected rebels.

The administrator of Beni Donnant Kibwana said the attack happened near the town of Oicha.

Reports from the area say some of the victims were killed with machetes and locals fear the number of dead could exceed 30.

A civil society organisation, the Kivu Security Tracker (KST) - say 265 people have been killed in the Beni region since the end of October when the Congolese military began an operation against an armed group known as the Allied Democratic Forces or ADF.

Rwandans back sanitary pads campaign

Samba Cyuzuzo

BBC Great Lakes

Copyright: I Matter initiative

A campaign to end period poverty in Rwanda has received a boost after receiving a pledge for more than 1,000 sanitary pads following a day-long campaign on Twitter.

The I Matter initiative used the hashtag #FreeThePeriod to highlight the project and engage with supporters.

Some shared pictures of their pledges:

"We had only managed to get to two schools in the north but with a big number of pledgers, we are now hopeful to reach as many girls as we can," Jeannine Kizima told the BBC.

She, along with nine girls and two boys, launched the initiative in September last year to help girls from poor families acquire pads.

In December 2019 Rwanda removed value-added taxes on sanitary products to make it easier to access them.

"Though this is a good move... the pads are still expensive to many poor families across the country, [and] still a risk to health of many girls from poor families," Saidath Murorunkwere, a female activist in Rwanda, told the BBC.

Jane took to bricklaying when life got tough despite men telling her it's not a woman's job.

Aston Villa thanks Tanzanians

Detained Ethiopia activist 'has breast-feeding baby'

The baby of an Ethiopian activist arrested over the weekend is being taken three times a day to the police station to be breastfed, the BBC Afaan Oromoo service has been told.

Chaltu Takele, who was among 75 supporters of the Oromo Liberation Front (OLF) detained, had to leave her six-month-old in the care of her mother.

"Most of the time especially during the night while the baby is crying I am feeding him my own breast, which has no milk," Askale Abdi, Ms Chaltu's mother, told the BBC.

She called for her daughter to be released.

Amnesty International said on Tuesday that the OLF supporters were arrested in different parts of the Oromia region.

The organisation said the arrests sent a "worrying signal and risked undermining the rights to freedom of expression and association ahead of the 2020 elections."

The OLF is among several political groups which were unbanned by reformist Prime Minister Abiy Ahmed when he took office in April 2018.

Ethiopia will hold elections in August.

Nigeria closes shop over coronavirus seafood fears

Mayeni Jones

BBC News, Lagos

The consumer protection agency in Nigeria says it has closed down a Chinese-owned supermarket selling "illegally imported seafood and meat" in the capital, Abuja, over ongoing fears about the spread of coronavirus.

The Federal Competition and Consumer Protection Commission (FCCPC) said they made the discovery during a "surprise" inspection.

The agency said that many of the products it found in the supermarket had irregular or expired dates.

The FCCPC tweeted photos of the operation:

The goods were reportedly stored in a hidden area of the supermarket.

The new coronavirus is believed to have emerged from illegally traded wildlife at a seafood market in China's Wuhan city.

By Mark Gleeson

Football Writer, South Africa

'Spirit of dead Finnish Osprey worries Kenyan elders'

Elders from Kenya's Luo ethnic group have reportedly asked the government to allow them to bury the remains of a migratory Osprey bird from Finland that died on Monday, Citizen news site reports.

The bird was rescued from a fishing net last week in Siaya county in western Kenya.

Kenyan wildlife authorities said despite their best efforts to save the bird, it died due to systemic organ failure caused by starvation.

The Luo elders said they wanted to conduct appeasement rituals to fend off bad omens that may befall the community because of the death, Citizen reports.

They also urged the government to initiate talks with the Finnish government "to have more Ospreys come into Kenya" saying that the region has an ideal bird sanctuary.

It is unclear how the Finnish authorities would be able to honour the request and whether the Ospreys would be interested in taking up the offer.

The tagged bird had flown 6,948km (4,317 miles) from Finland to Kenya, a long way off the birds usual migratory route which is usually West Africa, but some are known to have ventured as far as South Africa.

Test your knowledge of Nigerian English

Earlier this month, 29 Nigerian-English words were added to the Oxford English Dictionary for the first time.

When Kọ́lá Túbọ̀sún, a Nigerian writer and linguist who has worked as a consultant for the dictionary, tweeted about the announcement, his post went viral.

Reactions were mostly positive, such as "we have arrived. Nigeria to the world", he told BBC Newsay's Alan Kasujja.

Mr Túbọ̀sún said the role of a dictionary was to describe how a language changes and is used - it is a record of the language - rather than telling people how to use it.

But such views upset some of his countrymen, especially "people who have assumed that English was this great, grand, pure, inviolate being.

"Now we are being told that if we so-call bastardise enough, what we have done will become accepted", he said.

One of his favourite inclusions are:

Next tomorrow: The day after tomorrow

Buka: A roadside restaurant or street stall with a seating area, selling cooked food at low prices
Ember months: The final four months of the calendar year (September to December), especially considered together as a period of heightened or intense activity.

Listen to his full interview about how Nigerians are making a unique contribution to English as a global language:

And click here to see all 29 Nigerian-English words now in the dictionary.

Dozens killed by Lassa fever in Nigeria

Will Ross

Africa editor, BBC World Service

Copyright: Science Photo Library

Image caption: Multimammate rodents spread Lassa virus via their urine and droppings

The authorities in Nigeria say an outbreak of Lassa fever has killed 41 people since the beginning of the month.

Nigeria's Centre For Disease Control says there have been more than 250 cases of Lassa fever, which belongs to the same family as the Ebola and Marburg viruses but is far less deadly.

Around 170 died during an outbreak last year.

Lassa is spread by contact with rat faeces or urine and is endemic in Nigeria.

At the weekend the authorities said they had activated a national emergency operations centre to co-ordinate the response to the increasing number of cases across the country.

How smuggled arms fuel Nigeria's farmer-herder clashes

Mayeni Jones

BBC News, Lagos

Image caption: Weapons are frequently used in clashes between farmers and herdsmen

A major field study has uncovered that weapons used in inter-communal violence in three states in northern Nigeria originate in countries including Libya, Turkey and Ivory Coast.

Over three years, investigators from the Conflict Armament Research examined hundreds of weapons and ammunition in Kaduna, Katsina and Zamfara, where there are frequently clashes between farmers and semi-nomadic herdsmen.

They found weapons manufactured in Turkey and linked to an unnamed trafficking network.

They also discovered assault rifles from Iraq similar to those used by Islamist groups operating in the Sahel.

Some had originally come from state stockpiles across the region.

The similarity in the weapons suggests a common source, but the organisation was keen to stress this did not mean herding communities in Nigeria were linked to terror groups.

Clashes over land have plagued Nigeria's central and northern states for decades.

In 2018 the International Crisis Group said the conflict had been six times deadlier than the Boko Haram insurgency.

Mozambique suspends visas for travellers from China

Jose Tembe

BBC Africa, Maputo

The Mozambican government has suspended issuing visas upon arrival to travellers from China in order curb the spread of coronavirus.

The decision was taken at cabinet meeting held on Tuesday.

Minister of Justice Helena Kida said the measure was temporary.

Mozambican students studying in China have requested to be evacuated from the country until the outbreak of the deadly virus is controlled.

It is unclear whether they will be allowed back in the country.

There are several suspected coronavirus cases that have been reported in Kenya, Ethiopia and Ivory Coast.

Coronavirus: 'No plans to evacuate Kenyans from China'

Kenya's ambassador to China has said the government has no plan to evacuate citizens in China's city of Wuhan - the epicentre of the coronavirus outbreak.

"The option for evacuation should not be an immediate concern for now," Sarah Serem, who is back in Kenya, told a local TV station.

Other countries have been making plans to evacuate their citizens from Wuhan, but Ms Serem said China was in a better position to deal with the virus, the Star newspaper reports.

There are several suspected coronavirus cases in Africa:

Kenya: A student, who had been studying in Wuhan, is quarantined at a hospital in the capital, Nairobi, after arriving in the country on Tuesday. The results of tests to determine whether he is infected with coronavirus will be known by the end of Wednesday.
Ethiopia: Four Ethiopians, among them three students who had been in Wuhan, are in isolation at a hospital in the capital, Addis Ababa. The junior health minister tweeted on Tuesday that initial results tested negative, but blood samples had been sent to South Africa to confirm the results.
Ivory Coast: A student, who returned Ivory Coast from Beijing on Saturday, is undergoing further tests after showing flu-like symptoms.

Buhari 'taken aback' by rising Boko Haram threat

Image caption: President Buhari has ordered air strikes against bandits, kidnappers and cattle rustlers in the north region

Nigeria's President Muhammadu Buhari has said he is surprised by the rising threat of the Islamist militant group Boko Haram in the northern regions of the country.

"I was taken aback by what is happening in the north-west and other parts of the country. During our campaigns, we knew about the Boko Haram. What is coming now is surprising. It is not ethnicity or religion, rather it is one evil plan against the country," Mr Buhari is quoted as saying by the Vanguard site.

He told a visiting delegation from Niger state that the government would enhance its crackdown on the group.

"We have to be harder on them. One of the responsibilities of government is to provide security. If we don't secure the country, we will not be able to manage the economy properly," the Punch newspaper quoted Mr Buhari as saying.

On Monday he ordered air strikes against bandits, kidnappers and cattle rustlers in forested areas bordering Niger, Kaduna and Zamfara states.

Over the weekend, gunmen killed 11 people and kidnapped four women during door-to-door attacks in Niger state, reported Sahara Reporters and The Daily Sun.