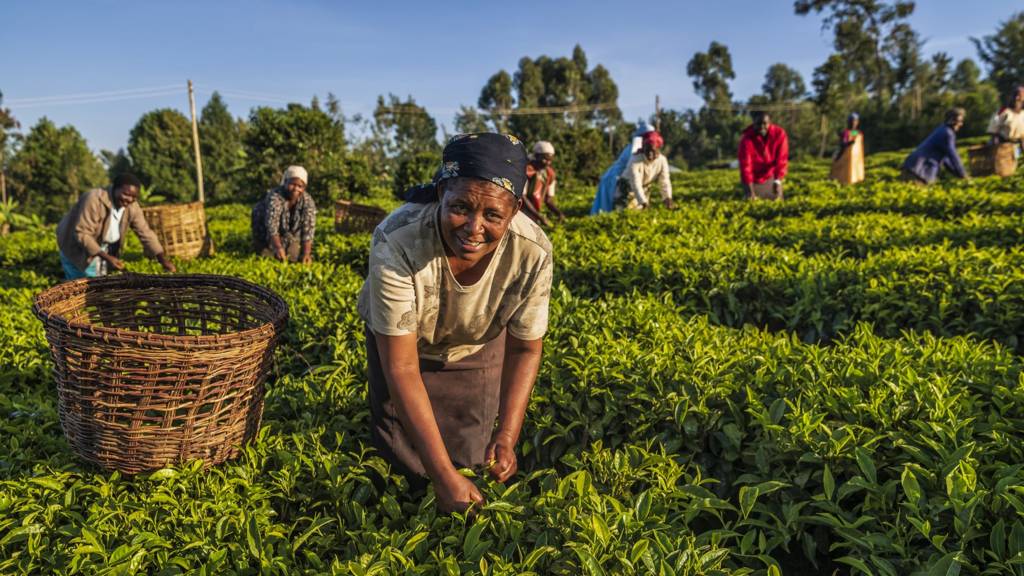 Live
Africa Live: Amnesty cites 'war crimes' in Mozambique
Nigerian schoolgirls release: Calls for transparency over hostage negotiations

The authorities have not said whether a ransom was paid for the release but observers say it is unlikely that the gunmen would release their victims without some sort of exchange.

By Piers Edwards

BBC Sport Africa

Scroll down for Tuesday's stories

We'll be back on Wednesday

That's all from BBC Africa Live for now. Keep up-to-date with what's happening across the continent by listening to the Africa Today podcast or checking the BBC News website.

A reminder of today's wise words:

Quote Message: Instead of hunting together, the lion and the tiger should go after their prey separately." from A Yoruba proverb sent by Oseni Taiwo Afisi and Komolafe Adeoluwa Johnson, both from Nigeria

Click here to send us your African proverbs.

And we leave you with this picture from Kidepo Valley National Park in Uganda:

US urges Ethiopia to allow Tigray investigation

Mary Harper

Africa editor, BBC World Service

Image caption: The conflict is between Tigrayan regional forces and federal troops

The US Secretary of State Antony Blinken has urged Ethiopia to allow an international investigation into alleged atrocities in the northern region of Tigray.

In a phone call with Prime Minister Abiy Ahmed, Mr Blinken called for an immediate end to hostilities and the withdrawal of outside forces from Tigray, including Eritrean troops and Amhara regional security forces.

Ethiopia last week criticised a US statement on the war, saying it was an internal matter.

Thousands of people have been killed and hundreds of thousands displaced in the conflict between Tigrayan regional forces and federal troops and their allies.

US calls for inquiry of Cameroon 'revenge rapes'

Killian Ngala

BBC News, Yaoundé

Image caption: Cameroonian soldiers have been fighting separatists for several years

The US embassy in Cameroon has called for an investigation into a military raid of a village last year in which soldiers have been accused of raping at least 20 people.

The details of the attack only came to light after Human Rights Watch (HRW) released a report on 26 February.

It had gone largely unreported because of stigma and fear of reprisal which discourages survivors of sexual violence from speaking out, HRW said, adding that there had been no effective investigation.

The Human Rights Watch report describes more than 50 soldiers raiding the village in the South-West region on 1 March 2020.

Some soldiers reportedly rounded up men in the village centre while others attacked women in their homes.

Image caption: People in the South-West region speak English unlike the majority of Cameroon

The village is in an English-speaking part of the country, an area where separatists are fighting for an independent state of Ambazonia,

Anglophone activists say the country's French-speaking majority is marginalising the English-speaking minority.

The secessionist violence in the English-speaking regions of North-West and South-West Cameroon has claimed more 3,500 lives since late 2016, HRW estimates.

Both the separatists and government troops have been accused of human rights abuses.

You may also be interested in:

Learning how people suppress the virus naturally could lead to new treatments, Mary Rodgers says.

"It is like I was born just now," one father tells reporters, after he learns his daughter is free.

DR Congo findings raise hopes of HIV cure

Rhoda Odhiambo

BBC health reporter, Nairobi

A new study published in eBioMedicine, part of the medical journal The Lancet, has found that about 4% of people who had HIV in the Democratic Republic of Congo were naturally able to suppress the virus without taking medication.

It has raised the hopes of finding better ways to control HIV, which disproportionally affects women in sub-Saharan Africa.

A lead scientist, Dr Mary Rodgers, told the BBC the group was the biggest detected in one country.

She said understanding how it was able to maintain low or undetectable viral loads would be crucial to controlling the epidemic, but more research was needed.

UN 'outraged' by Nigeria militant attack on hospital

Mary Harper

Africa editor, BBC World Service

The United Nations says suspected Islamists have attacked humanitarian facilities in north-eastern Nigeria.

The UN said it was outraged that a hospital and the premises of several aid agencies had been set on fire or otherwise damaged.

It said the attack would affect nearly 100,000 people who rely on humanitarian assistance.

It is suspected that the West African branch of the Islamic State group carried out the assault.

CPJ criticises arrest of BBC journalist in Ethiopia

Image caption: Girmay Gebru works for BBC Tigrinya

The Committee to Protect Journalists (CPJ) has accused the Ethiopian government of trying to intimidate journalists following the recent arrests of at least four reporters covering the conflict in the northern state of Tigray.

The BBC's Girmay Gebru was arrested on Monday and is reported to have been taken to a military camp.

The CPJ said there was real concern for the safety of those being held with no access to their families or legal counsel.

It said the detentions were intended to send a message to journalists trying to report on difficult stories.

Interpreters working for the French News Agency and the Financial Times have been arrested, as has a local journalist.

Covax to send 200m doses to 142 nations by May - WHO

Copyright: Chris Ewokor/BBC

Image caption: A shipment of nearly four million vaccines has just arrived in Nigeria

The head of the World Health Organization (WHO), Tedros Adhanom Ghebreyesus, has said more than 200 million doses of AstraZeneca vaccine are expected to be sent to 142 countries by the end of May.

They will be delivered under the Covax scheme which provides poorer countries with free inoculations.

A shipment of nearly four million coronavirus vaccines has arrived in Nigeria - the third West African country to receive Covax shots after Ghana and Ivory Coast where vaccination campaigns have now begun.

Dr Tedros said vaccine deliveries were also planned on Tuesday to Angola, Cambodia and the Democratic Republic of Congo.

Nigeria's ransom controversy

Analysis

Ishaq Khalid

BBC News, Abuja

Image caption: The girls were reportedly made to walk a long distance into the forest after their kidnapping

The release of the Nigerian schoolgirls is a huge relief after what President Muhammadu Buhari described as their "agonising" ordeal - they were reportedly made to walk a long distance into the forest after their kidnapping on Friday.

This is the third mass kidnapping of schoolchildren since December. It is believed that schools have started to be targeted as such abductions attract a lot of attention - putting more pressure on the authorities to negotiate with the armed criminal group responsible.

The authorities rarely admit to paying ransoms - but some observers say it is unlikely that the gunmen would release their victims without some sort of exchange, either of money or the release of their members who are in jail.

Besides, kidnapping for ransom is a widespread criminal enterprise across the country - people are seized by gunmen on an almost a daily basis - with both the rich and the poor falling victims. Security personnel have been held too. People often speak of how they have managed to secure someone's release by raising funds from friends and relatives - or even selling their assets.

But ransom payments are controversial. It may save someone's life, yet some observers say paying ransom only fuels the problem. President Buhari agrees, saying today ''ransom payments will continue to prosper kidnapping''.

He has repeatedly said his government will not negotiate with the armed criminal gangs. But many believe the failure of his administration and those at the state level to provide security is to blame. There are growing calls for the authorities to provide security for thousands of schools across the country - many of which are unfenced and do not have adequate security guards.

Ghana begins vaccine rollout in Covid hotspot

Thomas Naadi

BBC News, Accra

Ghana has started a mass rollout of the 600,000 Oxford-AstraZeneca vaccine doses it received last week.

The vaccination drive is taking place in 43 districts, mostly in southern Ghana where a high number of Covid-19 cases have been recorded.

Priority is being given to frontline health workers, those with underlying health conditions and those aged over 60 years old.

Pregnant women and children will not be vaccinated, as authorities say they do not yet have enough data on possible side effects for these groups.

The country's parliament, which was shut after 17 MPs tested positive for the virus, resumes on Tuesday and MPs are expected to get the jabs.

There is still a lot of scepticism even after President Nana Akufo-Addo received the vaccine on live television on Monday.

About 20 million people are expected to be inoculated across the country before the year ends.

The authorities have also approved the use of Russia's Sputnik V vaccine.

Ghana received the vaccine through the Covax scheme, which hopes to deliver more than two billion doses to people in 190 countries in less than a year.

First batch of Covax vaccines arrive in Nigeria

Copyright: Chris Ewokor/BBC

Image caption: The media was out in force to film the arrival the vaccines

The first batch of about four million doses of the Oxford-AstraZeneca vaccine has arrived in Nigeria.

The stocks were procured through Covax, a UN-backed programme that is trying to ensure Covid-19 vaccines are shared fairly among all countries.

Nigeria is expecting a total of 16 million doses of the vaccine that will be delivered in batches over months.

Zanzibar's new vice-president sworn in

The new vice-president of Tanzania's semi-autonomous islands of Zanzibar has been sworn in less than two weeks after his predecessor died.

Othman Masoud Othman Sharif replaces Seif Sharif Hamad who died on 17 February, aged 77.

No official reason has been given for his death but it came nearly three weeks after his party said he had contracted Covid-19.

Mr Masoud has previously served in senior positions in Zanzibar government, including as attorney-general.

His swearing-in ceremony at State House in Zanzibar was posted on YouTube:

Churchill's Moroccan art sells for record price

Image caption: Winston Churchill painted this picture of a mosque in Morocco

A painting by the British wartime leader Winston Churchill has sold at auction for $11.6m (£8.4m) - a record price for his work.

Churchill painted Tower of the Koutoubia Mosque in Morocco in 1943 and later gave to the US president Franklin Roosevelt.

It is thought to be the only painting he completed during the Second World War.

The two leaders were in Morocco for the Casablanca Conference, where they planned the defeat of Nazi Germany and the liberation of Western Europe.

Read more: Angelina Jolie sells Winston Churchill painting for record £7m

South Sudanese military generals die of Covid-19

Nichola Mandil

BBC News, Juba

Image caption: Soldiers have been urged to adhere to public health measures

The South Sudanese military has announced the death of three generals who died after becoming ill with Covid-19.

It identified the three as David Manyot Barach, Elijah Alier Ayom and Mabior Maket.

Burials would be organised by a committee in collaboration with the families of the deceased, the military said.

Chief of Defence Forces Gen Johnson Juma Okot has urged all soldiers to adhere to Covid-19 safety measures, according to the military spokesman Brig Gen Santo Domic Chol.

Over the last two weeks, two prominent scholars at the University of Juba have also died after contracting coronavirus - bringing the number of deaths from the pandemic to 95.

In total, 8,144 coronavirus cases have been confirmed in the world's newest nation.

The Ministry of Health and the World Health Organization (WHO) say South Sudan is witnessing a surge in cases because of poor adherence to safety measures like social distancing and the wearing of face masks.

Amnesty says 'war crimes' committed in Mozambique

BBC Monitoring

The world through its media

Image caption: Mozambique has been battling an insurgency since October 2017

Amnesty International has published a report accusing Mozambique's army, private military contractors and militants operating in the northern Cabo Delgado province of committing war crimes.

"All three have committed war crimes, causing the deaths of hundreds of civilians," said Deprose Muchena, Amnesty International's regional director for east and southern Africa.

"The international community has failed to address this crisis as it has escalated into full-blown armed conflict over the last three years."

The watchdog urged all parties to immediately stop targeting civilians and called on the Mozambican government to investigate the abuses.

Last year, several videos emerged showing alleged soldiers carrying out abuses against suspected militants and residents during counterinsurgency operations in Cabo Delgado.

Mozambique has been battling an insurgency since October 2017 in which more than 2,300 people have been killed and over 600,000 others have been forced from their homes.

Hollywood star celebrates African prints with gown

Hollywood star Viola Davis' gown for the Golden Globes awards showcased the work of Cameroon-born designer Claude Kameni.

Davis wore the attire during a virtual appearance at the awards from her home. It was made with fabric from Cameroon.

The US actress was nominated in the category of Best Actress in a Motion Picture - Drama for her role in Ma Rainey's Black Bottom.

She is on a mission to popularise the prints of Africa, according to British Vogue magazine.

"Viola wanted a designer who spoke to her specifically as a black woman," stylist Elizabeth Stewart, who has worked with the actress, is quoted as saying.