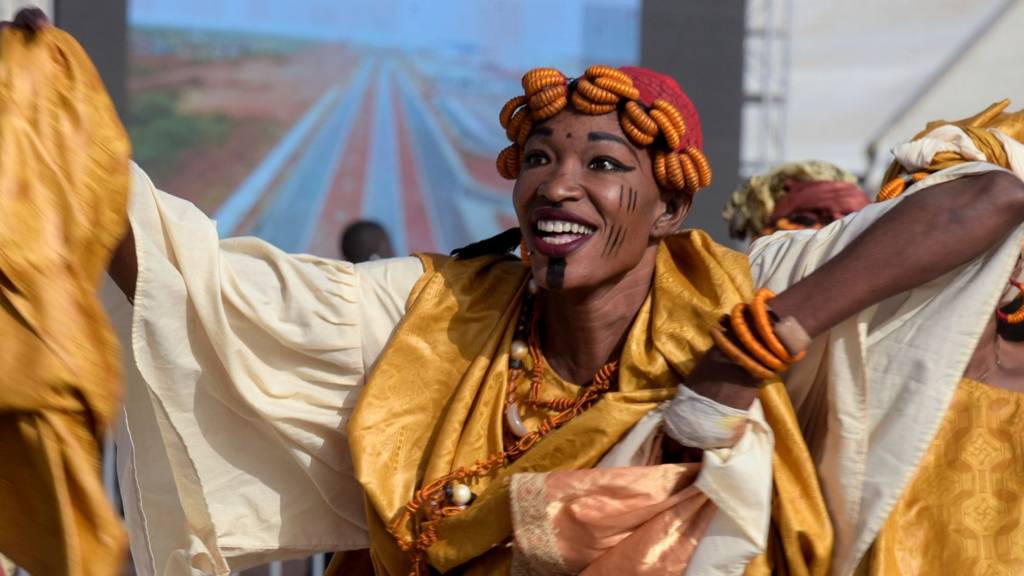 Live
Africa Live: Guinea opposition leaders jailed over protests
This is an automated feed overnight and at weekends.
Scroll down for Tuesday's stories

We'll be back tomorrow

That's all from BBC Africa Live for now but there will be an automated service until Wednesday morning.

You can also catch up on African news by listening to our Africa Today podcast.

Here's a reminder of our wise words of the day:

Quote Message: When the owner of the house is away, the frogs leap all over the place." from A Luganda proverb sent by Sharon Arinaitwe in Mbarara, Uganda

And we leave you with this image from Accra-based Gallery 1957 advertising its presence at the forthcoming Art X Lagos show with a painting by Prof Ablade Glover:

Fastjet struggles with competition in Mozambique

Jose Tembe

BBC Africa, Maputo

The UK-based budget airline Fastjet has announced that it is suspending flights on its Mozambican domestic routes from this coming Saturday because of a fall in revenue.

Fastjet is also facing competition from Ethiopian Airlines, whose subsidiary Ethiopian Mozambique Airlines is now operating flights on several of the country's main domestic routes.In a statement Fastjet said that the competition in Mozambique began to intensify at the end of 2018 when Ethiopian Airlines entered the domestic market. It said the competition has led to a fall in its revenue from its Mozambique operations in the first half of 2019 from $4.9m (£3.8m) a year ago to $1.9m.

Mark Hurst, Fastjet interim chief executive officer, said suspending services in Mozambique was the right course of action.

SA passengers stranded after spot safety checks

Milton Nkosi

BBC Africa, Johannesburg

Passengers have been left stranded at airports around South Africa following safety spot checks by the aviation regulator (CAA) that left several aeroplanes grounded.

Both Comair, the company operating low-cost airline kulula.com, and British Airways in South Africa issued a notice to its passengers.

It said the grounding "related to irregular findings picked up during a recent audit of our maintenance and technical service provider, South African Airways Technical".

State-owned South African Airways (SAA) also had some of its planes delayed or cancelled.

Passengers at the country's busiest airport, Johannesburg's OR Tambo International, voiced their unhappiness about the lack of communication.

Many were anxiously standing in queues as they waited to check in their luggage amid long delays.

SAA's spokesman Tlali Tlali said it was a precautionary measure.

Transport Minister Fikile Mbalula told journalists that there was no crisis.

"We are pleased that SAA technical has submitted a corrective action plan and it was accepted," he said.

"The safety of our people is paramount and we want to ensure that our airlines meet the safety standards."

New Liberia deputy minister threatened to 'kill' protesters

Jonathan Paye-Layleh

BBC Africa, Monrovia

Liberia's President George Weah has appointed as deputy defence minister a man who had previously threatened to "kill" people who tried to loot his property during protests against the president.

A few days before his appointment, Tarplah Z Davis went on Facebook and hit out at organisers of anti-Weah protests. He especially targeted the US-based leader, controversial radio talk show host Henry Costa.

"The symbol of everything that I have worked for personally is in Liberia. And I told people, anybody tries my property, I will kill them.

"I have said it and will continue to say it openly," the privately-owned Front Page Africa newspaper, which has been following the controversy, quoted the man as saying during a Facebook broadcast.

Radio stations in the capital, Monrovia, have been playing the man's comments repeatedly.

Image caption: Liberia has been hit by a wave of protests in recent months

The Weah government has been confronted by a wave of unprecedented protests in recent months. The largest, dubbed Save the State, was organised on 7 June by a pressure group called Council of Patriots.

The group has announced it is organising another demonstration on 30 December, "this time to call on George Weah to step down and leave", Mr Costa said.

Mr Davis was named to the position over the weekend but his critics have called on the Senate to reject his nomination.

Amnesty 'has evidence of potential war crimes' in Libya

Rana Jawad

BBC North Africa correspondent

Image caption: Fighting around the capital, Tripoli, began in April

A new investigation in Libya by rights group Amnesty International has found evidence of what it calls "potential war crimes" committed by the different sides fighting in Libya.

The armed forces of the Libyan government in Tripoli and their rivals from the self-proclaimed Libyan National Army headed by Gen Khalifa Haftar have been fighting in and around the Libyan capital, Tripoli, since April.

The conflict started after an attack was launched by forces loyal to Gen Haftar in a bid to control the capital.

Amnesty International says its team's investigation included an examination of 33 strikes and their impact in and around Tripoli, which "revealed a systematic disregard for international law".

The international watchdog cited several examples of civilians indiscriminately killed by ground rockets and artillery on the streets of densely populated areas by both warring parties.

Gen Haftar's forces have also targeted the capital's only functioning airport several times, forcing it to shut down.

Amnesty International also criticised government forces for sometimes using "field hospitals and medical facilities for military purposes" which exposed medical workers to deadly attacks by their rivals.

Neither side has responded to the claims in this new report.

Read more:

Pilot study reduces lead levels in gold ore

Image caption: Gold ore can contain high levels of lead

A new study has found that a pilot programme to introduce safer practices in Nigerian gold mines has reduced the levels of lead in the blood of artisanal mining communities by about a third.

Hundreds of people, mainly children, have died after being poisoned by the high levels of lead in the gold ore.

The pilot project, conducted by Médecins Sans Frontières and Occupational Knowledge International, involved spraying water at ore processing sites to reduce the amount of lead in the air.

Miners were also trained to reduce exposure by eating in areas away from the mines, changing clothes and washing themselves after work.

Facebook to label 'fake news'

Richard Kagoe

BBC Africa, Nairobi

Facebook has announced new measures aimed at fighting the spread of misinformation on its platform.

In a statement, the social media giant said it will now prominently label content rated false by third-party fact checkers on Facebook and Instagram.

Facebook recently expanded its fact-checking programme to 10 new countries across Sub-Saharan Africa: Ethiopia, Zambia, Somalia, Burkina Faso, Uganda, Tanzania, Democratic Republic of Congo, Ivory Coast, Guinea and Ghana.

Head of Policy for Africa Kojo Boakye said the programme will be implemented through its partners such as Africa Check, Pesa Check, Dubawa, France 24 and AFP Fact Check in a bid to control the flow of misinformation on its platforms.

He said:

Quote Message: Taking steps to help tackle false news on Facebook is a responsibility we take seriously, we know misinformation is a problem, and these are important steps in continuing to address this issue.

Quote Message: We know that third-party fact-checking alone is not the solution, it is one of many initiatives and programmes we are investing in to help to improve the quality of information people see on Facebook. While we've made great progress, we will keep investing to ensure Facebook remains a place for all ideas, but not for the spread of false news."

For the latest news and views about the fight against misinformation and disinformation watch the BBC's Factfinder programme.

Drought 'displaces 300,000 in Somalia'

An aid group says conflict and drought in Somalia have forced nearly a third of a million people to flee their homes so far this year.

The Norwegian Refugee Council said insecurity was making it virtually impossible for aid workers to provide relief in rural areas, causing people to move to overcrowded camps in urban areas.

Southern Somalia has had its worst seasonal harvest in 24 years and has been affected by drought since 2015.

The country has been affected by conflict for more than 30 years.

Guinea opposition leaders jailed over protests

Image caption: Protesters erected barricades in the capital, Conakry

Five leaders of a Guinean opposition alliance have been sentenced in connection with a series of protests that hit the country last week.

Abdourahamane Sanoh, the leader of the National Front for the Defence of the Constitution (FNDC), was sentenced to a year in prison, four other leaders were given six-month sentences and two were acquitted.

They had been accused of insurrection and disturbing the public peace.

The defence lawyers of those sentenced have said they will appeal against the judgement.

The demonstrations were called over the possibility of President Alpha Conde running for a third term.

But the authorities did not approve the protests and at least 10 people died in violence as police clashed with demonstrators.

The government said it strongly condemned and regretted the violence.

Protesting Ugandan students storm police station

Students from Uganda's Makerere University have stormed a police station in the capital, Kampala, to demand the release of their 15 colleagues who were arrested while protesting against a hike in tuition fees approved last year.

The 15 female students were arrested on Monday as they attempted to march to the office of President Yoweri Museveni to ask for his intervention in the dispute, the Daily Monitor newspaper reports.

Pictures posted on Twitter show the students being intercepted outside the university's gate by a combined force of army and police personnel.

They were taken to Wandegeya police station pending investigations, the newspaper reports

Their colleagues stormed the police station on Tuesday to demand for their release.

The 15%fee increase was approved by the university's council. The hike will apply for the next five years after which each student will be required to pay 75% more.

Cameroon soldiers plead not guilty to filmed killings

Seven soldiers accused of killing women and children in the far north of Cameroon have pleaded not guilty at a military tribunal, one of the defence lawyers have told the BBC.

The killings were caught on camera and the soldiers were arrested following a BBC Africa Eye investigation.The seven men have been charged with participation in murder, breach of regulations and conspiracy.

The killings took place in 2015 in Zeleved, in Cameroon's Far North region where troops have been deployed to fight Boko Haram insurgents. The video that went viral in 2018 showed soldiers executing two women, a little girl and a baby.

After initially dismissing the video, the authorities eventually arrested the seven soldiers and have taken them to court.

The defence has asked that the hearing be held in camera. The trial has now been adjourned and the judge will rule on the request on 4 November.

Abiy Ahmed: No force can stop Ethiopia building dam

Kalkidan Yibeltal

BBC Amharic, Addis Ababa

Image caption: The authorities say that Ethiopia's Renaissance Dam is nearly two-thirds complete

Ethiopia's Prime Minster Abiy Ahmed has said that "no force can stop Ethiopia from building a dam" on the River Nile despite objections from Egypt about the possible impact downstream.

"That should be underlined," he added while addressing parliamentarians in Addis Ababa.

The Grand Ethiopian Renaissance Dam, under construction on the Blue Nile tributary in northern Ethiopia, will create Africa's largest hydroelectric power station.

But with 85% of the Nile emerging from the Ethiopian highlands, Egypt is concerned Ethiopia has the capability to control the flow of the river.

The project has been the source of political tension between the two countries and Egypt's President Abdel Fattah al-Sisi said he would talk to Mr Abiy about the issue at the Russia-Africa summit that begins on Wednesday.

But Ethiopia's prime minister was clear that nothing would stop the dam, which is now nearly two-thirds complete, from being finished.

"The people of Ethiopia have no desire to harm the people of Egypt, they only need to get benefit [from the dam]," he told MPs during a question and answer session.

"The Ethiopian government has no dream whatsoever to cause harm on the interests of Egypt or Sudan."

Ethiopia hopes that the dam can start generating power by 2021 at the latest.

Read more about the dam:

UK to resume flights to Sharm el-Sheikh

Image caption: Sharm el-Sheikh attracted hundreds of thousands of UK visitors each year

Direct flights from the UK to Sharm el-Sheikh are to resume after the British government ended a ban imposed in 2015.

Flights to the Egyptian resort were stopped after the bombing of a Russian airliner linked to the Islamic State group, which killed 224 people.

Egyptian officials have since admitted the airport fell well short of international security standards.

The UK's Department for Transport said there had been improvements in security procedures.

Deloitte taken to court in South Africa over $14m fee

Andrew Harding

BBC News, Johannesburg

South Africa is targeting the giant consulting firm Deloitte, as it seeks to reclaim money allegedly lost to corruption over the past decade.

The state-owned power company Eskom has gone to court to demand Deloitte pay back $14m (£10m) that it says was improperly awarded.

Eskom alleges Deloitte charged five times more than its competitors for work done back in 2016.

The company is struggling to repair the damage caused by a giant corruption scandal known in South Africa as "state capture".

Deloitte insists it did nothing wrong and will fight the claim in court.

Image caption: South Africa's state-owned power company Eskom has been caught up in the "state capture" allegations

But it is not the first giant multi-national company to get caught up in South Africa's "state capture" scandal.

McKinsey, Bain, SAP and KPMG have also been accused of working with corrupt local officials. They have denied wrongdoing. But several have already paid money back.

South Africa's former President Jacob Zuma was kicked out of office in 2017 for allegedly presiding over the scandal. His successor is now trying to restore trust in Eskom and other key state institutions.

But a string of recent power cuts has underlined the scale of the task ahead, and the extraordinary damage done to South Africa's economy, and its young democracy, by years of systematic corruption.

Nigeria charges two Britons over money laundering

Mayeni Jones

BBC News, Lagos

The Nigerian anti-fraud office, the Economic and Financial Crimes Commission (EFCC), has charged two British citizens with 16 counts of money laundering.

The authorities say James Richard Nolan and Adam Quinn are directors of the firm Process and Industrial Developments (P&ID).

The company won an arbitration award against the Nigerian government over a gas project that failed which is now worth $9bn (£7bn)

A lawyer representing Mr Nolan and Mr Quinn entered a not guilty plea to the money laundering charges put forward by the EFCC.

Mr Quinn is at large but Mr Nolan has been remanded in prison until his application for bail is considered.

In a statement, the EFCC said P&ID had failed to report a deposit of $125,000 in a local account.

The agency also says the company did not declare its activities in Nigeria to the trade ministry.

This is the latest development in a protracted battle between the British Virgin Islands-based firm and the Nigerian government, over an aborted gas deal dating back to 2010.

P&ID claims the failure of successive administrations to deliver their end of the deal, led it to suffer massive losses.

The Nigerian government says the deal was designed to fail and that the arbitration award was unfair.

African refugees plead for 'way out of South Africa'

A group of African refugees who have camped outside the UNHCR offices in South Africa's administrative capital of Pretoria, for the past three weeks, are pleading with the agency to "take them out" of the country.

They say they have been targets of xenophobia attacks.

One of them identified by a local news site as Alex Nkoy said the group is composed of citizens of Burundi, Democratic Republic of Congo, Ethiopia, Eritrea, Sudan, Rwanda and Ivory Coast.

Mr Nkoy said they were not receiving any protection from the police or the government.

He said that some of them had stopped taking their children to school because they were being bullied because they don't speak local languages.

"We are seeking and ask protection from UNHCR... South Africa is no longer a safe place for us as refugees, it is no longer home... South Africa has become hell for us as refugees...that is why we are asking UNHCR to take us out of South Africa to throw us anywhere in the world so we can feel safe."

Watch Mr Nkoy's full comment below:

Lawyer sues Kenyan telecoms over data expiry

Image caption: Phone operators in Kenya sell data in varying bundles depending on amount and duration of validity

A Kenyan lawyer has sued the country's three biggest mobile phone operators over the expiry of unused data bundles, the Daily Nation newspaper reports.

Lawyer Adrian Kamotho has filed the petition at the Communications and Multimedia Appeals Tribunal.

He wants the tribunal to order the three telecom firms - Safaricom, Airtel and Telkom Kenya - to allow their subscribers to extend the expiry of unused data at no costs, the newspaper reports.

"Data bundles should not have an expiry date until used up' as long as the SIM card is active and the consumer keeps recharging," his petition is quoted.

Mr Kamotho also wants operators to enable consumers to transfer unused data to other users on the same network.

The petition comes days after the Ghanaian government directed phones operators in the country to scrap expiry terms on data bundles bought by subscribers.

In February, South Africa's Independent Communications Authority started enforcing new data expiry rules that allow subscribers to roll over unused data. Operators are also barred from charging out-of-bundle rates for data when it is depleted.

Botswana set for close election

BBC Monitoring

The world through its media

Image caption: President Masisi faces a tough challenge from an opposition coalition

Election campaigns in Botswana close on Tuesday ahead of tomorrow's general election.

Nearly one million voters will be choosing members of the national assembly and local authorities.

The government has declared public holidays from Wednesday up to Friday.

The governing Botswana Democratic Party (BDP), which has been in power since independence in 1966, faces a tough challenge from an opposition coalition led by lawyer Duma Boko.

The outcome of the parliamentary vote will determine who becomes president.

Former President Ian Khama is backing the opposition after falling out with his hand-picked successor, President Mokgweetsi Masisi.

Liberia named as a top tourist destination

Image caption: Lonely Planet says Liberia's rainforest has plenty to offer visitors

Liberia is not uppermost when you think about the best-known places for tourism on the continent, but that could change if a new list from respected travel advice company Lonely Planet has its way.

The country was placed eighth in its list of top tourist destinations.

Lonely Planet, which produces a series of popular guide books, also named two other African countries in its top 10 - Eswatini (placed fifth) and Morocco (ninth).

Justifying its choice, the company admits that "for most outsiders Liberia is a bit of a mystery", but goes on to say:

Quote Message: There are idyllic beaches, washed by some of West Africa's best surf at low-key resorts such as Robertsport.

Quote Message: Then there's Sapo National Park, the second-largest area of primary rainforest in West Africa. In these dense forests, you stand a chance of running into chimpanzees, forest elephants and Liberia's famous pygmy hippos – no larger than a Shetland pony."

If the Lonely Planet ranking did have an impact it would be a remarkable turnaround for a country that was cut off from visitors during the Ebola outbreak that ended in 2016.

Lonely Planet called Eswatini "one of Southern Africa's most underrated destinations" and Morocco has "time-honoured attractions complemented by sustainable-yet-stylish lodging".

It has been a good few days for Liberia when it comes to top 10 lists. Last week, it was named as the most welcoming country for strangers in the world by the Charities Aid Foundation.