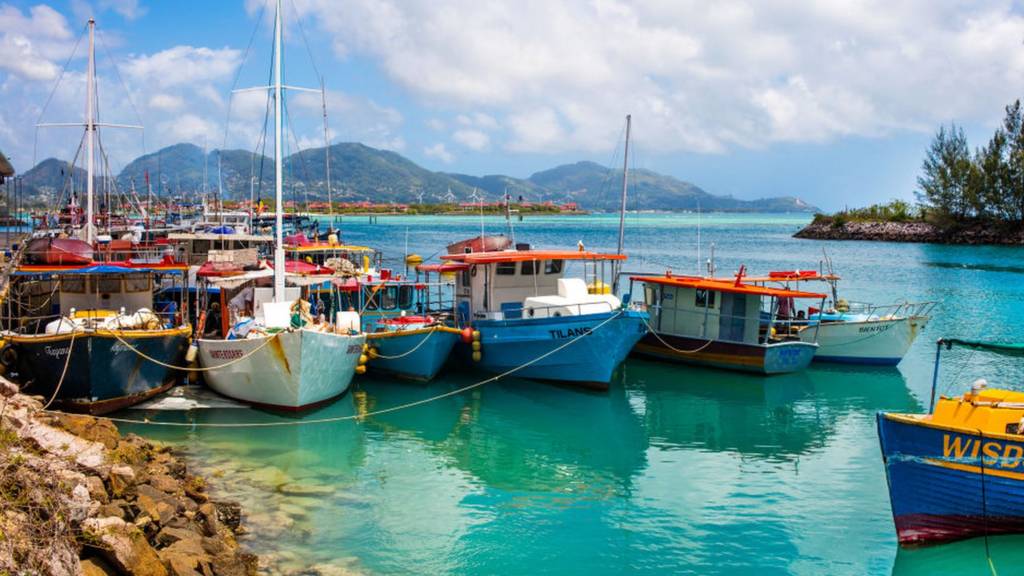 Live
Africa Live: Nigeria judge throws out anti-homosexuality case
Martha Holman is about to finish training as a teacher in Wales after fleeing Zimbabwe.

Scroll down for Tuesday's stories

We'll be back on Wednesday

That's all from the BBC Africa Live team for now. There will be an automated service until Wednesday morning.

A reminder of our African proverb of the day:

Quote Message: A dog doesn't hunt large lizards." from A Hausa proverb sent by Abbey Victor in Abuja, Nigeria

And we leave you with an image of an old retro mustang car pictured on the movie set town called Pretville near South Africa's capital Pretoria:

Zanzibar opposition leader freed

Image caption: Zanzibar is a popular tourist destination

The main opposition leader in Zanzibar, Tanzania, has been freed hours after being detained while trying to cast his ballot in early voting.

Maalim Seif Sharif Hamad of the ACT Wazalendo party said the presidential and parliamentary election had become a farce, even before voting takes place on Wednesday.

Malawi judges win prize for 'defending democracy'

Malawi's constitutional court judges have won the 2020 Chatham House Prize in the UK for their "courage and independence" by annulling then-President Peter Mutharika's victory in last year's election.

"At a time when standards of democratic governance are under threat not only in Africa, but in many democracies, Malawi's constitutional court judges set an example for their peers across the world by upholding the centrality of the rule of law and separation of powers," said Chatham House, an independent policy institute headquartered in London.

The panel of five judges ruled that Mr Mutharika's victory was marred by "widespread, systematic, and grave irregularities".

Mr Muthaika's rival, Lazarus Chakwera, defeated him in a re-run, and was sworn in as president in June.

Image caption: Lazarus Chakwera 58.57% of the vote in the re-run

Nigeria arrests 800 after looting and killings

Chris Ewokor

BBC News, Abuja

Image caption: Government warehouses storing food have been ransacked

Police in Nigeria have arrested more than 800 suspects in connection with incidents of arson, looting and killings across the country.

At least 520 suspects were arrested in Lagos, the commercial hub.

For more than a week, angry youths have been targeting government warehouses across the country believed to be housing food items meant to be distributed as Covid-19 relief.

On Tuesday, a group, armed with knives and other weapons, broke into the orientation camp of the National Youth Service Corps in the capital, Abuja, carting away mattresses and and other goods.

For more than a week, angry youths have been targeting government warehouses, believed to be storing food items meant to be distributed to people in need of aid because of an earlier coronavirus-related lockdown, across the country.

The looting and arson attacks followed peaceful protests against police brutality that had rocked Nigeria.

EU backs Nigeria's ex-finance minister to lead WTO

Image caption: Ngozi Okonjo-Iweala is the front-runner for the post of WTO director-general

Nigeria's former Finance Minister Ngozi Okonjo-Iweala has won the backing of the European Union (EU) in her bid to become the first African to lead the World Trade Organisation (WTO), Bloomberg news agency and the UK-based Financial Times newspaper are reporting.

Bloomberg described the EU's decision as a "major coup" for Ms Okonjo-Iweala, while the Financial Times quoted an unnamed EU official as saying it was "a clear signal towards Africa and a sign of mutual trust".

Ms Okonjo-Iweala is being challenged by South Korea's Trade Minister Yoo Myung-hee for the post of WTO director-general.

With the winner expected to be declared early next month, it be the first time that a woman will be at the helm of the WTO.

Nigeria judge throws out anti-homosexuality case

Chi Chi Izundu

BBC News, Lagos

Image caption: Public displays of affection between people of the same sex are banned in Nigeria

A Nigerian judge has thrown out a controversial case which had been brought against 47 men charged with public displays of affection with members of the same sex.

The men were first arrested in a police raid on a hotel in the commercial hub of Lagos in 2018 after officers claimed they were being "initiated into a gay club", but the defendants said they were just attending a birthday party.

Following several adjournments, Justice Rilwan Aikawa of the Lagos High Court struck out the case and said he had done so because of a "lack of diligent prosecution".

This case was seen as a test over a 2014 law introduced under Nigeria's former President Goodluck Jonathan, which bans gay marriage as well as public displays of affection between people of the same sex. It carries a possible prison sentence of up to 14 years.

Homosexuality is outlawed in many socially conservative African countries, but the introduction of this law in Nigeria caused an international outcry.

Social media 'restricted' in Tanzania ahead of poll

Social media users in Tanzania are having difficulties accessing Twitter and WhatsApp, a day before the country votes in a general election.

Since Tuesday morning, WhatsApp users have been failing to download photos or videos and can only send and receive text messages via the chat application. Twitter is also down and can only be accessed via VPN.

The authorities have not commented on this and the BBC's efforts to get a response from the Tanzania Communication Regulatory Authority (TCRA) have been futile.

Most users believe the internet restrictions have something to do with the elections in Zanzibar. The semi-autonomous archipelago started early voting on Tuesday with electoral officials and security personnel casting their ballots.

The main opposition in Zamzibar, ACT-Wazalendo, is claiming eight people have been killed in election-related violence. The police have denied the killings but confirmed the arrest of more than 40 people.

Photos and short video clips of the violence in Zanzibar were making the rounds on social media before the restrictions.

On Wednesday, people will be going to the polls in Tanzania mainland and Zanzibar.

President John Magufuli is seeking a second term. His main challenger is Tundu Lissu.

Former Ugandan army spokesman dies with Covid-19

Patricia Oyella

BBC News, Kampala

Former Ugandan army spokesman Shaban Bantazira has died after contracting Covid-19.

The retired colonel was admitted to hospital on Sunday morning complaining of chest pain, low blood pressure, diabetes and cough.

Government Spokesman Ofwono Opondo said tests confirmed that he had contracted Covid-19.

The ruling National Resistance Movement (NRM) described Mr Bantazira as a loyal member of the government and party, which he served until his death.

Mr Bantariza was no stranger to controversy. Last year, he was sharply criticised by some for remarks he made at a retreat of leaders of the NRM.

He said he pitied people who think the NRM government would hand over power, adding that "we" would rather go back to the bush. He then went on to say that he had his three guns on standby in his car.

Suspected Islamists on trial for Mali hotel attack

There's tight security at a court in the Malian capital, Bamako, where three alleged Islamists are standing trial on charges of planning and executing two attacks targeting foreigners in 2015.

Only two of the accused were present; one, Fawaz Ould Ahmed, a Mauritanian who is seen as one of the leading jihadists in the Sahel, is charged with shooting six people at a nightclub and of planning the storming of the Radisson hotel in Bamako.

A Russian flight crew, Chinese construction executives, a Belgian politician, an American aid worker and nine Malians were among the victims of the latter attack.

It's rare for such cases to come to trial; much of the Sahel is beyond the control of national governments.

Hated Nigeria police unit 'extracted my teeth'

Nduka Orjinmo

BBC News, Abuja

Image caption: Nigeria's government has been shaken by protests against police brutality

A man has testified at a judicial inquiry in Nigeria's commercial hub of Lagos that police officers of the now-disbanded Special Anti-Robbery Squad (Sars) tortured him and extracted two of his teeth after arresting him in 2014.

He was the first person to testify in front a panel that has been set up to investigate human rights abuses carried out by Sars.

The alleged atrocities triggered mass protests across Nigeria under the hashtag #EndSars, forcing President Muhammadu Buhari to disband the hated unit.

Lagos state Governor Babajide Sanwo-Olu has said that the scope of the panel has been expanded to include the shooting at the Lekki toll gate on 20 October.

Amnesty International and eyewitnesses say the military opened fire on peaceful protesters at the toll gate, killing at least 10 people. Two people were killed in another part of Lagos on the same day, Amnesty said.

The military has denied involvement in the shooting.

In his testimony, the man said that his property had been forcefully taken by Sars officers and the police had refused to pay him compensation despite a court order.

Tuesday's proceedings were held up for almost two hours as the youth representatives on the panel refused to sign an oath of secrecy. The dispute was later resolved.

Independent investigations into police abuses were a core demand of the protesters who rallied across Nigeria for more than two weeks.

The chair of the panel, Justice Doris Okuwobi, was quoted by Reuters news agency as saying that the panel was independent from the government and would ensure justice for victims of police brutality and "for those affected by the unfortunate incident of the shootings by the military".

She was also quoted as saying that none of the 15 complaints received so far related to the shooting in Lekki, an upmarket suburb in Lagos.

Ethiopia jails five for blast at PM Abiy's rally

Kalkidan Yibeltal

BBC News, Addis Ababa

Image caption: Two people died in the explosion

A court in the Ethiopia's capital, Addis Ababa, has sentenced five people to between five years and life in prison over a grenade explosion at a rally attended by Prime Minister Abiy Ahmed in June 2018.

Authorities had previously said the explosion was aimed at killing Mr Abiy, who had taken office about two months earlier.

Two people were killed in the blast at the rally attended by thousands of people in the capital.

The prime minster was unharmed, and was whisked away immediately after the blast.

One of those convicted, Tilahun Getachew, was sentenced to life in prison, state run EBC reports.

Four of his co-accused received sentences ranging from five to 23 years.

Faith Kariuki breastfed her five-month-old child during the Covid-19 pandemic.

Son of US missionary abducted in Niger

The son of an American missionary has been abducted from a village in southern Niger.

Earlier reports suggested it had been his father who had been taken.

No group has claimed responsibility for the kidnapping but jihadists operate across the Sahel region.

At least six Western hostages are being held in Niger, Mali and Burkina Faso, including the American aid worker Jeffery Woodke, who was kidnapped in central Niger four years ago.

This entry has been amended to reflect that the son of the missionary, and not the missionary, has been abducted.

Tanzania's police denies reports of deadly shootings

Tanzania's head of police, Simon Sirro, has denied reports that police officers shot dead three people on Monday night in one of Zanzibar's islands.

The semi-autonomous archipelago is due to hold elections on Wednesday, although early voting has started for electoral officials and the police.

Zanzibar has a history of contested polls.

The opposition had claimed that three people were killed in Pemba island and several others injured as police used live ammunition to disperse a crowd.

But Mr Sirro has told journalists that police only arrested 42 youths in connection to the violence in Pemba.

He said the youths had thrown stones at police officers and electoral officials who were distributing voting kits ahead of the elections.

He added that police will not allow people to stay at polling stations after voting.