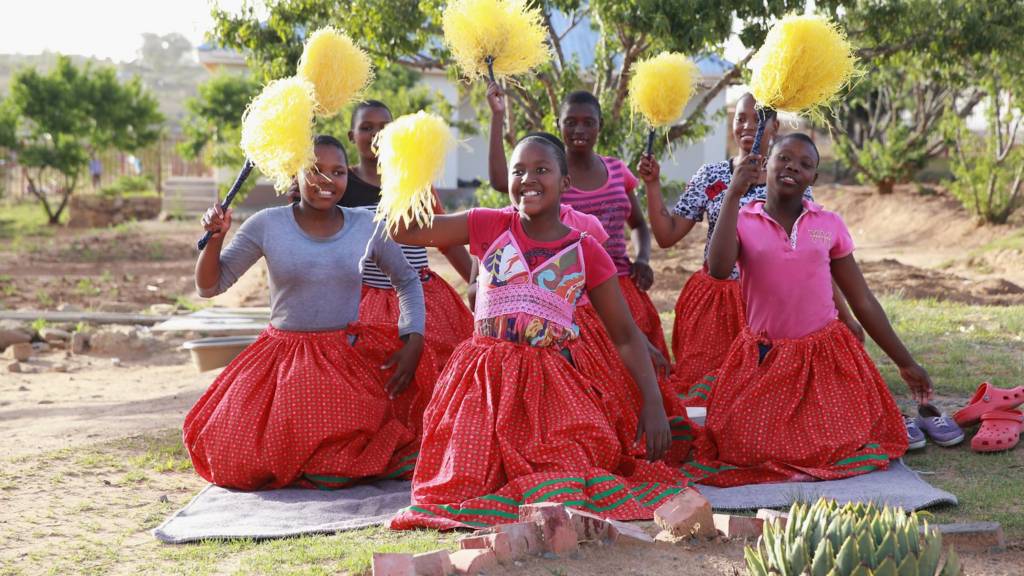 Live
Africa Live: SA school in 'satanic artwork' row
Russia displays military hardware at Africa summit

Russia is showcasing its latest military hardware at the entrance of the summit where President Vladimir Putin is hosting dozens of African leaders in a bid to strengthen ties of the continent, a BBC Africa correspondent is tweeting from there:

Tanzania to offer Swahili proficiency tests

Peter Mwai

BBC Africa, Nairobi

Image caption: Swahili is the main language in East Africa

Tanzania has announced plans to launch an international language test for Swahili, hoping to build on the growing popularity of the language.

Leonard Akwilapo, the country's permanent secretary for education, said the test would be offered by the University of Dar es Salaam's Institute of Swahili Studies.

The test is modeled around international proficiency tests for languages such as English, Spanish, Chinese and Arabic and will be offered from January.

With Swahili recently adopted as the fourth official language of the Southern African Development Community, its proficiency should, therefore, be "authenticated", Dr Akwilapo was quoted by the government-owned Daily News.

The institute would be conducting six examinations annually in examination centres worldwide, targeting candidates seeking to use Swahili as their second or foreign language.

Swahili is widely spoken across East Africa and parts of central Africa.

Last year, South Africa announced it would be taught in schools as an optional subject by 2020.

Big push by Russia into Africa

Russia is hosting a major summit for dozens of African leaders, an indication of its growing role as a key player in the region.

The Soviet Union used to have a major presence on the continent but its economic and political clout waned in the post-Cold-War period.

President Vladimir Putin says the strengthening of ties with African countries is one of Russia's foreign policy priorities.

So just how important is Russia's role in Africa now?

Lake Chad 'not shrinking'

Lake Chad is often referred to as "Miracle Lake", a freshwater resource in the middle of the Sahara desert.

The prevailing narrative about Lake Chad is that it has been shrinking as a result of water over-extraction and climate change.

A new study now says the lake has been stable since the 1990s and is actually expanding in parts.

BBC Newsday's Alan Kasujja's heard from Janani Vivekananda, one of the authors of the report by the think tank Adelphi:

Civil servants told to wear 'made in Kenya outfits'

Copyright: State House, Kenya

Image caption: President Uhuru Kenyatta (L) and his deputy William Ruto (R) wore Kenyan-made outfits on Sunday

Kenya's government has ordered civil servants to wear locally tailored clothes to work on Fridays and during public holidays.

The order is meant to boost the local manufacturing industry, a key plank in President Uhuru's Kenyatta so-called Big 4 Agenda.

The order was communicated in a circular signed by Solicitor-General Kennedy Ogeto, who has confirmed its authenticity to Kenya's Daily Nation newspaper.

It reads:

Quote Message: Pursuant to the achievement of the Big 4 Agenda and specifically the expansion of manufacturing by producing better goods and creating local employment, I direct that all members of staff shall on all Fridays be dressed in decent, smart casual Kenyan-produced and tailored attire."

It is unclear whether there will be disciplinary measures against those who don't comply.

President Kenyatta and his deputy William Ruto led by example during Sunday's Heroes' Day celebrations in the coastal city of Mombasa, wearing Kenyan-made attires.

Cabinet ministers and other state officials also wore similar outfits.

Burundi rebels killed in clashes

Government forces in Burundi killed 14 members of a rebel group and seized 11 guns following heavy clashes on Tuesday in Musigasi district in the north-western province of Bubanza, the security ministry has said.

Red-Tabara, a rebel movement opposed to the government of President Pierre Nkurunziza, said it was behind the attack in a statement posted on Twitter, saying Burundi was "not safe for a pretend regime".

Several armed groups opposed to Mr Nkurunziza's regime were formed after the 2015 political crisis, which was sparked by his push for a controversial third term in office.

Fabien Banciryanino, an MP who was in Musigasi at the time of the attacks, told the BBC that fighting began on Tuesday morning and carried on in the afternoon.

He said that residents fleeing the area said the rebels came from neighbouring Democratic Republic of Congo.

Red-Tabara, FNL-Nzabampema and Forebu are among the groups that operate in eastern DR Congo from where they launch attacks in Burundi.

Polls open in Botswana general election

Image caption: President Masisi (R) has reversed the policies of his predecessor who now supports opposition candidate Duma Boko (L)

Polling stations have opened in Botswana in a general election seen as the most closely fought since the country gained independence in 1966.

More than 900,000 registered voters will decide the contest between the ruling Bostwana Democratic Party (BDP) and a coalition of opposition parties under the Umbrella for Democratic Change (UDC).

Botswana's independent newspaper Mmegi has tweeted a photo of voters at a polling station in the capital Gaborone.

The country's politics have been shaken up by former President Ian Khama, who has denounced his successor, Mokgweetsi Masisi, for reversing many of his policies - including a ban on elephant trophy hunting.

Mr Khama now supports the opposition coalition, which is considered to stand good a chance of unseating the BDP.

The opposition coalition, led by Gaborone lawyer Gideon Duma Boko, has a manifesto promising 100,000 jobs.

In a country where more than 20% of its 2.2 million population are unemployed, and which is also gripped with growing anxiety about migration from other African countries, the opposition coalition feels it can do well in the poll.

The southern African nation is rich in diamonds and seen as one the continent's most stable countries.

The migrants and refugees caught up in Libya's civil war

Survivors of a deadly air strike on a migrant detention centre in Libya's capital, Tripoli, in July have told the BBC they feel abandoned by the United Nations, and are desperate to escape the country.

Fifty-three migrants and refugees were killed in the air strike which was blamed on rebel forces trying to get control of the capital.

There was widespread international condemnation of the air strike, which the UN said may have been a war crime.

Since the fighting began on the outskirts of Tripoli more than six months ago, the World Health Organization says that at least 1,000 people have been killed, including around 100 civilians, and 120,000 displaced.

Survivors of the air strike remain trapped in a city under attack, where they have been speaking exclusively to BBC's international correspondent Orla Guerin.

Watch:

SA school in 'satanic artwork' row

A South African private school has come under fire for exhibiting artwork at the institution that is considered "satanic" and "blasphemous" to the Christian faith.

The display, which is reportedly the work of a student at Grantleigh High School in Richard Bays town in the province of KwaZulu-Natal, featured drawings of Jesus and other Biblical references which some people view as sacrilegious.

It also had a depiction of Leonardo da Vinci's Last Supper with dollar signs on the lintel behind Jesus and torn pages from the Bible placed on the torso of a horned sculpture.

Local Pastor Andrew Anderson, a parent at the school, filmed the artwork and shared it with news site News24.

The video has also been widely shared on Facebook and Twitter.

Pastor Anderson, who is visibly angry in the recording, says that pages of Bible had been torn up as part of the artwork.

"My God is no clown, my God is almighty and I love him, we need to stand up strong against these things. I want you to share this video to many people and show them what our schools are standing for," he said.

He added that it was "a disgrace" for the school to allow the exhibition.

Some tweeters have asked the school to remove the exhibition:

Grantleigh High School, which identifies as a Christian institution, is part of a South African company called Curro that operates 59 private secondary schools and 158 primary schools in South Africa and Namibia.

A representative of the school told news site Parent24 that the artwork created by "a learner" had been uploaded to social media without the school's consent but it had to be understood within the context of the assigned theme.

A statement from the representative said:

Quote Message: Curro are cognisant of the allegations made on social media and the matter is currently subject to an internal investigation.

Quote Message: Curro reiterates that comments made about the school, the artwork and the learner are not an accurate reflection of our school and the situation referred to."

Our proverb of the day:

Quote Message: The goat eats where it's tethered." from Sent by Ndawazake IN Mozambique

Meet the Senegalese breakdancing crew hoping to swap their practise beach for the Paris 2024 Olympics.

How forensic anthropology students from across Africa are learning to analyse human remains.

Scroll down for Tuesday's stories

We'll be back on Wednesday

That's all from BBC Africa Live for now but there will be an automated service until Wednesday morning.

You can also catch up on African news by listening to our Africa Today podcast.

Here's a reminder of our wise words of the day:

Quote Message: When the owner of the house is away, the frogs leap all over the place." from A Luganda proverb sent by Sharon Arinaitwe in Mbarara, Uganda

And we leave you with this image from Accra-based Gallery 1957 advertising its presence at the forthcoming Art X Lagos show with a painting by Prof Ablade Glover:

Fastjet struggles with competition in Mozambique

Jose Tembe

BBC Africa, Maputo

The UK-based budget airline Fastjet has announced that it is suspending flights on its Mozambican domestic routes from this coming Saturday because of a fall in revenue.

Fastjet is also facing competition from Ethiopian Airlines, whose subsidiary Ethiopian Mozambique Airlines is now operating flights on several of the country's main domestic routes.In a statement Fastjet said that the competition in Mozambique began to intensify at the end of 2018 when Ethiopian Airlines entered the domestic market. It said the competition has led to a fall in its revenue from its Mozambique operations in the first half of 2019 from $4.9m (£3.8m) a year ago to $1.9m.

Mark Hurst, Fastjet interim chief executive officer, said suspending services in Mozambique was the right course of action.

SA passengers stranded after spot safety checks

Milton Nkosi

BBC Africa, Johannesburg

Passengers have been left stranded at airports around South Africa following safety spot checks by the aviation regulator (CAA) that left several aeroplanes grounded.

Both Comair, the company operating low-cost airline kulula.com, and British Airways in South Africa issued a notice to its passengers.

It said the grounding "related to irregular findings picked up during a recent audit of our maintenance and technical service provider, South African Airways Technical".

State-owned South African Airways (SAA) also had some of its planes delayed or cancelled.

Passengers at the country's busiest airport, Johannesburg's OR Tambo International, voiced their unhappiness about the lack of communication.

Many were anxiously standing in queues as they waited to check in their luggage amid long delays.

SAA's spokesman Tlali Tlali said it was a precautionary measure.

Transport Minister Fikile Mbalula told journalists that there was no crisis.

"We are pleased that SAA technical has submitted a corrective action plan and it was accepted," he said.

"The safety of our people is paramount and we want to ensure that our airlines meet the safety standards."

New Liberia deputy minister threatened to 'kill' protesters

Jonathan Paye-Layleh

BBC Africa, Monrovia

Liberia's President George Weah has appointed as deputy defence minister a man who had previously threatened to "kill" people who tried to loot his property during protests against the president.

A few days before his appointment, Tarplah Z Davis went on Facebook and hit out at organisers of anti-Weah protests. He especially targeted the US-based leader and controversial radio talk show host Henry Costa.

"The symbol of everything that I have worked for personally is in Liberia. And I told people, anybody tries my property, I will kill them.

"I have said it and will continue to say it openly," the privately owned Front Page Africa newspaper, which has been following the controversy, quoted the man as saying during a Facebook broadcast.

Radio stations in the capital, Monrovia, have been playing the man's comments repeatedly.

Image caption: Liberia has been hit by a wave of protests in recent months

The Weah government has been confronted by a wave of unprecedented protests in recent months. The largest, dubbed Save the State, was organised on 7 June by a pressure group called Council of Patriots.

The group has announced it is organising another demonstration on 30 December, "this time to call on George Weah to step down and leave", Mr Costa said.

Mr Davis was named to the position over the weekend but his critics have called on the Senate to reject his nomination.