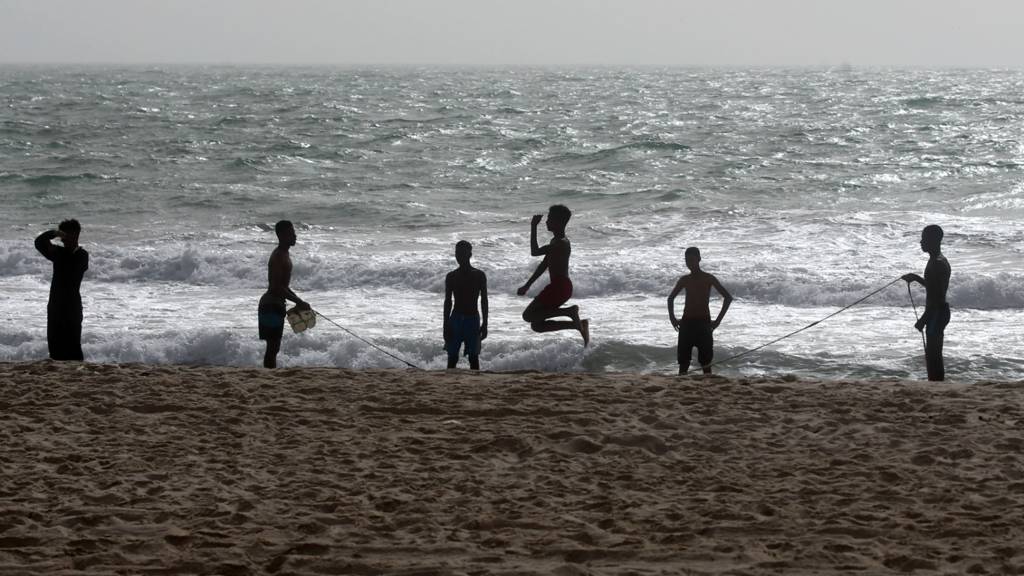 Live
Africa Live: Burundi anger over 'illegal drummers' on talent show
This page with the latest news from Africa is now automated. Find it at bbc.com/africalive
A women abducted as a child and a puppy abandoned on a rubbish tip help each other heal.

Scroll down for Wednesday's stories

We'll be back on Thursday

That's all from BBC Africa Live for today, we will now leave you with an automated service until Thursday morning.

Or you can keep up-to-date with what's happening across the continent by listening to the Africa Today podcast.

A reminder of today's wise words:

Quote Message: When a bird dies, its feathers fall to the ground." from Sent by Stephen Afrifa, Kumasi, Ghana, and Uche Spiff, Ikwerre, Nigeria.

And we leave you with this picture of a commuter stealing some time alone in Tanzania's busiest city, Dar es Salaam:

Gender imbalance prevails in Nigeria's cabinet

Azeezat Olaoluwa

Women's Affairs Journalist, BBC Africa

Image caption: Finance Minister Zainab Ahmed is one of only seven women in the cabinet

As the Nigerian government's cabinet ministers were sworn in on Wednesday one thing stood out: a glaring gender imbalance.

Only seven women are part of the cabinet out of a total of 43 people.

Four of those seven are in junior positions.

Critics are calling out President Muhammadu Buhari for breaking a previous promise on female representation.

In 2015 he promised at least 35% of appointments at federal level would be given to women.

The situation is also similar in the legislature at the federal level, with just seven women in the Senate and 11 women in the House of Representatives.

Malawi president to deploy military ahead of protests

Emmanuel Igunza

BBC Africa, Nairobi

Image caption: Regular protests against the manner of the election have been taking place since May

Malawi's President Peter Mutharika has vowed to deploy the military to all borders and airports to prevent any disruptions by demonstrators who are planing mass rallies across the country.

Opposition and civil society groups have announced they will be holding massive protests that will include disruption of services at borders and airports from Monday.

But Mr Mutharika has warned he would take all necessary measures to defend the country from those he says want to "usurp power from him".

Malawi has faced increased rallies since last May following the narrow and controversial win of Mr Mutharika in elections that the opposition claim was marred by fraud and irregularities.

The opposition has lodged a challenge to the poll results at the constitutional court which is currently listening to the petition.

How long until Africa is declared polio free?

Anne Soy

BBC Africa, Nairobi

It's three years since the last recorded case of polio in Nigeria.

This is a big milestone for Nigeria and the rest of Africa.

The newly re-appointed regional head of the World Health Organization, Dr Matshidiso Moeti, said, "we are on the verge of an extraordinary public health achievement; one which will be our legacy to our children and children's children."

Health experts urge caution.

They must first be sure that every part of the continent has been reached and no cases have been missed.

An independent commission will review records from Nigeria and the rest of the continent in the coming months before Africa can be declared polio-free.

For now, there are renewed calls to vaccinate children against polio.

The disease causes paralysis, and is incurable. But vaccines have helped reduce cases worldwide by 99%.

"Global efforts have helped bring down cases from over 350,000 in 1988 to 33 last year," says Dr Seth Berkley, CEO of the Global Alliance for Vaccines and Immunizations.

The 33 cases were in Afghanistan and Pakistan – the last two polio-endemic countries in the world.

The last known cases in Africa emerged in a hard-to-reach area in the north of Nigeria on this day in 2016, two years after another case was identified in Puntland, Somalia.

Insecurity, displacement of people and in some cases, resistance from communities prevents some children from getting access to the vaccine.

It has taken the effort of thousands of volunteers, who have risked their lives in some instances, to deliver the much-needed vaccines to all parts of the continent.

"To end polio, at least 95% of children must be vaccinated, no matter where they live," says the Director of Polio Eradication at WHO, Michel Zaffran.

Countries are now expected to scale-up their polio vaccination programmes to help move Africa to the polio-free status.

So far, the Africa Region Certification Commission has reviewed and is satisfied with the documentation from 41 countries, according to the WHO regional head of Polio Eradication, Dr Pascal Mkanda.

The remaining countries whose documentation hasn't been accepted are Nigeria, Cameroon, the Central African Republic, South Sudan and Equatorial Guinea.

South Africa's acceptance status was withdrawn after lapses were identified in the country's polio surveillance and immunization programmes.

Once the six countries have their documentation accepted, the commission will carry out a region-wide audit once more.

If convinced that there is no evidence of wild polio virus circulating, Africa can then be certified as polio-free.

That certification could come sometime in 2020.

Zimbabwe's former vice-president charged with corruption

Shingai Nyoka

BBC Africa, Harare

Image caption: Phelekezela Mphoko was co-vice-president with Emmerson Mnangagwa under Robert Mugabe

Zimbabwe's former Vice-President Phelekezela Mphoko has appeared in court on corruption charges and has been granted bail.

Mr Mphoko was a co-vice-president under Robert Mugabe.

He served alongside current President Emmerson Mnangagwa when Mr Mugabe was ousted by the military in November 2017, but the two former deputies have fallen out.

Mr Mphoko was part of a faction that wanted Mr Mugabe's wife, Grace, to succeed him rather than Mr Mnangagwa, South Africa's Mail and Guardian newspaper reports.

The Zimbabwe Anti-Corruption Commission (ZACC) said on Tuesday they wanted to talk to Mr Mphoko about alleged abuse of office.

But we reported that he was being treated as a fugitive after fleeing from anti-corruption officials.

Mr Mphoko's lawyer, Zibusiso Ncube, told the BBC that his client had not run away but feared for his life and was concerned that he would be "injected with a poison".

The allegations against him are "sensationalist", Mr Ncube added.

Souhail Khmira

Football Writer, Tunisia

'Today is a great day to be Nigerian'

Nigeria's head of primary health care, Dr Faisal Shuaib, has been speaking about the announcement that the country has gone three years without a new case of the wild polio virus.

This date is significant because in order for the World Health Organization (WHO) to declare a country free of polio it has to go three years without a new case.

But Dr Shuaib, who called the announcement "a historic milestone" said there is still a " huge amount of work... to do before we are certified polio-free".

The WHO has to work out whether the surveillance networks are robust enough so that they can safely say that there really have been no polio cases for three years.

In a final flourish, Dr Shuaib told journalists that "today is a great day to be Nigerian... we have proven that we can do great things when we put our minds and resources to efficient use."

Son of Liberia's ex-president accused of printing $16m

Jonathan Paye-Layleh

BBC Africa, Monrovia

Image caption: Charles Sirleaf was charged in court in March

Authorities in Liberia have re-arrested the son of former President Ellen Johnson Sirleaf, over with the unlawful printing of local currency worth millions of dollars.

Last year $15.5bn Liberian dollars ($104m;£82m) of freshly minted currency disappeared from Liberia's ports.

Charles Sirleaf, who was a deputy governor of Liberia's Central Bank, was arrested over this and due to face trial for economic sabotage, criminal conspiracy and theft.

He was arrested on Tuesday after state prosecutors added a further charge of money laundering to the accusations.

Specifically, he is accused of being involved in asking the printing company who printed the $104m to print a further $16m.

He has denied all wrongdoing.

The solicitor-general, Sayma Syrenius Cephus, told me that Mr Sirleaf was released shortly after his arrest for health reasons.

"We wanted him to be alive when we prosecute him," he said.

Read more: Where are Liberia's missing millions?

Mqondisi Dube

Football Writer, Botswana

Museveni and Kagame commit to end tensions

Samba Cyuzuzo

BBC Great Lakes

Image caption: Yoweri Museveni (L) and Paul Kagame (R) promised to resolve the problems caused by the feud

Presidents Yoweri Museveni of Uganda and Paul Kagame of Rwanda have signed a peace deal to end their diplomatic feud.

The agreement was reached on Wednesday in the Angolan capital, Luanda.

The two signed it in the presence of the leaders of Angola, Congo-Brazzaville and the Democratic Republic of Congo - who have all played a mediation role.

The relationship between the two neighbours has been fraught over the last three years - both trading accusations of interference in each other's affairs:

Rwanda accuses Uganda of illegally jailing and torturing its citizens
Uganda accuses Rwanda of being involved in espionage on Ugandan soil.

"We are going to address all these problems," President Kagame told journalists after signing the document.

The tension has affected trade along their common border as Rwandans have not been allowed to cross to Uganda.

The agreement says that they will "resume as soon as possible the cross-border activities between both countries".

Zameer wants to become the best car spinner in South Africa.

Tanzania tanker explosion: '32 patients die from burns'

Image caption: More than 60 people died at the scene of the tanker explosion on 10 August

Tanzania's main hospital says of the 47 patients admitted after a fuel tanker explosion 11 days ago, 32 have died from their injuries.

Spokesperson Aminiel Aligaesha told journalists that most of those being treated at Muhimbili Hospital in Dar es Salaam had suffered 80% burns in the blast.

Quote Message: We are doing our best for the remaining 15 patients, but most of them are in critical condition." from Aminiel Aligaesha Hospital spokeperson

The incident occurred in Morogoro region, about 200km (124 miles) west of Dar es Salaam, the country's commercial hub.

People were trying to recover fuel from the vehicle, which had overturned on a major road, when it exploded.

More than 60 people died at the scene and dozens more were injured.

It not clear what the official death toll now stands at. According to the AFP news agency, it was 95 on Sunday.

Burundi anger over 'illegal drummers' on TV talent show

Samba Cyuzuzo

BBC Great Lakes

Image caption: Burundi's drumming tradition is recognised as a protected cultural activity by Unesco

Burundi has accused of a group of Burundian refugees of illegally playing the country's famous traditional drums on the show East Africa's Got Talent.

The producers of the show, which is broadcast in Kenya, Rwanda, Tanzania and Uganda on Sundays, tweeted a clip of their contentious performance:

The law in Burundi prohibits people from playing the national drums without the government's authorisation.

Burundi's ritual royal drum playing was recognised as a protected cultural activity by Unesco in 2014.

The UN cultural body said it was a spectacle that combined "powerful, synchronised drumming with dancing, heroic poetry and traditional songs.

"The entire population of Burundi recognises it as a fundamental part of its heritage and identity."

The drummers who took part in the talent show had sought refuge in neighbouring Rwanda, which seems to be at the crux of the matter.

The two countries do not have friendly relations, and exchange accusations that they are harbouring the other's enemies.

"The country that we don't have good relations with now wants to steal our drum beat," Burundi's Culture Minister Pelate Niyonkuru said in a statement.

She added that the TV display had been "damaging to the culture of Burundi".

One of the troupe members told the BBC they did not want to comment on the accusation as they were still in the competition.

Alphonse Rugambarara, a former Burundian minister of culture who went into exile after a failed coup attempt in 2015, told the BBC that the matter was being politicised.

The Burundi drums were played by Burundian communities around the world without them seeking authorisation from the government back home, he said.

"If the drummers on the show were not based in Rwanda, there could be no such claims," Mr Rugambarara said.

South Africa nullifies inquiry into Zuma's 1999 arms deal

Vauldi Carelse

BBC Africa, Johannesburg

Image caption: One of the Saab Gripen fighter jets, bought by the South African military

A High Court in South Africa has nullified the findings of a commission that found no wrongdoing in a 1999 arms procurement deal.

South Africa spent more than $2bn (£1.6bn) on military hardware for its armed forces, 20 years ago.

But the deal was mired in allegations of large-scale bribery and corruption.

Under former President Jacob Zuma a commission of inquiry was set-up to investigate these claims.

This commission cost taxpayers more than £9m.

The inquiry was meant to investigate serious corruption allegations but instead cleared politicians of wrongdoing and failed anyone accountable.

That finding has now been nullified by a High Court.

Judges found the commission ignored "highly material" evidence in its possession and failed to investigate properly.

It will now be up to the country's prosecutors to review the evidence.

Mr Zuma is the only politician who has been charged with wrongdoing in the arms procurement - he's currently facing 16 charges of racketeering, fraud, corruption and money laundering relating to this deal.

He denies wrongdoing and is due to stand trial in October. He has applied for a permanent stay of prosecution,

If his request is granted it would mean there can be no further action or prosecution relating to those charges.

The result of his request is expected to be revealed later this week.

Read more: What you need to know about the South Africa arms deal that landed Zuma in court

Njie Enow

Football Writer, Cameroon

SA court rules against 'gratuitous display' of apartheid flag

Milton Nkosi

BBC Africa, Johannesburg

Image caption: Displays of the flag, such as this one at a protest in 2010, are now considered a form of hate speech

South Africa's equality court has ruled that gratuitous displays of the apartheid-era flag is a form of hate speech, discrimination and harassment.

The Nelson Mandela Foundation asked the court to ban "gratuitous displays" after the flag was on show during protests against the murders of white farmers in October 2017.

They weren't asking for a complete ban of the flag. The flag would still be allowed in "museums, documentaries and cathartic creative works", the foundation explained previously.

But the Afrikaner lobby group AfriForum challenged the request, arguing that any restriction would threaten freedom of speech.

Judge Phineas Mojapelo ruled in favour of the Nelson Mandela Foundation, saying that the apartheid-era flag "represents racial segregation, separation and oppression".

He went on to say:

Quote Message: Not a single person has suggested feeling embraced by the display of the flag and not a single white person has suggested that the display is a demonstration of love and tolerance towards black people. On the very contrary the evidence of those who oppose the complaint application confirms that the display of the flag has potential to cause harm.

The orange, white and blue flag was first used in 1928, and came to represent white-minority rule during the apartheid era.

It was replaced in 1994 by one which sought to represent the entire "Rainbow Nation", as South Africa came to be called:

Kenyan row over 'rotten ginger'

Sheila Kimani

BBC Africa, Nairobi

Image caption: Imported ginger is often cheaper than Kenya's locally grown crop

A row has erupted in Kenya after 23 tonnes (about 3,610 stone) of fresh ginger imported from Vietnam was released despite being found to be unfit for human consumption.

Port authorities in Mombasa discovered that the shipment of ginger was mouldy with 14% moisture instead of the maximum 12%.

"The said ginger had failed to comply with the standards and thereby condemned and recommended the same for destruction," Kenya's Daily Nation newspaper quoted Jaji Kombo, public health officer at the port, as saying.

The Standard newspaper quotes official laboratory analysis as saying it was dirty and also "moist, mouldy, was rotting and emitting a pungent smell upon a physical examination".

But the Kenya Bureau of Standards (Kebs) went ahead to clear the ginger, saying the port authorities had no right to intervene.

Kebs spokesperson Phoebe Gituku told the Nation that the importers had an official customs form, known as a certificate of conformity, from Vietnam which allowed the ginger to go to market.

Kenya often imports ginger from Vietnam for industrial use because, it is cheaper than locally grown ginger.

The revelations have come as a shock to many Kenyans, judging by reactions on Twitter, who feel let down by Kebs given a number of recent food-contamination scandals.

Nigeria marks three years clear of polio

Image caption: Polio is preventable with an immunisation but for years Boko Haram made it hard for health workers to access some areas

Nigeria marks three years on Wednesday since its last case of wild polio virus (WPV).

This date is significant because in order for the World Health Organization (WHO) to declare a country free of polio it has to go three years without a new case.

But it's not quite official yet that Nigeria is polio-free.

First the WHO has to work out whether the surveillance networks are robust enough so that they can safely say that there really have been no polio cases for three years.

That is not likely to happen until early next year, according to Chairman of Nigeria's polio committee, Dr Tunji Funsho.

Nevertheless, Nigeria has undoubtedly come a long way.

In 2012, the country had more than half of all polio cases worldwide, with 223 cases, the WHO says.

Dr Funsho puts this success down to, among other things, the reduction of fighting with Islamist militants Boko Haram.

The Boko Haram insurgency in north-east Nigeria had made some areas of Borno state hard to access.

That is reflected in where the most recent cases of polio have been and the last case of wild polio was detected on 21 August 2016 in Borno.