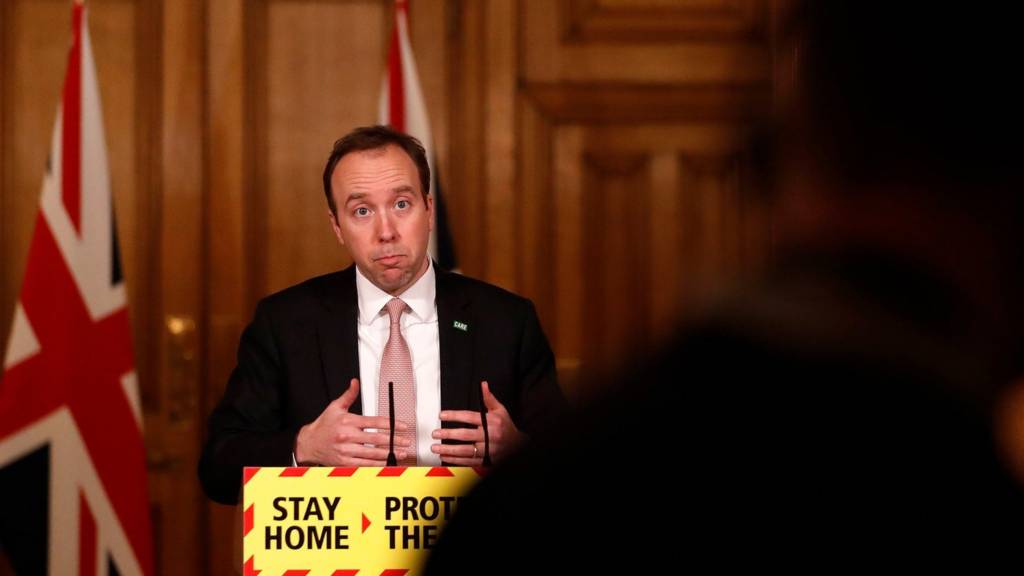 Hancock: UK at 'worst point' as vaccine brings hope
Health secretary begins Downing Street briefing

Health Secretary Matt Hancock has started his Downing Street briefing.

UK government briefing starting soon

We're expecting a Downing Street press conference to start in the next few minutes.

Health Secretary Matt Hancock will lead the briefing and will be joined by NHS England national medical director Prof Stephen Powis.

Stick with us for all the latest updates and analysis.

Analysis: Challenges remain - but growing optimism over vaccine rollout

Nick Triggle

Health Correspondent

In the first four weeks of the vaccination campaign, the NHS did 1.3 million vaccinations.

News that in the past week almost the same again has been done shows progress is being made - even though there has been some concern rollout to care home residents has been slower than hoped.

England's Health Secretary Matt Hancock has described it as an "incredible start".

But from here the NHS has to keep its foot on the accelerator.

Hitting two million doses a week is the next target – and is something the NHS is aiming to get close to this week.

With more vaccination sites opening by the day, it should be achievable as long as there is good supply.

There is already enough vaccine in the country to vaccinate all 15 million people in the highest at-risk groups that have been promised an offer of a vaccine by mid-February.

However, not all of it has been through the final safety checks or been packaged up ready for distribution.

Challenges remain, but even at this early stage it is clear there is growing optimism that the programme is on track.

Is football on its final warning after lockdown breaches?

Image caption: Fans lined the streets to welcome the players for Sunday's FA Cup match between Marine and Spurs

Images of players celebrating inside tightly packed dressing rooms in the FA Cup dominated the sporting agenda and social media this weekend - while crowds of fans gathering outside Cup ties drew criticism and caught the attention of government ministers.

On the back of players from all levels of the game apologising for various coronavirus rule breaches, the case for football to continue while the rest of society is locked down is coming under increasing scrutiny.

Elite sport has been able to continue under strict protocols established in the summer

BBC sports editor Dan Roan says while elite sport is not yet in the "last-chance saloon", there are "no guarantees", with "patience wearing thin".

You can read more here.

'Out for the first time in months - and I feel fine'

By Ben Schofield and Kate Scotter, BBC News, East

Image caption: Margaret Austin was the first to receive the vaccine at Robertson House in Stevenage

A conference centre in Hertfordshire is one of seven mass vaccination sites across England to have opened today.

First in the queue this morning at Robertson House in Stevenage was 86-year-old Margaret Austin, who left her house for the first time in six months after being invited to receive the jab.

Ms Austin, who lives 19 miles (30km) away in Broxbourne, said: "It's really strange being out for the first time in six months. A funny feeling but I'm really, really pleased and relieved to be getting my vaccine."

Moments after the needle was taken out of her arm, the great-grandmother said: "I feel fine. I didn't even feel it. It was so easy."

The centre says the opening day was fully booked within three hours and it is expecting to vaccinate hundreds of people a day.

You can read more about how the vaccine rollout went in Stevenage today here.

Wear a mask or leave, Morrisons shoppers to be told

Morrisons has confirmed that customers who refuse to wear a mask without a medical exemption will be told to leave stores from today.

Chief executive David Potts said: "Those who are offered a face covering and decline to wear one won't be allowed to shop at Morrisons unless they are medically exempt. Our store colleagues are working hard to feed you and your family, please be kind."

This morning, minister Nadhim Zahawi said he was concerned about whether people were wearing masks and following social distancing measures at supermarkets.

UK government briefing coming up at 17:00 GMT

Health Secretary Matt Hancock is due to lead a Downing Street press conference in about half an hour, alongside NHS England national medical director Professor Stephen Powis.

We're expecting the focus to be on the vaccine rollout, after seven mass vaccination centres opened in England today.

We'll bring you all the latest updates and analysis here.

Nothing new from chancellor, says Labour

Labour has accused the UK chancellor of "providing nothing new" in his economic update to MPs that we reported on a few minutes ago.

Responding to the Rishi Sunak's statement in the Commons, shadow chancellor Anneliese Dodds said: "The purpose of an update is to provide us with new information, not to repeat what we already know."

She called on the chancellor to set out more details of a promised incentive scheme for businesses and confirm whether the self-employed would continue to receive help.

Dodds also wondered why the chancellor was "nowhere to be seen" when the prime minister announced the latest lockdown, saying a 90-second video he appeared in on Twitter "begged as many questions as it answered".

Virus 'spreading out of control' in many areas

Coronavirus is "spreading out of control" in "many parts of the country", NHS England's chief executive has said.

Sir Simon Stevens told the Commons Public Accounts Committee that in London "perhaps one in 30" had the virus, and possibly twice that number in some parts.

On Merseyside, he said, there had been a 50% increase in Covid hospitalisations in the last week.

"So this is a very serious moment for the country and for the National Health Service," he said.

"It's worth remembering that this affects all ages - a quarter of the Covid admissions to hospital right now are for people aged under 55."

Father and son accuse coffee chain of stealing Covid safety idea

After visiting his local drive-through for a coffee at the beginning of the pandemic, Yoland Talbot was inspired to create an invention that would make the process of buying a hot drink Covid-safe.

Within a few days, the father from the Canadian province of Ontario came up with a plastic device which would allow staff to place a lid on a coffee cup without using their hands and risk spreading the virus.

He and his son told Canada's CBC News that after filing a patent for the invention, which they named the CleanCap, they met a manager at the popular Tim Hortons coffee chain, who was impressed with the idea. After months of successful meetings and testing, however, the deal fell through over a disagreement on pricing.

They went on to sell their invention to other chains, until they discovered a few weeks ago that their local Tim Hortons branch was using an item that they say was identical to the CleanCap.

"The only difference was that it had been manufactured in red plastic," Talbot's son told CBC News.

Tim Hortons rejected any claims of wrongdoing and added that it had received similar ideas from different providers.

"We did not instruct any vendor to design this product on our behalf - we simply responded to multiple vendors who brought forward substantially similar ideas," the company said.

Economy to get worse, admits chancellor

Copyright: House of Commons

The chancellor of the UK exchequer has said people should expect the economy "to get worse before it gets better".

Giving an economic update to MPs, Rishi Sunak said the government had provided a £280bn fiscal stimulus and was supporting millions of people and businesses during the pandemic.

But he told the Commons: "Even with the significant economic support we've provided, over 800,000 people have lost their job since February.

"And while the new national restrictions are necessary to control the spread of the virus, they will have a further significant economic impact."

The truth behind videos of 'empty' hospitals

Multiple videos posted online claim to show empty hospitals in the UK as evidence that the coronavirus pandemic has been exaggerated.

They have provoked a strong reaction from healthcare officials, who have encouraged the public to heed government advice as coronavirus infections surge - putting pressure on the NHS.

Responding to a question about empty hospital beds, NHS England chief executive Sir Simon Stevens said: "When people say that, that is a lie."

The videos are mostly filmed by individuals walking through quiet hospital corridors and are being posted in Facebook groups and on the Twitter feeds of coronavirus sceptics and anti-lockdown activists. There have been videos taken of dozens of locations and some have been viewed hundreds of thousands of times.

The number of Covid patients has increased significantly in recent weeks and there are serious concerns about the NHS's ability to cope.

However, because of the way healthcare trusts have reorganised hospitals, often separating Covid patients from others, and cancelling non-urgent care to free up capacity, some parts of hospital buildings will currently look empty. That doesn't mean hospitals aren't busy.

We've examined videos from two different locations and sought responses to them from the hospitals - read the full story here.

Vaccination plan 'huge challenge but achievable'

The UK's vaccination delivery plan sets out how the NHS, devolved administrations, local councils and the armed forces will work on the largest vaccination programme in British history.

The 47-page document says the plans is for about two million vaccinations to take place each week.

But the government says that it is "under no illusion as to the scale of the challenge ahead".

It adds: "Against the backdrop of a global pandemic – and a new, more transmissible variant – it is a huge challenge. Yet we have never felt more confident we can achieve our ambitious goals."

Health Secretary Matt Hancock says the coming months will "present a significant opportunity to turn the tide of battle against Covid".

He said: "I am looking forward to watching these plans bring more reassurance and hope back to people's lives after a difficult year."

Listen: Prof Whitty answers your coronavirus questions

From tighter restrictions, to operations, to schools, Professor Chris Whitty was this morning answering questions from the public on the current coronavirus situation.

It was part of a joint programme between Radio 5 Live and the BBC News Channel.

If you missed it earlier, you can listen back on the free BBC Sounds app.

Video content

Portugal records highest daily deaths

Portugal has seen a record 122 deaths within the past 24 hours, according to its health authority.

The previous record of 118 deaths was set last week.

The news comes as the country prepares for a new lockdown later this week, the details of which are yet to be announced.

Portugal has so far not been as badly hit by the pandemic as neighbouring Spain, where the number of fatalities has passed 50,000.

Figures from the European Centre for Disease Prevention and Control from late December show that Portugal's infection rate over the previous two weeks was 517 per 100,000 people, compared to Spain's figure of 297.

In total, Portugal has recorded almost 490,000 cases and 7,925 deaths since the pandemic began.

All UK adults to be vaccinated by autumn - delivery plan

The UK government's vaccines delivery plan says it is hoped that all adults can be vaccinated by the autumn.

But it also sets out the scale of the challenge, saying it was the "equivalent to establishing a national supermarket business in less than a month.

"All parts of the healthcare system will be mobilised so that we can vaccinate the highest risk individuals as rapidly as possible."

The plan also raises the prospect that key workers could be considered for expedited vaccination after the first nine priority groups have received their jabs.

The document states that "phase 2 of the roll-out may include further reduction in hospitalisation and targeted vaccination of those at high risk of exposure and/or those delivering key public services".

Watch: Vaccine target is a huge ask but achievable, says PM

Earlier, we heard from Prime Minister Boris Johnson, who announced around 2.4 million coronavirus vaccines have been given across the UK so far.

He said it was a "huge ask" for teams to hit the target of vaccinating 15 million people by mid-February, but insisted this was "achievable".

Analysis: Air of optimism but still a mountain to climb

Fergus Walsh

Medical editor

There was an air of optimism at Epsom racecourse this morning as the first Covid vaccinations were administered.

A steady stream of Surrey residents, mostly in their 80s, filed in from a large outdoor car park.

Given that these are among the most at risk from Covid, it is vital that vaccination centres maintain rigorous social distancing.

From what I observed, it looked like it had been well thought out.

People were asked to stay in their cars until their slot was ready, and were then shepherded through to one of six immunisation pods in a huge interior open space.

The centre, one of seven in England, plans to carry out about 500 vaccinations today, rising to 1,000 a day soon. Like the other hubs it will be open 12 hours a day, seven days a week.

But there is a mountain to climb if the goal is to be reached of offering up to 15 million people a first dose of a Covid vaccine by mid-February.

The prime minister said 2.4 million vaccines had been administered.

That means there are five weeks in which to carry out up to 12.5 million more.

That's 2.5 million a week if the top four priority groups are all to be offered immunisation.

Breaking

UK vaccination plan document published

The UK has published full details about its vaccination plans - stating it hopes to have immunised tens of millions of people by the spring.

The 47-page document highlights the plans to have 2,700 vaccine sites across the UK.

All residents and staff in about 10,000 care homes across the country will be offered a vaccine by the end of the month, it adds.

It states the government has had more than 200,000 offers of non-clinical support from the public and leading UK businesses to help with the logistics of the programme.

MPs asked to wear masks in the Commons chamber

There has been some discussion of masks today, and whether people should be told to wear them in the workplace.

Now MPs have been asked to wear face coverings in the Commons chamber whenever possible by Commons Speaker Sir Lindsay Hoyle.

He has asked members to wear masks "all the time apart from, obviously, when we're speaking".