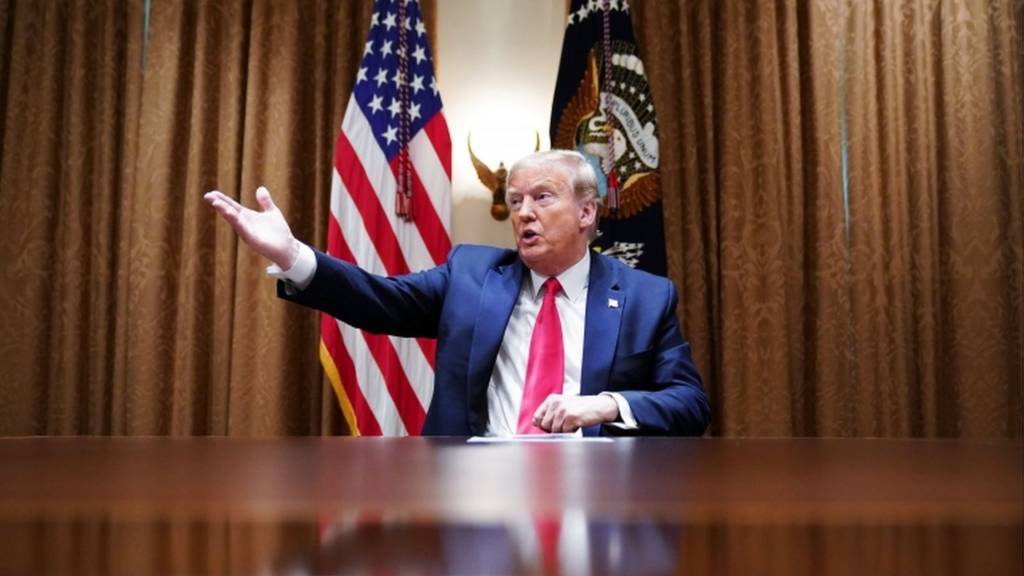 As it happened: Trump says US will halt funding to WHO
After that White House briefing from the president, we're pausing our live page coverage for the time being.

If you've been following our updates, thanks for joining us.

To recap, here are some of the day's key developments:

Our teams in Asia will be back with you soon, bringing you all the latest updates on the coronavirus pandemic from the US and across the world.

'Part of a broader anti-China US effort'

Barbara Plett Usher

BBC News, Washington

At one level, Trump's move is about the coronavirus. Administration officials have been sharply accusing the WHO of missteps in the handling of the pandemic, saying it was biased towards China.

They say the WHO was too ready to support China's deceptive early claims about the virus and then didn't push hard enough against Beijing's attempts to cover up its misinformation.

In particular President Trump has latched onto the WHO's criticism of his travel restrictions against China. But at another level, this move is part of a broader effort by the Trump administration to curtail China's growing global influence, especially in international organisations.

The Wall Street Journal reports that the decision stems from an ongoing discussion on whether to link US aid dollars to the number of Americans working in the groups that receive them.

Trump ends press conference

Trump ends the press conference after less than 90 minutes, cutting short one reporter who wanted to ask a second question on behalf of a colleague who could not attend today.

"Who cares," says the president with a shrug.

No other members of the coronavirus task force, such as Vice-President Mike Pence, Dr Anthony Fauci or Dr Deborah Birx, spoke today.

Trump quizzed on China 'transparency' claim

Trump is asked why he previously praised China's "transparency" but is today saying their "so-called transparency" cost lives.

"Well you know if I'm so good to China then why am I the only person that closed our border so tightly to China?" he hits back.

"I don't talk about China's transparency!" he adds.

In fact, on 24 January, whilst negotiating a trade deal, Trump tweeted: "China has been working very hard to contain the Coronavirus. The United States greatly appreciates their efforts and transparency."

Furthermore, other countries have also tightened their borders, and banned non-essential travel, in response to the outbreak.

This exchange with the reporter arose because, earlier in this press conference, Trump said he was pulling US funding to the WHO because the agency "defended the actions of the Chinese government, even praising its so-called transparency".

US agrees $25bn bailout for airline industry

Image caption: Airports have been emptied amid the pandemic

The US has agreed a roughly $25bn (£19.8bn) rescue package for 10 of the country's biggest airlines as travel plunges due to the coronavirus.

American Airlines, United, Delta and Southwest are among the recipients.

The money is to be provided through a combination of low-cost loans and direct grants.

Congress had planned for the aid as part of its roughly $2.2tn emergency relief bill last month, but airlines had hesitated over some of the conditions.

US Treasury Secretary Steven Mnuchin on Tuesday said the airline deal would "support American workers and help preserve the strategic importance of the airline industry while allowing for appropriate compensation to the taxpayers".

"We look forward to working with the airlines to finalise the necessary agreements and disburse funds as quickly as possible."

Trump: 'We have to get our sports back'

The president says: "We have to get our sports back. I'm tired of watching baseball games that are 14 years old."

The National Basketball Association, Major League Baseball, Major League Soccer, National Hockey League have all either cancelled or delayed their seasons amid the pandemic.

Image caption: A sign at the closed Banc of California stadium in LA tells people to stay home

Trump: US to reopen 'maybe even before 1 May'

Trump has been feuding with governors over who has the right to end lockdowns.

But in a change of tone on Tuesday, he said: "The governors are responsible, they have to take charge and do a great job."

He said the plans to reopen the country are close to being finalised and could be even earlier than 1 May.

"I will be speaking to all 50 governors very shortly and I will then be authorising each individual governor of each individual state to implement a reopening and a very powerful reopening plan of their state at a time and in a manner as most appropriate."

He added: "The federal government will be watching them closely. We will hold governors accountable, but will be working with them to make sure it goes really well."

Experts agree it's the state governors who are responsible for policing their states under US law.

He said that governors "are going to do a great job of leading."

"And if we're unhappy with a state, we're going to let them know that we're unhappy," he added.

Battle for survival in German zoos

Zoos that should have been crowded in the sunny Easter holidays are now hard up, asking for donations, as the coronavirus lockdown bites.

A zoo director in northern Germany has even admitted that some animals might soon have to be fed to others.

"We've listed the animals we'll have to slaughter first," Neumünster Zoo's Verena Kaspari told Die Welt newspaper.

She said killing some animals so that others could live would be a last resort, but even that would not solve the financial problem.

Image caption: The panda twins in Berlin Zoo would draw big crowds in normal times

'So much death has been caused by their mistakes'

"Many countries said they were going to listen to the WHO and they have problems now the likes of which they cannot believe," Trump continues.

He adds: "The world received all sorts of false information about misinformation and mortality."

If the WHO had gone to China to oversee the outbreak, mores lives would have been saved, he claims, adding that "their reliance on China's disclosures... likely caused a 20-fold increase in cases worldwide and it may be much more than that."

"So much death has been caused by their mistakes," he says.

The US president previously praised China's role in containing the virus in this tweet, sent a few days after the two countries signed a trade deal.

Trump: WHO put political correctness above saving lives

Trump also accused the WHO of putting political correctness above saving lives and taking China's claims about the outbreak at face value.

Mr Trump has accused the WHO of being biased towards China in recent weeks, and recently attacked the organisation for being too "China-centric" in its tackling of the coronavirus pandemic.

US financial contributions to the WHO accounted for just under 15% of its funding in 2019.

The US decided against using a coronavirus test approved by the WHO in January, in favour of a test being developed by the Centers for Disease Control and Prevention (CDC) - but some of them did not work properly, and led to inconclusive results.

Tedros Adhanom Ghebreyesus, the first African head of the WHO, has been accused of being too cozy with China in the past.

Breaking

Trump halts funding to WHO

"I am directing my administration to halt funding while a review is conducted to access the World Health Organization's role in severely mismanaging and covering up the spread of the coronavirus," says Trump.

"The WHO failed in its basic duty and it must be held accountable," he adds.

White House briefing underway

The White House coronavirus task force briefing has begun.

You can watch it live here.

It comes a day after President Trump pilloried the media, argued with reporters, and played in the briefing room a campaign-style video praising his handling of the pandemic.

Mass gatherings in California likely to be banned until at least summer

California governor Gavin Newsom has warned that mass gatherings of hundreds or thousands of people are likely to be banned until at least summer.

He made the announcement during a news conference on Tuesday, where he also said that stay-at-home orders could be loosened "a few weeks" after evidence shows the rate of coronavirus infections and deaths are decreasing.

He warned that things would be changing in the state and some measures may stay in place for some time.

"You may have dinner where the waiter is wearing gloves and maybe a face mask, where menus may be disposable, where your temperature is checked as you walk into the restaurant," he said.

Mass gatherings in the state, such as Coachella festival, have already been rescheduled or cancelled.

Student hotline offers human voice to seniors

A group of high school pupils in Calgary, Canada, have created a hotline for elderly people stuck under lockdown to hear a young human voice.

The free telephone line, 1-877-JOY-4ALL, offers recordings of stories, jokes, letters, poetry, music and words of encouragement.

New recordings, including in other languages, are being added every day.

"During these challenging times and ongoing public health measures, we know that it is especially difficult for seniors and folks experiencing isolation," their website says.

Tracking the global outbreak

There have been nearly two million confirmed cases of coronavirus in 185 countries. More than 120,000 people have died.

The latest data shows coronavirus is spreading rapidly in many countries and the death toll is still climbing however the majority of people are recovering from the virus.

Our data team has tracked the spread of the virus since it emerged in China in December.

Click here to see our graphs and charts on how confirmed cases have spreadand where the most new cases are.

Breaking

New York City revises death toll

New York City has revised its coronavirus death toll to include those who died with respiratory symptoms but had not tested positive for the illness.

The increase of over 3,700 on Tuesday puts the count at 10,367 dead, according to city health officials.

New York City Councilman Mark Levin, who chairs the city's health committee, said the new figure represents a spike of 57%.

France summons Chinese ambassador over Covid-19 criticism

France's foreign minister has summoned the Chinese ambassador following comments made on the embassy's website about western countries' handling of Covid-19.

The comments were made by an unnamed diplomat and in part suggested that pensioners had been left to die in nursing homes.

Yves Le Drian said he expressed his disapproval to ambassador Lu Shaye on Tuesday.

In a statement he said: "Certain publicly voiced opinions by representatives of the Chinese embassy in France are not in line with the quality of the bilateral relation between our two countries."

Covid-infected mum gives birth in medically induced coma

Copyright: Angela Primachenko

Image caption: Angela was 34 weeks pregnant when she was put into a coma

A US mother who was pregnant when she tested positive for Covid-19, has delivered her baby daughter while in a medically induced coma.

Angela Primachenko, a 27-year-old respiratory therapist from Vancouver, Washington, was on a ventilator when doctors chose to induce labour in order to increase her odds of beating the illness and for the child's own safety.

"I feel like I'm a miracle walking," she told NBC News after tests showed that she was now Covid-negative.

Primachenko was 33 weeks pregnant when she became ill on 24 March. Eight days later she was fighting for her life.

After being removed from the ventilator on 6 April, she looked down and immediately knew that she must have given birth.

"After all the medication and everything I just woke up and all of a sudden I didn't have my belly any more," she said.

"It was just extremely mind-blowing."

She has yet to hold her daughter Ava, who remains in hospital, but has FaceTimed with the newborn.

Primachenko will be allowed to visit after she has twice tested negative, NBC reports. Ava's test came back negative.

Washington is one of the hardest hit US states, with 10,500 coronavirus cases and 516 deaths.

'Stay away from me' - Trump jokes with coronavirus survivor

Image caption: Trump met coronavirus survivors at the White House on Tuesday

President Trump has been meeting with coronavirus survivors at the White House.

'I've never felt this bad before," one woman told Trump, adding that she now feels about 85% better.

"Stay away from me," Trump joked in response.

Another survivor told of being stuck on the Diamond Princess cruise ship, calling it a "floating petri dish". Trump replied: "They called it a ghost ship."

Trump also again touted the use of hydroxychloroquine, an anti-malaria drug which is not yet proven to fight off Covid-19.

"You know if somebody else endorsed that medication it would be great," he said, claiming that US media has remained skeptical just because he has supported it.

"But it's OK. The word is out. These people don't get it, the media, but the people get it," he continued.