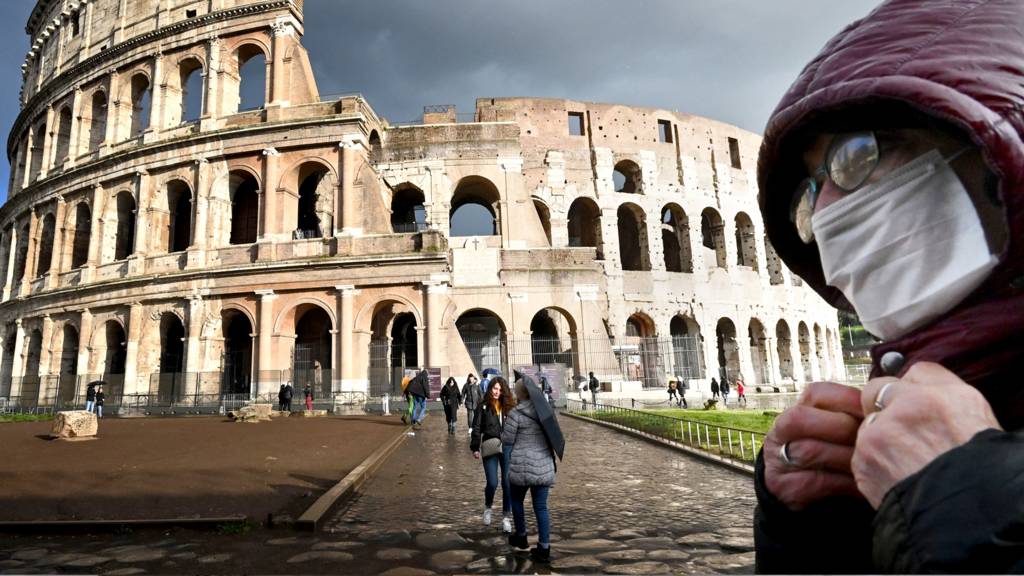 By The Visual and Data Journalism Teams

BBC News

We're pausing our live coverage for now, but you can still follow the latest updates on the coronavirus outbreak and other stories on the BBC News website.

Here are a few key developments from today:

The World Health Organisation (WHO) labelled the outbreak as a pandemic - this means the disease is spreading in multiple countries around the world at the same time. WHO chief Dr Tedros Adhanom Ghebreyesus said he was "deeply concerned" by "alarming levels of inaction" over the virus
More than 10,000 cases have been reported in Italy, the worst-hit country outside of China where the spread began
The UK has seen its biggest daily rise in cases, with 460 people now infected. A total of eight people have died in the country, and another Briton died abroad in Bali
Over 1,000 cases have been confirmed in the US, and several major events in the country have been cancelled or postponed
Honduras confirmed its first two cases of coronavirus in the country. One patient, a pregnant woman, had travelled from Spain and a second patient arrived from Switzerland.
Germany's Chancellor Angela Merkel said 60-70% of her country's population could become infected
Iran's First Vice President, Eshaq Jahangiri, has contracted the virus, according to Fars news agency. He is the most senior of several Iranian officials to catch coronavirus
Cases in Pakistan doubled in 24 hours - from 10 to 20. Most have been in Sindh in the south, where the provincial government says the federal authorities aren't doing enough to prevent the spread of infection.
India has announced it will suspend many different types of visas used to visit the country until 15 April.
A Youtube televangelist, Jim Bakker, is being sued by a US state's attorney general for pushing a bogus coronavirus "cure" on his show

Sometimes it takes longer to clean the room than take the test

Temperature testing 'not effective', says UK health secretary

House of Commons

Parliament

Mr Hancock says he has been advised that the degree of resistance against coronavirus for those who have recovered from it "is deemed to be very high, especially in the first year or more afterwards".

He says it is "good news that it is highly likely that once people have got it and recovered then they are going to be OK".

On calls for testing for all, the UK's health secretary says the test is "not reliable for people who are not symptomatic".

He says that is why testing at the airport, for example, is not effective and some of the countries that started doing that have stopped.

There are "loads of false positives" with temperature testing as the person "might be ill with something else", he says.

Or there are "loads of false negatives... because they don't have enough virus in their system yet to be symptomatic".

"Testing of someone who does not have symptoms is not reliable and is counter-productive so we won't be doing it."

Costa Rica cases reach 22

The number of confirmed cases in Costa Rica has risen to 22, up from 13 that had previously been reported.

Of the 22, three are foreign nationals. Health authorities have closed several schools linked with a man who has been hospitalised.

Trump adviser accuses China of 'cover up'

Robert O'Brien, National Security Adviser to US President Donald Trump, has suggested China "covered up" its initial outbreak, causing a two-month delay to the world's response.

Speaking at an event in Washington, Mr O'Brien pointed to reports by Chinese nationals "that the doctors involved were either silenced or put in isolation or that sort of thing, so that the word of this virus could not get out".

He also praised President Trump's "bold" and "courageous" action, and said new travel restrictions on people entering the US from China had bought America six to eight weeks to prepare.

Wuhan: More than 50 days on lockdown

The coronavirus outbreak started in the Chinese city of Wuhan.

The city's residents have now been on lockdown for more than 50 days.

Despite the isolation, people are still trying to keep busy.

Why is it being called a pandemic now?

Philippa Roxby

Health reporter, BBC News

The use of the p-word by the World Health Organization (WHO) to describe the global spread of this new coronavirus is not a huge surprise.

Up until now, it has talked merely of the "threat" or the "potential" for a pandemic.

But with cases in more than 100 countries, and increasing numbers not linked to travel, the language has changed.

The WHO no longer "declares" a pandemic the way it used to, so this is as official as it gets.

Yet this doesn't mean the pandemic cannot be controlled, it explains.

It's a call to action and a plea for all countries not to give up, no matter how large the number of cases.

Practically, countries are being told to continue to do what they have been advised to do. That means some may have to step up their response.

But the WHO is not changing what it's doing or the threat level of the virus.

What the use of the word "pandemic" highlights is the importance of countries around the world taking urgent action to respond to their own outbreaks – because now it's everyone's responsibility to turn the tide on the virus.

UK coronavirus cases 'expected to peak in a couple of months'

House of Commons

Parliament

In the UK's House of Commons, Mr Hancock continues: "We do not expect numbers to peak in the next fortnight, we expect numbers to continue to rise after that.

"And the peak would be in a matter of a couple of months, rather than a matter of a couple of weeks.

"This is a marathon and not a sprint."

He says that the fact the World Health Organization is now calling the spread of the coronavirus a pandemic "does indicate that they think that this virus will spread right across the world".

His statement comes after the number of confirmed coronavirus cases in the UK reached 460 - the biggest rise in a single day.

Italian students rally round to help vulnerable

Copyright: Tommaso Biancuzzi

The Italian government's decision to put the whole country in lockdown has prompted 200 student volunteers in the northern region of Veneto to "adopt" residents who need help going to the supermarket or pharmacy. Our reporter Sira Thierij spoke with some of the volunteers.

"When our cities were shut down by the government, we were really concerned about people who cannot take care of themselves, elderly people, but also immuno-suppressed ones and others who could be more vulnerable to infection," says Tommaso Biancuzzi, who came up with the idea.

The lockdown means movement in and out of cities is severely restricted. Shops and cafes may be open but there is no nightlife and Italians have been told they need a valid work or family reason to travel.

"This is an emergency with no precedent in the history of our country," he told the BBC. "Of course it's important to follow the rules and directions given by the health institutions, but we think it's also crucial to preserve solidarity and compassion."

The volunteers know the risks involved and visit the elderly and the sick wearing face masks and latex gloves.

"Sometimes young people are considered lazy, but we really care," says Mr Biancuzzi.

UK Parliament 'will remain open'

House of Commons

Parliament

The UK's Health Secretary Matt Hancock has told MPs that Parliament will remain open after an MP tested positive for coronavirus.

"Of course in some ways this House may have to function differently, but the ability to hold government to account and to legislate are as vital in a time of emergency as in normal times," he said.

Mr Hancock said the public "will expect Parliament to sit" and that their approach "will be guided by the best scientific evidence and medical advice".

A cross-party parliamentary group was meeting daily to assess the situation, he added.

He said he would meet the Leader of the Opposition, Jeremy Corbyn, on Thursday morning to discuss an emergency bill that would include measures to keep "vital public services running".

"I know how worrying this is, I know people have deep concerns, I know everyone will play their part… the best way to beat it if for us to work together," Mr Hancock said.

"We will do whatever it takes. We will give the NHS everything it needs."

'Ten times more lethal than seasonal flu'

UK virus cases jump to 460

The number of confirmed coronavirus cases in Britain has now reached 460, after the biggest rise in a single day.

It came as two more people with the virus died in the UK, bringing the total number of deaths to eight.

One was described as being in their 70s and had underlying health conditions, while the other was elderly and had a number of serious health conditions.

Two other Britons have died abroad after contracting the virus. The latest, on Wednesday, was a 53-year-old woman in Bali. Another man also died in Japan last month after contracting the disease aboard the Diamond Princess cruise ship.

Stock markets slide again as virus spreads

Share markets in the US have moved sharply lower on Wednesday in another day of jittery trade, driven by fears about the economic impact of the coronavirus.

The Dow Jones was down nearly 5% at midday trade in New York, while the S&P 500 and Nasdaq fell more than 4%.

London's FTSE 100 slid 1.4%, while other European markets saw more modest falls.

The falls come as countries rush to approve spending to shield economies from reduced activity resulting from measures to halt the progress of the virus.

Croatia announces three more cases

Health authorities in Croatia have confirmed a further three people in the country have tested positive for coronavirus. All three had recently traveled from Austria and Germany.

This brings the total number of cases in Croatia to 19. The government has announced a ban on gatherings of more than 100 people, but ruled out economic intervention for now.

How has the world of sport been affected?

From the Olympic women's football qualifiers getting moved from Wuhan on 22 January to Arsenal and Manchester City's Premier League tie getting postponed today, the coronavirus has affected huge swathes of the sporting world.

Here's a timeline detailing all the events hit by the outbreak.

Iranian vice president tests positive

Iran's Fars news agency reports that First Vice President Eshaq Jahangiri has contracted the virus. In his role, Mr Jahangiri leads Cabinet meetings in the absence of the president, and is the most senior government figure to catch the virus. He has recently been absent from several top-level meetings, and there has been speculation about the state of his health.

Two other cabinet members have also tested positive for the disease, according to Fars: Cultural Minister Ali Asghar Mounesan and Reza Rahmani, minister of industry, mines and business.

They are among the many Iranian officials and politicians who have been infected in recent weeks.